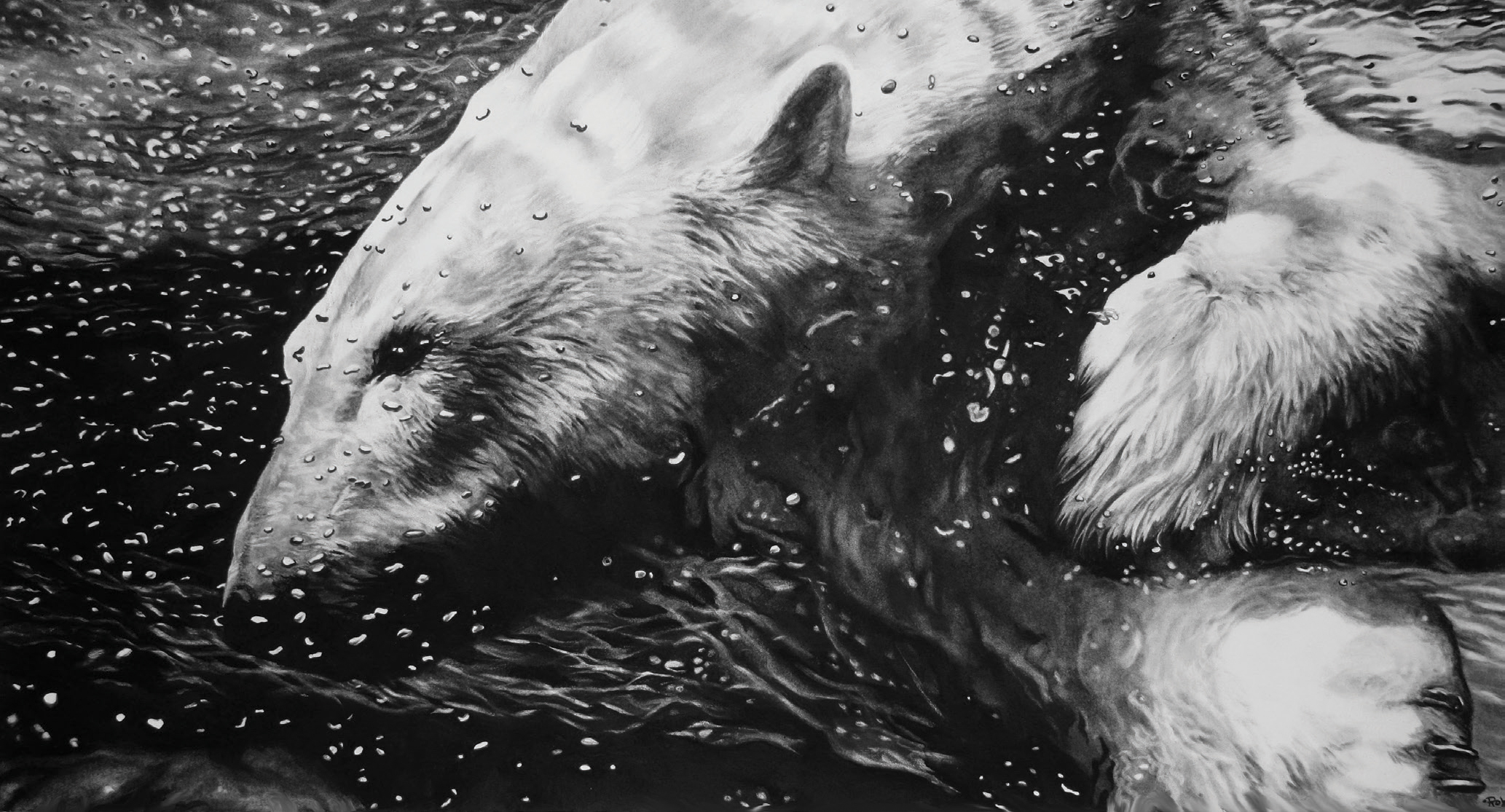 08 Jul

A Hundred Shades of Gray
Rox Corbett
On a quiet morning this past spring, as Rox Corbett was gazing at birds on a feeder at her Wyoming ranch, an image for a drawing appeared full-blown in her mind. She'd been reading about a Northern Paiute spiritual leader's 1890 prophecy that the Ghost Dance would usher in better times for the Plains peoples, returning them to an earlier, pre-subjugation era. Instead, in December of that year, the ceremonial dance led to the Wounded Knee Massacre, in which American soldiers killed at least 153 Lakota people, most of them women and children.
In Corbett's thoughts, the sadness of that event mingled with the Lakota people's hope for a more peaceful, prosperous life. And, she was also moved by the mix of fear and hope in a time of COVID-19. As she studied the morning light on the feathers of birds outside her window, she envisioned an image: a Native man in a Ghost Dance shirt with enormous golden eagle wings, spreading to carry the dancer into the boundless sky. The drawing that resulted, After the Dance, will be one of the artworks available for purchase at the virtual Quest for the West Art Show and Sale on September 11 to 12 at the Eiteljorg.
While human figures sometimes appear in Corbett's meticulously rendered award-winning charcoal drawings, her primary focus is animal life. Born in Ontario, Canada, and raised in Connecticut and southern Quebec, she was surrounded in childhood by creatures the family took in — dogs, cats, rabbits, foxes, turtles, and skunks among them. After earning a Bachelor of Fine Arts in graphic design and illustration from Concordia University in Montreal, she headed up a citizen-scientist whale observation program for a few summers on the Maine coast. That experience led to 20 years in marine mammal fieldwork for non-profits and eco-tour ships on oceans around the world. During this time, she also created illustrations for books, posters, field guides, and informational brochures.
In 1991, Corbett spent a month near Sheridan, Wyoming, at an artist residency. Settling in Wyoming a couple of years later, she became friends with ranchers, cowboys, and their families, and turned her artistic eye to ranch and equine life. She lovingly depicted these subjects for many years, along with wildlife — including elk, bison, and grizzly bears — living on or near her land outside of Yellowstone National Park.
In her studio, she applies charcoal to paper using such tools as cotton balls, Q-tips, and fingertips, and a range of erasers for dragging black powder from dark areas or creating subtle highlights. Compressed charcoal sticks build deep blacks, while homemade willow-wood charcoal produces softer dark tones. To avoid smudging, she begins in the upper left corner of the image and slowly moves to the lower right, entirely completing the background and foreground as she goes.
Recently Corbett has been focusing less on equine subjects and more on wildlife, including a return to marine mammals and birds. In a reflection of her strong concern for the preservation of endangered habitat, Arctic Bellwether is an arrestingly close-cropped image of a polar bear swimming underwater. "The mystery of the deep," the artist marvels. "How perfect is charcoal for that?"
Corbett is represented by Big Horn Galleries in Cody, Wyoming, and Tubac, Arizona; and Settlers West Galleries in Tucson, Arizona.
Ray Brown
Growing up in a Baltimore, Maryland, suburb, Ray Brown experienced the natural world during summers at his grandmother's cabin in rural Maine — trees, rocks, rivers, lakes, and streams — and in marshlands surrounding the Chesapeake Bay. Then, in college, a friend returned with photos from an Outward Bound experience in the Rocky Mountains. Brown was stunned. He needed to know: "Where is this place?!" Soon he found out, accepting his friend's invitation to visit Yellowstone National Park, and, over the next few years, other spectacular sites in the West.
It took many years and a long detour through commercial art before Brown found his artistic voice, one that celebrates animals and nature through the expressive potential of black and white. Today, after settling in Southern California in 2003, he spends as much time as possible adventuring and photographing wildlife in such places as Banff and Alberta in Canada, Yellowstone, and Alaska. He uses charcoal to portray creatures that capture his eye, often placing them in atmospheric, natural settings or against a background of rich, dark black.
Brown's first strong attraction to art came through the dramatic, skillfully rendered illustrations of mid-20th-century fantasy and science fiction books. A high school art field trip to New York City took him to the Society of Illustrators Annual Exhibition, where he stood in awe before original works by the country's best illustrators. He remembers thinking, "This is definitely what I want to do." While he didn't end up in that field, he did create drawings for early video games and later spent a number of years as an art director — primarily involving graphic art — for a Baltimore-based Christmas display company.
In the late 1990s, Brown learned of the annual Southeastern Wildlife Exposition and traveled to Charleston, South Carolina, to check it out. There, for the first time, he saw how exquisite black and white wildlife art could be. He met graphite artist Terry Miller, who also happened to live in Maryland and became his mentor. Miller's example confirmed it was possible to make a living with black and white art, although few were doing it at the time.
When Brown's wife's career offered the opportunity to move to California, she graciously suggested that he avoid finding a job right away, and instead focus on his art. He did, eventually shifting from graphite to charcoal. "Charcoal matches my temperament better," he says. "I can plan, and figure, and then coax a drawing into existence, and I enjoy making it happen along the way."
These days, his process often involves deciding what details to leave out in order to focus on an animal's gesture or pose — "something I was drawn to that I want to accentuate," he says. Like the Old Masters whose chiaroscuro paintings left mystery hidden in dark shadows, he allows edges to disappear into blackness, while white areas dramatically emerge. In other pieces, shades of gray and black define an animal against the pale backdrop of a misty, amorphous landscape. "I see things in the world in certain ways," he says. "I want others to be able to see them that way."
Brown's drawings will be on view at the Festival of the Arts in Laguna Beach, California, July 5 through August 31; the Buffalo Bill Art Show and Sale in Cody, Wyoming, September 18 and 19; and during the Waterfowl Festival in Easton, Mayland, November 13 through 15.
Cole Johnson
A few years ago, the director of a gallery representing Cole Johnson approached the artist with a surprising request: create a version of one of his charcoal drawings of a bison, but on a very large scale — as in life-sized. Since Johnson was framing his own work at 32 by 40 inches, the director made a proposition. "If you can produce the drawing, we'll frame it here; we'll take care of that part." And they did. Johnson created the stunning 4- by 8-foot charcoal drawing, rolled it loosely in wide PVC drain tubing for protection, and sent it off to Astoria Fine Art in Jackson Hole, Wyoming. Within a month, it sold.
Johnson has been creating wildlife art in black and white since his teenage years, using powdered and stick graphite, and more recently, almost exclusively charcoal. Now at age 52, he appreciates the medium for its ability to convey lifelike realism, while inserting a subtle sense of mystery into the darkest darks as well as into amorphous areas of light. The unusual scale of much of his work, along with creative cropping and a masterful drawing hand, bridges the gap between traditional wildlife art and a more contemporary approach.
At the same time, Johnson's subjects connect to parts of his life that are meaningful to him: a boyhood spent in Upstate New York, where he still lives, and where he grew up fishing and hunting with his father and grandfathers; his continuing passion for the outdoors and wildlife; and his art. His home, on 20 acres surrounded by woods and small family farms, overlooks a large pond frequently visited by waterfowl, and white-tailed deer often wander close to the house.
As a boy, Johnson learned to pursue deer with a bow from his father, later joining his grandfathers and their retrievers as they hunted waterfowl. At the same time, he began drawing the animals familiar to him: deer, wild turkey, water birds, trout, and family dogs. He earned a Bachelor of Fine Arts in painting from State University of New York in Buffalo, where he soaked up centuries of art history and inspiration. Studying photography, he explored black and white darkroom techniques that remain central to his practice today. The skills of highlighting or shadowing areas of a photograph by dodging and burning taught him to gradually develop a drawing based on mid-tones, lights, and darks.
While Johnson continues to depict waterfowl, dogs, trout, and white-tailed deer, especially for hunting collectors, some of his favorite adventuring and photographing destinations these days include Yellowstone National Park, the Grand Tetons, Alaska, and far eastern Canada. Magnificent wildlife from these places — elk, bison, moose, and birds of prey among them — fill his drawings. Particularly when working on a large scale, his self-directed challenge is always to maintain the style and adeptness that has earned him awards and entrance into national juried shows. "I love the act of making a drawing come to life," Johnson says. "Even in black and white, a scene can be surprisingly easy to look at and true to life."
Johnson's work is represented by Astoria Fine Art in Jackson Hole, Wyoming.