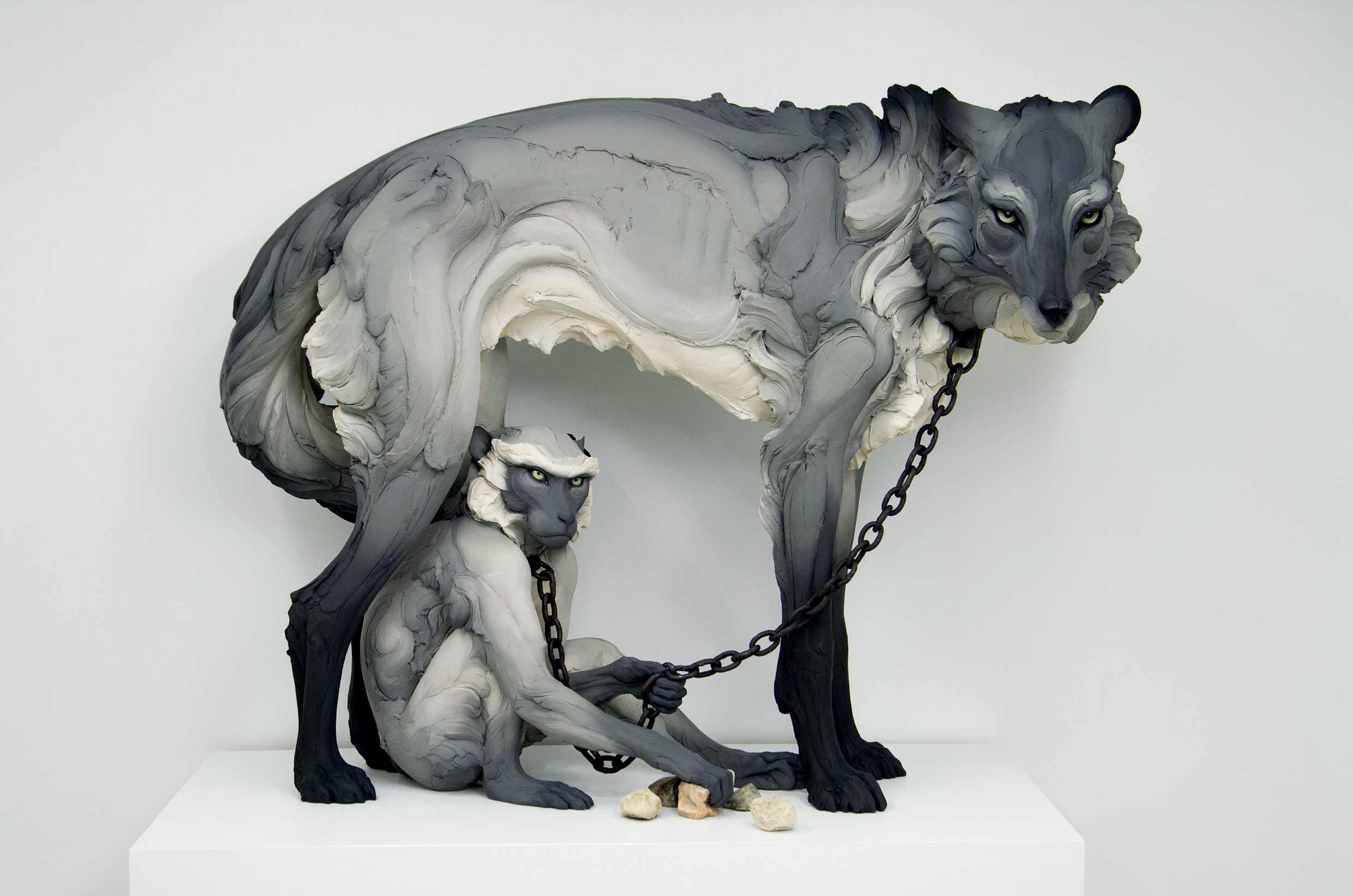 Tribute | Stoneware, Paint, and Hand-forged Steel 58 x 31 x 46 inches | 2017
08 Jul

Artist Spotlight: Beth Cavener

Beth Cavener's ceramic sculptures defy easy explanation and gravity alike. Since her 2002 residency at the Archie Bray Foundation in Helena, Montana, Cavener has sculpted animals — mostly goats, hares, and wolves, but also outliers like the life-sized snow leopard staring intently at a hornet's nest it's poised to swat.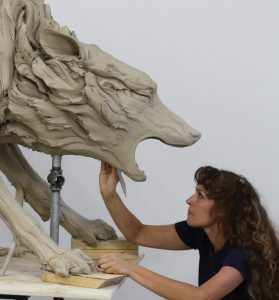 Her work goes beyond mere anthropomorphism; Cavener lays bare the human psyche in every gesture, color, surface treatment, and composition. A deer struggles against a rope that entangles its antlers in Beloved. In Tribute, a monkey sits beneath a standing wolf, gripping a chain that connects them; it glares at the viewer, while the wolf's gaze is impenetrable. Tangled Up in You is a sculpted Celtic knot featuring a boa constrictor and giant hare, 5 feet in height and suspended 15 feet from the floor.
Although she has worked in clay since 1994, when she taught at Charlies H. Cecil Studios, a private atelier in Florence, Italy, Cavener's present style was solidified some eight years later while pursuing a Master of Fine Arts at Ohio State University, followed by the Archie Bray residency, where she occasionally returns to give workshops.
From 2002 onward, Cavener has turned heads with her work, garnering grants from prestigious organizations, such as the American Craft Council and the Virginia A. Groot Foundation, and recognition by jurors, such as ceramic artists Patti Warashina and Josh DeWeese. While her work has been exhibited across the country and internationally, she resides in Helena, where she opened Studio 740 in 2014 as a hub for ceramic artists.
One of Cavener's most ambitious projects to date was the publication of Human: The Art of Beth Cavener, by Garth Clark, an art critic and the founder of the Ceramic Arts Foundation, with essays by Ezra Shales and Lauren Redding. The 252-page monograph documents the major artworks she created from 2002 to 2009.
Cavener's work is in the permanent collections of the Metropolitan Museum of Art and the Smithsonian American Art Museum, and can be seen at 21c Nashville through December 2020. Upcoming projects include a workshop in La Meridiana Ceramica School in Tuscany, Italy. She's represented by Jason Jacques Gallery in New York City.