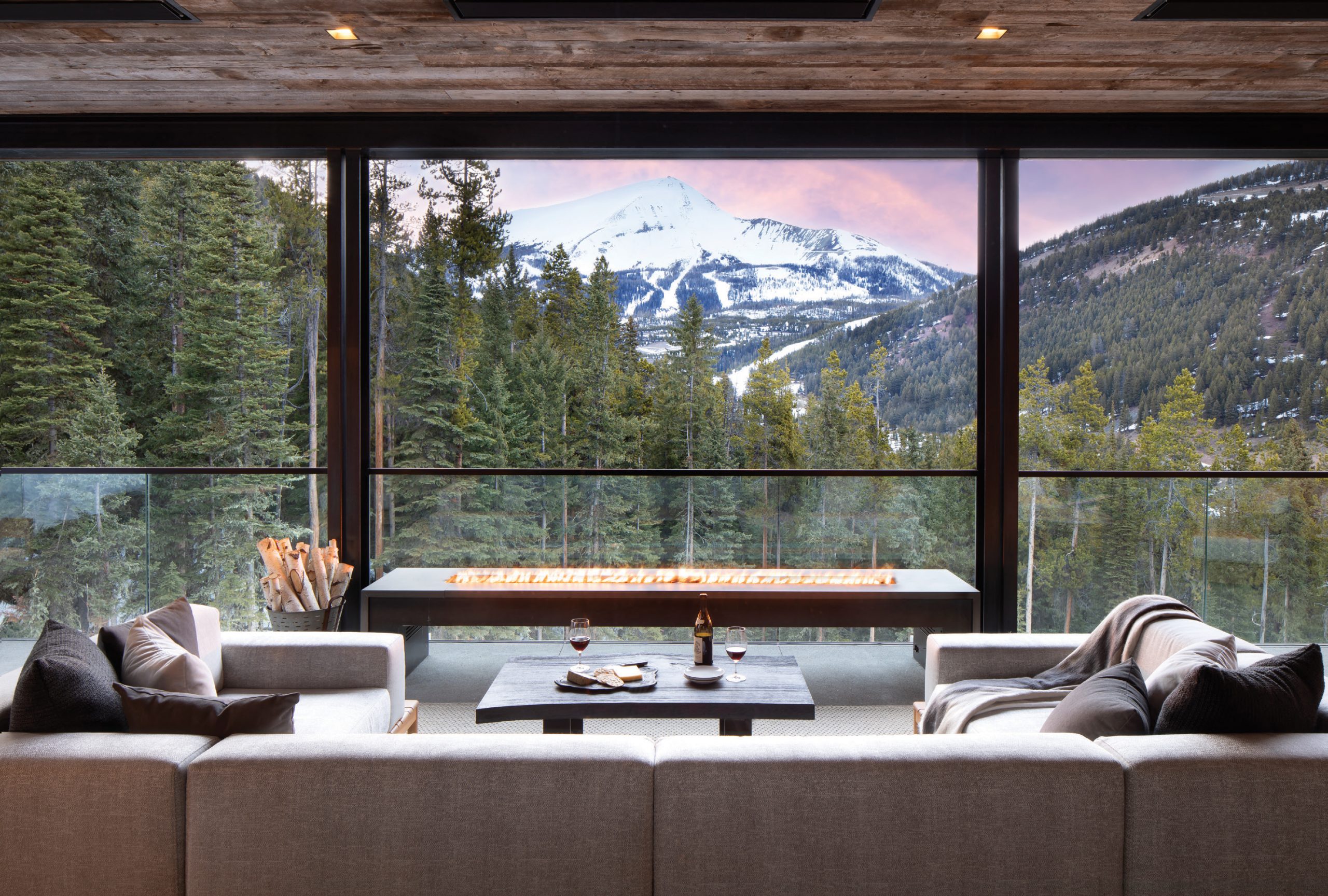 A glass railing maximizes the views on an open-air patio, and the custom concrete fire feature and ceiling-mounted heaters allow the space to be used year-round. The Cassoni sectional is covered in durable outdoor fabric.
08 Jul

Designing the West: Cultivated Comfort

Interior designer Sharon Lohss, founder of Shelter Interiors, based in Bozeman, Montana, credits good genes for her deep-rooted creativity. "My mother could have been a landscape designer; she is so talented at transforming a space and has a major green thumb," she says. "My dad was in the window business, a profession that blends creativity with technical skills; his floor plans were always around the house. My younger sister Sandra is a creative director; my older sister Susan is a muralist; and our great-great-great uncle was the 18th-century Bavarian landscape painter, Johann Baptist Hofner."

With so much inspiration imprinted in her DNA, it's no surprise that Lohss chose art as her major when she enrolled at Appalachian State University in Boone, North Carolina. Eventually, though, she switched her major. "I fell in love with interior design, which allowed me to combine my creative passion for art with a way to make a living," she says.

An internship during college led Lohss to work with a local designer whose niche was high-end residential projects in the mountain resorts of North Carolina. "When a project for that company brought me to Montana, I unexpectedly fell in love with the state and have been here for 24 years now," she says.

When Lohss arrived in Bozeman in the mid-1990s, mountain décor meant dark wood and moose motifs. "At that time, high-country style was very rustic with lots of rough-hewn logs, and browns, greens, and dark red tones," Lohss says. "It's been refreshing to see the aesthetic evolve to cleaner lines and a lighter palette of whites, grays, and lighter blonde — all colors that are found in natural surroundings."

Lohss launched Shelter Interiors in 2012, initially working from a renovated classic 1930's Craftsman bungalow. This spring she began looking for a larger space and found the perfect office in a charming older building in downtown Bozeman. Then COVID-19 arrived. Determined to forge ahead, the company moved in May with no problems. The light, bright second-floor space has large, sunny windows, plenty of room to work—and the added bonus of Rockford Coffee just down the stairs.

While the firm designs occasional commercial projects, such as spas and restaurants, most of their work is residential. "We delve deep into our clients' priorities to deliver what they really want," Lohss says. "Their spaces are customized for them to work fluidly with their lifestyles."

Lohss says the best outcomes happen when her team is involved from the beginning of a project. "I enjoy working in tandem with the architect and builder, and the early stages of planning the architectural details, like the windows, finishes, plumbing fixtures, and lighting," she says. "We also do a lot of remodels. Removing and redoing is a much different way of designing than new construction."
Soft hues and textures invite relaxation in a guest bedroom. The plush cashmere rug is by Shiir, and the elegant crystal chandelier is by Fine Art Lighting.
In a luxurious guest suite bathroom, the floor and walls are clad in 12- by 24-inch Carrara marble tile. The Blu•Stone soaking tub is by Blu Bathworks.
In the designer's bedroom, a classic Le Corbusier chair is covered with a soft Mongolian goatskin hide.
Many of the firm's residential projects are second homes. "Ninety-nine percent of the time, we work long distance," Lohss says. "We're very well-versed at putting together visual presentations and utilizing technology, like FaceTime and video conferencing, to view samples and make decisions."
Lohss says her staff has a wide range of skills. "Our associate designer, Melissa Robot, is efficient, conscientious, and really good at managing details," she says. "Kelsey Burgard, our design associate, has wonderful computer skills and is our CAD expert. And I've been doing this the longest, so my background is very diverse. We usually have an intern here from Montana State University as well."
Client Barbara Kaufman has worked with Lohss on three different houses, and describes the designer as well-connected, versatile, and flexible. "Sharon helped us with our homes in Montana and Illinois, as well as our New York City apartment," Kaufman says. "She moved seamlessly between three styles in different parts of the country. Her design sense is very mature, and she has sources that allow her clients a lot of leeway in terms of creative design."
"Our apartment was a blank slate, and Sharon had a very good vision for it," Kaufman adds. "Both my husband and I like to have input, and Sharon listened and delivered everything we wanted, top to bottom, from the floors to the windows. She's also very good at hanging art, and innately knows where a piece will look best."
Kaufman says that although their Big Sky, Montana, home is built of logs, they weren't interested in a rustic look. "We wanted a comfortable, welcoming home where people could come in wearing their snow boots or flip flops," she says. "Our favorite space is the open living room that Sharon designed, which overlooks views of a beautiful meadow. We have a large, overstuffed sofa that our family loved for years, but it was so worn, it was beyond shabby chic. We asked Sharon to recover it, with the caveat that it couldn't lose one iota of its appealing comfort.
She had it upholstered in soft fabric with muted colors, and everyone makes a beeline for that sofa the minute they walk in the room."
Whether it's her talent, experience, or good genes, Lohss brings a stylish and cultivated aesthetic to each home and space she designs.
Interior designer Sharon Lohss shares some of her favorite design sources and inspirations.
What's your go-to interior wall treatment right now?
I love plaster. You can match a paint color with plaster, and the pigments give the walls so much more depth. I work with contractors who do a wax and seal treatment, which gives plaster walls a very slight sheen.
In your own home, what's one of your favorite possessions?
Native American artist Ben Pease is one of our favorite local artists. We own two of his paintings and adore them.
What are a few things you always keep in your refrigerator?
We specifically chose a Sub-Zero refrigerator with glass-paneled doors to be able to view the contents inside. I love looking in and seeing healthy foods like fresh veggies, tofu, tempeh, and bottles of kombucha.
When you have friends over, what's your entertaining style?
When my husband and I built our house together three years ago, we designed our main living space around the premise of entertaining. We cook at home a lot, and we wanted a comfortable kitchen with enough seating for a large group of family or friends. We had a wood-fired brick oven installed in the kitchen, and getting our guests involved by making pizza is an interactive way to entertain that everybody really enjoys.
When you travel, where do you like to go for a relaxing getaway?
We love to visit Costa Rica. It's so different from Montana, and we enjoy the rustic, laid-back feel of the Nicoya Peninsula on the Pacific side. On the edge of town in Santa Teresa, we rent a quiet house right on the ocean that's a great spot for beach walks.