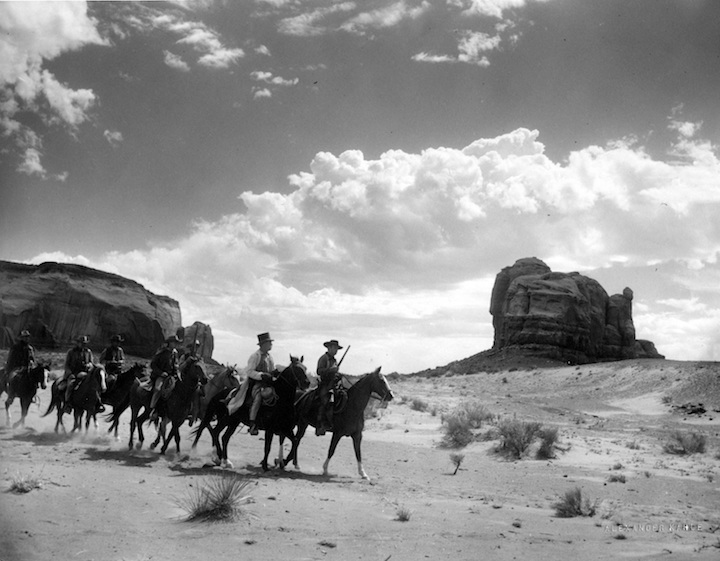 06 Mar

Eiteljorg's Reel West Exhibit Explores Cultural Influence of Hollywood Westerns

Generations of Americans have enjoyed the Westerns that galloped across screens at the movies and on TV. Now visitors can experience a new exhibit at the Eiteljorg Museum in Indianapolis that takes an in-depth look at the historic, artistic and cultural significance of Western films and television shows. The Reel West explores morality, diversity and American identity as depicted in the Western film genre and how Hollywood and Westerns shape our understanding of the world around us.

The Reel West includes film costumes, props, art and images from a century of Westerns — from early silent films to mid-20th century popular movies and TV hits to genre-bending films of recent years. The yearlong exhibit will appeal to casual movie fans, serious film buffs, those who grew up watching iconic Westerns and those new to the genre.

Among the interesting things visitors will see in The Reel West are:
A mask, hat, costume, gun belt and scarf worn by The Lone Ranger, actor Clayton Moore
A full costume worn by Hailee Steinfeld as Mattie Ross in the Coen Brothers' 2010 remake of True Grit
Two hats worn by Clint Eastwood, on his early 1960s TV show Rawhide and years later in his 1985 film Pale Rider
A costume worn by a sword-wielding Catherine Zeta-Jones in the 2005 film, The Legend of Zorro
Western hats or other costume items worn on camera during several eras by Western performers  such as John Wayne, Tom Mix, Gene Autry, Roy Rogers and Dale Evans, James Arness, the cast of Bonanza, plus Sam Elliott, Anjelica Huston, Jamie Foxx and many others
Interactive technology including touchscreens that museum-goers can use to watch clips from Westerns and explore in greater detail the themes of morality, diversity and identity that Westerns portray
A small movie theater showing clips from well-known Western movies.
The Reel West candidly examines how early Westerns romanticized life in the American West and how they overlooked or distorted the roles of women and Native Americans, Latino and LGBT communities. Visitors also will learn about important historical and recent Western films that convey the diversity of the West — some more realistically, some satirically or ironically. Through its key themes, The Reel West explores how Westerns have shaped Americans' perceptions of their own national identity and how those themes in Westerns have evolved over time.
"Not only will The Reel West spur memories of going to the movies to see your favorite heroes and villains, it will spark conversations between generations about what Westerns say and portray about our nation and where the onscreen myths differed from reality," Eiteljorg President and CEO John Vanausdall said. "Many special programming events are scheduled during the run of the exhibit where guests can learn more about how Westerns were made, thus enhancing their appreciation, understanding and enjoyment of the genre."
Beyond the art on exhibit, The Reel West also includes fascinating programming events such as:
Presentations by experts on Western films, including Dances with Wolves costume designer Cathy Smith on March 3, film scholar Dr. Sue Matheson on 

March 31

 and Emmy award-winning writer Kirk Ellis of Into the West on 

April 7

.
A silent-film double feature accompanied by the Indianapolis Chamber Orchestra, performed 

March 10 and 11

 at the Schrott Center for the Arts
Western movie screenings at the Eiteljorg, plus additional screenings held at the IMAX Theater at the nearby Indiana State Museum.
For details and dates of programming throughout 2018, visit www.eiteljorg.org. The Reel West runs through Feb. 3, 2019, in the Eiteljorg's special exhibit gallery and is included with regular Eiteljorg admission; and museum members are free.
Developed by Johanna M. Blume, the Eiteljorg's associate curator of Western art, history and culture, The Reel West has been several years in the making. It includes art works from the museum's collections, and Eiteljorg staff also traveled the nation to confer with other museums, collectors and studio archives that in turn loaned them costumes, objects and props for the new exhibit.
Presented by Oxford Financial Group, LTD, The Reel West also is sponsored by Ice Miller LLP, The Sunrise Foundation, Barnes & Thornburg LLP, the Indianapolis Colts, Nordstrom, Frank N. and Patricia L. Owings and other sponsors.
About the Eiteljorg:
The Eiteljorg Museum of American Indians and Western Art in White River State Park in downtown Indianapolis seeks to inspire an appreciation and understanding of the art, history and cultures of the American West and the Indigenous peoples of North America. Located on the Central Canal at 500 West Washington St., the Eiteljorg Museum recently was named one of the USA Today Readers' Choice 10 Best Indiana Attractions.