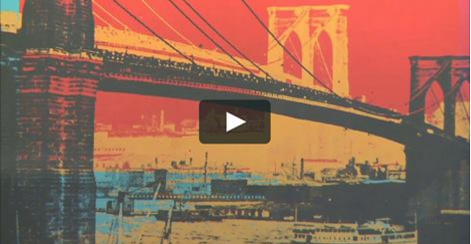 09 Aug

New York on Loan: Art collector lends prized New York paintings to institutions world-wide

This fall a small portion of New York real estate mogul Elie Hirschfeld's art collection will be loaned to institutions both here in the United States and abroad. The

Hirschfeld is the president of Hirschfeld Properties LLC — a diversified Manhattan-based development firm behind online real estate broker Sell Your Home. He has become one of Manhattan's most ardent collectors of American art. With a private collection that includes approximately 200 original works by major figures such as Frank Stella, Andy Warhol, Mark Rothko, Alexander Calder, and Stuart Davis, Hirschfeld has dedicated a lifetime of collecting art belonging to early 19th century to the contemporary.

Since the purchase of his first piece in 1987, Thomas Hart Benton's 1945 painting The Artists' Show, Washington Square Park, Hirschfeld has made the subject of New York City the exclusive focus of his collection. An exploration of the ever-changing and diversified nature of New York, each piece in the collection serves as testament to a unique array of artists, all of whom were inspired by this city.

Currently, Hirschfeld has agreed to contribute three new works to exhibitions held throughout the United States and Paris for the upcoming fall and winter months.

The first piece to be exhibited is Norman Rockwell's Gramercy Park. Painted in 1918, this work will be displayed at the Heather James Fine Art Galleries in Jackson Hole, Wyoming. Entitled Norman Rockwell: The Artist at Work, the show is an intimate survey of Rockwell's career which devotionally captured scenes of everyday life in 20th century America. Rockwell is best known for illustrating the covers of Saturday Evening Post, and this show seeks to elucidate the creative development of the artist's idealized images. Gramercy Park is an impressive example of Rockwell's early work, completed years before becoming one of America's most iconic illustrators. The exhibition runs until September 30, 2016, when it will travel to the gallery's second location in Palm Desert, California.

The second piece is one of Hirschfeld's latest acquisitions. Georgia O'Keeffe's 1949 drawing, Brooklyn Bridge, will be lent to the Georgia Museum of Art's upcoming exhibition, Icon of Modernism: Representing the Brooklyn Bridge, 1883 – 1950. On display from September 17 to December 11, the show will represent the international artistic response to one of America's greatest symbols of ingenuity — the Brooklyn Bridge. Arguably the country's most accomplished female artist, O'Keeffe's study of this steel-framed monolith was considered a farewell tribute to the city of New York before she moved to New Mexico that same year.

Finally, Hirschfeld has agreed to loan his painting of Jacob Lawrence's 1938 Harlem Diner to the Musee du Quai Branly in Paris, France, this winter. To be displayed from October 4, 2016 to January 22, 2017, the museum will organize the exhibition entitled, The Color Line: African American Artists and Civil Rights in the United States. One of the country's most celebrated African American artists, Lawrence's work was largely influenced by the Harlem Renaissance. His work documented both the joys and strife of racial experiences in America, which will be addressed in this exhibition.

On lending these particular works for exhibition, Hirschfeld remarked, "I am very pleased to share my work with others, especially these three engaging institutions. Although each exhibition is addressing its own theme, collectively I believe these works speak to the greater story of the art of New York in the 20th century, which remains relevant even today."

See a short video tour of Hirschfeld's collection here.