05 Nov

Things we love
Inlay Buck Knife by Stewart Yellowhorse
Malouf on the Plaza in Santa Fe, New Mexico, is proud to represent Stewart Yellowhorse, an artist who grew up on the Navajo Reservation in the 1960s and worked in the family business, Chief Yellowhorse Trading Post, on Route 66. The exact point where New Mexico meets Arizona is marked inside the store with a red line, and working there is how Yellowhorse mastered the art of silver-smithing, jewelry design, and stone cutting. The artist's proficiency with turquoise, coral, and other stones is seen in this inlay buck knife, a work of art and a useful tool.
$695
4.25 x 1.25 inches
maloufontheplaza.com
Iron and Wood Console from Sequoia Santa Fe
Elegant and earthy are words that describe furnishings created by artist and designer Sequoia Madan. He views his contemporary creations as art inspired by nature. This concept is readily seen in the twisted cypress motif that he uses in the base of his consoles, topped by such materials as spalted maple, rainforest stone, and even cement. These materials bring warmth as well as a sense of uniqueness into a home. The Sequoia Console, designed with hand-bent iron branches, would offer the perfect touch of whimsy to an entry
or hallway.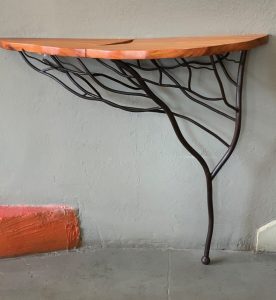 Starting at $1,500
40 x 13 x 36 inches
sequoiasantafe.com
The Life and Art of Wilson Hurley by Rosalyn Roembke Hurley
Earth's magnificent features are the dominant subjects in works by Wilson Hurley [1924–2008]. His journey to become a revered 20th-century American landscape artist is brought to life in a new biography written by Wilson's wife, artist Rosalyn Roembke Hurley, and edited by Susan Hallsten McGarry. The Life and Art of Wilson Hurley: Celebrating the Richness of Reality documents Hurley's goals and procedures — from thumbnails to plein air field studies and finished studio paintings — which are elucidated in-depth. One significant commission resulted in five monumental triptychs of our nation's most prized vistas and is installed at the National Cowboy and Western Heritage Museum in Oklahoma City, Oklahoma.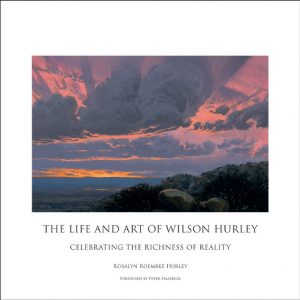 $80
11 x 11 inches
380 pages | 212 color plates
unmpress.com
Artist-Designed Skateboards from Kamagraph
We love that an art dealer has reacted to the needs of skateboarders. Bobby Beals, known for his exhibits at galleries and The Four Seasons hotels in Santa Fe, New Mexico, and Scottsdale, Arizona, asked the artists he represents to create designs for skateboards. One artist, Felicia Gabaldon, created Alibrijes, a painting of a coyote howling at the moon. The imagery tells the story of her identity as an American Indian with Spanish heritage. Beals' company, Kamagraph, offers Gabaldon's design in limited-edition quantities, along with other one-of-a-kind skateboards that are beautiful enough to hang on a wall. Profits from the sale of the skateboards will be donated to the Boys & Girls Clubs
of America.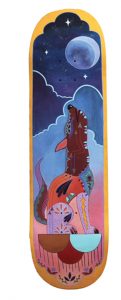 $65
Sizes Vary
kamagraph.com
The Dude from Cowboy Cauldron
We love the spirit in which the Cowboy Cauldron company was born. Soon after owner Mike Bertelsen built a cauldron-like fire pit for himself, his brother wanted one. Then his neighbor wanted one, and word continued to spread from there. Bertelsen's recent creation, The Dude, is a portable version of the original fire pit that weighs only 35 pounds and is made with segmented, folding legs. The Dude can easily fit into the trunk of a car for camping trips or beachside picnics. The height can be adjusted, and it can also be used as a grill or smoker.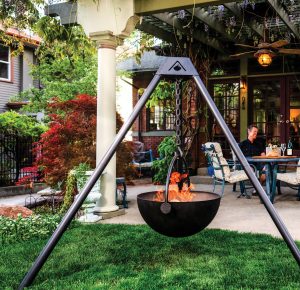 $899
24-inch diameter
cowboycauldron.com
Rowan Dining Chair from Wesley Hall
Function and fashion are long-standing traditions at Wesley Hall, creator of these Rowan Dining Chairs. Engineered to ensure long-lasting comfort, the fourth-generation family business is a leader in the domestic luxury upholstery market. The Rowan Dining Chair is 100 percent made in the USA; and the wood, cushioning, and finishing supplies are all domestically sourced. Luxury textiles and leathers are Wesley Hall's hallmark, and they offer a selection suitable for any décor, with more than 40 wood finishes. We can imagine a set of these beauties in a dining room, looking out to an Aspen-lined pond or mountain view.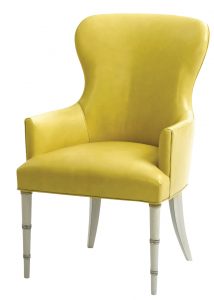 $2,250 each
23.5 x 27 x 38.5 inches
wesleyhall.com
Mash Buffet from Taracea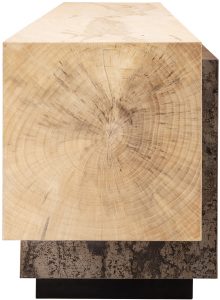 The rich earth tones standout in this buffet by Taracea. At more than 7 feet long, this piece is sure to heighten the drama of a room. Taracea strives to preserve the forests and creates furniture from wood that's either reclaimed or repurposed. According to founder Javier Suárez, the traditional furniture with intricate carvings and antique-inspired marquetry that the company became known for has made way for more contemporary, clean-lined pieces that reflect the timelessness of nature.

$7,000
7.8 feet long
taracea.com