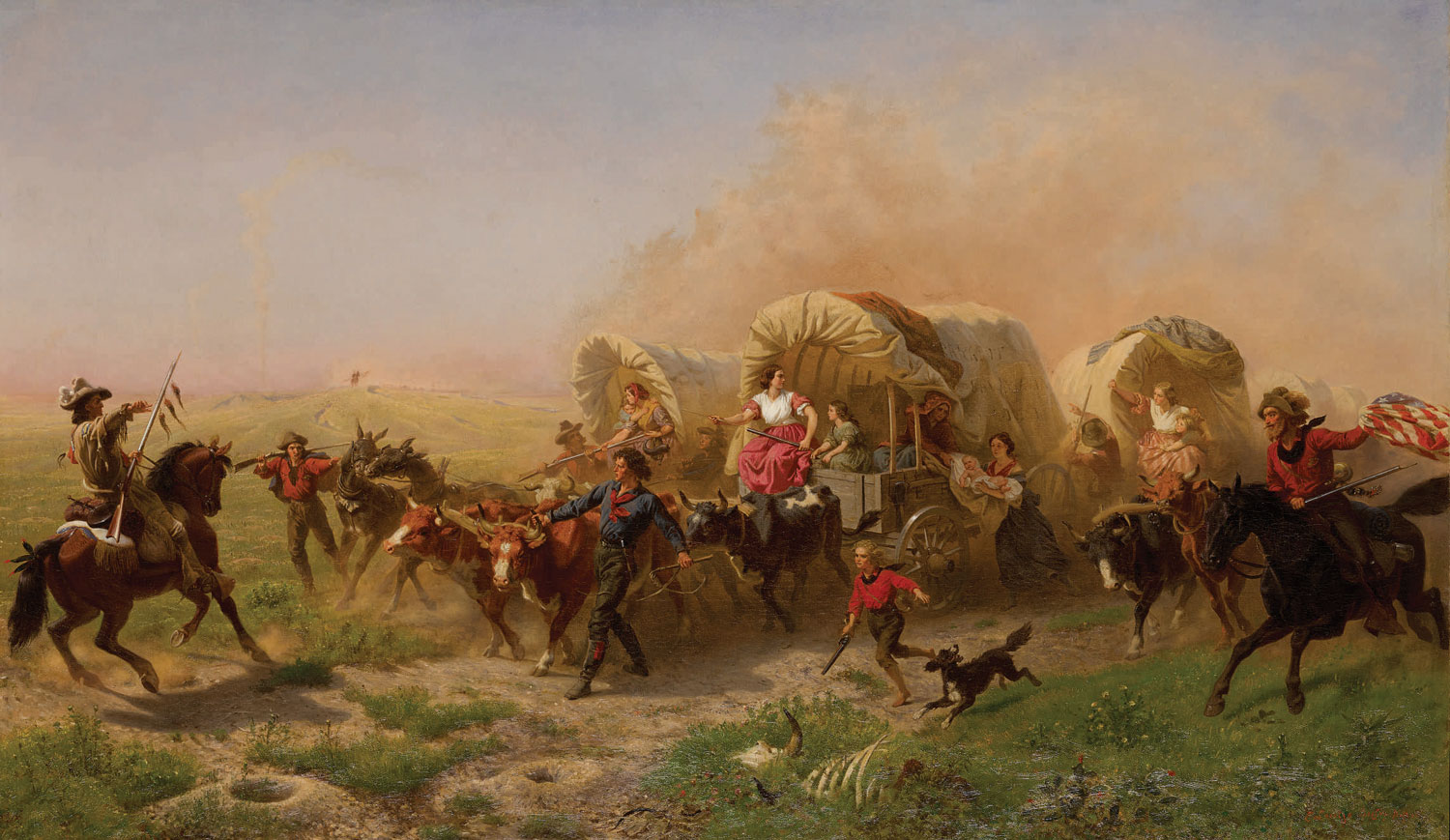 "Emanuel Gottlieb Leutze, Western Emigrant Train Bound For California Across the Plains, Alarmed by Approach of Hostile Indians" (Indians Attacking a Wagon Train) Oil on Canvas | 20 x 30 inches | 1909 | Est. $2,500,000 – $3,500,000 | Sold: $4,815,000 | Image courtesy of Sotheby's
09 Jan

Auction Block: Western Revelry

Figurative works and landscapes led western art sales in the closing weeks of 2018, with images of the region's storied figures competing with renderings of its storied places. 

In early November, the Santa Fe Art Auction saw several small-sized yet stunning portraits by Taos Society Artists E. Martin Hennings and Nicolai Fechin command handsome amounts above pre-sale estimates. 

The appeal of figures in repose found its counterpart in collectors who sought paintings that were emblematic of the West's rich and hard-won history, including a large work packed with drama and painted by Emanuel Gottlieb Leutze. His depiction of an anticipated conflict between a wagon train and Native American warriors set a new world auction record for the artist at $4.8 million during Sotheby's American Art sale in mid-November.

Landscapes more than held their own at a number of sales, including a piece by Birger Sandzén that sold during Heritage Auctions' American art event; a Yosemite Valley piece by Thomas Hill that exceeded expectations at an auction by Bonhams; and a masterful rendering of a moment in nature at Lake Tahoe by Albert Bierstadt at Christie's American Art sale.
Christie's American Art
November 20, 2018
A dreamy Albert Bierstadt, Lake Tahoe, California, rose above its pre-sale estimates of $120,000 to $180,000 to achieve $300,000 with fees at Christie's American Art sale on November 20 in New York City. The oil makes magical use of golden light, which illuminates water, trees, and sky as though a veil were lifted to reveal their inner glow.
The auction, which totaled more than $26 million, also showcased Georgia O'Keeffe's lyrical representation of the world contained in an undulating leaf in The Red Maple at Lake George. The painting is aflame with red and with the smallest token of a tree that O'Keeffe both represented and clearly adored. Red Maple topped $8.1 million and was one of two O'Keeffe paintings to fetch far more than expected.
The other, Black Door with Snow, sold for more than $3 million with fees, or twice its high estimate. The painting serves as O'Keeffe's minimalist exploration of Southwestern architecture, according to Christie's, and is one of 22 works in which the subject is the door of a structure she ultimately came to own.
While the amount brought by a Maynard Dixon painting may struggle to compare with the price of an O'Keeffe, it's worthy to note that his Cloud realized $68,750, with expectations ranging from $25,000 to $35,000. The work defies its title by presenting a sky that is mostly filled with one of the curving and monumental clouds that only the U.S. Southwest appears to produce with regularity. The painting demonstrates Dixon's brilliance in conveying the force of a landscape so bare of green but so giving of the gray and ochre threaded throughout its spaces.
Christie's sale featured what is perhaps the most recognizable of Frederic Remington's bronzes, The Broncho Buster, which went for $432,500 in a sign that familiarity does not breed contempt among collectors. That sum compares to pre-sale estimates ranging from $200,000 to $300,000 for the 24.5-inch-high sculpture.
Bonhams:
California and Western Paintings and Sculpture
November 19, 2018
Native American Art: December 11, 2018
A grand scale was required for Edgar Payne's The Inyo Sierra and that was just what the artist provided for a framed oil on canvas that measured 48-by-48-inches. The striking scene of a high mountain lake, composed only of clouds, sky, and snow, fetched $175,000, including buyer's premium, at Bonhams' sale of California and Western works on November 19 in Los Angeles, California.
Payne, rightly named among the group of artists known as the California Impressionists, could not boast of prodigy status in the fashion of Raphael or, centuries later, Picasso, but that did not dissuade the self-taught artist from gaining the authority to depict the rugged high country of the Golden State and enchant international audiences with his efforts.
At the close of 2018, Bonhams' spotlight on California and Western art was infused with 48 items that conveyed the taste and integrity of a collection assembled by well-known art dealer and scholar John H. Garzoli. Standouts among standouts included Thomas Hill's panorama Yosemite Valley from Inspiration Point. The large-scale painting is a delight of flattened cliffs meeting broad sky in a mist of clouds and light. The uplifting feeling of the piece is so significant that the viewer is all but elevated to plateaus where there is thin air and angled rays of sun.
The painting, in which the outlines of towering rock formations are mimicked by shapes in the surrounding sky, was expected to realize between $150,000 and $250,000. Instead, the price climbed to $336,500 including buyer's premium.
The highlight of Bonhams' sale of Native American art on December 11 was an exceptional Tlingit rattle that went for $504,500 and which was carved in the form of an oystercatcher with gracefully curving neck, according to the auction house.
Sotheby's American Art
November 16, 2018
An expansive sky clouded by the dust of riders and wagons is the sole element in stillness in an outsized painting by Emanuel Gottlieb Leutze. The work depicts the alarm and preparation for conflict by members of a California-bound wagon who were fearing an attack by an unseen band of Native Americans.
Leutze's Western Emigrant Train Bound for California Across the Plains, Alarmed by Approach of Hostile Indians bears a long title for a painting that captures a single interval in the life and times of a nation and its peoples seeking to cement their identity. The piece achieved $4.8 million at Sotheby's American Art sale November 16 in New York City to set a new world auction record for the artist that represents more than double the previous one. 
The ultimate price for the painting exceeded pre-sale expectations that ranged up to $3.5 million, and its sale was to benefit the Dover Free Public Library in New Jersey, where the work had been on display since being given to the institution in 1943, according to Sotheby's. The German-born artist is best known for Washington Crossing the Delaware, which is in the Metropolitan Museum of Art collection in New York City.
Leutze's painting was in good company at a sale that brought more than $44 million, and which was led by what Sotheby's described as Edward Hopper's autobiographical masterwork, Two Comedians, which went for $12.5 million. That painting, formerly in the collection of Frank and Barbara Sinatra, shows Hopper and his spouse on a stage in the pose of actors preparing to take their final bow. It's a thought-provoking piece, and its provenance only adds to its air of mystery and, arguably, anticipation.
The market proved strong for a watercolor by Thomas Moran, master painter of Western landscapes, with Big Springs in Yellowstone Park, fetching $1.9 million compared to estimates ranging from $1 million to $1.5 million. The work was produced as part of the U.S. government's survey of the Yellowstone Territories in the expedition led by Ferdinand Hayden in the 1870s, according to the auction house. And it could be said of the skill and intention of the artist behind Big Springs that he vied with the likes of Turner and Constable for landscapes built from color and light.
Nature, that mistress of disguise, was firmly at the center of a Georgia O'Keeffe painting, Cottonwood Tree in Spring, which went for $3.9 million. That compares to a high pre-sale estimate of $2.5 million for a work painted in 1943, which Sotheby's said was a testament to the deep inspiration O'Keeffe found in the American Southwest.
Santa Fe Art Auction
November 10, 2018
If the genius of a portrait is measured by its success in conveying the true nature of its subject, then Joseph Sharp's painting of two Native Americans — Hunting Son and Eagle Star — set the bar.
The thought-provoking image — two figures, dressed in buckskins and moccasins, seated on the ground against an adobe wall — by one of the fathers of the Taos Society of Artists, was the top lot, at $300,000, at the Santa Fe Art Auction, which took place on November 10 and brought more than $2.2 million with a sell-through rate of 84 percent.
"It was a stand-out piece by Sharp for all the key reasons: The composition is amazing, the lighting is superb, and the images are iconic," said sale director Jenna Kloeppel. "It's the kind of painting that, as a Western art auction, we always hope will come our way."
And the aesthetic delights just kept coming, including a gem by an early 20th century Taos, New Mexico-based artist who was arguably the least well-known and most exotic of the talented band of painters who created an art community set against the snow-capped Sangre de Cristo Mountains. Nicolai Fechin, who fled his native Russia in the aftermath of the revolution and subsequent privation, made his home in Taos in the late 1920s after he was advised by New York doctors to go to the American West, where a drier climate might lessen the effects of his tuberculosis.
The pairing of Fechin's Eastern sensibility with the Western ethos of his adopted community produced such paintings as Shoo Shang, the compelling portrait of a woman, that elicited a flurry of international interest even before it went across the auction block. The painting realized $128,700 with fees, easily surpassing pre-sale estimates that ranged from $40,000 to $60,000. Not that one can set a price on surpassing beauty; the piece hit the high points of a talent securely linked to portraiture even as its allure was strengthened by its relative rarity.
"This is an artist with a limited amount of work on the market at any given time," Kloeppel said. In the region and elsewhere, Fechin is perhaps most familiarly known for the portrait he painted of Mabel Dodge Luhan, patron of the arts and artists, particularly those tied to the Taos colony. 
In yet another sign of the allure of smaller-sized portraits of soulful women by Western artists of the early-to-mid 20th century, E. Martin Hennings' Taos Maiden went for $152,100 with fees, compared to pre-sale expectations of $80,000 to $120,000. The 12-by-14-inch oil on canvas board is charming by any standard, first for its simplicity and next for the calm that emanates from the said maiden. The fresh-to-market piece marks the similarity in composition and subject to renderings by Taos co-founder E. Irving Couse, said Kloeppel. "It's capturing the classic essence of what we imagine a female from the Taos Pueblo would have looked like at the time Hennings had painted her," she said.
In an auction in which collectors appeared to not only acknowledge but also celebrate paintings that explored the forms and the variety of feminine beauty, an E.A. Burbank portrait, She-Comes-Out-First-Sioux, fetched a record-breaking $18,720 with buyer's premium or more than three times its low-end, pre-sale estimate.
And a work by Native American artist Helen Hardin, Arrival of the Cloud People, a splendid pairing of geometric designs with the pageantry of Roman Catholic rituals, climbed to $29,250 for a piece expected to bring between $15,000 and $20,000. 
Heritage Auctions
American Art Auction:
November 8, 2018
Texas Art Auction:
November 10, 2018
A new world record was set for a painting by the late G. Harvey when flanks of collectors assembled for Heritage Auctions' sale of American art on November 8 in Dallas, Texas. When Cowboys Don't Change went for $516,500 in an auction whose total topped $4 million and which showed buyers' deep interest in the genres of Western art and pieces produced during the nation's Golden Age of Illustration (late 19th to early 20th centuries), according to Aviva Lehmann, director of American art for the auction house.
G. Harvey chose an apt title for the 40-by-60-inch oil depicting cowboys riding on a roadway while leading pack horses, all against the backdrop of oil derricks, vintage motorcars, and streetlights. The painting harkens to another era in the oil patch — one that had already been encroached upon by modernity — but one expansive enough to include kerchiefed men in dusters mounted on the West's original mode of transportation.
Nostalgia and Americana were front and center in Norman Rockwell's Girl with Black Eye (The Shiner), a 1953 cover study for The Saturday Evening Post. The work sold for $275,000 after exciting the attention and efforts of
multiple bidders.
But let us repair to a quieter moment in the annals of art, one in which the power of Impressionism finds a tempered but ardent follower in American illustrator Jessie Wilcox Smith. The charm and technical skill of Smith's Among the Poppies, The Child in a Garden, which Heritage said was an interior illustration for the December 1901 edition of Scribner's Magazine, was not lost on bidders. They drove the price to $137,500, more than two times pre-sale expectations for the watercolor, oil, and charcoal on board. Strongly reminiscent of Mary Cassatt's tender depictions of the relationship between mother and child, Smith's painting of toddlers closely examining red poppies does not contain an image of their mother, yet she looms large in sentiment.
Sunset, a 1923 landscape by Birger Sandzén shows the artist's early confidence in painting and his mastery of a technique that, conversely, demands a light touch. Some of us will never tire of tracking Sandzén's evolution from art student in Stockholm and Paris to leading the art department at Bethany College in Lindsborg, Kansas, and of paintings that speak of the power of nature to soothe and also to inspire. Sunset went for $118,750, more than three times its high estimate.
A pair of paintings by Velox Benjamin Ward gained the number one and three slots at Heritage Auctions' sale of Texas art on November 10. Ward's Wash Day at Spring, a modestly-sized oil on board, realized $62,500 to lead an auction that totaled nearly $456,000. Ward's Papa's Suit and Boots sold for $21,250, behind the second bestseller, Alexandre Hogue's Untitled, 1976. 
Altermann Galleries & Auctioneers
November Online Auction:
November 1 – 30, 2018
Online auctions have been gaining ground among Western art auction houses and gallerists in recent years, and Altermann is no exception.
A 13-by-13-inch oil entitled Canyon Lands by Frank Howell was among offerings at the November 2018 sale, with the rendering of a Native American visage detached from physical space going for $4,200. 
Topping that was a sculpture by the late Dave McGary. His American Horse in polychrome bronze fetched $4,800 with fees.
And a small but action-packed etching by Edward Borein, Robes and Meat, showing American Indians on horseback hunting buffalo, brought the tidy sum of $2,400.