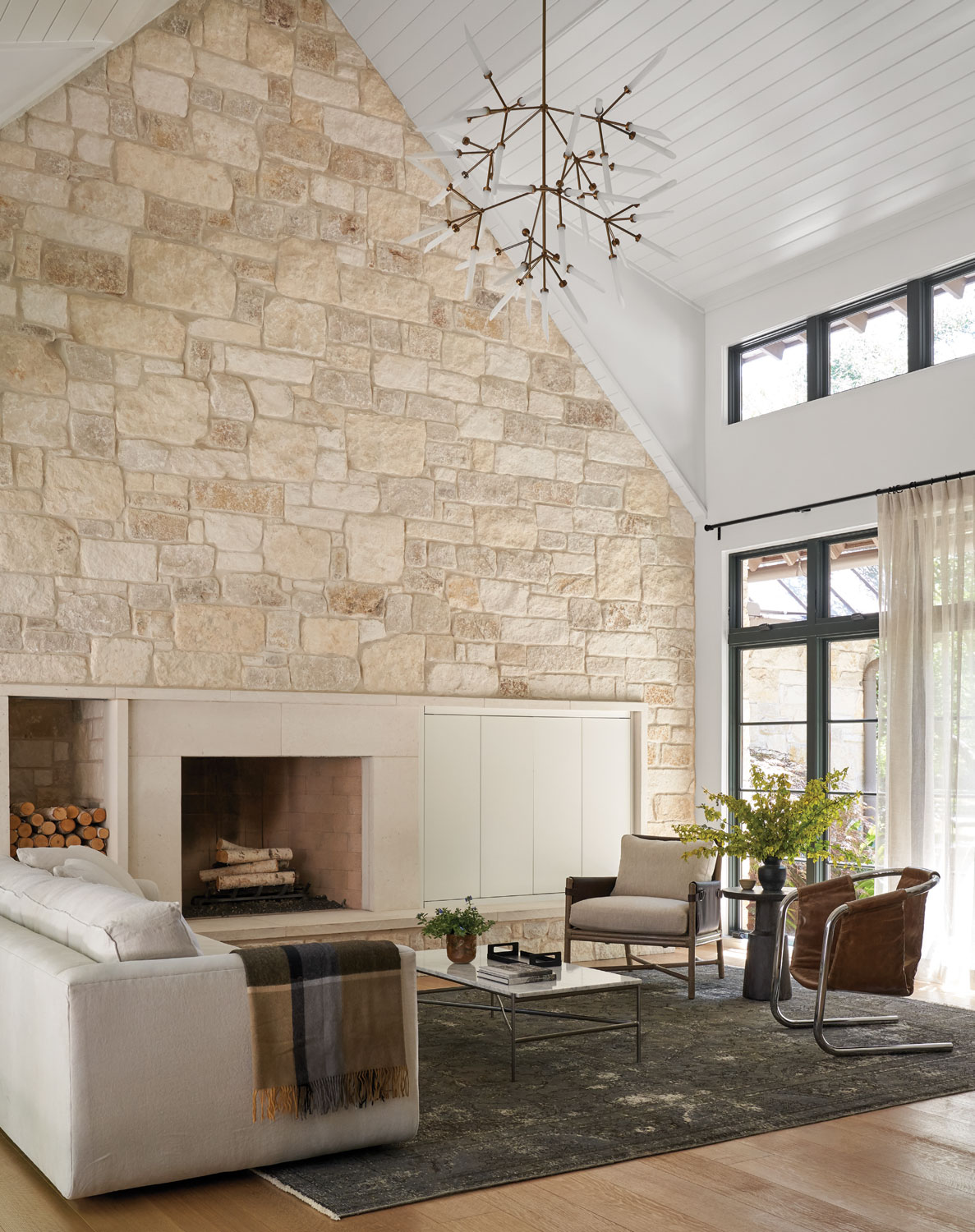 The masonry wall is clad in locally-sourced Lueders limestone that is native to this region in Texas. The LED chandelier is from Tech Lighting.
11 Sep

Designing the West: Classic Comfort

Good design, Chad Dorsey says, is all about emotion. "Our spaces tell our stories — the art that inspires us, the places we've traveled, who we love, and how we live," he says. "My inspiration comes from the many different facets of my clients' personalities." 

Growing up in a gray-shingled Cape Cod-style house in Eastern Tennessee, Dorsey often accompanied his mother to antique shops and yard sales. "Mom was big into refinishing furniture," he says. "I was intrigued by how she could transform a nondescript piece into something beautiful, and I began to be increasingly interested in home design."

After high school, Dorsey pursued a degree in architecture at the University of Tennessee, and during the summers he built and refinished furniture to earn extra money. Upon graduating, he landed at Wilson Associates in Dallas, Texas, designing luxury commercial and hospitality projects. "As a project manager overseeing interior designers, I began to understand residential space design and develop a passion for it," he says.

During this time, Dorsey and his partner were also buying houses and renovating them for resale. "We did all the improvements and interiors, and began to accumulate a client base through word of mouth and referrals," he says. 

In 2006, Dorsey co-founded MORE design + build, offering comprehensive architecture, planning, and construction management services. Primarily specializing in residential projects in and around Dallas, the company manages every detail from inception to completion and has won five Best of Houzz awards. 

With clients increasingly requesting more interior design work, Dorsey launched his eponymous firm two years ago. "Separating the interior design side of our business enabled me to launch a completely different kind of company," he says. "Along with handling all the interiors for MORE design + build, our reach expanded beyond Texas to projects on the West Coast and areas like North Carolina and Tennessee."

Because of his architectural background, Dorsey says he initially relates to interior design from a spatial standpoint. "I always want the architecture to speak first," he says. "The design scheme and furnishings should complement the architectural aesthetic."

Some clients have a particular vision for the space, while others give the team carte blanche. "My style is clean, relaxed, understated, and comfortable," Dorsey says. "At the same time, I'm open to possibilities and my personality reflects that. Design is a dialogue, and I like to meet at the client's current home to understand how they live. Then we discuss how they want to feel when they're occupying the new space."

Dorsey often begins his design process with an element that is especially meaningful to the homeowner. "I like to explore imagery that tells a story," he says. "It might be a photo from a favorite trip, a particular food, or a piece of art. One client was inspired by the memory of a trip she took to Greece. Santorini inspired the design palate, from the floors to the wallcoverings to the ceilings."

The budget is discussed early in the process. "After we figure out what we think the space will need, we'll put together a conceptual budget," Dorsey says. "Once that's settled, our team can start developing conceptual boards and floor plans. The design process is 5 percent budget and 95 percent emotion."

The firm also helps clients incorporate artworks into the interiors, from acquiring new pieces to add to an existing collection to choosing all of the art for the home. 

Chad Dorsey Design will soon be offering one-of-a-kind artworks and furnishings to a wider audience. The firm's studio space in the Dallas Design District will be open to the public starting this fall. "We'll have custom furniture and unusual architectural elements like stone fireplace designs that are more modern than traditional mantels. We'll be showing handcrafted works from various artisans, and we'll also sell the high-end Italian linen line Society Limonta."

One of Dorsey's plans for future growth is to expand the hospitality side of the business. "I've always loved to travel and experience new places and cultures. My hospitality background tends to inform our residential projects. They go hand in hand because our homes are often inspired by the great places we visit, and when we're at a resort, we want to feel at home."

While his interiors often feature sophisticated furnishings and luxurious fabrics, the emotion Dorsey most hopes to evoke in the spaces he designs is comfort. "I never want clients to feel like everything has been meticulously placed," he says. "You should always feel relaxed in a space, whether you're getting ready to have dinner with 20 people or staying home in your pajamas."
Q&A with Interior Designer Chad Dorsey
What do you collect?
I have a number of handcrafted, one-of-a-kind wooden vessels on display at home — all different types, shapes, and sizes. Bob Schrader in Kingsport, Tennessee, makes some of my favorites. He uses wood from fallen trees and donates all the money to the Boys Club. I'll be featuring his work at my studio in Dallas.
What's one of your favorite accessories right now?
I'm not usually a big candle person, but Mad et Len is a French company that makes amazing artisanal candles. They have unusual scents and handsome containers made from materials like blackened steel and brass.
Tell us about some of your style inspirations.
James Perse's fashion and home lines exemplify the clean, effortless style and casual luxury that I try to evoke in my projects. And some of my design inspirations have nothing to do with interiors. The luxury Italian watchmaker Panerai makes a classic, high-precision watch that was originally for military use only. I love the lines of the Porsche Coupe and how it is both modern and timeless.
Do you have a favorite interior paint color?
We recently painted an entire room — including the ceiling — in Farrow and Ball's Brinjal. It's the color of cabernet, which was perfect for the lounge/cocktail area in the home. My favorite white is Benjamin Moore's Vanilla Milkshake. It's a bright white with a slightly warm undertone that's not too gray or cold.
When you want to unwind, where do you like to travel?
My ultimate getaway is staying at the home we own on San Juan Island in the Pacific Northwest. The pace is slower there, and the landscape is stunning. False Bay is nearby, and when the tide goes out, the water recedes, and you can walk across the entire bay.
Given your hospitality background, what makes a great guest room?
Natural light is an important element if you're creating a retreat for guests to escape and enjoy a little time to themselves. I also like to have a nice reading chair, comfortable bedding, and an assortment of different pillows.
Describe your personal entertaining style.
We designed and built our home in Dallas and love hosting informal gatherings with friends. We have a front courtyard under a canopy of trees that's a perfect spot for cocktails or casual al fresco dining.