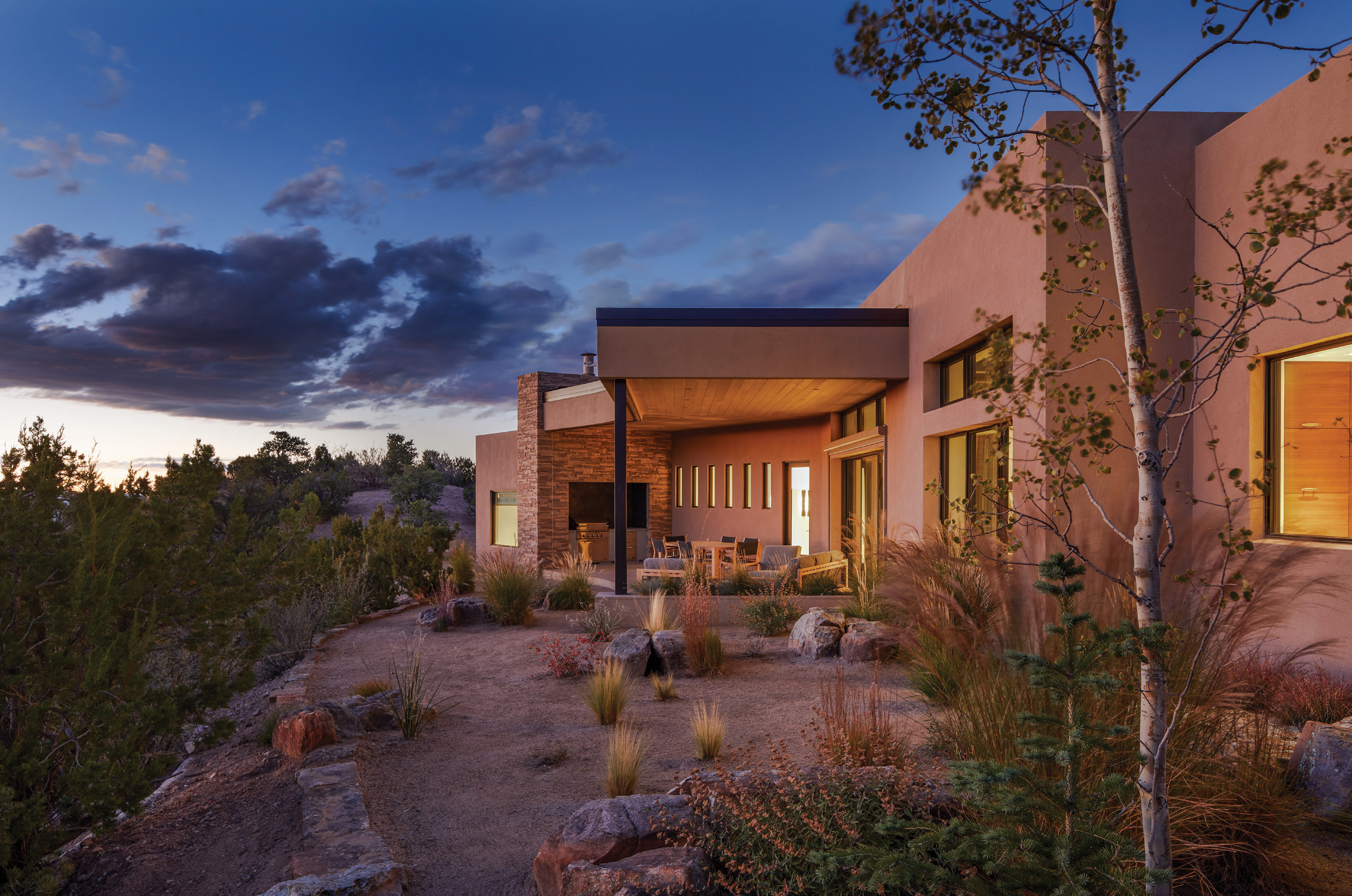 : Perched high on a ridgetop, a contemporary adobe home faces stunning views of the Jemez Mountains.
11 Mar

Designing the West: Joyful Living

Good design doesn't only transform a space, it can change a life. Just ask interior designer Lisa Samuel, founder of the award-winning Samuel Design Group in Santa Fe, New Mexico.

"I grew up in a humble setting and didn't even really know that interior design existed," says Samuel. "What I did recognize was that a nice home could support you and help you feel good. That was my earliest design process, to imbue my living spaces with natural objects and whatever I could find to make myself feel better."

As a single mother at age 19, with two children, Samuel didn't have the financial resources to attend college. "At that time, Santa Fe was a challenging place to be a young, single mom," she says. "I realized I had to do something to change my life. I applied and received a government grant to go to college in San Diego. I had always loved buildings, so I decided to study architecture and construction. Taking that step into the unknown was the big move that propelled me to a better future."

After graduating, she moved back to Santa Fe and worked in the civil, mechanical, and electrical engineering fields, producing construction documents for more than 15 years. "I'm so grateful for that experience," Samuel says. "Those years gave me an edge because now I understand everything about construction and building processes."

Meanwhile, she began to discover her talent and love for creating beautiful interiors. After returning to school to get her interior design degree, Samuel started her eponymous firm in Santa Fe in 1998.

"While I tend to like clean lines and timeless elements, my design approach is not about a particular style," she says. "Every person is different, so I use my skills, education, experience, knowledge, and God-given abilities to create a space that's completely unique for each client."

Although she designs many second homes for people who live in other states, Samuel feels it's essential to meet face to face. "There has to be a connection, and we have to be a good fit," she says. "During our meetings, we ask each other lots of questions back and forth across the table, and I dig deep to really understand what makes someone feel good in a space. Building trust is a process that takes time."

The company's showroom is where the design magic happens. Open and airy, the studio has furniture vignettes as well as large tables for viewing fabric swatches, paint samples, and design drawings. "It's important to be in a space that inspires us and makes us feel good while we're working," Samuel says. "Our showroom is where I get to express my personal aesthetic; it's serene and sophisticated with a global vibe. I showcase art pieces that resonate with me from [places] like Mexico and Africa; you can really feel it when an artisan puts their heart and soul into something they create."

The designer often accompanies her clients to the myriad galleries in and around Santa Fe to choose artworks for their homes and offices. "We love learning about the artists and exploring the background behind a piece," Samuel says. "Hearing the stories makes the experience of owning art much more rich and personal."

In addition to her construction background, Samuel has an innate ability to look at a home or space and envision the final outcome. To translate the ideas from her imagination, the firm uses AutoCAD and digital 3-D drawings to give clients an idea of a finished space. "Whether it's a remodel, an existing home, or new construction, I can see the finished product in my mind," she says. "Interior design is like a composition: whether it's music, a home, or a beautiful painting, you can't look at just one note and make a judgment, so I help my clients see the big picture."

The firm has two designers, an operations manager, and two design assistants on staff. With a wide range of residential projects in and around the Southwest and beyond, the company is expanding into more commercial and hospitality work and is currently designing the interiors for a 23-story hotel in San Diego's Little Italy neighborhood. Samuel is also developing a custom furniture line of her designs, inspired by nature and culture.

Her first love, she says, will always be creating spaces that make people feel good. "Our most successful projects have been those where people can let go and really trust us," Samuel says. "Bringing a beautiful vision to fruition that supports my clients' well-being is an extremely gratifying process."
Q&A
Interior designer Lisa Samuel shares some of her favorite design sources and inspirations.
Santa Fe has so many wonderful galleries. Can you tell us about a couple of your favorites?
Hunter Squared Gallery features quite a few European artists that are very intriguing and avant-garde. I also love Nuart Gallery, which has a wide range of contemporary art by both local and international artists. Tribal Art and Design Gallery has a wonderful collection of African art.
Where do you like to go for a relaxing getaway?
The fishing village of Xcalak is on the southern tip of the Yucatan Peninsula in Mexico. I first went there in 2004 and fell in love. At that time, it didn't have electricity and was very primitive, but now the village has solar power.
In your own home, what's one of your favorite possessions?
I have a huge metal bowl that I call my treasure bowl, where I display natural objects I've found on my walks and travels. It has stones, twigs, pine cones, mosses, seed pods, and things I've picked up from all over the world.
What's your go-to interior wall color?
I have three that I absolutely love: Fine Grain, Crisp Muslin, and Ash Gray, all by Dunn-Edwards. When you walk into a room painted with one of these colors, it just feels good — like a big hug.
When you have friends over, what's your entertaining style?
nWe enjoy more intimate gatherings, like a dinner party for eight. We love to have conversations that are meaningful and to get to know people on a deeper level. It's fun to make an artful presentation with a tablescape and food. I love French cooking, so I might prepare something like duck confit with roasted potatoes, a beautiful salad, and a light dessert, like a flan.