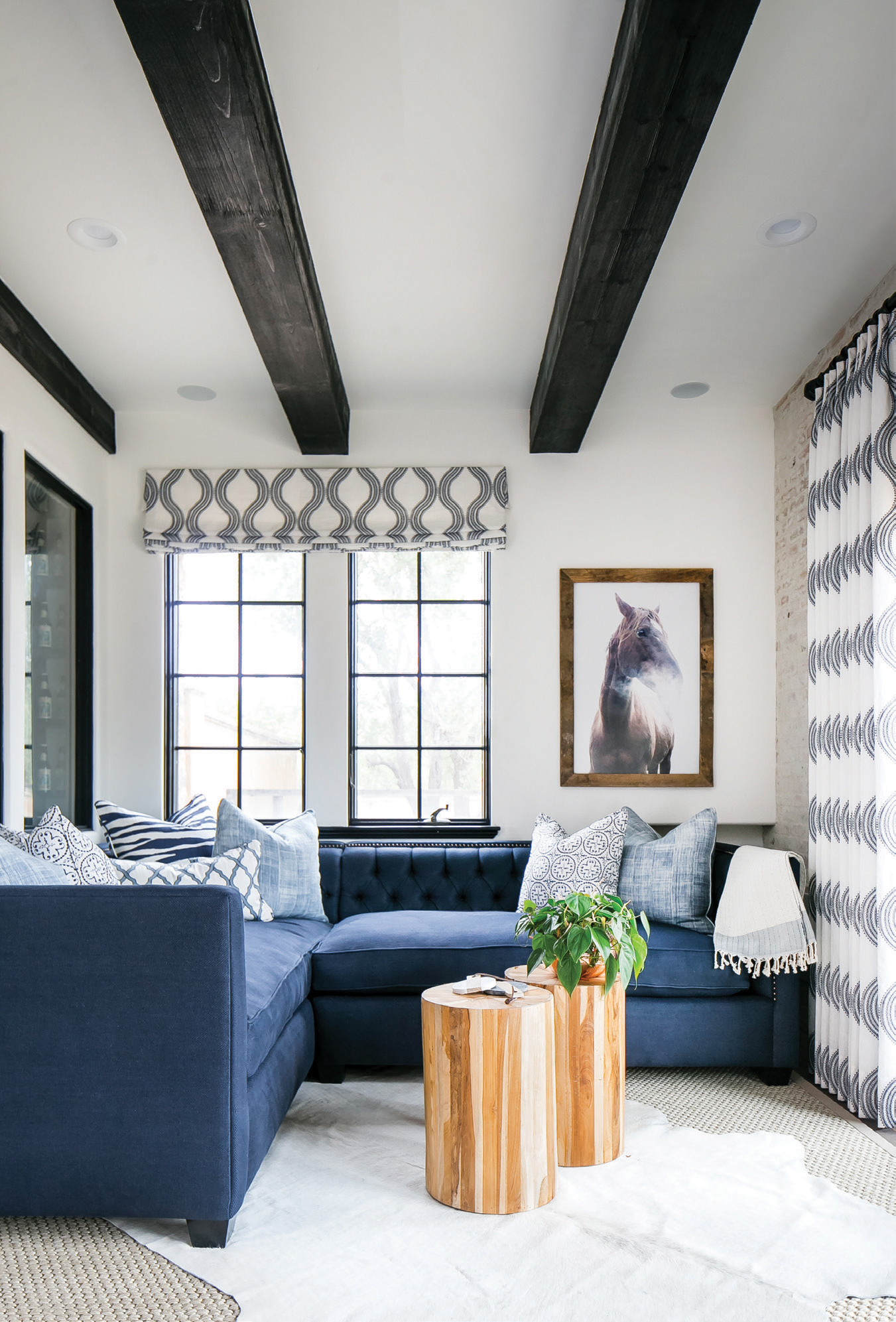 Interior designer Tracy Lynn created a cozy seating area in her clients' wine room in their California home. The draperies are Robert Allen fabric in Vicarage-Navy Blazer, and the blue sofa was custom made. A pair of Noir organic tables top a plush Kravet rug, and the equine artwork is from Ink & Co.
15 Nov

Designing the West: Modern Elegance

Designer Tracy Lynn's father served in the military, so her family moved every few years when she was growing up. Perhaps that's one reason why she always felt grounded at her grandmother's home in Chatham, Virginia, where Lynn spent part of every summer. "My grandmother was drawn to beautiful things, and her home was exquisite; it was always on the local house tour," Lynn says. "She taught me to love and appreciate fine antiques, and she was a wonderful hostess."

Before the idea of an interior design career presented itself, Lynn pursued a degree in psychology at Sacramento State University, began working in sales, got married, and bought a house. She describes her home's original condition as "rundown, waist-deep in trash, with a bathtub that had been used for cooking meth — but it was in a great neighborhood!" She and her husband tackled the renovation, and Lynn had her first experience making major design decisions and managing contractors.

Then a casual conversation at a party changed everything. "I was nine months pregnant and had hosted a baby shower at our home," Lynn says. "One of the guests said, 'I love your house; will you please come help me with mine?' I agreed to help her, and when her house was done, her neighbor said, 'Now will you help me with my house?' I had to figure out a company name and order business cards, and in those days, I stored furniture in our garage, and my husband and I did the installs."

That was 2002, and today her firm, Tracy Lynn Studio, employs 18 people in their San Diego office. "We have a great team, and we all genuinely like each other," Lynn says. "Some of our design associates have a contemporary style and others lean more coastal; some have mad technology skills, while others have deep knowledge of building codes. We all enjoy collaborating on our projects."

Lynn thrives on organization, and the whole company is set up on a precise calendar system. "We live and die by our calendar, and our employees set their own schedules," she says. "That's the culture here, and that freedom helps us do a better job for our clients. Being creative is not something you can rush; designers need time and space, and the only way to get it is to plan for it."

The company's goal is to understand their clients' vision for a space and help bring it to life. After an initial consultation to discuss the scope, budget, and timeframe, the team provides a cost estimate. "Once hired, we interview our clients in greater detail about their likes and dislikes, and ask personal questions to understand them and how their family functions," Lynn says. "Aesthetics and beauty are expected, but we feel like it's equally important to give tremendous
attention to the functionality of a space."

Typically, a month later, the clients return to the design studio where they can physically see their home laid out. "We show them all of the scaled drawings and walk them through the house room by room, showing them samples of materials and tangible pieces they can see and touch," Lynn says. "Instead of an abstract design conversation, we like to give our clients as much of a tactile experience as possible."

Once the design decisions are finalized, the creativity begins. For new homes, Lynn's project management team coordinates with all of the contractors throughout the entire job. "We have a software program that our clients can log into so they can see what's happening, view photos, check invoices, track progress, and ask questions. Open communication makes everyone happier," Lynn says. Once construction is complete, the design team brings everything into the home and goes to work preparing for the "big reveal."

"It's usually a one- to four-day process to install the window treatments, accessories, and furniture," Lynn says. "If it's a second home, we'll stock the cabinets with pots and pans and hang towels. Or, if you're moving from an old home, we have a professional organizer set up your closets and arrange everything in the kitchen."

With the exception of the occasional commercial project, the firm's primary focus is residential design, including lots of repeat business and referrals. "We love to travel and work outside of San Diego, and have designed many second homes around the country," Lynn says.

Her own ranch-style house was built in the 1950s. "We live at the beach, and you might describe the style as 'coastal traditional' — although it's pretty eclectic. I might combine a jute rug with a vintage chair that's covered in a new Schumacher fabric inspired by old wallpaper. Comfort is paramount to us, and our family photos and antiques give the interiors a lived-in feeling. I try not to save anything for a special occasion. We use my grandmother's dishes and her antique silver flatware all the time. They're beautiful, and I like using her things because it makes me think of her."
Q&A
Interior designer Tracy Lynn shares some of her favorite design sources and inspiration…
What is one of your most treasured possessions?
My dad was in the Air Force and served our country. When he passed away, I was given an American flag at his funeral. I had it framed, and it's at the front entry where I can see it every day and feel proud of him.
Tell us about an artist or artisan whose work you love right now.
Joseph Skoby is a local, up-and-coming pottery maker who does really beautiful, fun work. We've used his ceramics in several recent projects, and his pieces look good in a modern or coastal home. Andrew DePalma of Open Door Furniture is a ridiculously talented furniture maker. His attention to detail is outstanding, and you can see the love and attention in his work. If you can splurge on one of his custom pieces, it will be in your family forever.
Do you have a favorite interior paint color?
I love whites, and Benjamin Moore makes most of my go-to hues. Simply White is a warm, true white that looks great in almost any space. White Dove is a bit softer; it's warm with a creamy undertone that reads crisp white without being cold. Decorator's White is a great choice for cabinets and millwork.
When you want to unwind, where do you like to travel?
I recently went on a yoga retreat in Amaragos, Greece, a little tiny island of less than 2,000 people. I stayed at the Aegialis Hotel and Spa, a resort that caters to yoga retreats. Yoga, for me, is a time when I can be present in the moment, peaceful, and filled with gratitude.
Describe your entertaining style.
If I hadn't been a designer, I probably would have been a party planner. I love to entertain and enjoy thinking about the theme, table arrangements, and decorations. I recently hosted a bridal shower for one of our designers, and the invitation was a perfume bottle. We made perfume at the event, and everyone created their own scent that they got to take home. The décor was whites and florals, and I filled the pool with fun floaties. We had lunch outside with a summery menu of quiche, couscous, and salad.