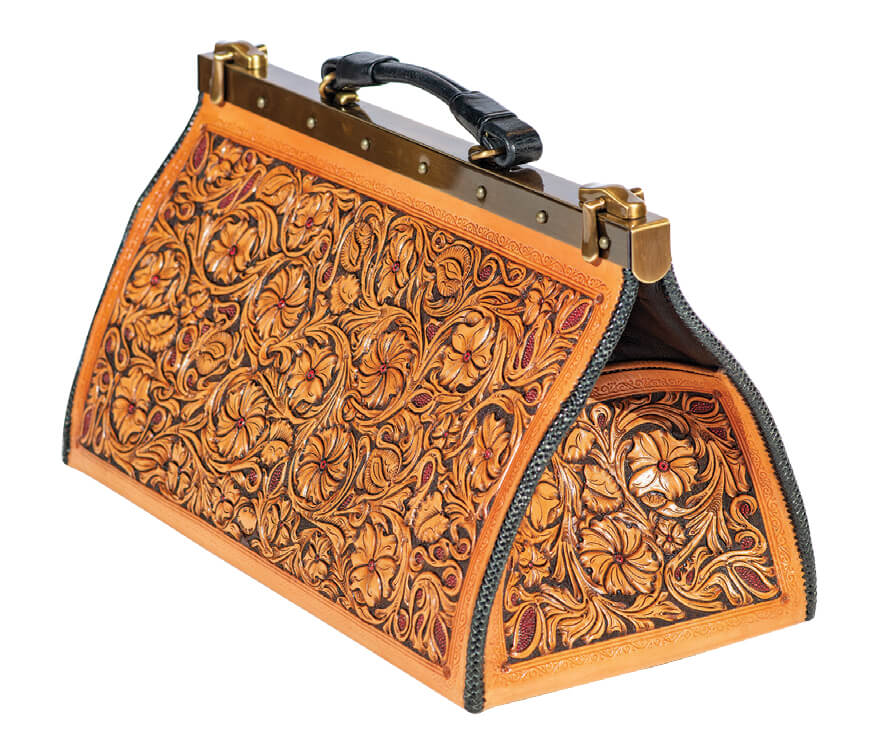 Hand-Carved Leather Doctor's Bag by John Blair
06 Sep

Things We Love
Hand-Carved Leather Doctor's Bag by John Blair
A second-generation saddle maker with more than 40 years of experience, Wyoming native John Blair applies his leather-carving skills to create bespoke decorative pieces, like this Doctor's Bag. A real work of craftsmanship, this bag is no ordinary briefcase. It features a basket-stamped bottom with brass feet and a soft black water buffalo lining. Blair used braids of kangaroo-leather lace to bind the sides together. The background is stained with cordovan and red dyes, followed by an antique finish and wax spray, before it's hand rubbed to create a "very European finish," Blair says. We love the saddle-inspired carvings and the fact that it can be used as a purse, travel bag, or decorative showpiece — or given as a special gift to a beloved medical professional.
8.25 x 16 x 9 inches
$9,850
bywesternhands.org
Bubble Armchair from Roche Bobois
French designer Sacha Lakic partnered with Roche Bobois to create a chair that's as cushy as it is classy and as functional as it is innovative. Known for his modern automotive designs, Lakic's "fascination for fast luxury cars and motorbikes lends much to the aerodynamic, smooth lines and graciously curved forms of his furniture designs for Roche Bobois." Each one is upholstered by hand with Techno 3D fabrics in bold or muted colors. And if you like this, fall into the bubbly comfort of a matching couch. Inspired by natural and mineral forms, and entirely handmade, it makes a sculptural statement in any room.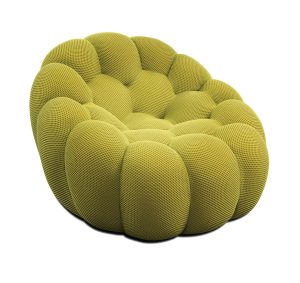 $4,345
Approximately 46 x 30 x 44 inches
roche-bobois.com
Inspired by Place from CLB Architects
CLB Architects released its first monograph, Inspired by Place, a passion project named after the firm's guiding philosophy. Written by WA&A contributor Chase Reynolds Ewald — with forwards by Ian Volner, Tom Kundig, and Agnes Bourne — the book features 11 of CLB Architects' renowned designs. Since its 1992 inception in Jackson Hole, Wyoming, CLB has "established an architectural language for the Mountain West" that speaks as much about nuanced design as it does about breathtaking landscapes. Inspired by Place introduces readers to the modern-meets-rustic scope of organically informed architecture while offering an enchanting glimpse into iconic Western places and spaces.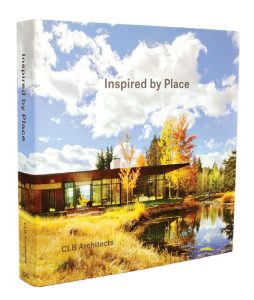 $75
Hardcover, 448 pages
oroeditions.com
 Cibolo Hutch from Yucca Stuff
We love how this handcrafted hutch is a contemporary interpretation of classic Shaker style. During the mid-1800s, the United Society of Believers in Christ's Second Appearing, commonly known as Shakers, developed an aesthetic for their architecture, furniture, and decorative arts based on unrivaled craftsmanship, simplicity, and utility. The Cibolo Hutch from Yucca Stuff is made of solid hardwood and features slender proportions and handmade terracotta pulls. It's also reflective of the company's overarching ethos: to build "modern classics" and "create enduring pieces that can withstand the caprice of passing trends." Based in Austin, Texas, and founded by woodworker and former architect Daniel Morrison in 2015, Yucca Stuff incorporates a regional flair in each piece by using local stone and hardwoods. The Cibolo Hutch is available in three wood finishes with five different color options for the ceramic pulls.
Prices vary depending on customization
48 x 18 x 90 inches
yuccastuff.com
Fabric Deer Mount from Near and Deer
Near and Deer's one-of-a-kind fabric-wrapped deer mounts — with painted antlers — add a sense of whimsy to a room. The idea was born from a loving disagreement between the Pennsylvania-based founders, a husband and wife. As an avid hunter, he wanted to hang trophy mounts in their home, whereas she — an animal-lover — didn't want the real skulls displayed. Thus, she purchased a taxidermy mount and created a decoupage piece that evolved into a burgeoning business that's now owned and operated by Dana Guyette and based in Arizona. Along with patterned mounts for sale on their website, Near and Deer has partnered with an on-demand fabric printer so they can customize a mount to suit any taste. In addition to more traditional deer or moose mounts, the company can create a variety of animals, from sharks and crocodiles to unicorns and dinosaurs.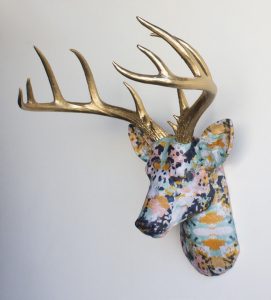 $235
22 x 16.25 x 13 inches
nearanddeer.com
Custom Living Room Swing by Russ Fry Design + Fabrication
If spectacular views are a central feature of a home, a perfect viewing venue is also imperative. And why not one that reclines and swings? We love that this swing — created by artisan Russ Fry, who designs and fabricates custom steel-and-wood furniture, lighting, and architectural installations from his studio in Livingston, Montana — serves as both a functional seat and a unique work of art. Known for thoughtfully crafted custom works — from upholstered wall panels and built-in bunk beds to hand-forged lighting fixtures — Fry balances function and form with a playful, modern aesthetic. The hanging mechanisms, finishes, and upholstery depend on homeowners' needs and styles.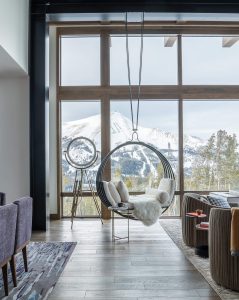 Custom sizes
Starting at $6,000
russfry.com