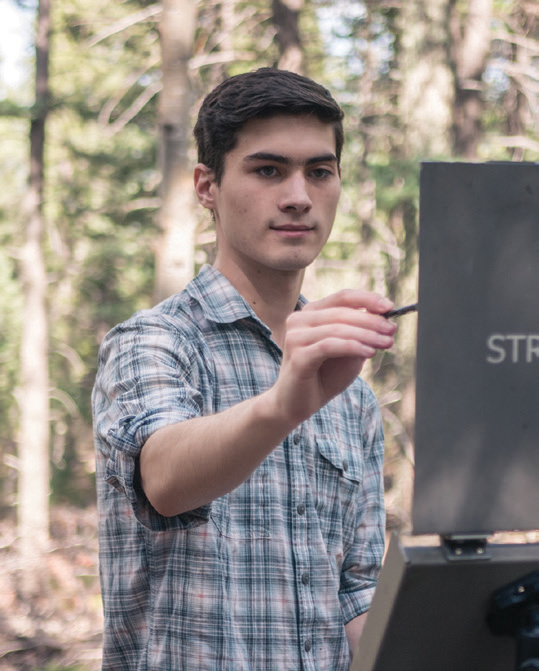 21 Nov

Artist Spotlight: Jared Brady

Jared Brady doesn't have to travel far from home to find subjects for his plein-air and studio landscapes. "Usually," he says, "I'm out painting on our property." His family's 30 or so acres, complete with an aspen grove and pine trees, is in Woodland Park, Colorado, just north of Pikes Peak. "I've painted that a lot," Brady says. "The sunrises and sunsets are always a source of inspiration."

Portraying scenes he knows well imbues Brady's work with an impressive air of intimacy, heightened by deft, painterly brushwork and a sensitive interplay of light and shadow. Looking at such efforts, it's tempting to apply adjectives like "masterly." But he modestly resists such praise, a becoming quality in an artist who turned 21 years old in November. Indeed, he readily emphasizes how new he is to this calling.

Although he loved drawing and design earlier on, Brady says he was "a little bit of a late bloomer." At age 15, his mother encouraged him to enter a local student art show. The night before, he stayed up late to paint a watercolor of one of the family dogs, a white golden retriever, and it ended up getting an award. "That put the idea in my head to start painting," he says.

Soon after, Brady's mother signed him up for private lessons with Ken Shanika, a professional plein-air painter and teacher who lives nearby. "Once I saw him paint, and the paintings he had done, I thought maybe I should give plein air a try," Brady says. As his abilities blossomed, their weekly sessions expanded to incorporate the business side of art. And Brady continues to participate in workshops from other artists as well, including renowned Vietnamese-American painter Quang Ho. "Quang taught me to focus on identifying and painting light and shadow, and to not think about what the objects are to give the painting a more cohesive look," Brady notes. The results of that lesson are evident in Winter Shadows, completed last January.

Though Brady sometimes ventures further afield to settings like Adams Falls at Grand Lake in Colorado — the subject of his recent Misty Morning at the Falls — most days find him roving his family's land. "I'll paint more intimate things, like a deer or doe in a small clearing. Moments like that are just really special to me," he says.

Brady has also essayed figurative work, including self-portraits like Fortissimo, an image of himself intently practicing piano. He also sometimes paints pets, as he did with Basking in the Sun, showcasing his golden retriever Molly. And he donates a portrait of the winning dog in the annual pet show at a local senior living home.

Despite all that activity, Brady hastens to point out that he considers himself "a part-time painter," currently dividing his time between art, graphic design, and website design. "But," he adds, "I would definitely like to go into art full time within the next few years." Considering what he has already achieved in the first six, the results of that commitment may very likely be astounding.

Brady is represented by Studio 8369 in Grand Lake, Colorado, and Jack Meier Gallery in Houston, Texas.