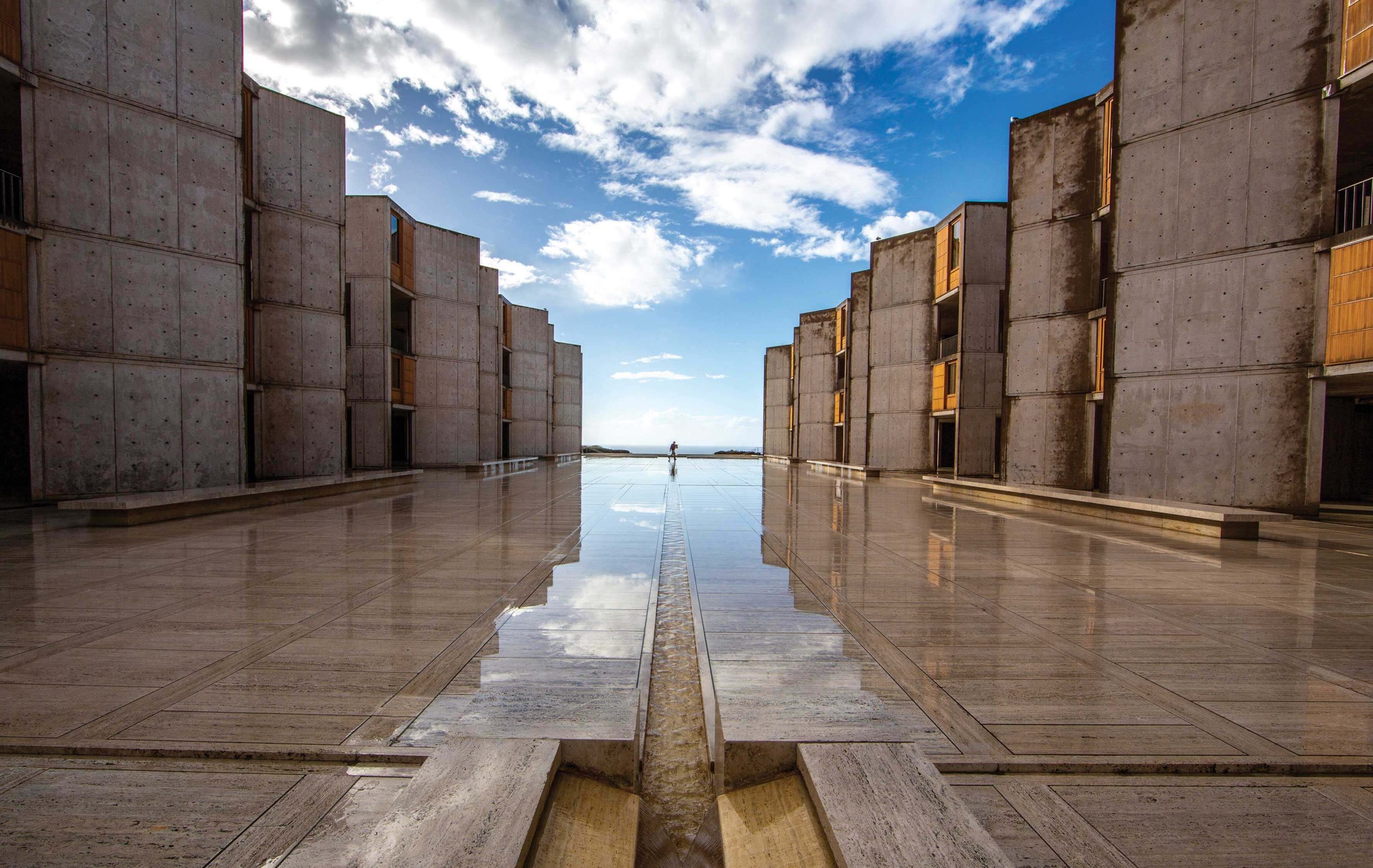 The Salk Institute courtyard shimmers after a rainfall. Completed in 1963 and designed by Modernist architect Louis Kahn, the site is open for public tours by reservation.
10 May

Wanderings: A City in Motion

In 1960 Jonas Salk, inventor of the polio vaccine, hired acclaimed architect Louis Kahn to design a research center "worthy of a visit by Picasso." The Salk Institute for Biological Studies was born three years later, winning accolades as one of the nation's most magnificent structures. The 29-building campus of poured concrete, steel, glass, and teak sits on a bluff overlooking the Pacific Ocean in the San Diego suburb of La Jolla. Two lengthy laboratories, each six stories high and separated by an expansive courtyard, mirror one another. The horizontal water feature River of Life bisects the courtyard, extending out to the sea, representing "the constant trickle of discoveries."

Tour books often rate the Salk Institute as San Diego's number one attraction. And few destinations can rival the city's breadth and depth of design styles, ranging from Victorian to Craftsman to Mid-century Modern and beyond. Anyone embarking on an architectural journey in San Diego will trace history through the past three centuries. 

This coastal metropolis is California's second most populous city, with 1.4 million residents. San Diego and its vicinity is home to several Navy, Marine Corps, and Coast Guard bases. The region is also the headquarters for more than 100 research institutions working to invent cures for cancer and other diseases. It's also where fish tacos were invented in the 1980s, and the dish has been reinvented hundreds of times throughout the city and across the nation. 

San Diego's history begins in 1769 with the arrival of Spanish explorers and the founding of Mission San Diego de Alcalá. This was the first European settlement in what is now California. Seven miles away from the historic mission basilica — still an active church — Old Town San Diego State Historic Park offers a glimpse of these earlier years with original adobes, cultural demonstrations, and the quaint Cosmopolitan Hotel and Restaurant, first built in the late 1820s. 

Europeans flocked to San Diego in the latter part of the 19th century. Victorian homes, known for their vibrant colors and ornate details, became the gold standard. You can explore restored residences at Heritage County Park, adjoining Old Town. And in downtown's Gaslamp Quarter, Victorian-era buildings are mixed in with high-rises, creating a bustling zone with shops, restaurants, and bars. 

 By 1915, when the Panama-California Exhibition opened in Balboa Park, newly built exhibit halls premiering Spanish Colonial Revival architecture captivated San Diegans. Today, the 1,200-acre park and its museums, theaters, and buildings have been declared a National Historic Landmark District. Be sure to visit the Spanish Village Art Center with some 200 artists and studios. The Old Globe Theatre is also one of the best regional theater companies in the country and a gorgeous place to see summer Shakespeare outdoors in a replica of the writer's original Globe. Just steps away is the San Diego Museum of Art, perhaps best known for works by Spanish Old Masters, including El Greco, Goya, Ribera, Sanchez Cotán, and Zurbarán. The San Diego Museum of Natural History and the San Diego Zoo, with 3,500 animals, are also located inside Balboa Park and are worth visiting.

Fast forward to the 1970s, when architectural styles shifted drastically. The famous Salk Institute triumphs as a prime example of Brutalist architecture. With an emphasis on materials over design, the Salk facility takes angular, geometric shapes and block forms to an extreme.

 Brutalism meets futurism at UC San Diego, where many liken the Geisel Library to a spaceship. The 8-story layered sphere, designed by architect William Pereira in 1970, is dedicated to Audrey and Theodor Geisel, the latter more affectionately known as Dr. Seuss. Approximately 8,500 photos, notebooks, and other Geisel memorabilia are housed here in the special collections. 

Several 21st-century constructions represent one-of-a-kind gems. The San Diego Central Library, opened in 2013, is crowned with a 221-foot aluminum lattice dome. The same local architect, Rob Quigley, designed the nearby Torr Kaelan, an energy-efficient mixed-use complex five stories tall and just 42 feet wide, featuring a staggered cutout from the street to the rooftop that reveals offices behind a white exterior. Also in the heart of downtown, the San Diego Padres ballpark (Petco Park), which opened in 2004, nestles among old warehouses, putting an urban spin on the old ballgame.

Lodgings based on architectural styles can anchor this thematic visit to San Diego. For contemporary digs, downtown's new Intercontinental Hotel, with waterfront views and California coastal design, checks the boxes. The Fairmont Grand Del Mar, boasting fountains and archways, exudes that whisk-me-away Mediterranean feel. The Lodge at Torrey Pines represents the ultimate in Craftsman expertise with post-and-beam construction, stained glass, and Arts and Crafts furnishings. For many visitors, the red Victorian turrets beckon at the palatial Hotel del Coronado. It was built in 1888, considered the second largest wood structure in the country, and is an official National Historic Landmark. And the U.S. Grant Hotel, located downtown, is a beautiful old urban hotel founded by President Grant's son, Ulysses S. Grant Jr.

In San Diego, you can indulge in more than 40 museums, from niche specialties to general interest. In addition to the San Diego Museum of Art, discover its Balboa Park neighbors, the Timken Museum of Art, and the Museum of Photographic Arts; and the San Diego Museum of Contemporary Art (with a branch downtown and its main building in nearby La Jolla).

Meanwhile, San Diego neighborhoods abound with creative hubs. Liberty Station, once the Naval Training Center, is a trendy commercial development repurposing Spanish Colonial Revival buildings. New venues for restaurateurs and artists make it ideal for visitors who want to support entrepreneurs.

And don't forget to savor the established galleries of La Jolla, the region's upscale beach town. Choose your favorite painting or sculpture at Contemporary Fine Arts, LIK Fine Art, or Legends. Plan on attending First Fridays La Jolla Art Walk, during which monthly evening strolls will take you to more than a dozen galleries.

Next time you need an art and architecture fix, fly to San Diego. Admire historic buildings and thought-provoking paintings to expand your horizons. Perhaps you'll even join the legions of visitors who unexpectedly fall in love with the City in Motion.
ARCHITECTURE
Balboa Park
619.239.0512; balboapark.org
Gaslamp Quarter
619.233.5227; gaslamp.org
Geisel Library at UC San Diego
858.534.0134; library.ucsd.edu
Heritage County Park
858.565.3600; sdparks.org
Mission Basilica San Diego de Alcala
619.281.8449; missionsandiego.org
Old Town San Diego State Historic Park
619.228.9340; oldtownsandiego.org
Salk Institute for Biological Studies
858.453.4100; salk.edu
San Diego Central Library
619.236.5800; sandiego.gov
Torr Kaelan
619.232.0888; site.robquigley.com
LODGING
The Cosmopolitan Hotel and Restaurant
619.297.1874; oldtowncosmopolitan.com
Estancia La Jolla Hotel & Spa
858.412.0100; estancialajolla.com
Fairmont Grand Del Mar
858.314.2000; fairmont.com/san-diego
Hotel del Coronado
619.435.6611; hoteldel.com
Intercontinental San Diego
619.501.9400; intercontinentalsandiego.com
The Lodge at Torrey Pines
858.453.4420; lodgetorreypines.com
GALLERIES
Spanish Village Art Center
619.233.9050; spanishvillageartcenter.com
Contemporary Fine Arts
858.551.2010
contemporaryfineartsgallery.com
Legends Gallery La Jolla
858.456.9900; legendsgallerylajolla.com
LIK Fine Art
858.200.0990; lik.com 
MUSEUMS
Mingei International Museum
619.239.0003; mingei.org
San Diego Museum of Contemporary Art
858.454.3541; mcasd.org
San Diego Museum of Art
619.232.7931; sdmart.org
Timken Museum of Art
619.239.5548; timkenmuseum.org
Museum of Photographic Arts
238.7559; mopa.org
USS Midway Museum
619.544.9600; midway.org
RESTAURANTS
Craft & Commerce
619.269.2022; craft-commerce.com
Extraordinary Desserts
619.294.2132; extraordinarydesserts.com
Haidilao Hot Pot
858.352.6066; haidilao.com
Morning Glory
619.629.0302; morningglorybreakfast.com
Nine-Ten Restaurant & Bar
888.964.5900; nine-ten.com
Swagyu Chop Shop and Burger Pacific Beach
858.352.6634; swagyuchopshop.com
Wolf in the Woods
619.234.2597; thewolfinthewoods.com