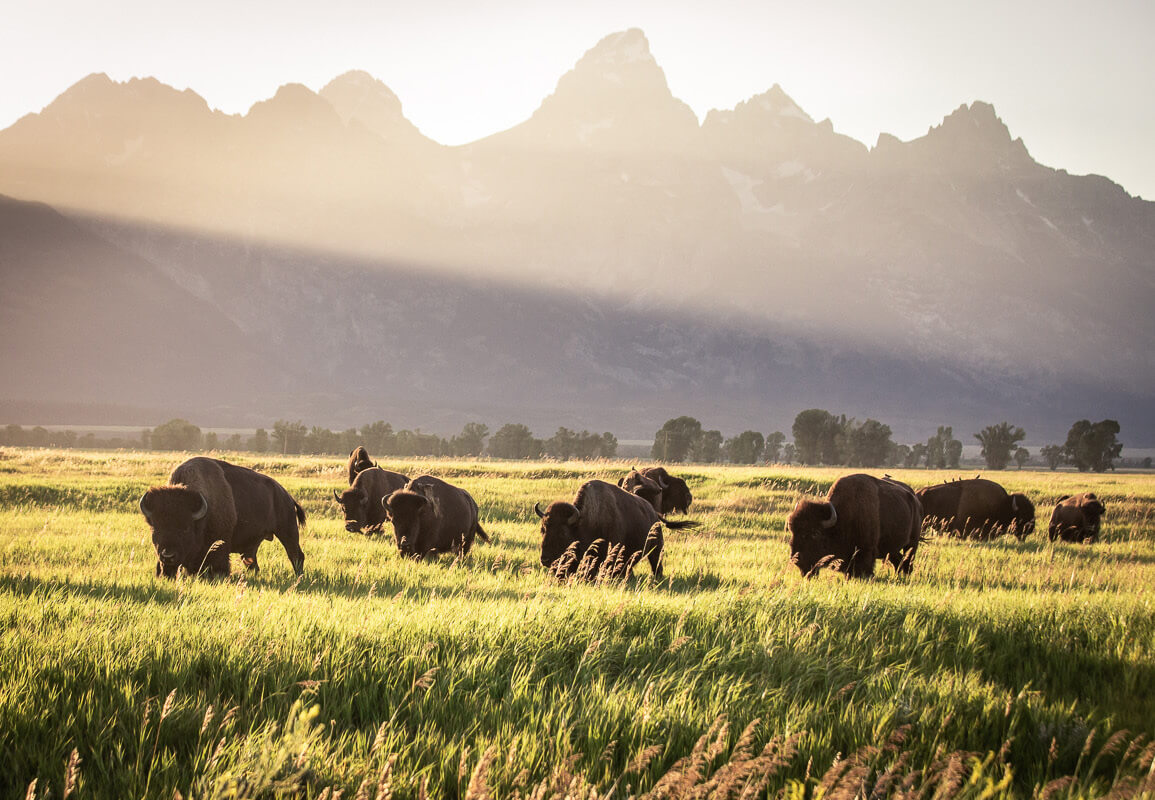 Jackson Hole, Wyoming, sits in a valley bordered by the iconic Teton Mountains.
06 Jul

Wanderings: Jackson Hole, Wyoming

Many people never forget the first time they laid eyes on the Tetons. As one of the most iconic mountain ranges in the U.S., they tower over Jackson Hole, Wyoming, just south of Yellowstone National Park, with the Grand Teton standing tallest at 13,766 feet.

So, one can only imagine the look on Davey Jackson's face when the intrepid explorer and fur trapper set eyes on these craggy peaks in the 1820s, becoming the first European to spend a winter in the valley. The area was eventually dubbed Jackson's Hole — a "hole" referring to a deep valley surrounded by mountains. By the 1890s, most of the area's settlers were cattle ranchers, and in 1894 the town was officially named and platted.

The history of Jackson Hole is important because, in many ways, it defines the community that exists there today. It's a place where ranchers coexist with hard-core outdoor adventurers, ski bums, and wealthy second homeowners; where Western dives and custom cowboy hat makers sit alongside upscale art galleries and high-end clothing stores; those donning fur coats can be spotted next to locals in duct-taped down jackets in winter; and a cowboy in chaps might be sitting at the bar next to an angler in damp waders come summer. In addition, as a gateway to Grand Teton and Yellowstone national parks and a popular year-round vacation destination, Jackson Hole draws visitors from all over the world.

It's this eclectic cultural fusion — along with the picturesque views and endless outdoor activities — that makes this mountain town unique.

A large draw is Jackson Hole Mountain Resort, which opened in 1964 and is iconic in the snowsports world. "Jackson Hole is still absolutely known as a hard-core ski town," says Andrew Kruger, communications manager for the Jackson Hole Chamber of Commerce. "I've been all over the Mountain West, and, by far, this is the place I see the most talented skiers. But, as it's developed, the arts and cultural scene has become really vibrant; there are national touring acts, world-famous artists — I can't even tell you how many galleries — and a number of events. It's become a year-round destination."

Special events bookmark each season in Jackson Hole, and one of the hallmarks is the Fall Arts Festival, which highlights the work of Western wildlife and landscape artists (September 6-17, 2023). More than 50 events occur at galleries and other venues over 12 days, including art walks, an art fair, and a popular quick draw event.

Coinciding with the festival is the Western Design Conference Exhibit + Sale, which showcases the work of Western artisans and designers, and Western Visions, an exhibit and auction that benefits the National Museum of Wildlife Art. Perched on a butte overlooking the National Elk Refuge, the museum features the works of some of the most well-known figures in landscape and wildlife art — from Georgia O'Keeffe and Andy Warhol to Carl Rungius and John James Audubon — making it worth a visit any time of year.

The winter ski season is capped off by the Rendezvous Festival, featuring two days of free live music by noteworthy bands in the Town Square and at the base of Jackson Hole Mountain Resort. Then, the summer season kicks off with Old West Days, a 10-day celebration of Western heritage with a parade, powwow, mountain man rendezvous, arts and crafts fair, and a brew fest and chili cook-off, among other things.

The quaint downtown has a colorful Wild West vibe, and is centered around the Town Square, where tourists line up for photos next to the renowned antler arches. It's easy to spend a day walking the wooden boardwalks and perusing the various stores, galleries, and eateries. Stop into the Jackson Hole Historical Society and Museum to delve into the town's history and join a walking tour, and top it off with a happy hour beverage at the famous Million Dollar Cowboy Bar, where a massive neon sign features a bronc rider.

In the winter, Snow King Mountain offers a family-friendly alternative to Jackson Hole Mountain Resort close to downtown (with summer activities as well), and High Mountain Heli-Skiing leads powder seekers into the wild backcountry. In addition, there are groomed Nordic trails and sleigh rides through the National Elk Refuge.

In the summer — aside from touring Yellowstone and Grand Teton national parks — a number of other outdoor adventures abound. Outfitters offer whitewater and scenic floats on the Snake River, just west of town, along with guided fly fishing for all levels. Tour the backcountry on horseback, or hit the many nearby trails on foot or bikes. And, keeping with the ranching tradition, Jackson Hole Rodeo hosts evening events on Wednesdays and Saturdays from Memorial Day weekend through Labor Day, and some Fridays in July and August.

A visit to Jackson Hole is destined to be a well-rounded one, with the Grand Teton observing from above.
Activities
Barker Ewing Whitewater
307.733.1000; barker-ewing.com
Center for the Arts
307.734.8956; jhcenterforthearts.org
High Mountain Heli-Skiing
307.733.3274; heliskijackson.com
Jackson Hole Chamber of Commerce
307.733.3316; jacksonholechamber.com
Jackson Hole Historical Society & Museum
307.733.2414; jacksonholehistory.org
Jackson Hole Mountain Resort
307.733.2292; jacksonhole.com
Jackson Hole Playhouse
307.733.6994; jhplayhouse.com
Jackson Hole Rodeo
307.733.7927; jhrodeo.com
Mangis Fishing Guides
307.733.8553; mangisfishingguides.com
National Elk Refuge Sleigh Rides
307.733.0277; nersleighrides.com
Snow King Mountain
307.201.5464; snowkingmountain.com
Willow Creek Horse Back Rides
307.733.7086; willowcreekhorsebackrides.com
Galleries
Altamira Fine Art
307.739.4700; altamiraart.com
Astoria Fine Art
307.733.4016; astoriafineart.com
Diehl Gallery
307.733.0905; diehlgallery.com
Fighting Bear Antiques
307.733.2669; fightingbear.com
Gallery Wild
307.203.2322; gallerywild.com
Horizon Fine Art Gallery
307.739.1540; horizonfineartgallery.com
Mountain Trails Gallery
307.734.8150; mtntrails.net
National Museum of Wildlife Art
307.733.5771; wildlifeart.org
A RARE Gallery
307.733.8726; raregalleryjacksonhole.com
`
Tayloe Piggott Gallery
307.733.0555; tayloepiggottgallery.com
Turner Fine Art
307.734.4444; turnerfineart.com
West Lives On Gallery
307.734.2888; westliveson.com
Wilcox Gallery
307.733.6450; wilcoxgallery.com
Lodging
Amangani
307.734.7333; amangani.com
Brooks Lake Lodge
307.455.2121; brookslake.com
The Cloudveil
307.699.6100; thecloudveil.com
Hotel Jackson
307.733.2200; hoteljackson.com
Inn on The Creek
307.739.1565; innonthecreek.com
Teton Mountain Lodge
307.201.6066; tetonlodge.com
The Wort Hotel
307.733.2190; worthotel.com
Dining
Blue Lion
307.733.3912; bluelionrestaurant.com
Coelette
307.201.5026; coelette.com
Gun Barrel Steak & Game House
307.733.3287; jackson.gunbarrel.com
Jackson Drug
307.201.1275; jacksondrug.com
Million Dollar Cowboy Steakhouse
307.733.1270;
milliondollarcowboysteakhouse.com
Mural Room at Jackson Lake Lodge
307.543.2811; gtlc.com/dining/mural-room-jackson-lake-lodge
Snake River Grill
307.733.0557; snakerivergrill.com
Il Villaggio Osteria
307.739.4100; jhosteria.com