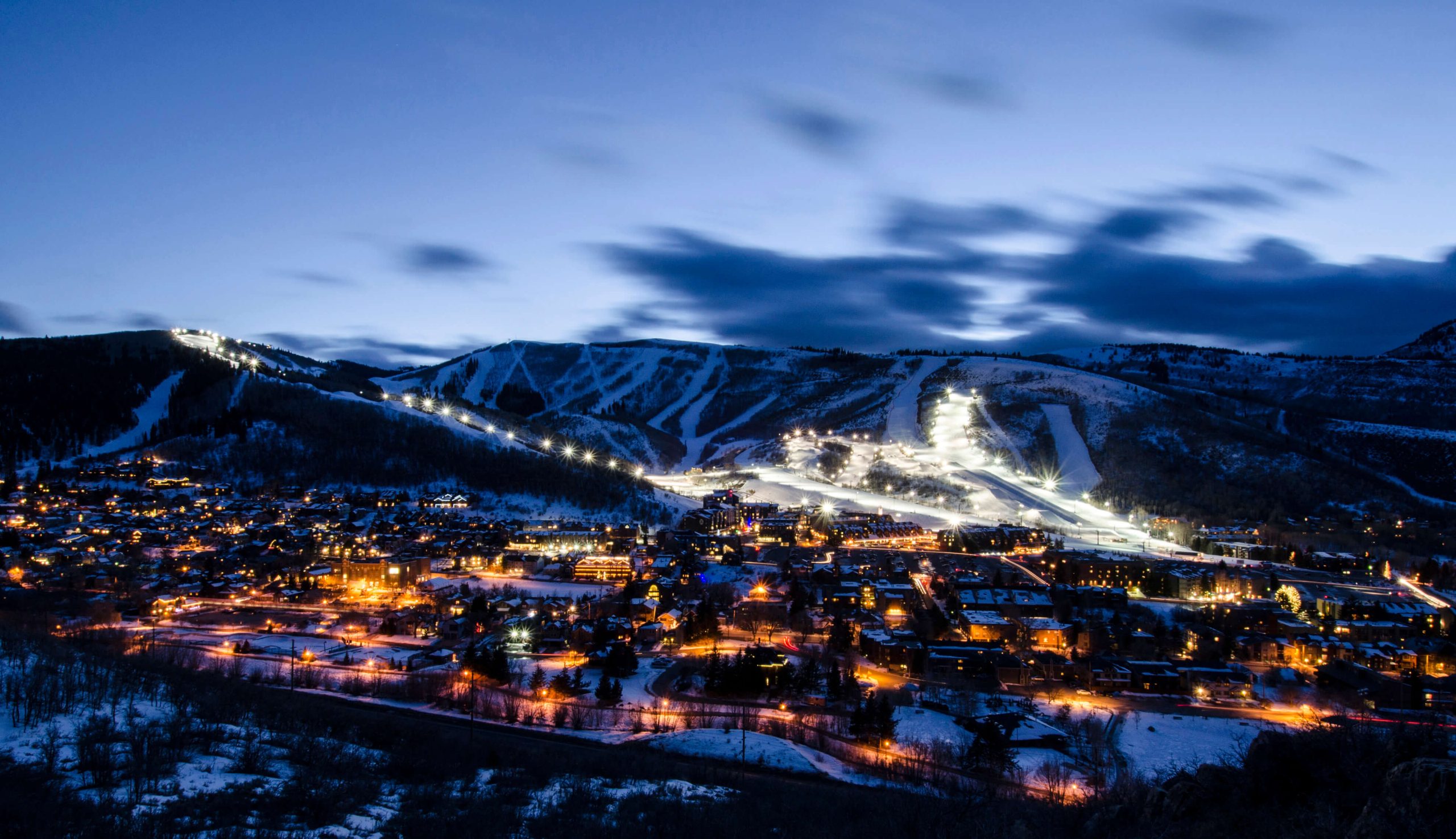 Park City Mountain Resort features night skiing, where one can hit the slopes into the evening hours. Photo courtesy of Park City Chamber & Visitor's Bureau
07 Nov

Wanderings: Park City, Utah

Wander down Park City's Main Street on an evening in the height of the winter tourist season, and the small-town charm is palpable. A trolley makes its way on the snow-covered streets of historic Old Town. Breweries, distilleries, fine dining establishments, art galleries, and boutiques are hopping, and the landmark Egyptian Theatre's neon sign lights up the sidewalk. With all the après-ski action, it's hard to imagine that, just 60 years ago, this vibrant mountain community was on the cusp of becoming a ghost town. 

Park City was settled after the first silver mine opened in the 1860s. It was officially incorporated 20 years later during its boom, with homes built near the mine and further up the canyon in Old Town. The carefully preserved architecture reflects this rich mining history, and the anti-chain store ordinance on Main Street has allowed more than 200 unique businesses to call it home. "As soon as you walk down Main Street, you can still feel the essence of the silver mining era," says Dan Howard, vice president of communications for Visit Park City. "In the National Historic District, the buildings are so well preserved; the Park City Museum was built over the old jail cells, and you can almost feel the ghosts of that era."

While this legendary ski town is thriving now, that wasn't the case when mining stopped soon after World War II. By the 1950s, the population of Park City had dwindled, and Main Street was all but deserted. 

Then, in the 1960s, Park City was saved by the ski industry with help from the surrounding mining companies. Using 10,000 acres of mining company land and a federal government loan, Treasure Mountain (now Park City Mountain Resort) opened on the back side of the Wasatch Range in 1963. However, there was already some tough competition, with other established ski areas like Alta and Brighton on the front side of the Wasatch, which is known to accumulate more snow. With low ski traffic, the resort was far from thriving for a number of years. "Park City was very connected to ski-bum culture," Howard says. "Back then, it was very affordable and had a groovy vibe reflective of early '70s culture."

Recognizing how other prosperous ski towns like Aspen and Sun Valley offered high-class amenities, real estate developer Edgar Stern lived out his lifetime fantasy of owning a ski area when he opened Deer Valley Resort on the other side of Park City's Main Street in 1981, designing it as a luxe experience with gourmet cuisine and first-class lodging. According to Howard, when Deer Valley was founded, it started to receive a lot of attention, as did Park City.

Another boom hit in 2002, when Deer Valley hosted the Winter Olympics, bolstering the area's reputation as a world-class ski destination. Today, the 400-acre Utah Olympic Park is a training site for skiers and features a variety of adventure activities in summer, including ropes courses, ziplining, and extreme tubing.

Along with the Olympics, Park City is known worldwide for hosting the Sundance Film Festival. As the largest independent film festival in the U.S., it draws upwards of 50,000 cinephiles to the town every January. "Sundance gets reported as the red carpet event of the mountains, but it's so non-Hollywood," Howard says. "It's very funky, showing controversial, small-budget, independent films."

Park City remains very much a ski town. A chairlift on Main Street delivers skiers right to the slopes of Park City Mountain Resort, while, just down the road, Deer Valley Resort still clings to a more high-end culture that tends to draw an older clientele. 

And yet, there's also quite a bit for non-skiers to do in Park City, especially downtown. Explore Western and contemporary art on a gallery tour, hitting Mountain Trails Gallery, Montgomery-Lee Fine Art, Gallery MAR, Park City Fine Art, and Meyer Gallery, among many others. Get dressed for the West at Burns Cowboy Shop, a family-owned apparel store established in 1876. Learn about distilling spirits at High West Distillery just off Main, then grab a casual lunch at the Wasatch Brew Pub.

Check out the mountain culture on the other side of the slopes with a stroll around Deer Valley Resort. Along with shopping and dining options, the newly renovated Montage Deer Valley features a Western art collection and a spa with a menu full of relaxing treatments.

As Park City has grown, so has its arts scene. The Kimball Arts Center hosts gallery exhibitions and events, including the Kimball Arts Festival, where artists line a closed-off Main Street for a weekend in early August. Free concerts with well-known bands are sprinkled around different outdoor venues throughout the summer, and the Utah Symphony moves into town for the Deer Valley Music Festival during July and August.

And since Park City is located in a valley surrounded by mountains and rivers, summer activities are also abundant for outdoor lovers. Hit one of the three local rivers for blue-ribbon fly fishing, hike or bike on the 400 miles of trails, play golf, and more.

No longer a near-ghost town, Park City has evolved from a pioneer-inhabited silver mining community into a world-class ski destination with all the amenities. It just took some time to get there.
Restaurants
Dos Olas Cantina
435.513.7198; dosolasparkcity.com
High West Distillery
435.649.8300; highwest.com
KITA at the Pendry
435.513.7213; pendry.com/parkcity/kita
La Stellina at St.Regis Deer Valley
435.940.5760; srdvdining.com
Park City Social Aid & Pleasure Club
435.200.9537; alpineparkcity.com
Pine Cone Ridge
435.615.0300; pineconeridgepc.com
Riverhorse on Main
435.649.3536; riverhorseparkcity.com
Wasatch Brew Pub
435.649.0900; saltlakebrewingco.com/wasatch
LODGING
Goldener Hirsch Inn
800.252.3373 
aubergeresorts.com/goldenerhirsch
The Lodge at Blue Sky
866.296.8998; aubergeresorts.com/bluesky
Montage Deer Valley
435.604.1300; montage.com/deervalley
Pendry Park City
435.800.1990; pendry.com/park-city
St. Regis Deer Valley
435.940.5700; marriott.com
Westgate Park City Resort & Spa
888.796.0765; westgateresorts.com
Attractions
Alpine Slide & Mountain Coaster
435.649.8111; parkcitymountain.com
Canyons Village Summer 
Concert Series
435.649.8111; parkcitymountain.com
Deer Valley Music Festival
801.533.6683; deervalleymusicfestival.com
Deer Valley Ski Resort
435.649.6179; deervalley.com
Kimball Arts Festival
435.649.8882; kimballartsfestival.org
Park City Mountain Resort
435.649.8111; parkcitymountain.com
Park City Museum
435.649.7457; parkcityhistory.org
Park City Peaks Snowmobiling
888.304.7669; powderutah.com
Sundance Film Festival
January 18-28, 2024; festival.sundance.org
Utah Olympic Park
435.654.2002; utaholympiclegacy.org
Woodward Park City Action
Sports Club
435.658.2648; woodwardparkcity.com
Art Galleries
Gallery MAR
435.649.3001; gallerymar.com
Julie Nester
435.649.7855; julienestergallery.com
Meyer Gallery
435.649.8160; meyergallery.com
Montgomery-Lee Fine Art
435.655.3264; montgomeryleefineart.com
Mountain Trails Gallery
435.615.8748; mountaintrailsgalleries.com
Park City Fine Art
435.649.3583; parkcityfineart.com
Corinne Gaffner Garcia is a freelance writer and editor based in Bozeman, Montana. Her work has appeared in Marie Claire, Country Living, Martha Stewart Living, and many other publications; corinnegarcia.com.