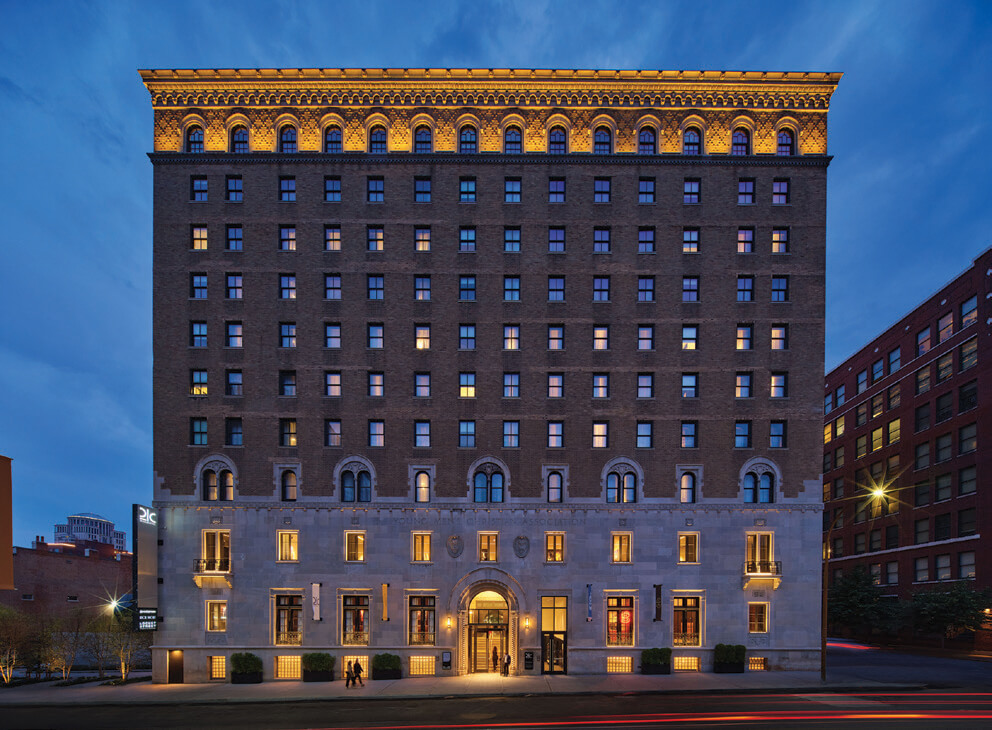 The 95-year-old, 10-story, Renaissance Revival-style YMCA building now houses 21c Museum Hotel St. Louis, with 173 rooms and more than 14,000 square feet of exhibition space enlivened with contemporary art.
07 Nov

Western Landmark: An Aesthetic Escape

21c Museum Hotels is a boutique resort chain with an imagination. In eight properties throughout the U.S., historic structures have been restored and reimagined into posh hotels resplendent with expansive contemporary art collections — displayed indoors and out, floor to ceiling — offering, in all, more than 75,000 square feet of curated exhibitions and site-specific installations.

Laura Lee Brown and Steve Wilson, preservationists and contemporary art collectors, founded the company in 2007. The beauty of 21c lies in preserving the past while upgrading each property to include high-end accommodations. 

The most recent 21c Museum Hotel opened in August 2023 in St. Louis, the Gateway to the West, in a former YMCA building. The structure was a fixture of downtown St. Louis for almost a century, according to JP Roberts, the general manager of the property. The lap pool was restored and updated, and the basketball court now acts as an art exhibition and event space. The old racquetball courts were transformed into stylish guest rooms.

"The new 21c St. Louis pays homage to the 10-story, Renaissance Revival-style building while offering a contemporary feel," Roberts says. "By honoring the historic space, 21c St. Louis offers a distinct sense of place with all of the modern amenities."

Art appears at every opportunity. Upon entering the lobby at 21c St. Louis, visitors are greeted with O by Serkan Özkaya — an 8-foot-diameter translucent orb filled with distilled water that magnifies, diffracts, and alters the surrounding reception area when peered through. 

Another immersive installation by Fallen Fruit, a collaboration between artists David Allen Burns and Austin Young, is titled The Way Out West. "Sourced in and inspired by St. Louis, the installation adorns three levels of the property's historic main stairwell and features custom-designed wall covering, carpeting, chandeliers, and wall sculptures," says Alice Gray Stites, the museum director and chief curator for 21c Museum Hotels. 

On the domed ceiling of the Good Press Café, one of two restaurants inside the new St. Louis property, Nick Cave and Bob Faust combined elements from Cave's recent retrospective to create the colorful and kaleidoscopic Until We Meet Again. "The imagery in the artwork is both joyful and hopeful while also referencing current issues and challenges," says Gray Stites. 

And in the hotel's outdoor amphitheater, View Finder, an interactive sculpture by St. Louis-based artist and architect Chandler Ahrens, was curated and produced with Laumeier Sculpture Park and Via Partnership. The gem-like installation was inspired by 17th-century catoptric viewing boxes.

In addition to permanent collections, all 21c Museum Hotels host rotating exhibitions. At 21c St. Louis, the inaugural exhibition, Revival: Digging into Yesterday, Planting Tomorrow, shows until June 2024 and includes works by Hew Locke, Yinka Shonibare, Kehinde Wiley, Myrlande Constant, Ebony G. Patterson, and others.

In another 21c property in Kansas City, Missouri, a former Savoy Hotel, built in 1888, was restored to include 120 guest rooms and suites. Before its renovation began in 2014, the Savoy ranked as the oldest continuously operating hotel in the U.S. west of the Mississippi River, according to Tim Roby, the hotel's general manager. "Now in its new life as a 21c, the building retains much of its original Art Nouveau architectural elements, such as the intricate tile work found throughout the lobby and the stained-glass windows in The Savoy restaurant," Roby says. "The architectural components of the restaurant remain relatively untouched."

Art offerings at 21c Kansas City include a hanging installation by Brad Kahlhamer, titled Super Catcher, Vast Array. The piece, made of wire and bells, resembles dream catchers, which were used by different Indigenous tribes as talismans to protect sleeping people, usually children, from bad dreams and nightmares. "The installation offers an important juxtaposition to the original murals of the lounge that celebrate European-American expansion and the mythology of Manifest Destiny," says Gray Stites.

21c Museum Hotel Durham reimagined the historic Hill Building, formerly the headquarters for several North Carolina banks. "Originally designed in the mid-1930s by Shreve, Lamb & Harmon, the architects of the Empire State Building, the building is a stunning example of Art Deco architecture and design," says Michael Ryan, the hotel's general manager. "21c has managed to preserve the foyer's green marble and silver leaf ceiling, in addition to the terrazzo flooring throughout. As another nod to the past, guests may visit the building's original bank vault on the bottom floor of the building, which is lined with historic safety deposit boxes. The adjacent vault gallery is dedicated to changing exhibitions by local artists."

21c Museum Hotels are located in St. Louis and Kansas City, Missouri; Durham, North Carolina; Bentonville, Arkansas; Chicago, Illinois; Cincinnati, Ohio; and Lexington and Louisville, Kentucky. And even if you don't plan to stay the night in one of these inspired retreats, the collections at each property are open to the public 24 hours a day, offering an art-filled getaway even if you are just passing through. 

Colleen Smith is an award-winning author, journalist, film-maker, and graphic art director based in Denver, Colorado. She writes about fine art, popular culture, and the American West for dozens of magazines, newspapers, and websites.