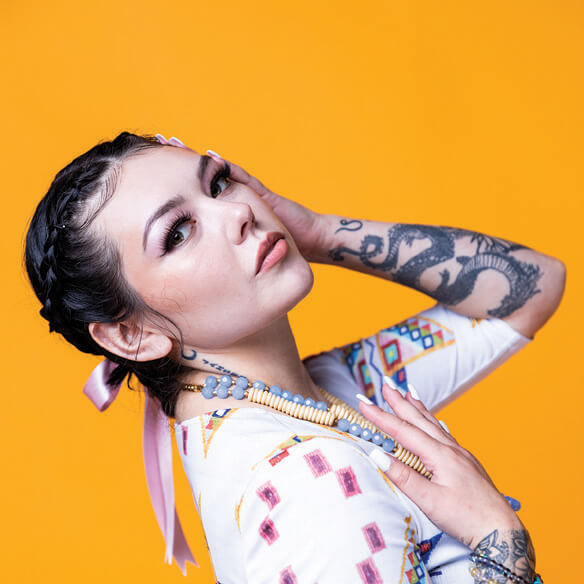 Designer Lauren Good Day | Photos: Tira Howard
11 Jul

Celebrating a Centennial: The Indigenous Fashion Show

In 2014, Amber Dawn Bear Robe made an offhand suggestion to the then chief operating officer of the Southwestern Association for Indian Arts (SWAIA), Dallin Maybee. "I had organized fashion shows for the Museum of Contemporary Native Arts for the past two years, and I just casually mentioned to him that I would like to organize one for SWAIA, too," says Bear Robe. "He shook his head first and then turned towards me and said, 'Sure. Give it a shot.' So, we did it."

That first fashion show was seen by about 50 people and was held in Cathedral Park next to the Loretto Chapel just east of Santa Fe's Plaza. It lasted about 20 minutes.

But fortunately, the seeds were sown.

Now, only eight years later, the Indigenous Fashion Show is one of the highlights of the weekend. It's held inside the Santa Fe Convention Center and seen by a standing-room-only crowd of more than 1,000 people. Native American movie stars, athletes, musicians, and other luminaries are seen annually in the front-row seats, and for the last two years, it's been extensively covered by Vogue Magazine and other fashion outlets.

This year, along with the major runway show, which takes place Sunday, August 21 at 3 p.m., there will be several other events. First comes a sneak peek during the SWAIA Gala and Live Auction the night before, August 20. Then, before the show on Sunday, there will be a VIP Indigenous Fashion Show Pre-Party. And following the show, an Indigenous Fashion Trunk Show will enable the public to purchase items directly from the designers.

Seventeen designers will participate in the main event and sneak peek: Jason Baerg (Métis); Mimikalas Pamela Baker (Musgamakw Dzawada'enuxw, Tlingit, Haida, and Squamish); Catherine Blackburn (English River Dene); Orlando Dugi (Diné); Korina Emmerich (Coast Salish Puyallup); Sho Sho Esquiro (Kaska Dena and Cree); Lauren Good Day (Arikara, Hidatsa, Blackfeet, and Plains Cree); Dorothy Grant (Haida); Lesley Hampton (Anishinaabe); Ursala Hudson (Tlingit); Melanie LeBlanc (Dene); Patricia Michaels (Taos Pueblo); Jamie Okuma (Luiseno, Shoshone-Bannock, Wailaki, and Okinawan); Adrian Standing Elk Pinnecoose (Navajo and Southern Ute); Cody Sanderson (Navajo); Skawennati (Mohawk); and Yolanda Skelton (Gitxsan).

"For the first year ever, Orlando [Dugi] has created an all-male collection that he will be debuting, so that's really exciting," says Bear Robe. "Also, Chris Eyre [chairman of the film department at Santa Fe University of Art and Design] directed the new AMC series 'Dark Wind,' so Jessica Matten and Kiowa Gordon, actors on the show, will be modeling as well. I have been given quick previews of what people are doing, and I have been blown away by the quality of work."

The two-day event is a glimpse into the future, and Bear Robe explains that the long-term goal is to grow the fashion programming to span a week. "Last year, we announced a partnership between SWAIA Fashion, Indigenous Fashion Arts (IFA), Vancouver Fashion Week (VFW), and the newly established Supernaturals Modeling Agency. All partners will be back this year."

Also, taking place through August 18, the Museum of Contemporary Native Arts (MoCNA) is launching Art of Indigenous Fashion, an exhibition curated by Bear Robe and featuring many of the designers from the SWAIA runway.