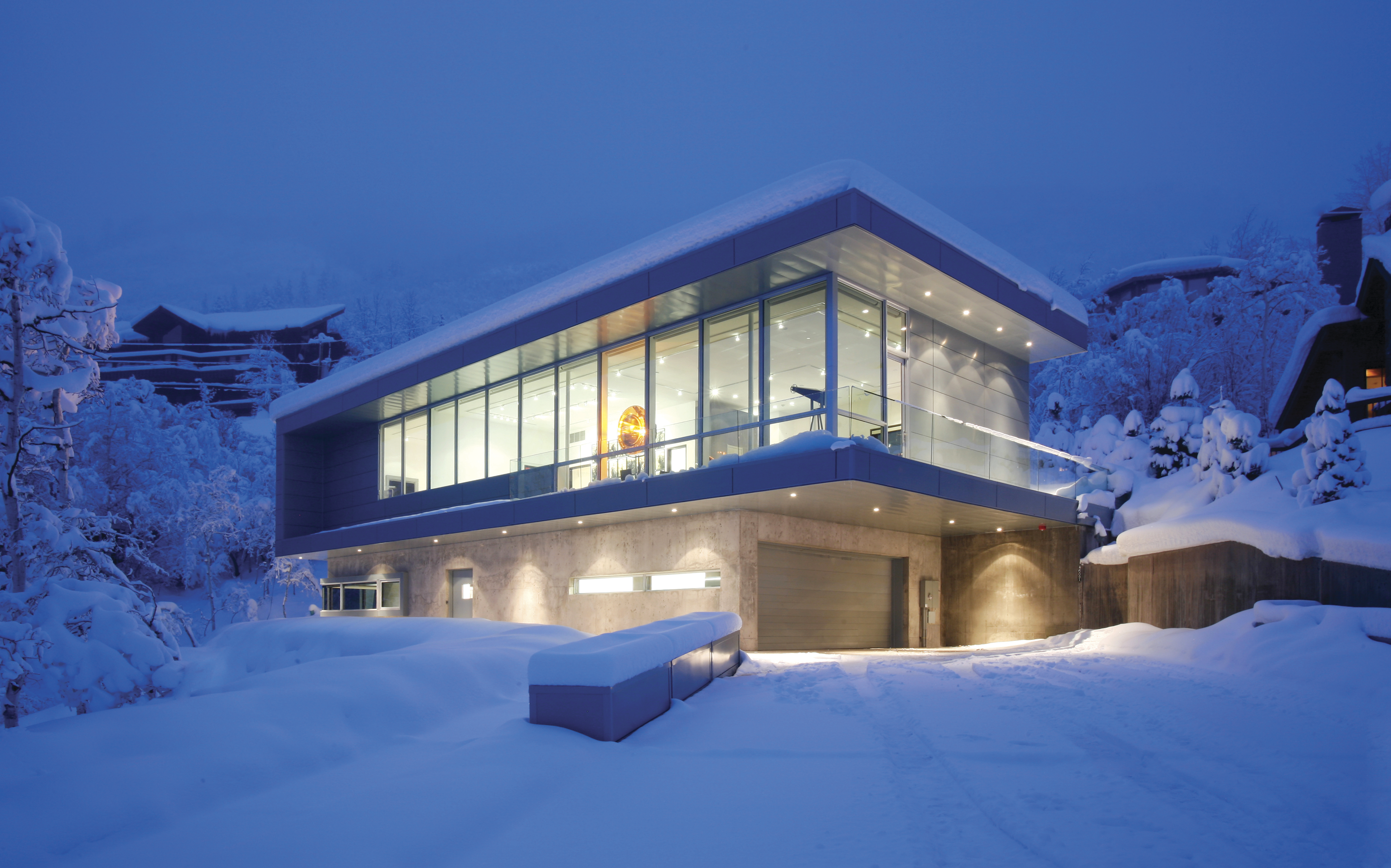 The home's top level thrusts a dramatic cantilevered wedge of light against a wintery sky. Photo: Brands & Kribbs
01 Dec

Fluid Design

SOME ARCHITECTS THRIVE ON CHALLENGES. The tougher the site, the more adrenaline charges their veins, pushing them to reach new heights. Scott Lindenau, design principal for Studio B Architects, based in Aspen, Colorado, is no exception. Surrounding this stylish Rocky Mountain community are the iconic soaring peaks, ice-blue skies and thickly wooded slopes for which the state is known. And, for those who want to live the good life there, building sites with steep drops, unyielding angles and extreme contours are often the norm — just the set of circumstances to get Lindenau's creative juices flowing.

Dennis and Debra Scholl, avid photography and videography aficionados, wanted a mountain home that would showcase their extensive collection. They wanted abundant natural light and ample exhibition walls, plus spaces for entertainment. Scholl had long been influenced by minimalist architectural design, especially the so-called Case Study House Program established by John Entenza in Southern California. Entenza, editor of Arts & Architecture magazine from the 1940s to the '60s, was one of the first to hop aboard the emerging modernist trend. He felt it was time for innovation: Homes should be functional, without the adornments of the past and should use less traditional materials. He commissioned such architects as Eero Saarinen, Pierre Koenig, William Wurster and Charles Eames to develop the concept. Decades later, Scholl brought those ideals to the table when he approached Studio B about building a home in Aspen.

Lindenau, an American Institute of Architects Fellow (FAIA), recalls clearly the site the Scholls chose. "It was in a neighborhood of older, more conventional homes. The lot's topography offered some major obstacles. The project defied the neighborhood norm and we were required to go through an extensive series of reviews, in which we fortunately prevailed. The setting is spectacular and our design maximized its extensive views of Aspen Mountain, the town of Aspen and down valley to Mount Sopris to the west." The completed home received the AIA Colorado's Merit, the AIA West Chapter's Honor and the AIA Denver's Choice awards for design excellence.

In 2010, the Scholls decided to downsize and Craig and Mariah Morris became the new owners. Craig is a top real estate executive in the area and he and Mariah and their three children lead a very active lifestyle. "We love the outdoors and it was that outside/inside element of this home that attracted us," says Craig. "The full surround glass allows us to view nature in all its splendor and the early morning sunrises and afternoon sunsets are inspiring. The floor plan is perfect for our family; the outdoor dining and entertaining areas suit us perfectly, and the upper level, open floor plan — combining the kitchen, dining and living areas — is exactly how we prefer to live."

Although originally built to showcase an art collection, Morris says, "We bought it because we loved everything about its design and the area. We are now slowly following in the Scholls' footsteps, collecting and learning about art."

The 6,000-square-foot house has three levels, with the lower level completely submerged and the top level cantilevered to create a strikingly sophisticated architectural line. At grade level, visitors enter a soaring double-height gallery presided over by Sky Diver, a full-sized, jaw-dropping, aluminum-cast sculpture created by Colorado artist Bill Starke. Beyond it, a French-blue limestone stair with tempered-glass and brushed aluminum railing draws the eye upward to the heart of family living.

This upper level is the star of the show. Sweeping glass walls frame world-class views and provide the sense of being outdoors that the Morrises coveted. Eggersmann kitchen cabinets, Carrara marble countertops and stained white-oak flooring, plus top-of-the-line accoutrements complete the living, kitchen and dining areas. Down the hall is Mariah's office and the spacious and private master suite incorporates every luxurious amenity. Sliding doors open onto a balcony and private garden with access to a roof terrace via cantilevered steel stairs.

Every well-designed home reflects the character and personality of its owners. But great architecture extends beyond any single owner's needs and adapts fluidly to changing tastes and circumstances. Through thoughtful, clear design strategies and craftsmanship, this award-winning home was able to move easily from an art-filled retreat for a couple to a comfortable and exceptional family home.