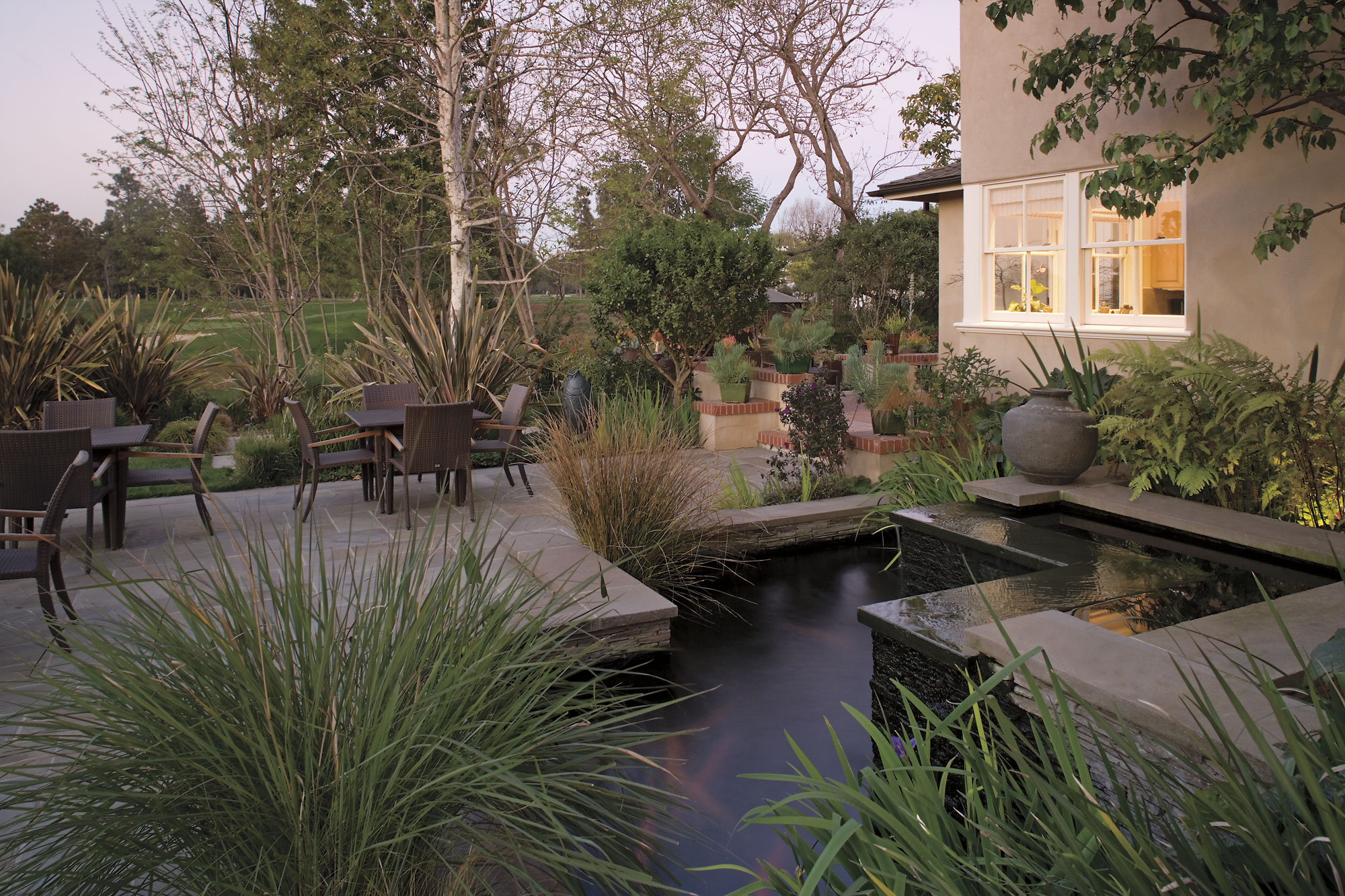 Architect Kelly Sutherlin McLeod undertook a sensitive restoration and expansion of the home that honors Coates' vision while making the most of its park-like setting.
29 Dec

Long Beach Revival

ROLAND E. COATE SR., WAS A NOTED SOUTHERN CALIFORNIA ARCHITECT of the 1920s, '30s and '40s whose work architect Kelly Sutherlin McLeod had admired in San Marino and Los Angeles. When she heard there was a Coate home in Long Beach, where McLeod and her husband had lived for 13 years, she was intrigued.

"I didn't know there was a Roland Coate house in Long Beach," she explains. "The original owners asked us to come look at it. They knew I was an architect and they wondered whether they should fix it up to sell it, or sell as is. We took a look at the property and fell in love with it." The McLeods purchased the home in 1997, began the renovations within a year and moved into the residence in 2000.

Coate was known for Mediterranean Revival architecture — with its use of simple materials, horizontal wood siding, exterior plaster and low-pitched hipped roofs — but he considered the Long Beach house modern architecture. With its emphasis on light, air and views; its ribbon windows that wrapped corners; and its undulating walls along the back side of the house, the home was indeed modern by 1941 standards. Built for a wealthy shipbuilding industrialist and his family, and sited on a grassy knoll with sweeping views of the Los Angeles skyline and the Hollywood sign, the house, with its detached guesthouse connected by a breezeway, had gracefully withstood the test of time.

As an architect focused on historic restoration and revitalization, and known for her attention to detail, McLeod's goal was to diligently and sensitively restore the home's lost glory. Luckily, Coate's initial design remained intact. "The original family still owned it and it hadn't been touched," recalls the architect. "It had been vacant for eight years and still had the original furnishings and finishes. It was well built; it just needed a little maintenance."

Kelly Sutherlin McLeod is a noted architectural preservationist whose projects include the conservation of Greene & Greene's landmark Gamble House in Pasadena. Her preservation work has been recognized by the American Institute of Architects, the Los Angeles Conservancy and the California Preservation Foundation. She never considered anything but a sensitive update: an appropriate neutral palette on both the exterior and interiors, and an unchanged front elevation. An addition to accommodate children's bedrooms and a new kitchen were carefully thought out and seamlessly incorporated to maintain the design integrity of Coate's vision. "My design for modifications to the house honor Coate's original design, with the private street facade protecting interior spaces open to the outdoors, and providing areas of serenity and seclusion," she says. "We maintained the rhythm of undulating walls along the back of the house, and Coate's capitalization on light, air and views."

Because of these sweeping views, and the ideal southern California climate — arid and endlessly sunny — the home's landscape was as important a consideration as its interior. While a classic live oak, older than the house itself, graces the front of the property, all other mature trees had been removed. The McLeods called upon horticulturalist John Greenlee and landscape contractor Graham Stanley to design an appropriate garden that would marry indoors and out. They planted mature trees, laid winding pathways with private "lookouts," created patios for entertaining, resurrected an original rose garden, installed a water feature and cleared bushels of brush from the scenic hillside.

Inside the home, McLeod "stuck to what I consider a 1940s neutral palette. I purposely kept the furnishings, rugs and window treatments very neutral and soft to allow the art and landscape to provide the color palette."

For furnishings, she combined antiques and other pieces in their possession with new commissions by their friend, legendary woodworker Sam Maloof, including a rocker, swinging crib and a monumental walnut dining table and chairs. Nineteenth- and 20th-century Secessionist, Imperial and Biedermeier furnishings are complemented by modernist upholstered pieces. In the living room, the original fireplace surround — hand-carved by a carpenter at the original owner's shipbuilding works in Long Beach, but since covered in a chalky white finish — was restored. Sleek couches with wooden legs and wood trim face each other across a glass-topped coffee table, lending the room a light, airy feeling.

The house was in urgent need of lighting, an often problematic area in period homes. McLeod not only designed the sconces for the home but made them available to others. "My clients have always had problems finding the appropriate lighting fixture," McLeod explains. "They get frustrated, especially when working on a historic home. And quality is an issue."

Having been asked to design lighting fixtures in the past, McLeod, using the Coate home as inspiration, entered into a partnership with Circa 1910 Antiques, a well-known gallery specializing in the Arts and Crafts period, to design a line of lighting fixtures. "The styles we have are heavily influenced by English Arts and Crafts, but we don't want to be limited to a period. I'm fascinated by metalwork and crafts, and how influences traveled from Japan to England, and then to the U.S. and then back to Japan. All these cultures have influenced one another. Designing lighting gives me a chance to pursue my personal interest in this subject."

The McLeods' significant collection of art enlivens the rooms as well as the conversation. Paintings, sculpture and photos by such artists as Ed Ruscha, Robert Mapplethorpe, Sam Francis, David Hockney, Miro and Mark di Suvero are artfully placed indoors and out. An Andrew Lord bronze and a pair of 20th-century Japanese folding screens of swimming koi by Matsunaga Tensho greets visitors upon entering the house. A large ceramic "waterdrop" sculpture by Mineo Mizuno draws visitors close and helps connect the living room to the outdoors through a bay window, where Mizuno's art continues in a contemporary garden installation. A colorful Ellsworth Kelly work acts as a playful punctuation mark in the family room off the kitchen, while a collection of ceramics by Beatrice Wood inhabits both living room and sunroom. Plein air paintings collected by the McLeods in the early days of their marriage, combined with a suite of graceful wood furniture by master craftsman Sam Maloof, furnish the "quiet space" that is their master bedroom.

Despite all the fine art and elegant furnishings, the house remains a comfortable family home for the McLeods and their three teenage children. "The house is a reflection of the way I work," says McLeod. "I'm very detail-oriented, from design of cabinetry to lighting fixtures. Our house is lived in; it's part of our family, and the artwork has become part of our lives. There's nothing here that doesn't have a story to it, that doesn't have a meaning, that doesn't have a connection. We love living here, we love sharing the house and we love to open our home to good causes."
---
Senior Contributing Editor Chase Reynolds Ewald lives and writes in northern California, where she recently finished her seventh book. Home on the Range will be published in the Fall 2009 from Gibbs Smith, Publisher.