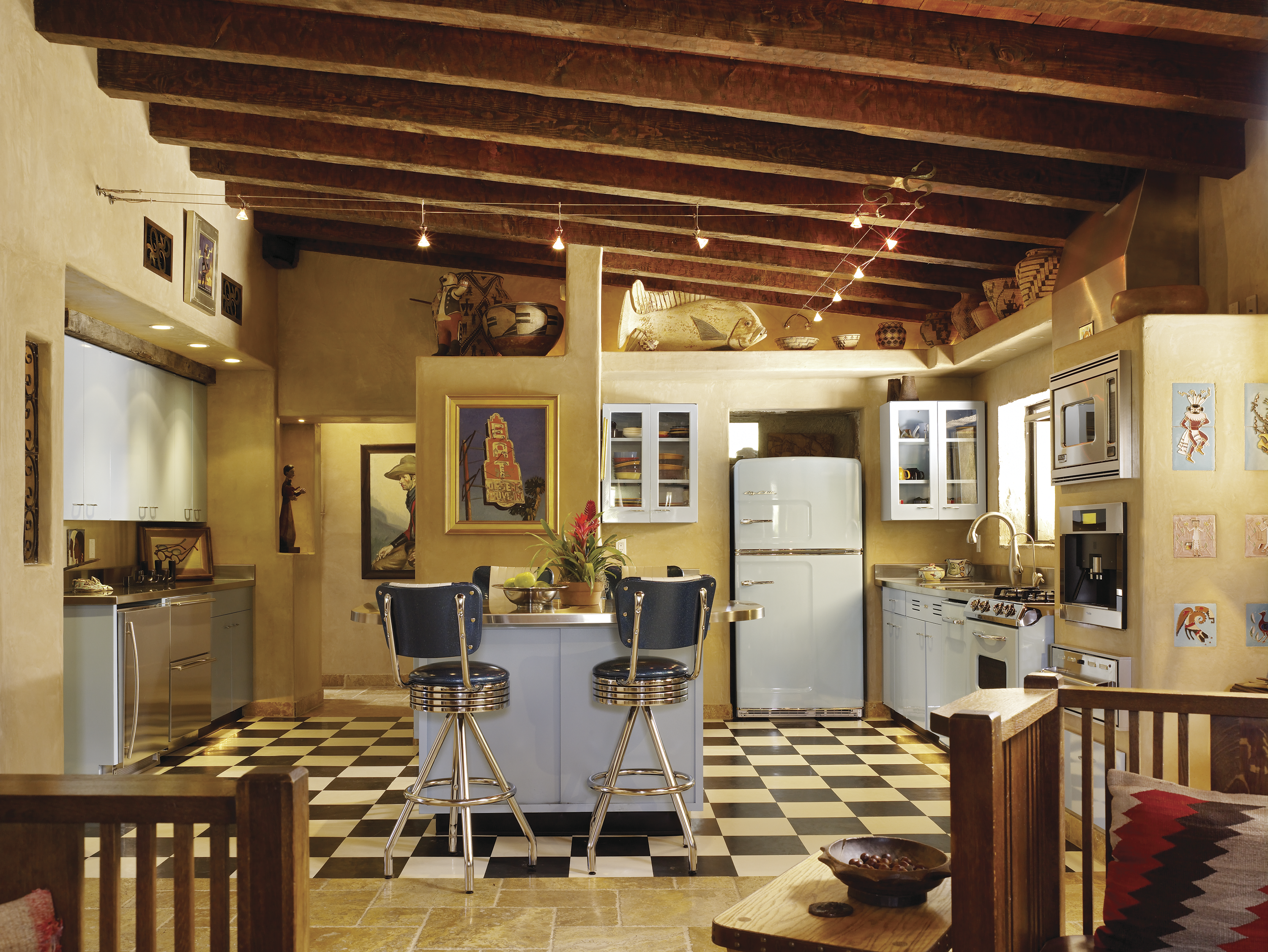 The art-filled kitchen is true to its roots and has retro style (even the cabinets are original), while the whole property makes use of natural features.
29 Dec

Opposites Attract: 1939 Sublette Residence

ALTHOUGH LOCATED JUST MINUTES AWAY from their landmark Medicine Man Gallery and the bustle of downtown Tucson, Mark and Kathleen Sublette's home is a throwback to the 1930s. Refreshingly human-scaled and sensitively tucked into the pristine landscape of a wildlife-rich hidden valley, their historic ranch home is a true refuge from the hectic pace of their 21st-century lifestyles.

For Mark Sublette, who has lived in Tucson since 1990 and launched Medicine Man Gallery in 1992, it's been a dream realized. "I always knew where the property was," he recalls. "It's only a mile away from town. I thought, 'If I could have that house and those views, that's all I really need.' Six years ago, it came on the market. I put an offer in without looking inside."

The structure dates to about 1939, but its original homesteader, now in his 90s, would feel very much at home there today. The 36-acre property is part of a 250-acre parcel shared by four owners; that parcel in turn abuts national forest and access to the Catalina Mountains. Still wild, the canyon is alive with desert tortoises, Gila monsters and deer. It's bisected by a seasonal creek and dotted with as many as 20,000 saguaro cacti. "At night there are no lights," Sublette says. "It's completely dark and the animals haven't run off."

In keeping with the untouched nature of the landscape, the house has been only minimally modified. "We saved the original windows, and made only minor adjustments," explains Sublette. "The kitchen is the same color and we kept the original cabinetry from the 1940s. We went around and looked for flooring you'd have seen in Tucson in the '40s and '50s; it's a typical black-and-white floor. The appliances are new, but retro. All the rock for the fireplace is native, and the outside wall is made of chipped stone from the property."

Given the utter privacy of their home's location, the Sublettes can make the most of the large picture windows and generous outdoor seating areas. They even have an outdoor shower next to a 250-year-old saguaro cactus. Two-foot-thick walls help the house stay cool in the heat and warm in the cold.

The timeless sensibility is carried through in the artwork and furnishings. Outside, a stone trough designed by Mark Sublette encompasses a striking array of early Arizona monos. Many of the monos (stone mortar and pestles used by prehistoric cooks) were found in the vicinity of the canyon. A 1950s totem pole stands guard at the entrance to the house, which in turn opens into a living area decorated with turn-of-the-century Stickley furniture, Navajo rugs, antique Indian artifacts, Hopi kachinas, Pueblo pottery and sconces and hardware designed by Sublette.

Hand-carved interior doors, each unique, were commissioned from a woodworker in Santa Fe. For those, Sublette took his design inspiration from a turn-of-the-century Mission basket called Snake Basket. "The canyon we live in is called Rattlesnake Canyon," he explains. "I took an element of design from that basket and translated it into a computer image, then had doors made using that imagery. Each door has its own motif or design. Three doors have rattlesnake designs, and the kids' rooms have Hopi and Zuni designs."

Favorite artworks chosen over a long career immersed in the Western art world include pieces by Maynard Dixon, Ed Mell, W.E. Rollins, John Moyers, Dennis Ziemienski and a cowboy painting from the '20s by an unknown artist. "I just found that," Sublette recalls. "I've forgotten who did it. It just was a really well done painting. It didn't matter if it was valuable or not valuable. I just loved the imagery."

About living with art, Sublette insists, "Art doesn't have to be about who made it and its value. It can be a piece that makes you feel an emotional response. I have a Maynard Dixon, but I also have a painting by an artist I don't know. You always hear art dealers say you have to buy what you like. And it's true! You do have to buy what you like."

Mark and Kathleen Sublette both trained as physicians and Kathleen enjoyed a 20-year career, but both ultimately left medicine to work with art. Says Mark of their life-as-art and art-as-life lifestyle, "We like what we do. We enjoy our relationships with artists. We love history and we love the materials."

Their hidden valley home allows them proximity to their gallery, their artists and their clients, while always reminding them of the source from which Western art springs. Their canyon has a timelessness that speaks to the essence of the West.

"Even though we're five minutes away from the best restaurant in Arizona, we still have wildlife and jet black skies and we really feel we're out of civilization," says Mark Sublette. "Once we go into the canyon, there's nothing but tens of thousands of acres."
---
WA&A Contributing Editor Chase Reynolds Ewald writes from her home in northern California. Her latest book, The New Western Home, was published last year.
Berkeley-born and still residing in the San Francisco Bay Area, Matthew Millman has photographed architecture and design in the West for the past 15 years. His work has been featured in The New York Times, Dwell and Architectural Digest, among many other magazines and books.