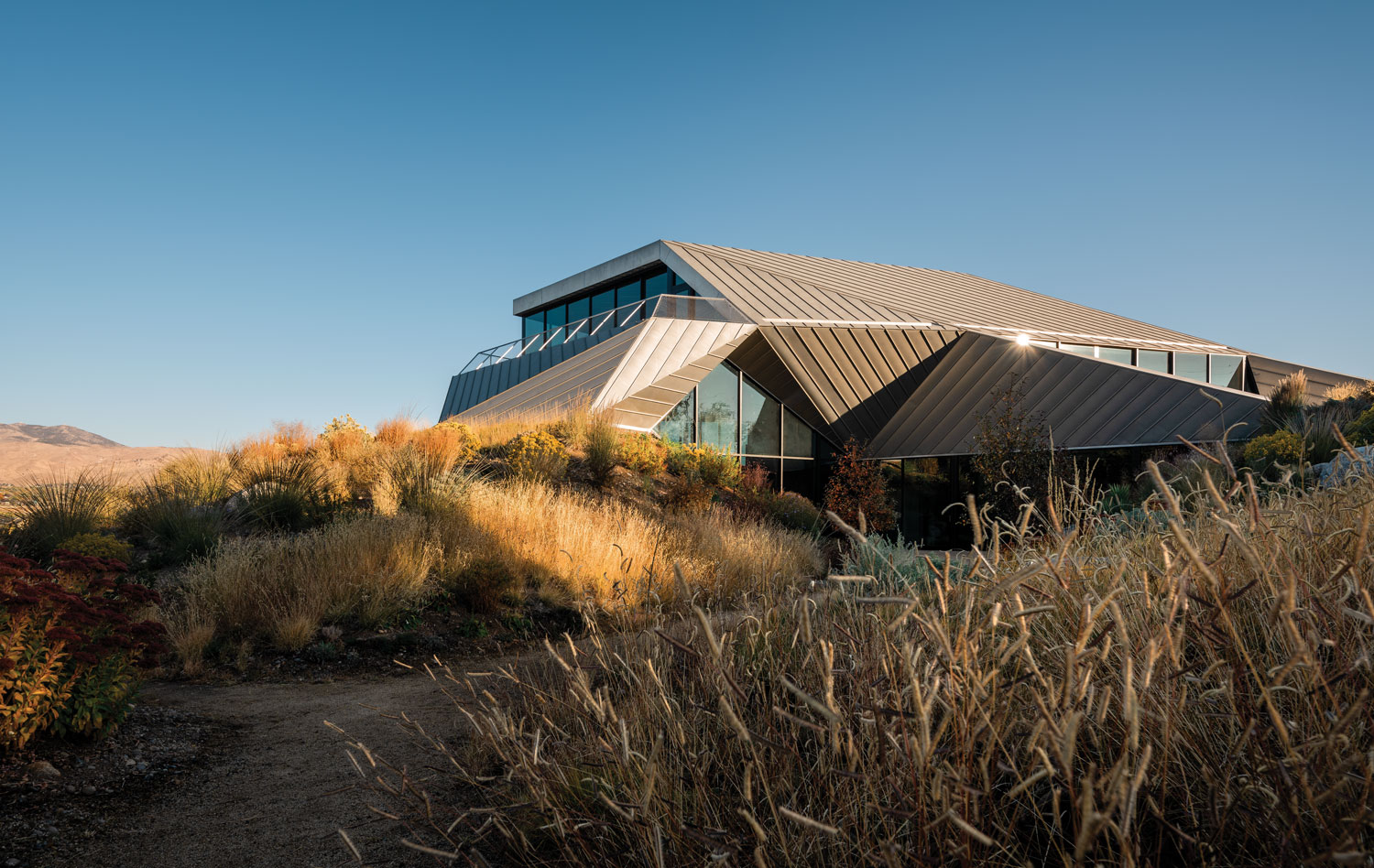 Viewed from the southwest, the many facets of the standing-seam zinc roof appear to fold and bend like a work of origami. A berm planted with native grasses shelters a small patio off the living room and kitchen, where the owners enjoy al fresco summer evenings. On the third level, a private balcony off the master suite faces westward toward the Sierra Nevadas.
09 May

Protean Power

IT'S EASY TO GRASP WHY A HOUSE ON A BLUFF OVERLOOKING downtown Reno, Nevada, has come to be called Shapeshifter. Depending on your vantage point, the 5,900-square-foot home — an irregular yet somehow organic-seeming assemblage of jutting standing-seam roofs, cast-in-place concrete walls, and sweeping but sometimes angular windows — may appear to be an abstract sculpture; an observation deck; a multifaceted giant metallic gemstone; or some fantastical artifact left behind by a technologically advanced ancient civilization.

"Or maybe it's a spaceship or a church or a new 7-11," chuckles homeowner Peter Stremmel, echoing comments he's overheard. But he and Turkey, his wife of 43 years, challenged San Francisco-based architects Zoë Prillinger and Luke Ogrydziak, principals of the firm OPA, with an even loftier goal: "To create a significant piece of architecture completely of the West that would advance the notion of how we live and cope with life in a modern world — a built space that would affect our emotions and feelings and overall well-being."

That's a tall order. But it seemed perfectly aligned with the kinds of projects to which the architects are drawn. "By organizing our bodies and experiences in space, architecture can transform us," reads the firm's mission statement. "Our strength at OPA is identifying and crafting spatial experiences to make that possible."

The Stremmels sought a significant transformation in their own lives. Longtime Reno residents, in 1970 they had launched that city's widely respected Stremmel Gallery, one of the West's oldest contemporary art galleries; and for more than three decades, Peter has also been a partner in the Coeur d'Alene Art Auction, held each July in Reno and considered the nation's largest annual sale event for Western and American art.

But in 2013, Peter was diagnosed with heart disease, which made it unwise for them to remain in their home on a steep hill where they were sometimes snowed in after winter storms. "Plus," adds Peter, "there's a certain joy in the creative process of designing and building a house. It was something we wanted to do irrespective of my medical condition."

Prillinger and Ogrydziak, along with project architect David Bowen, embarked on an in-depth study of the setting's topography, geology, and vegetation. "We retrained our eyes to see the austere beauty of the landscape," says Prillinger of the visual vocabulary that resulted, a distillate of spiky leaves, jagged rocks, and rugged peaks.

After they were well into the design process, Peter entered the U.C. San Francisco Medical Center to await a heart transplant. "Zoë and Luke came into my hospital room with rolls of plans," he says. "Later, when neighbors became critical, I'd say it wasn't my fault because I was highly medicated at the time," he jokes.

At first, Peter resisted giving the go-ahead for construction. "But my wife and our daughter, Piper, said to me, 'You're going to survive. Why are you waiting?'"

They broke ground in the spring of 2014. The site was graded with berms that largely conceal the streetside façade and have been transformed into a naturalistic high-desert landscape designed by OPA and planted with indigenous vegetation selected by garden designer Delphine Huetz-Cozzolino. "It feels like the house is emerging from the setting," Prillinger observes.

That May, Peter underwent successful transplant surgery. A couple of months later, he returned to Reno to become vitally, enthusiastically involved in the two-year-long building process. They moved into their new home in the summer of 2016.

The result, says Peter, is "an extraordinarily complex house," where three levels of interiors with sweeping windows gaze out at and slide open to views of downtown Reno, Peavine Peak, and the Sierra Nevadas. The main floor largely dedicates itself to an open space shared by the living room, kitchen, and dining room. At the point where the structure's multiple facets dynamically converge is a sculptural staircase of hot-rolled black steel that the OPA team and the Stremmels alike call "the vortex." It rises to a landing level with a library, office, and guest suite; and, one level higher, the master suite.

Despite all its protean qualities, Shapeshifter remains remarkably simple and spare in its finishes, furnishings, and appointments. "We don't have lots of walls for art here," says Stremmel, addressing head-on a question he's often asked. "The architecture alone is enough of a statement. I like the feeling of restraint rather than clutter." 

With that goal in mind, he and Turkey pared down the selection on display from their extensive holdings. Highlights include, in the living area, bronzes by Joan Miró and Deborah Butterfield, a wall sculpture by Donald Judd, a large ceramic by Jun Kaneko, and paintings by Marc Katano and Jon Pestoni; and, in the guest room, one of Peter's favorites: a large photograph of an abandoned Ferris wheel in Armenia by Wim Wenders.

Closing in on their third anniversary living in Shape-
shifter, and now in "great shape" himself, Peter remains in awe of what they've created and feels it has fulfilled their initial goal for a transformative living space. "We just sit here and think, 'Oh my God, we can't believe we did something like this!' It causes our spirits to soar," he says.