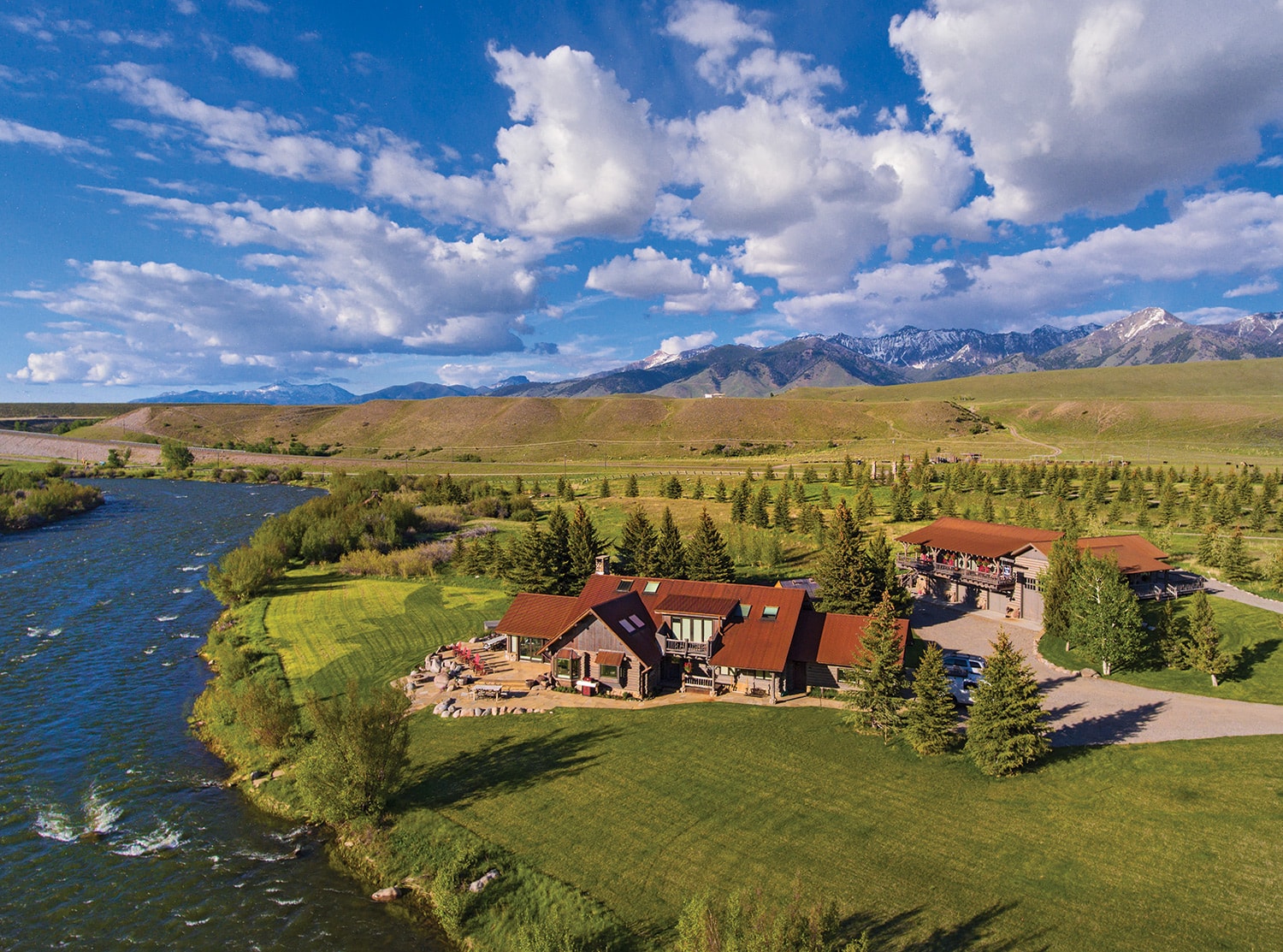 Carol Anderson and Jan Janura's log cabin estate on the Madison River in Montana.
09 May

On the Fly

PERHAPS THE MOST FAMOUS OF ALL THE RIVERS IN MONTANA, the Madison River is known for some of the finest fly fishing in North America. Flanked by three mountain ranges, its pristine waters are home to rushing ripples and deep pools that boast high densities of big trout. The Madison River is also home to the River House, a beautiful and idyllic log cabin estate where Carol Anderson and Jan Janura — founders and former owners of the largest direct sales company of women's apparel in the world — come to escape the noise, go into the wild and connect with nature.

"The Madison River is one of the most beautiful places on earth," says Janura.

Twenty-five years ago, Janura bought Smiling Moose Ranch, an 1,100-acre ranch right on the river. In early 2000, when his neighbors across the way decided to put their home on the market, he says, "It was kind of a no-brainer!"

"Every time we drove to the ranch we passed the log cabin," says Anderson. "I always loved the look of it, particularly the patina of the logs." Built in the 1950s or '60s, the house sat vacant for a number of years and was in extreme disrepair. Initially, Janura wanted to bulldoze and start over.

"It was a mess," says Janura. "I think every mouse in Madison County had made a home in it! But Carol saw its potential and wanted to preserve it — particularly the logs."

With the help of friend and interior designer Jane Smith, they went to work. Walls were removed. A dining room was added. New structures were built. The original log cabin was completely gutted and reimagined into one Janura and Anderson now happily call home.

The result? A striking, one-of-a-kind property that artfully blends the old with the new, rustic with refined, and comfort with character. Today, the property consists of three structures — the main house, a carriage house and a writer's cabin. Each one brandishes its own personality and personal aesthetic.
An addition to the original house, the dining room features large, sliding-glass doors and windows that open to let the outdoors in.
The Main House
In classic log cabin style, the walls are dark and the timbers are exposed, harmonizing nicely a with a floor-to-ceiling river rock fireplace, richly colored textiles and a collection of taxidermy. Natural light enters the great room through wide windows and glass doors, keeping the river in view. Off of the great room, an open and airy dining room features a vaulted ceiling and floor-to-ceiling windows overlooking the river.
"I kind of knew what I wanted to do, and we just did it," says Anderson. "My favorite spot in the house is a leather chair in the living room — I love watching the river from there."
A 160-pound mountain lion watches over the great room. The couple removed several walls from the original structure to create a more open living space.
The Carriage House
Affectionately called "La Garage," the carriage house consists of a four-car garage, a wine cellar and a collection of cheerful bunkrooms and living spaces that can accommodate up to eight guests. Lively and eclectic, each room features an array of fun items — vintage signs, colorful fabrics, industrial light fixtures, offbeat Americana — that Anderson and Smith collected from all over the country.
"There are so many adorable and interesting things in here that really make it unique," says Anderson. "One of my favorite finds was this fabulous bedspread that paired perfectly with the traditional colors of Hudson Bay blankets. I cut it up and turned it into four headboards for one of the bedrooms."
Red rocking chairs on the porch of the writer's cabin were handmade by a craftsman in Arkansas.
The Writer's Cabin
Janura's personal retreat, the writer's cabin, sits right on the river, a short distance from the main house. An avid reader and scholar of renowned authors, Janura's inspiration for the cabin was based on the one built for Mark Twain in upstate New York. It is there Twain wrote some of his most well-known stories.
"I'm starting to get to a point where I'm doing some of my own writing," says Janura. "The cabin helps serve as a motivation — plus it also gives me a place to go when Carol has all of her girlfriends [visit from] town. It has one of the most amazing fireplaces."
"I had so much fun with this house," says Anderson. "I love designing houses — just as much as designing clothing!"
And design is what brought the couple together. The two became friends when Anderson was a clothing designer and Janura had just finished school.
"In 1977, I convinced her to go into business with me," says Janura. "We started our company, Carol Anderson, Inc., in a garage in Burbank, California. Our first order was from Nordstrom — from that we grew it into a nationally known and respected brand."
Over the course of their business efforts, the two decided to explore the romantic possibilities of their relationship, and were married in 1993.
"We've been friends for 46 years, business partners for 40 years," says Janura. "We were in business together for 22 years — before we started dating."
After 25 years of success with Carol Anderson, Inc., Janura conceived, created, founded, funded and served as chairman of cabi (Carol Anderson by Invitation).
"It was the late '90s and the retail industry was changing," says Janura. "It was time to start thinking about a new way to distribute clothes. I had always been intrigued by the Tupperware business model."
And from there cabi was born. In nine short years, the company grew into a $200 million business with more than 3,200 women as sales consultants.
After selling that business in 2012, Janura is now able to fully focus on his other passion — fly fishing. During the summer months, he regularly convenes groups of men at Smiling Moose Ranch for guided fly-fishing adventures that include floating the Madison for two days and fishing one of the seven lakes on the property for two days. Before the trip, fishermen read Wild at Heart, by John Eldredge, to guide daily discussions.
"Wild Adventure trips are really unique," says Janura. "Men from all over come here to get out into the wild, fly fish together and take part in some of life's big discussions. We like to say it could be one of the greatest weeks of your life."