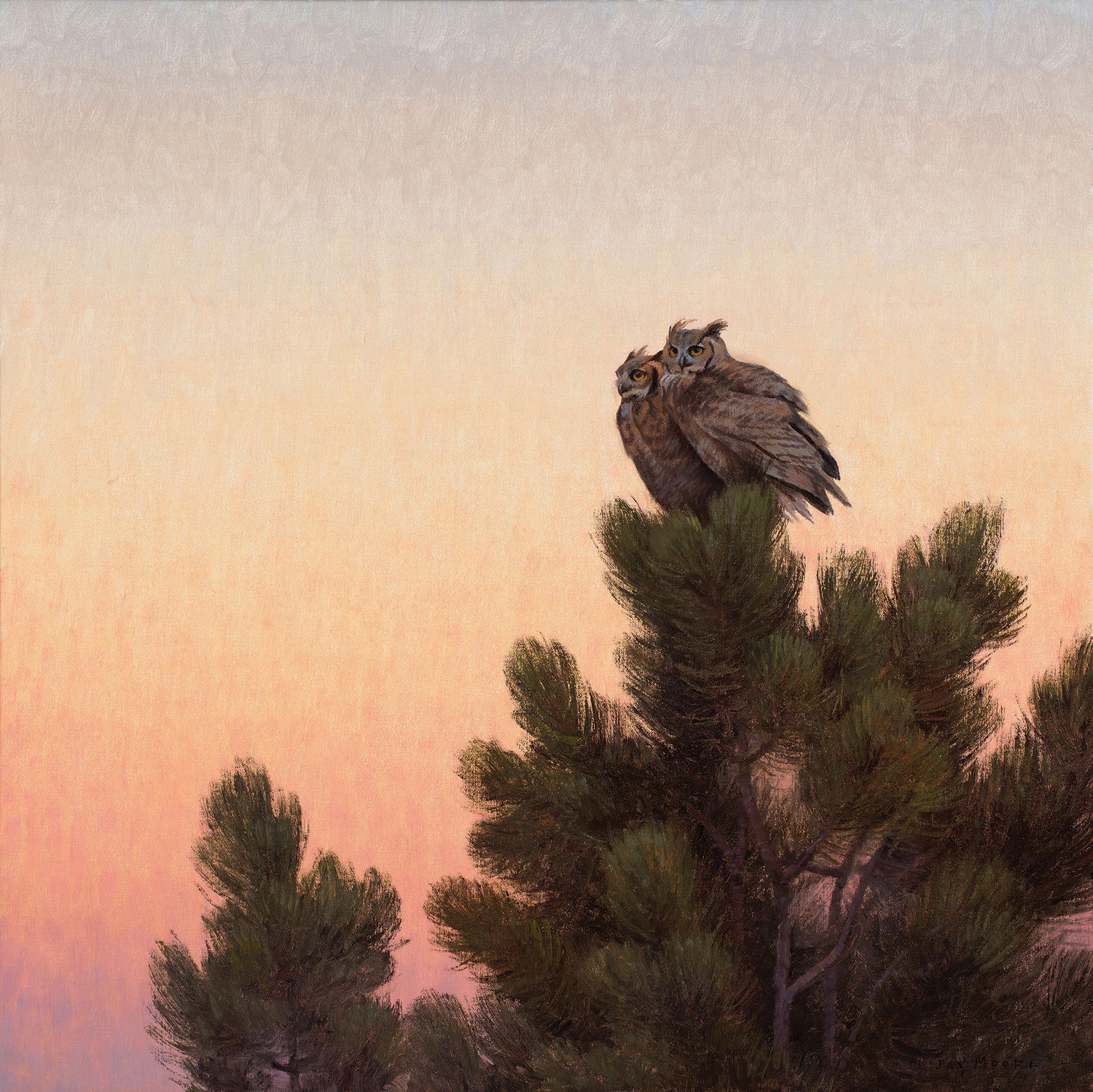 "Training is Nearly Complete" | Oil | 30 x 30 inches Maternal
02 Oct

Illuminations: Highlighting the works of painter Jay Moore

Landscape painter Jay Moore translates his visceral experiences into visual experiences captured in oils through his brushwork and palette, his line and composition.

"After painting landscapes for 20 years, trying to make everything look convincing — a cloud should look like something floating in the air and not a potato — I got to a point where I wanted to add something more personal," Moore says. "That's what I've been concentrating on lately."
"Maternal Bond" | Oil | 16 x 20 inches
Moore, in the vein of the Hudson River School, portrays the sublime wildness of the American landscape, adding to that tradition metaphors about life, death, family, and even the change in our relationships as we get older.
"Adding more metaphors, something that has a deeper meaning for me, like a parent and child relationship as seen through animals, or the time of day to show the end of an era, gives my landscapes something for people to think about," he says. "Artists have done this forever; the Pennsylvania Academy artists would use a road in their paintings, the foreground would be in the shadow and the background would be sunlit -— that would show optimism. Or storm clouds in the background might stand for an impending event. Every genre has used symbolism, but what I'm trying to do is not a general feeling or symbol, but something that is specific to me."
"Colorado Majesty" | Oil | 20 x 60 inches
He does that by simplifying the painting. Viewers can get a sense of what he's saying, even if they don't know the exact circumstance for his depiction. Human emotion is a universal experience. Whether it's grief, sadness, hope, or despair, the landscape and sometimes the wildlife portrays his intention.
"It's like a moment, a little era in your life, in a bottle," he says. "I feel the emotion, see the scene, and put those two things together. If I was in a different stage, it would be a different painting. For example, watching your parents get older has a complex set of emotions that go along with it. I might paint a young tree next to a gnarled tree which becomes a metaphor for that stage in your life."
Once he understands his metaphor and how he wants to instill it in the painting, he builds his narrative in order to convey a feeling. Through the use of color, line, and shadow, Moore develops a theme and an emotion to go along with it.
"When I first started, I just painted plein air — all different sizes, out in the field, through all the different seasons," he says. "I took a workshop with Clyde Aspevig and he pushed me to go outside every day. I've always been an outdoors person, so hiking to destinations is second nature."
But once he started, his family didn't want to be traveling all the time. And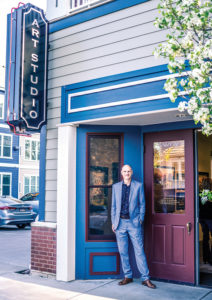 Moore wanted to be home, so he did more studio work. These days, he does a few trips a year to gather reference material. When he is working outside, he sketches several thumbnails to get a feel for the right composition, then he creates a small oil painting to jot down the right colors and the right light for the piece. Afterward, he takes all of those ideas, sketches, and field studies back to the studio to figure his final painting.
"I may also do a vertical sketch and decide later which one works best," he says. "I like to rehearse it before I go bigger. If I'm going to invest three weeks into a painting, I want it to work. The prep time helps with the consistency of the work. I've learned to trust my instincts and work very intuitively."
Moore will host an opening featuring his wildlife paintings on November 9 at Jay Moore Studio in Parker, Colorado, called In Their Own World. He is represented by Astoria Fine Art in Jackson Hole, Wyoming, and Saks Galleries in Denver, Colorado.