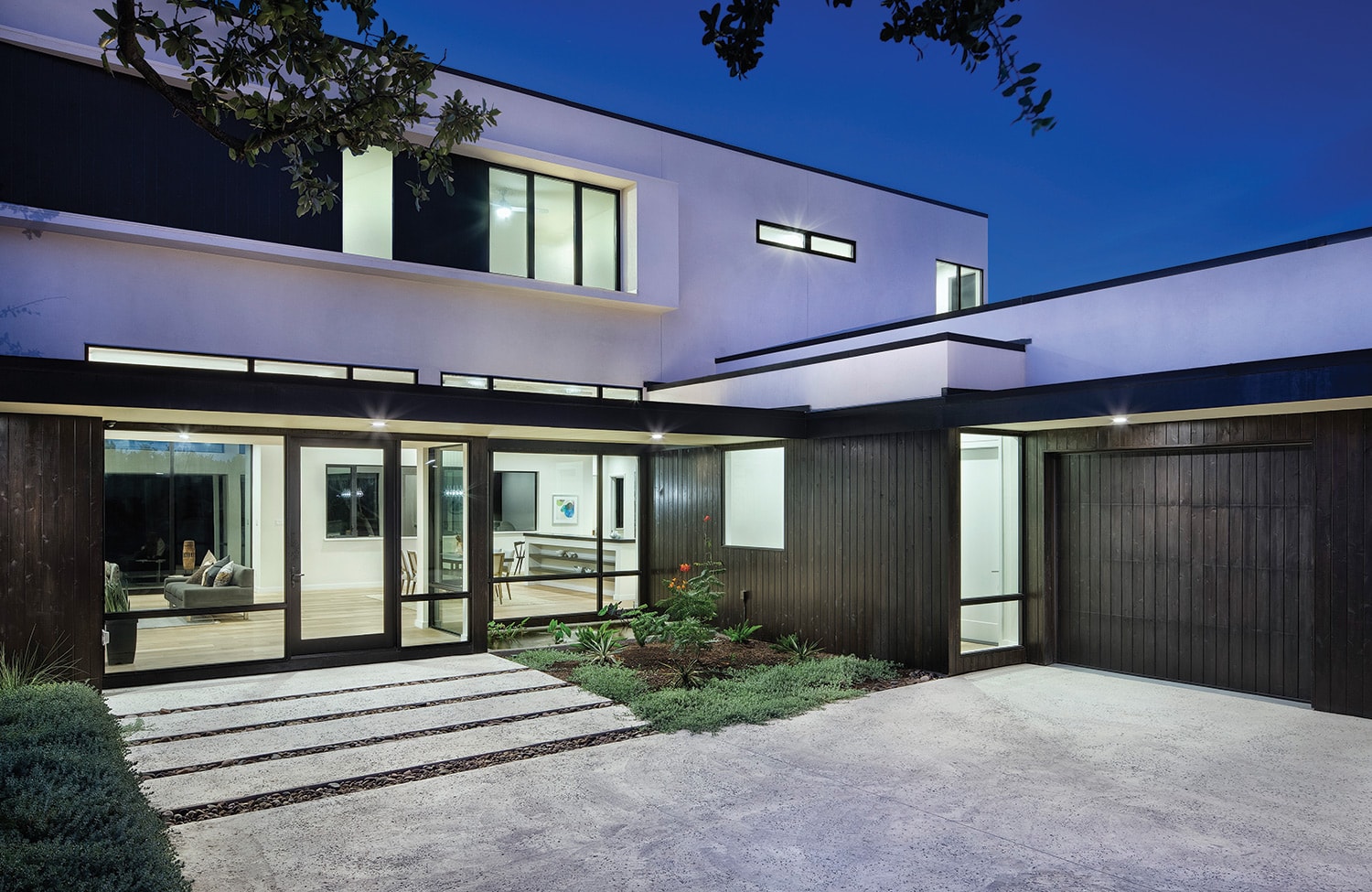 The entrance to the Lakeway Residence; the garage, on the right, is disguised in vertical cedar accents.
15 Mar

Rendering: Framing A Life

Clark | Richardson Architects is a hot, young firm that's designed a diverse range of projects, from commercial to residential, winning numerous awards and top ratings for sustainability. But if the principals had their druthers, they'd be designing houses full time.

The firm's portfolio includes everything from striking four- and five-bedroom modern houses on generous suburban lots to deceptively large houses on cramped city lots, as well as remodels and additions to dwellings in historic neighborhoods. The designs are modern, white and angular, tempered by wood details.

"I think we're people who are more interested in simple, very well-designed spaces that are really about framing a life," Ed Richardson says. "Maybe the architecture doesn't have to be the loudest thing in the room."

"We're interested in the client, the site and sustainability," adds April Clark. Her commitment to sustainability was cemented while working in Santa Fe, New Mexico, with Ed Mazria during the launch of Architecture 2030, the nonprofit he founded to push for the reversal of the ever-higher consumption of fossil fuels and release of greenhouse gases involved in building, as design is a crucial element of cutting back on energy use.

Clark and Richardson met at the Yale School of Architecture in 2001 and have collaborated ever since, opening their firm in 2009 and, along the way, having three children.

"The tendency in architecture schools is to favor modernist tradition," Richardson says. "But both April and I come from cities with really strong vernacular traditions — she's from Santa Fe, and I'm from New Orleans — so I think that comes into play with how we think about architecture and how we think about context."

One of Clark's favorite designs, she says, is the entrance to the 3,500-square-foot Lakeway Residence. A gently sloping driveway leads to the glass-walled living space, then turns to the three-car garage on the right side, so that from the street it appears to be a wing of the house. "You walk past the water feature into a large, open space, and you see right through the house to this sweeping view and the swimming pool," she explains. "It's a very nice sequence to come home to."

Sequence is vital to the architects; the procession from one space to another. They discuss rooms as volumes, the way a sculptor might define the elements of a work of art.

Asked whether they prefer designing larger houses or working with small city lots, Clark says, "I probably would've answered that differently five years ago. It's fun to have the space to imagine anything, but actually the constraints of a smaller lot are challenging — trying to make it sing. I think we've been able to excel with those kinds of restraints in a way that's contributing to the whole city, which is really exciting."

"The city houses are more keyed to the scale of things around them," Richardson says, "to address the street in a specific way."

The Avenue F Residence is a perfect example. In a neighborhood of mainly one-story houses, the second story is stepped back unobtrusively from the one-story front, which is entered via a covered porch. The generous use of wood warms the white, orthogonal structure and provides a simple elegance to the entry. The design manages to be at once completely modern, yet a perfect fit with its traditional Austin neighborhood.

Another city project, the Hyde Park Residence, is a renovation and a modern addition to a historic Austin bungalow, described by Clark as "a small lot with a lot of house." It won a five-star sustainability rating for elements such as a tightened frame, added insulation and a 10,000-gallon rainwater collection system hidden beneath the house. Radiant barriers within the walls keep the summer heat out. During demolition, they discovered old shiplap inside the walls, which they cleaned and reused decoratively on the screened porch and elsewhere.

In addition, there's another sustainable element people don't normally think about: aging. With this in mind, Clark | Richardson added an integrated structure in which an elevator could be housed, and inside the wall between the house and the garage-top guest room is an invisible door frame for the day when a caretaker might be necessary.

At the moment, the two have no plans to enlarge the firm. Clark and Richardson want to continue to work closely with their clients. It means they complete fewer projects, but there are rewards. "It's an honor to be so intimately involved with clients," Clark says.