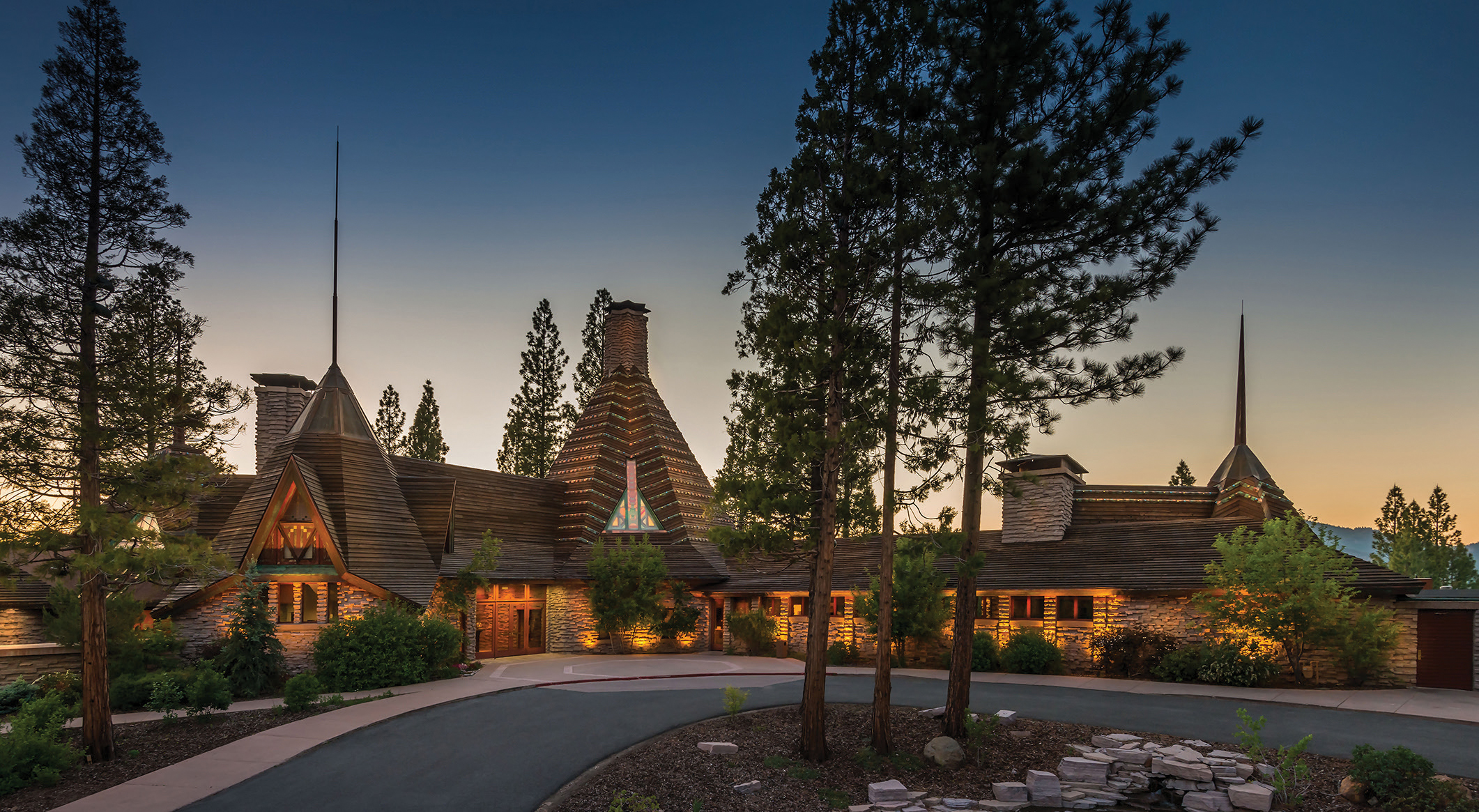 The boutique 42-room Nakoma Resort debuted in 2015 and pays homage to architect Frank Lloyd Wright.
10 Mar

Western Landmark: Nakoma Resort

Seventy-seven years is a long time betweenconcept and reality. Yet it took that long for one of Frank Lloyd Wright's visions to make it from the drawing board to its ultimate foundation.

In 1924, when the iconic architect was 56 years old, he was commissioned to design a clubhouse at the Nakoma Country Club in Madison, Wiscons in. His proposed 24,000-square-foot structure was described in the local paper as "the most unique building of its kind in America," but due to projected high costs, Nakoma — a Chippewa word that translates to "I do as I promise" — was never built. At least, not until those plans were rescued from Wright's architecture firm, Taliesin Associated Architects, in 1995, 42 years after the famed architect's death.

Along came Peggy and Dariel Garner, who had purchased 1,280 acres in the ruggedly beautiful "Lost Sierra" region of Northern California's Plumas County. Instead of building their retirement home, they opted to utilize the idle drawings to construct the Wrightian gem to serve as the centerpiece for Nakoma Resort. The property opened in 2011 and includes an 18-hole golf course, villas for overnight guests, and residential lots, all situated on a pine-forested mountaintop site an hour's drive from Lake Tahoe and some 2,000 miles away from its predestined location.

As the Garners most likely learned, constructing a Wright masterpiece is no easy task and, assuredly, comes with a heavy sense of responsibility. "Wright's design, which had to be intensely demanding technically, is clearly not a box, and every time you deviate from a 90-degree angle, you create more work for yourself. And this structure is just a pile of angles upon angles upon angles," says Dan Gallagher, vice president of development for the Arizona-based real estate company Schomac Group, which purchased Nakoma in 2010.

Upon closer look, five teepee-like spires of wood and copper rise from walls clad in horizontal stone to mimic sedimentary strata. Inside, and in typical Wright fashion, low-ceilinged entrances and passageways lead to soaring spaces now occupied by the bar, golf pro shop, spa,
and a restaurant. The resort's Restaurant Fifty44 is located in the octagonal Wigwam Room that showcases art-glass windows, a 17-foot-high frieze of abstract Native American motifs, and a towering, 60-foot, four-sided central fireplace. The outside dining patio overlooks the golf course and sweeping views of the Sierra Nevada Mountains.

Recognized for his organic architecture promoting harmony between human habitation and the natural world, it's a safe bet that Wright would approve of the efforts the Schomac Group undertook in their quest to establish Nakoma as a family-style destination resort.

Their plan began with a mountain-modern, two-story, 42-room inn, brought to life in August 2015 by the Reno, Nevada-based Cathexes Architecture. In choosing to emulate Wright's principles rather than imitate his legendary work, the finished building highlights pronounced forms, clean lines, and a superior use of rough, earthy elements with spacious accommodations. Two years later, Cathexes followed it up with the 12,000-square-foot Altitude Recreation Center, unveiled in 2017 with an outdoor pool, indoor climbing wall, fitness center, bistro, and 20-seat theater.

With all of the resort amenities, the only thing that could beat a retreat to Nakoma as a guest would be living there as a resident. Interested parties can do just that through the Residence Club at Nakoma by purchasing one of the new mountain-modern homes, built by Mark Tanner Construction in collaboration with Method Homes, or creating their own custom-designed house on a half- to 16-acre parcel.
"The great thing about the Frank Lloyd Wright heritage is — it's not that homeowners must build a Wright-style house, it's that there is a very high bar on architecture in the development," says Gallagher. "Ultimately, that attracts interesting people who get the vision of designing a cool house that is expressive and unique."

In conjunction with an adventurous lineup of hiking, mountain biking, fly fishing, and lakes for kayaking and swimming, Nakoma has evolved into a quintessential basecamp in the Lost Sierra's alpine playground.