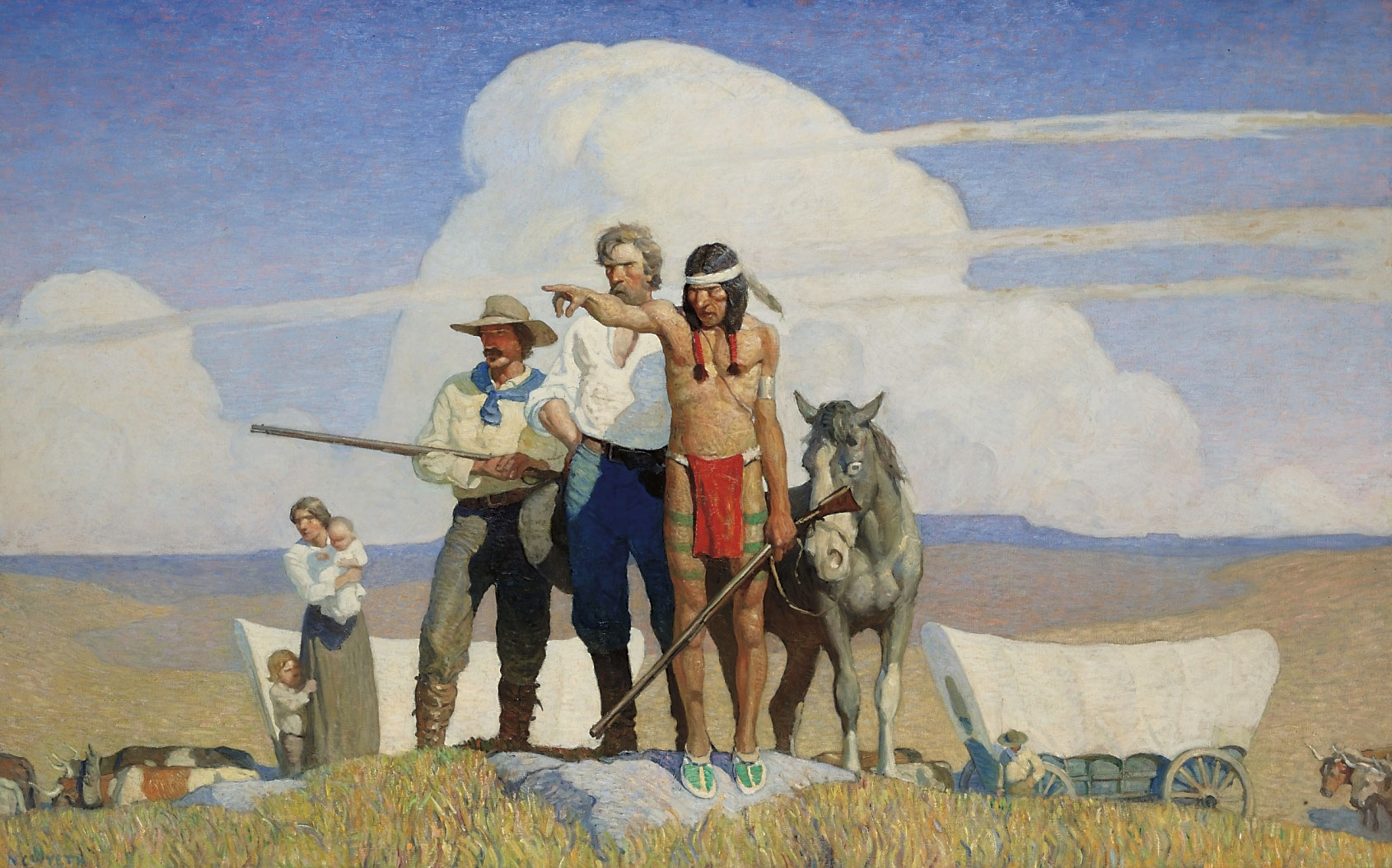 N.C. Wyeth, Pioneers — The Opening of the Prairies | Lot 92 | Est. $300 - $500,000 | Sold for $722,500
29 Dec

Auction Block: A Hopeful Note
---
Hedging on a small rally of more confident art buyers, the 2009 fall art season ended on a hopeful note, as overall sales at major auctions increased slightly. Galleries and auction houses of the West eyed the impressive offerings at Sotheby's and Christie's in New York. From coast to coast, art events emerged with solid sales numbers and an unofficial average of 60 percent of lots sold overall. The conclusion is simple: People are still buying art.
The long-term analysis is a bit more complex, however, since the pattern of purchases from buyers, particularly at auctions, seems unpredictable. Without a doubt, the multi-million-dollar whim buying of the market's peak is history. Yet the works of masters continue to impress, as evidenced in New York this past November when an Andy Warhol silkscreen sold for triple its estimate at $43.7 million at Christie's, while at a semi-annual Sotheby's sale, a sculpture by Alberto Giacometti sold for $19.3 million. Combined, the two auction houses racked up about $596 million in sales for Impressionist, modern and contemporary art, surpassing the previous $409 million in spring 2009.
Granted, this is a bigger market than art of the West, but still proof that prices are on the rise and buyers are willing to come out for quality works.
Reflecting on the overall mood of the art market from the Santa Fe Art Auction, Peter Riess, Vice President and Executive Director, noted, "Seeing Sotheby's and Christie's sales in New York (in November) were really strong — though it's hard to draw a comparison between the two, since this is Western art and that is blue chip contemporary — but I think it reflects that people are feeling a little more confident in the economy."
---
Los Angeles Modern Auctions (LAMA) Fine Art, Sculpture and Design Auction | December 6, 2009
Proving that the West Coast is a serious art market, the LAMA event posted $1,924,000 in realized sales for some serious works by Pablo Picasso, Sam Francis, Keith Haring, Larry Rivers and Roy Lichtenstein, among many others. Most lots sold at or above the highest estimates, with 70 percent of the 462 items sold.
Long known for significant offerings of 20th-century furnishings, ranging from the Eames brothers to Carlo Bugatti, the high point of the show was a suite of George Nakashima custom furniture; 17 lots realized $327,748. Additionally, a Diego Giacometti coffee table sold for $79,625, within the estimated $75,000 to $100,000 range.
To sum up his satisfaction with the results, LAMA director Peter Loughrey said, "For many years we have been known as the art world's best-kept secret. I think now the secret is out."
---
Sotheby's New York American Paintings, Drawings and Sculpture | December 3, 2009
Offering a well-rounded roster of artists, this sale tallied just over $25 million for 101 lots. Works by early American artists drew significant numbers, including landmark works by Robert Henri, Childe Hassam and Marsden Hartley, which drew millions for each offering. Additionally, Thomas Hart Benton, Norman Rockwell, and Jamie, N.C. and Andrew Wyeth collections sold well. In particular, N.C. Wyeth's painting, Pioneers — The Opening of the Prairies, was estimated between $300,000 – $500,000 and sold with a hammer price of $722,500.
Other deceased Western artists rallied lively bidding for works by E. Martin Hennings, Frank Tenney Johnson, Frederic Remington, W.R. Leigh and more. Contemporary painter James E. Bama's works sold well above the estimated prices, specifically Southern Cheyenne Warrior, which was purchased for $43,750. The estimate was between $15,000 to $25,000.
---
Altermann Galleries Auction 2009 Western Art and American Indian Art Auctions | November 8, 2009, Santa Fe
Cultivating its own fall art season in Santa Fe, Altermann Galleries followed Gerald Peter's auction with a respectable show featuring some of the West's best contemporary artists, from Mian Situ to many of the Cowboy Artists of America. Strong offerings were displayed at the show, including Fifth Avenue, by G. Harvey, which sold for $84,000. The total sale garnered $2,074,870.
---
Santa Fe Art Auction | November 7, 2009
More than 300 people filled the Santa Fe Convention Center for the revered annual Santa Fe Art Auction. Filled mostly with experienced collectors who had eyes on specific works rather than on the notion of a buying spree, the sale delivered a healthy final number of $2.3 million, nearly double the 2008 total. Selling approximately 70 percent of the lots offered, president Gerald Peters was pleased with the overall results.
"We had a better auction with more attractive pieces (this year). I'd say the draw of the good lots helped sell everything else in some way," commented Vice President and Executive Director Peter Riess.
Classically, the Taos Society painters were great — Joseph Sharp, Walter Ufer, E.I. Couse and Oscar Berninghaus. A notable oil by William R. Leigh, Old Hopi Priest, sold slightly over the estimated $150,000 to $250,000, at a realized price of $275,000, but in general many lots sold below the estimated prices. A significant buy for a real gem of a painting from Thomas Hart Benton, Cowboy at the Well, sold well below the estimate of $200,000 to $250,000 for $115,000. Other lots were seen as relative bargains, particularly for etchings and drawings, which continue to cultivate opportunities for new collectors to acquire interesting works by Western artists.
"In this environment we were happy to get the job done the way we did; we were happy to attract people to Santa Fe to participate in the art world," said Riess.
---
44th Annual Cowboy Artists of America Sale and Exhibition | October 16, 2009
Grossing more than $1.417 million in sales, with a portion of the proceeds benefiting the Phoenix Art Museum, the venerable CAA celebration honored artists both past and present.
Traditionally, 12 medals are awarded to Cowboy Artists of America members for exemplary artwork in the exhibition. This year, the Western Art Associates' Kieckhefer Award for best in show went to John Coleman for his sculpture, The Game of Arrows. The 2009 Stetson Award, the CA's highest honor, is a nod to the artist from one's peers. This year John Moyers' work was a standout for his thoughtful depiction of historic New Mexico and old Mexico subjects, as well as Native Americans and cowboys. Formally called the CAA Award, this prestigious prize is now being sponsored by longtime friend and supporter, Hatco, Inc./Stetson.
Additionally, the Ray Swanson Memorial Award, which is given for a work of art that best communicates a moment in time and captures the emotion of that moment, was presented to Bill Nebeker for his sculpture, Donny and Bill: A Family Tradition. The Traditional Cowboy Arts Association Award, which is presented to the artist whose work best portrays a traditional cowboy subject, went to Bruce Greene for his painting, In the Dust of Days Past.
In strong support of the Phoenix Art Museum and the tradition of CAA artists, the event delivered another well-supported event and more evidence that the art world will continue to grow in the coming year.