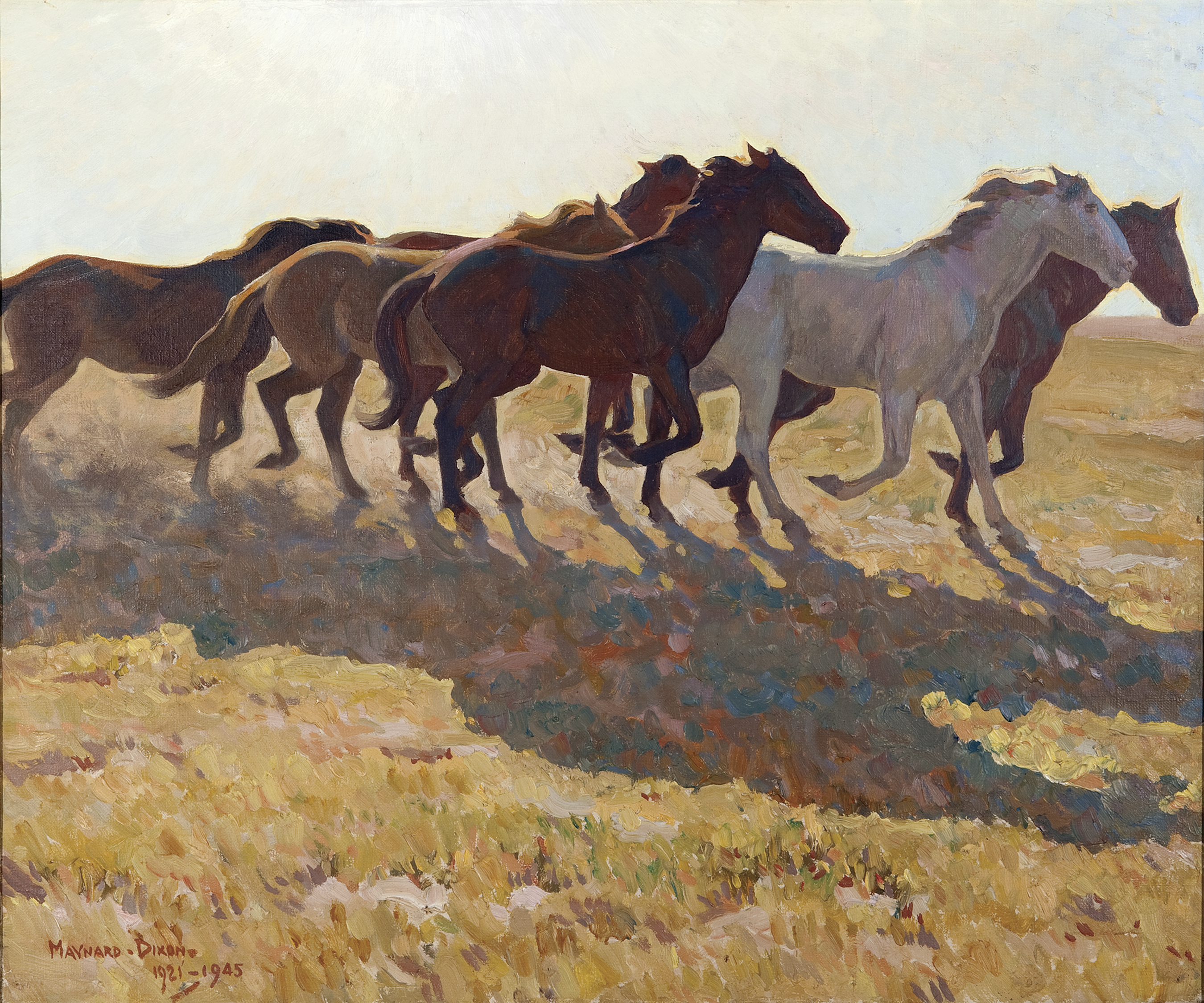 Maynard Dixon [1875–1946], "Remuda" | 1921-1945 | Oil on Canvas | 25 x 30 inches | Est.: $250,000 to $450,000 — Sold: $438,750 | Jackson Hole Art Auction
01 Dec

Auction Block: Autumn's Scenic Art Venues
---
For collectors the autumn art season was an opportunity to travel to some of the most scenic venues, rather than scrabbling to be the highest bidder at high-profile events.
It's hard to beat September in Wyoming, where Jackson's 10-day Fall Arts Festival is punctuated by so many gallery walks, parties, sales and fundraisers that it's impossible to fit it all in during one visit. The 21st annual Western Design Conference drew artisans from around the country to connect with interior designers and consumers with some of the most unique decorative objects available. Top that with artist studio tours in the shadow of the Teton Mountains, along with a quick draw in the famous town square and the Western Visions show at the National Wildlife Museum.
Likewise in late September, the community of Cody, Wyoming, with Rendezvous Royale, features a slew of events from a Western fashion show, to master furniture-makers in the Cody High Style showcase, to street dances, to the acclaimed Buffalo Bill Art Show and Sale, to the annual Patron's Ball at the Buffalo Bill Center of the West. Phew! This year His Serene Highness Prince Albert II of Monaco was an honored guest of the Buffalo Bill Center of the West to celebrate the 100-year anniversary of his great, great grandfather's legendary hunting trip with William F. "Buffalo Bill" Cody.
Both cowboy and contemporary styles were highlighted in sales at Los Angeles Modern Auctions and Cowboy Crossings at the National Cowboy & Western Heritage Museum in Oklahoma City. It's the stuff of memories, highlighted by iconic scenery and incomparable works of art that may not set the pace in the overall market, but without question set the tone for artful living.
---
Los Angeles Modern Auctions (LAMA) Modern Art & Design Auction, October 13, 2013
In an estate-driven auction, LAMA received bids from international buyers for works by notable California artists to the tune of $3.2 million in total sales for 562 lots of fine art and design.
Pieces from California heavyweights such as Baldessari, Diebenkorn, Hockney, Ruscha, Foulkes, Goode and Moses drew strong prices. A record-breaking number of bidders on the phones, absentee, in-person and on the Internet drove prices for local, national and international works above estimates.
Highlights included Llyn Foulkes' The Flag (1962), estimated at $20,000 to $30,000, which sold for $46,875; Richard Pettibone's Untitled (Two Trains) (1964) realized $28,125; and Ed Ruscha's Vowel E realized $25,000.
Additionally, prints by blue-chip artists Warhol, Picasso, Lichtenstein and Kelly soared above estimates. A selection of 16 Picasso prints from the Vollard Suite, coming directly from the estate of Ruth and Dalzell Hatfield, together totaled nearly $160,000. Two Warhol prints from the Quadrant series brought the top-selling price at $176,250, and Roy Lichtenstein's Moonscape, estimated at $20,000 to $30,000, realized $46,875.
"Works by California artists are bringing global attention," says Peter Loughrey, director of LAMA. "These works are becoming increasingly more appealing to a worldwide market. The interest began a few years ago on an institutional level and is now trickling down to collectors."
---
Cowboy Crossings National Cowboy & Western Heritage Museum, October 12, 2013
Uniting the fine art from members of the Cowboy Artists of America (CAA) and the master craftsmanship of the Traditional Cowboy Arts Association (TCAA), the annual Cowboy Crossings event drew Western fine art collectors from around the country to Oklahoma City. On opening night, the excitement pitched to high speed when the air horn blew announcing the drawing of bidders for the fixed-price sale at the museum, totaling $1.5 million by evening's end. More than 200 works of fine art and traditional Western crafts, from saddles to bits and spurs, were offered.
The event culminated with an artists' award ceremony. Paul Moore was honored multiple times and ultimately won the Anne Marion Best of Show Award for the bronze entitled Offering to the Sun. The TCAA award for the Best Portrayal of a Cowboy Subject went to Managing Men, Land and Cattle, a 24- by 36-inch oil on canvas by Wayne Baize. The Stetson CAA award for Best Overall Exhibition went to painter Loren Entz for his five different works. Bill Owen was honored with the Buyers' Choice Award for Caught a Little Deep.
Other awards were granted to Jason Rich, Grant Redden, Oreland C. Joe Sr., Bruce R. Greene and John Coleman, among others. The two exhibits will remain on view at the National Cowboy & Western Heritage Museum until January 5.
---
Dallas Art Auction All Fine Art Sale, October 2, 2013
Dallas Auction Gallery's American Fine Art and Design Sale was a great success with international competition from hundreds of bidders in the sale room, on the telephones and via the Internet. The momentum resulted in strong sales in a steady market.
Among classic works by Albert Bierstadt and Ansel Adams, the auction featured an impressive selection of Modern paintings, works on paper and prints. Works by Alexander Calder, Paul Jenkins and Sam Francis achieved strong prices. A highlight of the sale was an Alexander Calder gouache on paper, Untitled, (1969), depicting the graphic imagery and primary colors the artist is noted for, which sold for $50,000. Three Calder color lithographs depicting pyramids and spirals fetched a total of $13,437.
A Sam Francis acrylic on paper, Untitled Abstract, (1989), sold for $31,250, and a diminutive gouache on paper from his Pasadena box series, painted in 1964, sold for an impressive $10,000. Phenomena Veronica, a 1968 acrylic on canvas by Paul Jenkins, sold for $28,750 to a European buyer. In the Western genre, Martin Grelle's Waiting on the Hay, oil on canvas, sold for $11,875, well above the presale estimate of $4,000 to $6,000.
Speaking to the event's artistic roots, G. Harvey's Texas Bluebonnets, oil on canvas, sold at more than three times the high estimate for $21,250, while a William Acheff entitled Sweet Corn and Hot Chile brought a solid $21,250.
---
Sotheby's American Paintings, Drawings and Sculpture, October 3, 2013
This auction of American art brought in more than $3.6 million, with several lots selling above their high estimate. Featured were 180 American artworks of a rich and varied selection from the mid-19th through the early 21st century. Of particular interest was a group of nine vibrant watercolors from the mid-1930s by Andrew Wyeth, which had been stored in a portfolio since 1948 when they were given to the present owner by the artist, a personal friend. Of this collection an unusual double-sided watercolor, entitled The Lobsterman (Walt Anderson) and Two Figures in a Dory, was the event's top seller at $197,000, a price that soared above the $45,000 high estimate.
In the Western art genre, works by Albert Bierstadt, William Robinson Leigh and N.C. Wyeth were available, along with a bronze by Frederic Remington, The Savage, that sold for nearly twice the high estimate at $68,750.
---
32nd Annual Buffalo Bill Art Show, September 20 – 21, 2013
The annual Buffalo Bill Art Show and Sale was a successful finish to the renowned Rendezvous Royale in Cody, Wyoming.
Produced by the Cody Country Chamber of Commerce, in partnership with the Buffalo Bill Center of the West, the art show and sale generated $1,198,125 in gross sales, up from $1,045,420 at the 2012 show. More than 1,000 total people attended both the live auction, dinner and the quick draw the following morning.
"I am truly thankful for all of the artists, patrons, staff and volunteers who made the show so successful," says art show director Kathy Thompson. "It was great to see such positive energy from all of our artists and patrons."
The highest-selling lot in Friday's art show was Scorpion Pass by Oleg Stavrowsky, which sold for $45,000. Top-seller at the quick draw was Posse by Charles Ringer — the honored artist for 2013 — that sold for $7,500.
Additionally, a special sculpture commissioned to honor the visit of Prince Albert II of Monaco, On Common Ground, by artist Herb Mignery, sold as the grand finale at the event for $120,000. The sculpture was the third of just three created.
Participating artists offered a broad range of stylistic interpretations of the West, in oil painting, watercolor, pastel, sculpture, ceramic and mixed media.
The Premier Platinum Award, for $20,000, was won by artist Vic Payne for his sculpture, The Gift. The Wells Fargo Gold Award for $10,000 went to P.A. Nisbet for his painting, American Serengeti. Charles Ringer's Indian Paintbrush won the William E. Weiss Purchase award and will be added to the museum's permanent collection.
"The money raised really helps both organizations," said Scott Balyo, executive director of the Cody Chamber. "The events of Rendezvous Royale are important to our members and the Cody economy."
---
Jackson Hole Art Auction, September 14, 2013
The seventh annual Jackson Hole Art Auction was held at the Center for the Arts in Jackson, Wyoming. Hosted by Trailside Galleries and Gerald Peters Gallery, more than 85 percent of the featured 284 lots sold, realizing $8.39 million in sales. As the auction got under way, the auditorium was packed with active bidders. Additionally, there were more than 200 phone bidders, resulting in very active bidding throughout the sale.
Among the lots in this year's sale was an important collection from the estate of James Grisebaum. Thirty-one of the 32 available lots from this estate were sold, including a Ken Riley painting, The Recruiter, which had an estimate between $70,000 to $90,000 and sold for $128,700 with buyer's premium. A rare Wilhelm Kuhnert of a leopard sold for $76,500, exceeding its estimate of $45,000 to $65,000. A palpable gasp from the audience could be heard as a G. Harvey oil of an Indian tepee, estimated to sell between $10,000 and $15,000, hammered at $40,000.
Property from a Wyoming estate featured the cover lot, a gouache by Henry Farny: Returning Hunters fetched $409,500 with buyer's premium, and G. Harvey's Winter Gold, estimated at $60,000 to $90,000, boasted a sale price of $169,650.
Additionally, a new work painted specifically for the Jackson Hole Art Auction by Cowboy Artist of America member Martin Grelle soared past its high estimate of $125,000, to reach a final price of $263,250.
Other highlights included an Olaf Wieghorst painting, Bronc Rider, that far exceeded its estimate, hammering at $110,000.
Six offerings by Richard Schmid included an oil titled Carnations, which soared past its estimate of $10,000 to $15,000, and sold for $52,650. A rare oil by Maynard Dixon, Remuda, 1921-1945, fetched $438,750.
Now in its seventh year, the Jackson Hole Art Auction continues to distinguish itself as one of the country's premier auction houses, drawing collectors and consignors from all across the country as well as from abroad.
---
26th Annual Miniatures and More Show & Sale, National Wildlife Museum, September 13, 2013
Culminating "Western Visions," the monthlong series of events at the National Museum of Wildlife Art, the annual Miniatures and More Show & Sale is integral as the largest and longest running fundraiser for the Jackson, Wyoming, institution. This year's show featured a wide selection of art from more than 150 painters and sculptors. Total sales for the event netted $220,000, which will benefit programming at the museum.
Amid a formidable cast of artists which ranged from sculptor Tim Shinabarger to painter Nancy Dunlop Cawdrey, Britt Freda's Luminous Barn, a small gem of a painting depicting an owl influenced by Gustav Klimt, was selected as the Trustee Purchase Award winner to be added to the National Wildlife Museum's permanent collection.
Additionally, a charcoal sketch titled Ice Bear, by Pete Zaluzec, was chosen as winner of the Robert Kuhn Award and will also be added to the esteemed collection. Mark Eberhard and Veryl Goodnight were the featured artists at the Wild West Artists party.
---
Quest for the West® Art Show and Sale, Eiteljorg Museum, September 6, 2013
On opening night, a tremendous display of paintings, sculptures and bronzes captured the spirit of the American West and helped acquire $1.2 million in sales to benefit the Eiteljorg Museum, an astounding 35 percent increase over last year's figure. In conjunction with the eighth annual art show and sale, the 2012 recipient of the Quest for the West artist of distinction award, painter John Coleman's one-man show was on display.
This year's winner of that same honor was given to Donald V. Crowley, whose one-man show will open at the 2014 event. Other artists were recognized for their work during the gala, including Daniel Smith, John Buxton, Robert Griffing and Blair Buswell.
"We had more than 180 amazing pieces for sale in our gallery," said John Vanausdall, Eiteljorg Museum president and CEO. "With such an extraordinary body of work — by 50 renowned artists in one room — this museum has positioned itself as a national resource for art of the West."