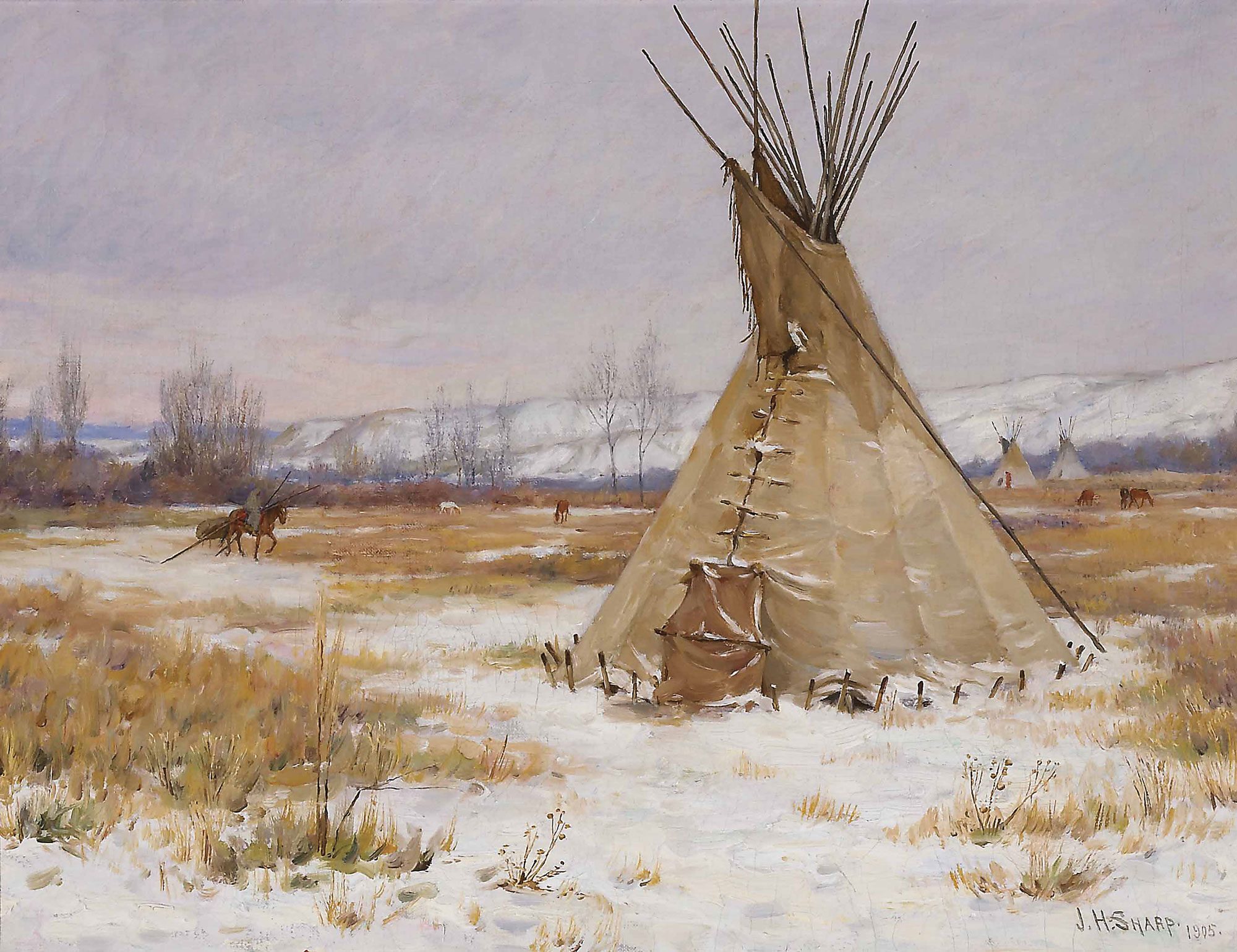 Lot07-199 | J.H. Sharp, "Indian Encampment (In Winter's Embrace)" | Oil on canvas | 18 ¼ x 24 inches | SOLD: $201,600
29 Dec

Auction Block: Breaking Records
---
With the national results of the fall art auction season in, the buzz is that the fabled art world bubble-burst is nowhere on the horizon. A record-breaking sum of $1.75 billion in U.S. sales in October from the combined totals of top auction houses Christie's, Sotheby's and Phillips made headlines near year's end. In the same vein western regional art auction sales held strong in October and November. The numbers and continued interest point to an even stronger year for collectors in 2008.
---
Sotheby's New York: American Paintings, Drawings and Sculpture | November 28, 2007
At Sotheby's New York auction of American Paintings, Drawings and Sculpture, a Frederic Remington bronze, titled Bronco Buster, reinforced the highly collectible status of art from the American West, maintaining the premium on this genre and promising an even more competitive market for the future. Selling well above the estimated $70,00 to $100,00 at $629,000 (realized), the signed and stamped sculpture contributed to the auction's overall $65,198,200 of realized sales.
For worldwide auction information, visit www.sothebys.com.
---
Santa Fe Art Auction | November 10, 2007
Held at the Eldorado Hotel, just off the main square, the Santa Fe Art Auction kicked off its 14th annual sale with a famed Birger Sandzen lithograph on November 10th. In atmosphere that was part social and highly competitive, a mix of art dealers and private collectors viewed 257 lots for a total of $2.4 million in realized sales.
The roster of heavy-hitting historic artists included Joseph Henry Sharp and Eanger Irving Couse, founders of the Taos Society; Bierstadt and Moran; as well as Remington and Russell. Yet younger names, such as Rocky Hawkins, Kevin Red Star, Fritz Scholder, and T.C. Cannon — all native American contemporary painters — were highly successful in the mix of old and new. Carl Rungius' oil painting, Forest Lake, was the top lot, and sold for a realized price of $400,400.
Last year's auction featured 262 lots and totaled $2.6 million in sales. Begun in 1994 by a group of local galleries, the Santa Fe Art Auction remains the largest sale of classic Western American art in the Southwest.
For more auction results visit www.santafeartauction.com.
---
Christie's Los Angeles: California, Western and American Art | October 26, 2007
Setting records for more than a decade in its West Coast location, Christie's Los Angeles launched its Christie's Live™ at the California, Western and American Art auction. The dynamic event highlighted California plein air names such as Guy Rose; Julian Onderdonk; William Wendt and Harvey T. Dunn. Fervent bidding emerged for the California plein air, illustration, Modernist and Western and Taos works featured. Several artists' works set record sales: Santa Fe Society painter, Nicolai Fechin's Tonita sold for $1,105,000 (realized), hitting the high-end estimate of $1 million.
Thomas L. Hunt's Newport Harbor, 1925, was estimated to sell between $20,000 to $30,000, but surprised the audience with a high gavel price of $199,000 (realized) for an artist's record, while a Colin Campbell Cooper oil, Samarkand, Santa Barbara, 1927, sold for nearly double the estimated price at a realized sale of $289,000. Final sales for the event totaled $4,375,560.
Peter Klomen, a Christie's specialist in the American Art department, lauded the evening's success in drawing both new and established collectors.
For more information on the next Christie's Los Angeles auction of California, Western and American Art in April, 2008, visit www.christies.com.
---
The California Design Auction | October 14, 2007
Feeding the resurgent Modernist movement throughout the country, Los Angeles Modern Auctions' fall show of 20th-century design and fine art items set a record with $1.9 million in realized sales.
An interior designer's and collector's delight, the sale featured the clean-lined, organic furnishings of Sam Maloof; the Eames brothers; Paul Laszlo; Greta Grossman and Alvin Lustig, among others. Focusing on works that were designed or produced in California, LAMA offered nearly 500 lots for auction. Among the highest-selling furnishings was the Impressive Dining Table by Sam Maloof, which sold for a record-breaking $144,000, and an unusual desk from Greta Grossman, with a realized price of $14,400.
Fine art offerings from David Hockney; Andy Warhol; and architectural pottery from Gertrud and Otto Natzler; and David Cressey topped the diverse list of valuable lots. But it was Judy Chicago's fantastic Car Hood, 1964, that topped the list at $288,000, along with a group of Ed Ruscha books at $23,880 and Richard Diebenkorn's 1992 High Green, Version 1 print that drew $156,600 for more record-breaking numbers.
LAMA's previous auction in June, 2007, realized $1.33 million.
For more information about the upcoming 20th Century Design and Fine Art Auction in January, 2008, visit www.lamodern.com.