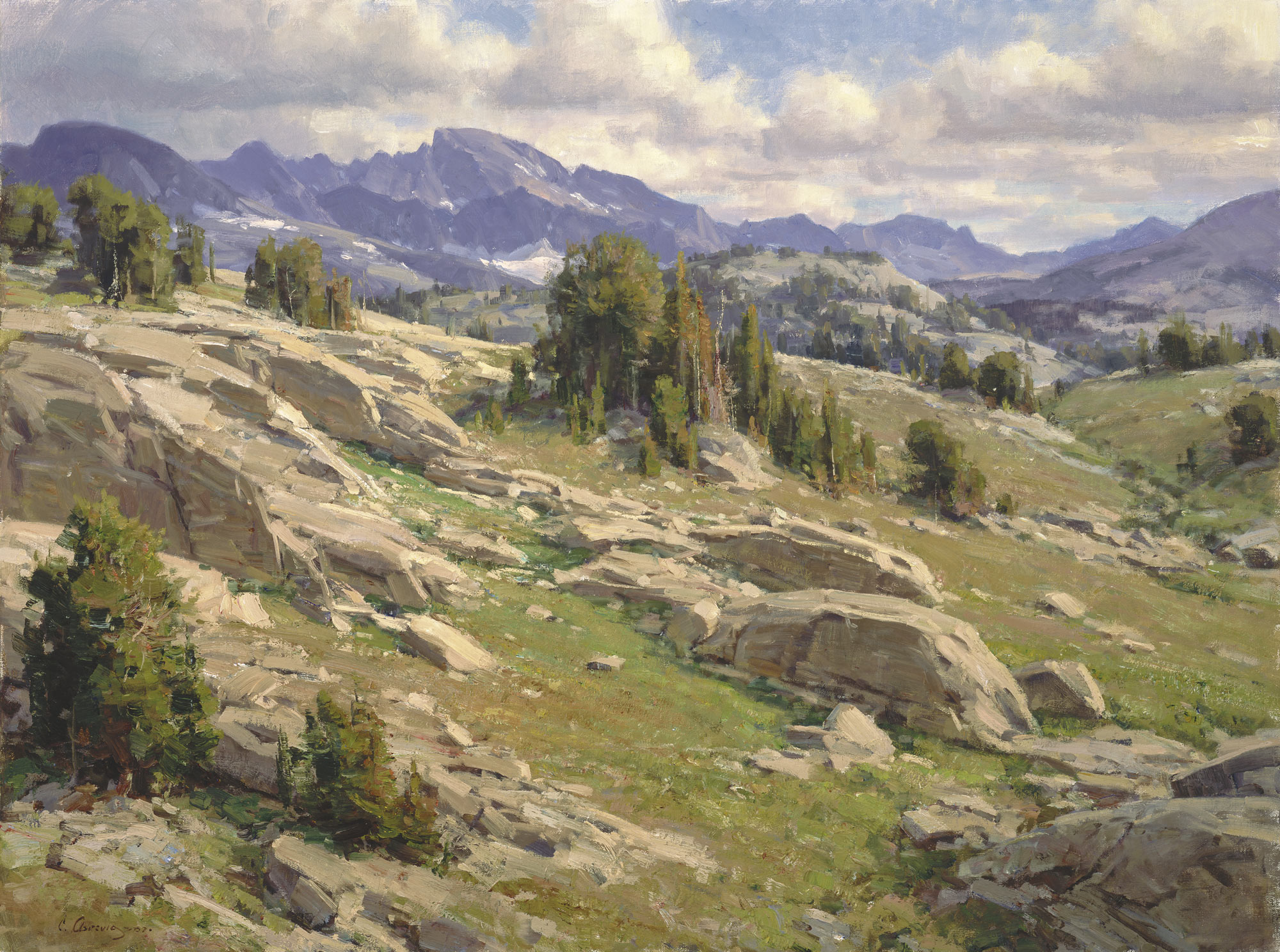 2007 Honored Artist and Painting Award recipient: Clyde Aspevig | "Wind River High Country" | Oil | 30 x 40 inches
01 Aug

Auction Block: Holding Strong
---
26th Annual Buffalo Bill Art Show & Sale | September 21 – 22, 2007
With longtime U.S. Senator Alan K. Simpson and his wife, Ann, presiding as charismatic co-chairs, award-winning Montana painter Clyde Aspevig featured as Honored Artist and more than 100 of the West's top painters and sculptors gathered together, the 26th Annual Buffalo Bill Art Show & Sale was a world-class Western art event with a hometown feel. Hosted by the authentically Western town of Cody, held on the grounds of the world-renowned Buffalo Bill Historical Center, and put on by an immense cadre of well orchestrated and enthusiastic volunteers, this year's event built on past successes while setting records for sales.
Net proceeds of $1,171,243 to benefit the Buffalo Bill Historical Center topped last year's record of $1,060,000, which cleared the million-dollar mark for the first time. As always, the artwork covered a broad range of styles and media, from a painted bronze by Harry Jackson to a Wyoming back roads landscape by Linda Lillegraven and a Jackson Lake oil painting by Jim Wilcox to a mixed media artwork of teepees by Kevin Red Star. Works by deceased artists included a Henry Farny (1847-1916) pen-and-ink and an oil painting by Ransome Holdredge (1836-1899).
Bruce Graham was selected for the William E. Weiss Purchase Award. His oil painting, Saddlestring Cavvy, becomes part of the BBHC's permanent collection. Attendees favored M.C. Poulsen for his $26,000 painting Kiss of Sunlight for the Peoples' Choice Award, while the prestigious peer-selected Artists' Choice went to Nikolo Balkanski for his oil Autumn Palette (Red Stone, Colo.), which sold for $8,000.
A secondary auction, the popular hour-long Quick Draw event — in which artists draw, paint and sculpt, often using live models, and then see the results auctioned off — proved as popular as ever; Art Show Director Tom Huge calls it "a magical process that attendees get to witness live."
The Buffalo Bill Art Show, the highlight of Cody's weeklong Rendezvous Royale, is flanked by two major arts events: Cody High Style, a museum-quality decorative arts exhibition and sale featuring handcrafted furniture and couture fashion, and the Buffalo Bill Historical Center's annual Patrons' Ball. Held annually over the fourth weekend in September, the 27th annual show will take place September 23-27th, 2008.
For more information call 307.578.5002 or e-mail info@buffalobillartshow.com.
---
Jackson Hole Arts Festival, Western Design Conference and Jackson Hole Art Auction | September 6 – 16, 2007
For the first time in its new venue, the notable Western Design Conference drew a loyal following of artists, designers, architects and design professionals to Jackson, Wyoming, along with a new set of fans. Coupled with Jackson's Fall Arts Festival, the event began on September 6th with the Fashion Show, showcasing some of the most creative wearable art in the country.
The weekend rolled into the exhibition and sale, as well as seminars for collectors. The exhibition and sale showcased contemporary crafts, highlighting artistic traditions including Western, Adirondack, Rustic, Lodge, Asian, Southwestern, Hispanic, Native American and Modern influences. Held at the Snow King Pavilion, the conference attracted more than 2,000 attendees, according to organizer Nancy McCullough-McCoy. For the juried exhibition of 92 artists, Many Tears, by Supaya Gray Wolfe, won Best in Show. Visit www.westerndesignconference.com for more details.
The 10-day event culminated with the Jackson Hole Art Auction, held at the new art center near the famous town square. Launching the show, a part of the Dixon documentary, Maynard Dixon: Art and Spirit, was screened prior to the auction. The work of the renown Western landscape painter was auctioned off also, selling on the lower side of estimated prices at $150,000 for Flathead Brave and $875,000 for Oncoming Storm, which had an estimated sale price of $1,000,000 to $1,500,000.
Highlights of the show also included a rare set of Thomas Molesworth chairs that sold for a total of $12,500 together; and a choice Charles M. Russell painting, Sighting the Enemy, sold for a low $500,000, under the estimated $750,000 minimum. Contemporary painter Martin Grelle was the auction's surprise showcase artist with a record-breaking sale of Morning Vigil, which sold for $325,000, over three times its listed estimate. For information about next year's event visit www.jhartauction.com.
---
Coeur d'Alene Art Auction | July 28, 2007
As bidders raised their paddles at the Coeur d'Alene Art Auction in Reno, spotters quipped "Hup, hup, hup!" and "Hah, hah!" calling out like cowboys on a cattle drive. The audience laughed and continued to bid on the most diverse collection of 19th- and 20th-century paintings and bronzes in the auction's 22-year history at the Grand Sierra Resort.
Noted as the largest Western art sale in the country, CDAA set a record number for net sales at $35,132,120 — more than an $8 million increase over last year's sum. This year's auction featured 307 works from past and present artists mostly in the Western, wildlife and sporting genres. But in addition to the classic storytellers of the West — Albert Bierstadt, Thomas Moran, Charlie Russell, Joseph H. Sharp, Edward Borein, Frank Tenney Johnson — there was an unusual representation of European and Latin American masters. Names of artists such as Paul Signac and Diego Rivera, among many others, drew around 850 people to the event and brought bidders onto the phone lines from as far as Israel, Japan and France. The organizers showcased a host of interesting American artists as well, including three generations of Wyeths (N.C., Andrew and Jamie), unusual works from John James Audubon and a touching collection of Mary Cassatt portraits.
The audience hummed when a small bronze by C.M. Russell entitled Nature's Cattle went for $300,000 at the tap of the gavel and auctioneer Peter Stremmel joked, "Now don't start buzzing — you ain't seen nothing yet!"
Later, another Russell bronze sold for an unprecedented $1 million and another for $950,000. Those weren't the only items setting records, however. For the first time a work from Frank Tenney Johnson, Silent Night, sold for more than $1 million.
The tenor of the show crescendoed during bidding on a coveted Russell painting that started at $500,000 and bounced all over the room beyond the $2 million mark. Ending as the auction's top seller, C.M. Russell's Blackfeet Burning Crow Buffalo Range tied with French neo-impressionist Paul Signac's landscape on the river Seine, Le Ponton de la Félicité, Asniéres, each with a final price of $2,912,000.
Coeur d'Alene also showcased working artists from around the western United States, including Clyde Aspevig, John Banovich, Luke Frazier, Tim Kochs, Bob Kuhn, Ted Waddell and others.
In the end, the Coeur d'Alene Art Auction stayed true to its Western roots with strong sales. Still it was fascinating to see the diversity in this year's lots, both in style and subject matter, and to know that an old cowboy like Charlie Russell can hold his own against a classic French Master. For more information visit www.cdaartauction.com.