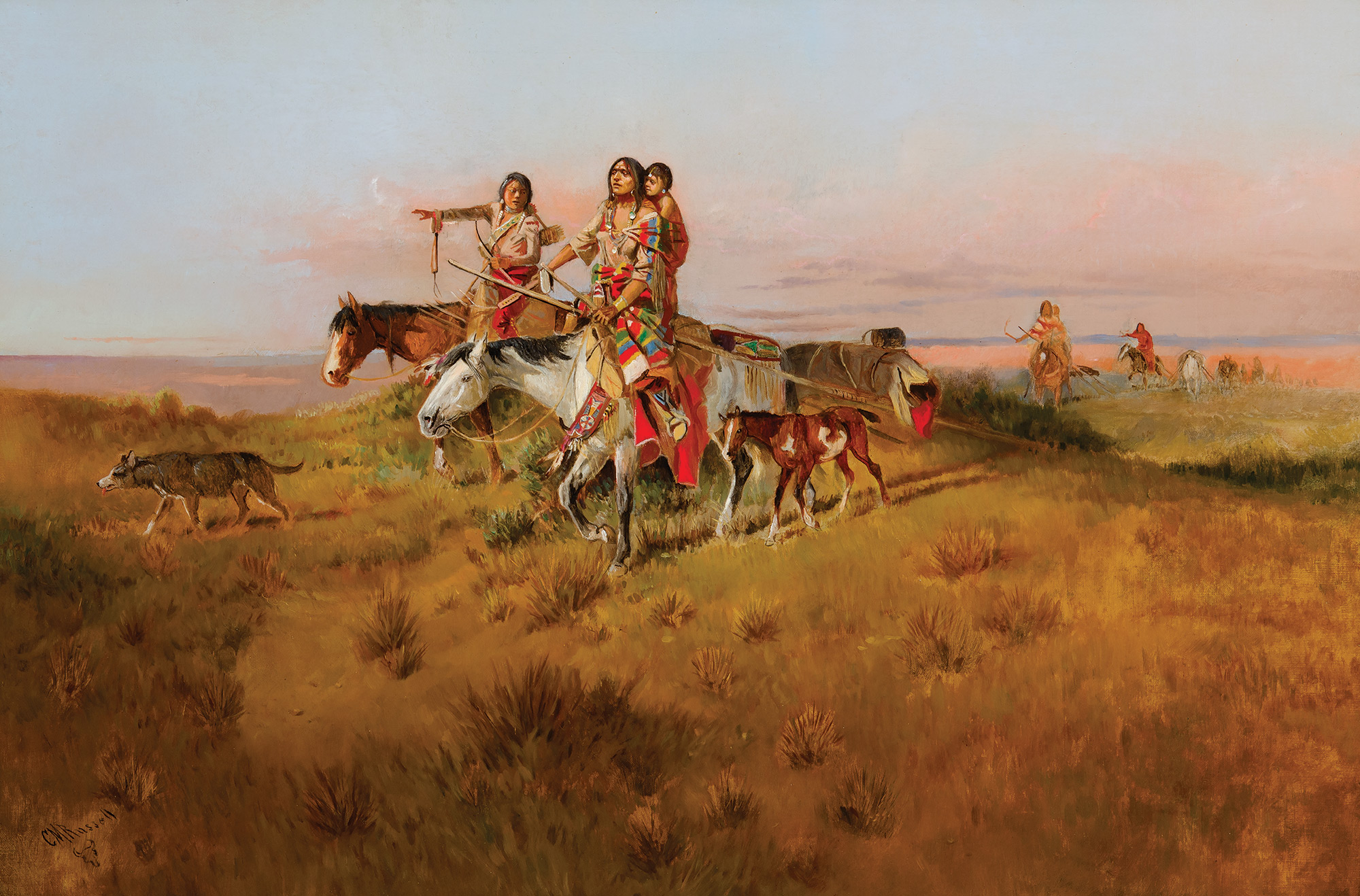 Charles M. Russell, "Following the Buffalo Run" | Oil | 23.375 x 35 inches | Circa 1894 | Estimate: $1,250,000 – $1,750,000 Sold: $1.1 million
16 May

Auction Block: Keeping with Tradition
---
At a time when auction houses and gallerists are reporting a modest uptick in the number of new collectors, auctions in March and April showed solid returns for both nostalgic and historic American art and documents. Prices for a pair of works by Norman Rockwell rose far above expectations at Sotheby's spring sale, and Heritage Auctions saw a 19th-century document tied to the Alamo go for tens of thousands of dollars.
Works by Western artists acclaimed for their storytelling skills have brought solid and even record amounts so far this year. A bronze by Frederic Remington achieved a record at the Scottsdale Art Auction and pieces by contemporary painter Andy Thomas proved favorites at both the C.M. Russell Museum's signature sale and during March in Montana.
---
Bonhams California & Western Paintings & Sculpture | April 11, 2017
A work by Californian E. Charlton Fortune, that a Bonhams art expert called "a wonderfully spontaneous painting," skyrocketed to more than twice its pre-sale high estimate to achieve $727,500 during the sale of California and Western art on April 11 in Los Angeles, California.
Wharf, Monterey is one from a series produced in the early years of the 20th century by Fortune, whose skills were honed in Europe before she enrolled at the Mark Hopkins Institute of Art in 1904, according to Bonhams. The painting was recently discovered and represents the set of scenes tied to Monterey Bay, which proved to be Fortune's most popular pieces, the auction house said.
An outsized oil of a mountain scene by 20th-century Los Angeles plein air painter William Wendt hammered for $93,750, nearly splitting the difference between its low estimate of $80,000 and high of $120,000, while a painting by California Impressionist Granville Redmond, California Poppies and Oaks, brought $150,000. A seascape by Redmond, whose training included the Academie Julian in Paris, went for $118,750. Nocturne is an homage in oil to the California Coast, a tonal masterpiece in which blues evoke a sense of repose.
---
Scottsdale Art Auction | April 8, 2017
High caliber offerings at Legacy Gallery's chief annual event, and the addition of a separate sale of more than 100 works by American sculptor Glenna Goodacre, realized a hefty total of $11 million in the first week in April at the Scottsdale Art Auction in Arizona.
It has been said more than once that leading examples of an artist's oeuvre will sell, and sell well, no matter the market. At a time when Western art and artifacts are realizing stronger prices, it follows that the finest works by the genre's finest artists are hammering high.
The sale of Frederic Remington's bronze, The Rattlesnake, in which a mounted cowboy strains to hold on to a horse rearing at a hissing reptile, demonstrated evidence of that buying trend. The sculpture sold for $386,100, setting a new world record for a piece with a top, pre-sale estimate of $250,000.
A new world record was also set for Dangerous Sport, Philip R. Goodwin's depiction of a face-off between an armed hunter and charging grizzly bear. The oil brought $339,300, compared to estimates ranging from $120,000 to $180,000.
A group of six paintings by American illustrator-turned-artist Gerard Curtis Delano — known for his Southwestern skyscapes — hammered for $764,010, even as W.R. Leigh's Hell Hound, went for $380,250, officials said.
The works of contemporary Western artists similarly exhibited strong appeal and elicited solid bids, with 11 oils by Texas painter G. Harvey fetching $984,555 and two works by Howard Terpning garnering $731,250. A happy surprise was Kyle Polzin's The Renegade, which was expected to bring as much as $60,000 but realized nearly double at $111,150.
The April 6 sale of 114 works by New Mexico-based Goodacre, whose work includes the design for the Sacagawea dollar and the Vietnam Women's Memorial, totaled $1.3 million. A new world auction record of $409,500 was set by Puddle Jumpers, depicting children at play.
---
Altermann Galleries Spring Auction | April 6-7, 2017
A large and stunning acrylic by Fritz Scholder, Chief #1, sold for $74,400, or nearly twice its low estimate, at the Altermann Galleries Spring Auction in Scottsdale, Arizona. The Scholder painting led sales at an auction that featured more than 470 lots and offered a range of fare, from paintings to collectible firearms. The latter category showcased a deluxe special-order, lever-action rifle by Winchester, model 1876, which went for $18,000, according to posted auction results.
Two woodblock prints by Gustave Baumann, A Lilac Year and Grandma Battin's Garden, went for $18,000 and $16,200 respectively, and a skillfully executed bronze of a Blackfoot Indian by Malvina Cornell Hoffman sold for $38,400.
---
Sotheby's American Art | April 7, 2017
Two oils on paperboard by Norman Rockwell, one of America's best known and, arguably, most beloved artists, soared to unexpected heights during Sotheby's sale of American art on April 7 in New York City. Rockwell's First Day of School, Alternate Idea (Second Version) was purchased for a hefty $143,750 by a collector. The pre-sale estimate for the piece ranged from $12,000 to $18,000. Likewise, the artist's First Day of School, Alternate Idea (First Version) skyrocketed past its high estimate of $10,000 to realize $137,500.
Early Spring, a painting by American Impressionist Edward Redfield, gained the top slot at $360,500, some $60,000 more than expected, at an auction in which 115 lots were sold for a total of more than $3.1 million, according to Sotheby's.
---
Night of the Artists Art Sale & Exhibition | April 1, 2017
The Briscoe Western Art Museum raised a record $1.2 million, including roughly $800,000 in art sales, to benefit the institution in San Antonio, Texas, officials said. The 2017 Night of the Artists Art Sale & Exhibition began March 31 with an artists' reception and preview, followed the next evening by the centerpiece sale, dinner and awards at the museum's Jack Guenther Pavilion.
The sale lots represent the work of 73 acclaimed Western artists, several of whom were honored with awards and whose paintings and sculptures garnered generous amounts. A large oil on linen portrait of two Native American women by C. Michael Dudash, The Dressmakers, sold for $16,000 and was selected for the Briscoe Museum Purchase Award. Dudash, originally from Minnesota, has undergone an evolution that harkens to Western art icons ranging from Frank Tenney Johnson to Howard Terpning, in that Dudash began as an illustrator and ultimately transitioned to fine art. In a sign of the growing critical recognition of Dudash's work, he was invited in 2016 to become a member of the Cowboy Artists of America, an honor that came two years after the C.M. Russell Museum included him among the select talents who make up the Russell Skull Society of Artists.
The Briscoe Museum fundraiser saw Mark Maggiroi's The Journey West gain the Sam Houston Award for Painting, with the depiction of the Western desert's immense sky and towering clouds, hammering for $17,500. Maggiori's elegant and evocative depictions of the American West — including The Monsoon Sun, the painting that won the museum's Patrons' Choice award last year — demonstrate his classical training at the Academie Julian in Paris, the same august institution attended by members of the Taos Society of Artists.
The David Crockett Award for Artists' Choice went to Gladys Roldan-de-Moras for Sunday at Mission San Jose, a stunning oil on linen whose bold vertical lines are softened by the sweeping curves and ornate architecture of a desert cathedral. The painting sold for $12,900.
Additional honors went to Curt Mattson's, Dealin' with the Bolter, which received the Jamie Bowie Award for Sculpture, and Ragan Gennusa, whose oil, Hold Onto Your Hats, was given the William B. Travis Award for Patrons' Choice.
---
March in Montana | March 17-18, 2017
Andy Thomas can boast a broad collector base for his art, and there was no exception to that rule during March in Montana, the sale in Great Falls that coincides with the city's celebration of its late and legendary resident, Charlie Russell, and the museum named after him. Thomas brought the top price for paintings with The Battle of Beecher Island, which gaveled for $35,400 at an event that spanned two days and which brought a total of $1.6 million, about $300,000 more than last year's event.
Thomas' oil depicts an 1868 conflict between frontiersmen and Cheyenne, Arapaho and Sioux warriors in northeast Colorado, according to the artist, and like another of Thomas' oils that sold high at March in Montana, underscores the painter's skill in storytelling tied to historical events in the Western U.S. Thomas' The Captivity of Fanny Kelly, a somber scene mixing starry skies and the dejection of a Kansas woman riding as captive with two Sioux warriors, went for $22,420 to gain the second top slot for paintings. The oil on linen is based upon a book Kelly later published about her capture and time with the Sioux in the mid-19th century.
Mike Overby, auction partner, said Thomas routinely brings some of the highest prices for paintings that have been featured at the event since 2007. "He's one of the top contemporary Western artists working today, and one of the most sought after," Overby said.
Kathryn Leighton's portrait of a Native American, Cut Finger-Blackfeet, fetched $22,420, or more than three times its low, pre-sale estimate, to gain the number five slot for top sales. For the second year in a row, the event featured saddles by celebrated craftsman Edward H. Bohlin that achieved higher than expected winning bids, with a Dick Dickson Jr. saddle fetching $38,350 — the event's top seller — and Diamond Cluster, a parade saddle by Bohlin, garnering $35,400 to gain the number three slot.
"The cowboy market was quite strong on parade saddles," said Charla Nelson, co-owner of Manitou Galleries, which, in partnership with the Coeur d'Alene Art Auction, presents March in Montana.
Overby said the event's new location, the Elks Lodge ballroom in downtown Great Falls, helped draw an overflow crowd to eye more than 730 lots. He added that the sale saw more aggressive bidding across the board than in the past couple years, along with a significant increase in internet bidding.
---
Heritage Auctions, Texana and Western Americana Auction | March 24, 2017
An 1836 document, signed by William Barret Travis to secure black walnut for erecting a garrison shortly before the Alamo was attacked by Mexican forces, sold for an outstanding $137,500 at the Texana and Western Americana Auction presented by Heritage Auctions in Dallas, Texas, on March 24.
Just days after signing that document, Travis, an unabashed Texas rebel, wrote one of the most famous missives in the Lone Star State's history, in which the military hero pleaded for American aid in defending the Alamo and vowed never to surrender or retreat, adding the legend, "Victory or Death," before his signature, auction officials said.
Two rare maps of Texas, one from 1874 and another from 1851, sold for $35,000 and $32,500 respectively at a sale that featured 360 lots and which realized $509,140 with buyer's premium.
---
The Russell Exhibition and Sale | March 16-18, 2017
The Russell Live Auction, the centerpiece sale that took place in March in Great Falls, Montana, and which benefit the C.M. Russell Museum, brought more than $5 million, with buyer's premium, for 160 lots of historic and contemporary Western art.
The top seller at the March 18 event at the Mansfield Convention Center was a color-soaked painting by the late, great Charlie Russell entitled Following the Buffalo Run, which fetched $1.1 million. That placed the oil, depicting a Native American family on horseback trailing unseen bison, in the number three slot for the highest sum commanded at the Russell Live Auction, organizers said.
Russell, hailed as a progenitor of Western art, drew a strong response from the sold-out crowd at the Saturday evening event, with the painting Pony Dance garnering $325,000 and a bronze, Where the Best of Riders Quit, going for $300,000, gaining the third and fourth places respectively. While Russell might well be considered a universal favorite, collectors and museum supporters who gather for the annual gala in Great Falls are especially inclined to the artist and his legacy.
"We fill the room with people who are passionate about Charlie," said Duane Braaten, the museum's director of art and philanthropy. "Not everyone can own a million-dollar oil painting, but we offer a variety of Russell pieces in different media and price points, and folks are excited about the opportunity to own an original."
The Russell Live Auction was one of two key sales in Great Falls the third week in March, in which the works of contemporary artist Andy Thomas fetched princely sums. Thomas, who tells the tales of the American West through the media of brush, canvas and oil paint, saw his Steamy Night at Madame Dumont's achieve $185,000, or nearly three times its pre-sale estimate.
And a work anchored by a portrait of Russell by Jenness Cortez, whose thoughtful and thought-provoking pieces place paintings within paintings, went for $110,000, or more than twice the sum expected. The Cortez sparked a bidding war with two collectors seated at separate but adjacent tables during the Russell Live. "Each of the two parties really wanted to take that piece home," said Braaten.
First Strike Friday and Art in Action, the two additional events in the series of happenings that make up The Russell, saw pace-setting sales. The high point in the Friday event was Echo Ukrainetz' Mountain Chief, a color-drenched depiction of a ceremonially dressed Native American, which gaveled at $10,500. Mark McKenna's painting of a bison at rest brought $9,000 to lead sales for Art in Action, which grossed $134,430 and whose proceeds are earmarked for the museum.
For each dollar raised at The Russell, the museum must raise an additional $2 through the year to fund its annual expenses and meet its exhibition, outreach and education missions, officials said.
---
LAMA Modern Art & Design | March 5, 2017
Works by artists ranging from Peter Alexander to Alma Thomas set new world records at Los Angeles Modern Auctions' (LAMA) Modern Art & Design sale, which brought a total of $4.1 million during a March 5 event in Los Angeles and attracted more than 900 bidders.
Thomas' painting, Spring Flowers in Washington, D.C., a rarity not seen on the market since it was originally sold from the artist's studio in 1969, was the top seller at $387,500, setting a global high for Thomas and representing two times the high end of its pre-sale estimate, according to LAMA. Any work by Thomas that is sold on the secondary market tends to achieve a large amount and spark international interest since such occurrences are infrequent, said Peter Loughrey, LAMA's director of modern design and fine art.
The abstract compositions by the African-American woman gained broader notice just a few years before her death in 1978, with a solo show at the Whitney Museum of American Art in 1972, according to a LAMA write-up from a book by art historian Judith Wilson and writings by authors Eleanor Munro and Sachi Yanari. In 1924, Thomas was the first to graduate from Howard University's fine arts program and was an art educator for most of her life. Although she was associated with an abstract art movement that sprang up in the 1950s in her hometown of Washington, D.C., her work is said to have remained distinctive from the so-called Washington Color School, according to the catalogue text. Spring Flowers is a circular, densely colored oil in which blocks of varying hues of blue, green, red and yellow symbolize an aerial view of trees and flowers, according to LAMA.
The irony of Thomas' fame in the latter stages of her life did not escape Loughrey's notice. "Alma Thomas was 78 years old when she painted Spring Flowers in Washington, D.C. I am proud to represent her work at this point to ensure she commands the market attention she deserves, even if it is almost 50 years overdue," he said.
Additional highlights of the LAMA event included a stylized ink drawing by graffiti-turned-contemporary artist Keith Haring. Untitled #3, created in 1987, fetched $362,500, soaring past pre-sale estimates ranging from $150,000 to $200,000. The outsized piece makes use of interconnected human figures, a recurring technique in Haring's work and one reason the drawing sparked strong competition, the auction house said.
The early March sale saw a new world auction record for a sculpture by Peter Alexander. Untitled, a geometric, small-sized piece fashioned in polyester and resin in 1967, was estimated to go for up to $50,000, but instead climbed to $87,500. Alexander's piece exemplifies the light and space movement in art that took hold in Southern California in the 1960s and which also has been tagged as California Minimalism, LAMA officials said.
The auction house handled 73 lots that had been donated by patrons of the Palm Springs Art Museum in Palm Desert, California, to benefit the institution. That section of the sale raised more than $500,000.