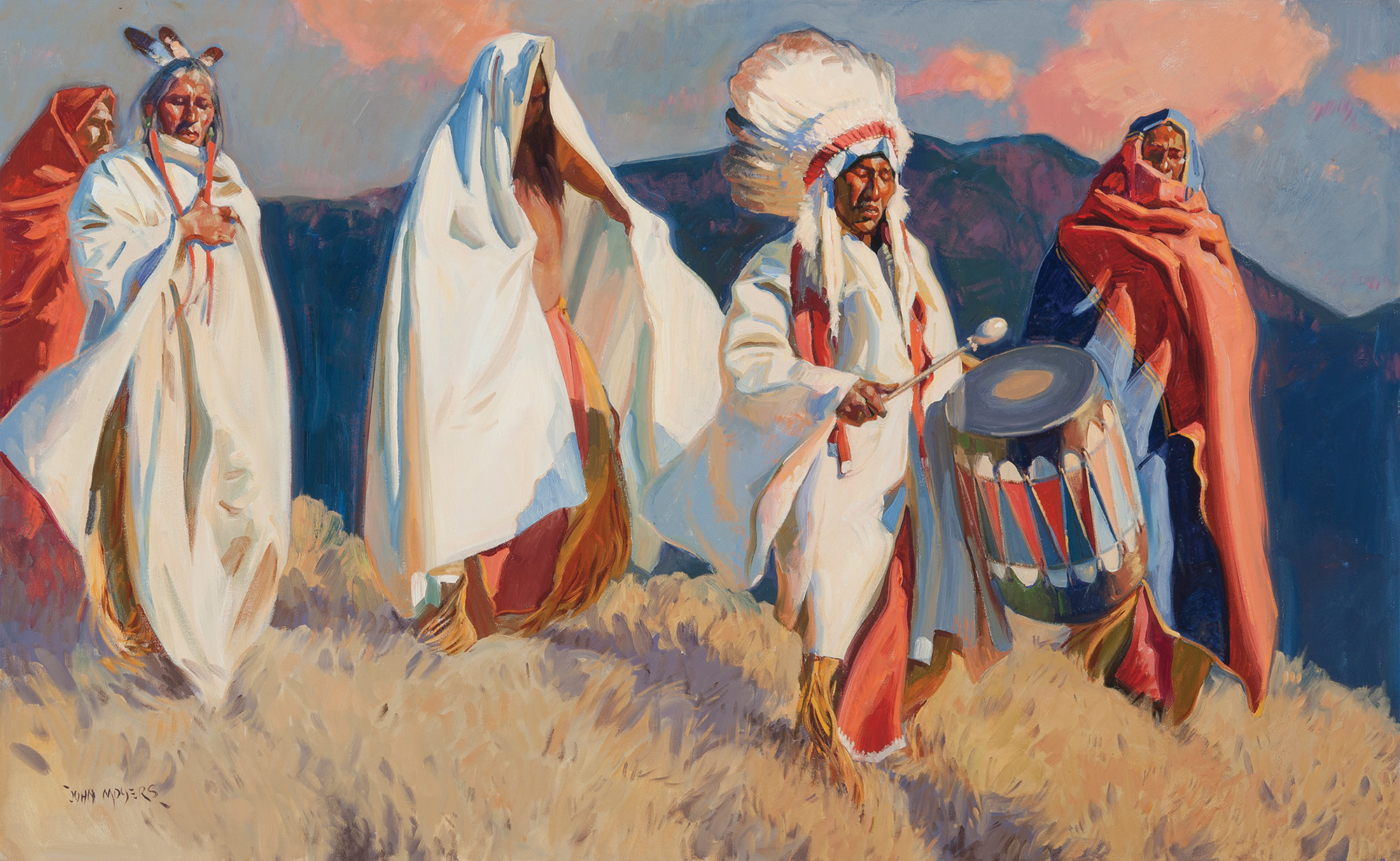 John Moyers, "The Elder's Walk" | Oil | 39 x 63 inches
14 Mar

Auction Block: On the Upswing
---
An election year that brought more twists and turns than a tale by Edgar Allan Poe, the master of mystery, had to some degree cooled sales of art. In the early months of the new year, auction officials and gallerists reported an uptick in enthusiasm and pricing, a welcome development as everything from historical American items and contemporary cowboy art gained collectors' favor.
Gains didn't happen overnight, however. In the early weeks of January, after the election but before the inauguration, buyers at some events indicated a slight hesitancy, which was attributed more to the unknown than to personalities or positions.
History buffs laid out big bucks for a rifle used by a Native American at the Battle of the Little Bighorn, also known as Custer's Last Stand, which went for nearly $259,000 at Brian Lebel's High Noon Auction in January, the same month Sotheby's saw an auction record for a manuscript by U.S. founding father Alexander Hamilton.
The Coors Western Art Show & Sale brought a fresh feature to reliable themes with what curator Rose Fredrick said was contemporary cowboy with a Pop art bent, and American Indian art and artifacts received high marks during a sale by Heritage Auctions that was led with a Sioux shirt featuring locks of human hair.
The formula for success at the American Miniatures Show at Settlers West Gallery in Tucson, Arizona, is what gallery co-owner Stuart Johnson describes as big paintings in small frames, and this year's offerings were seen in February to be selling steadily at solid prices.
Several sales are making use of technology in new ways to track the interest of buyers and to make their bids more readily acknowledged. But even before computers proved an able aid, some auctions were reporting high numbers of electronic bidders.
---
American Miniatures Show & Sale at Settlers West | February 11, 2017
The goal for artists who submit work to the annual, invitation-only American Miniatures Show and Sale at Settlers West Gallery in Tucson is to create a "big" work of art no larger then 12 by 10 inches, or 120 square inches. The dual objectives sought by Settlers West co-owner Stuart Johnson are far from mutually exclusive. In fact, that rule of thumb has arguably produced some of the finest work by some of the Western genre's finest artists.
The 36th annual show opened February 11 and featured 344 pieces by well-known painters, as well as artists who have surpassed the up-and-coming title to gain enduring distinction and an expanded base of buyers.
In the former category stands Tucker Smith, whose Summer Velvet garnered $9,500, the top seller in a format that asks admirers to submit their name and contacts on slips of paper, with the ultimate buyer chosen by draw. The stunning depiction, in muted tones, of a bull elk in a sea of sagebrush, is a working example of Johnson's wish for a large painting in a miniature size.
And if you did not know the show was pinned to such a scale, you might well have guessed that Tim Cox's painting of a herd of horses against the backdrop of sky, clouds and mountains was a wall-sized wonder. The oil on masonite, Lazy Summer, was purchased for $6,500.
A deft hand and eye for the exquisite is on display in the painting of beaded moccasins by Western art giant William Acheff. The Cheyenne brought $4,800 for a work in which stillness is vibrantly broken by color.
Montana artist Don Oelze has gained a larger following in recent years, according to Johnson, and his Trail of Shadows, a scene in which Native American warriors on horseback are descending from a backlit forest into a sun-splashed stream, explains why. The 12-by-9-inch oil was a steal at $1,500.
Johnson said the event provided clues that the art market is regaining its ground after softening for the past couple years. "We received many calls and inquiries after we sent out catalogues, and we saw a higher degree of enthusiasm across the board. We also saw a lot of first-time buyers this year and that was new for us," he says.
---
Masters of the American West Fine Art Exhibition and Sale | February 11–March 26, 2017
The Elders' Walk, depicting Taos tribal leaders heralding their pueblo arrival with a drum, brought $58,000 and was added to the permanent collection of the Autry Museum of Western Art in Los Angeles, California, after it received the James R. Park Trustees' Purchase Award during the February 11 opening night of the annual extravaganza known as the Masters of the American West Fine Art Exhibition and Sale.
The painting by John Moyers was one of two that gained honors and featured the sun-blanched colors and figures of the American Southwest. The other work was The Heart of Everything by Logan Maxwell Hagege, a protégé of the late John Geraghty, the Masters' founding supporter and special advisor. Hagege's piece went for $68,000 and was given the Thomas Moran Memorial Award for Painting, which is in recognition of exceptional artistic merit.
Bill Anton gained the Don B. Huntley Spirit of the West Award for his breathtaking scene of cowboys conferring over a sign of the largest bear in the Lower 48. A Fresh Grizzly Track, an oil on linen measuring 36-by-48-inches, sold for $42,500.
Mian Situ was the recipient of two major awards for his work, Trail of Life at Canyon de Chelley, including the Ross and Billie McKnight Artists' Choice Award, in honor of Howard and Marlies Terpning, and the Patrons' Choice Award.
Other award winners were Oreland C. Joe Sr., for Hopi Maiden From Second Mesa, the Kenneth T. and Eileen L. Norris Foundation Award for Sculpture; Dean L. Mitchell, Reservation Structures, which gained the watercolor award sponsored by Marilyn B. and Calvin B. Gross; Thomas Quinn, Cranes Amused by Small Birds, was honored with the Bob Kuhn Wildlife Award sponsored by Jodie and James Rea; and George Carlson received the Gene Autry Memorial Award, sponsored by Jay H. Grodin. The John J. Geraghty Award, sponsored by the Bohlin Company, went to Alan Horn in recognition of his advancement of contemporary Western art.
---
Brian Lebel's High Noon Auction | January 21–22, 2017
This year, Brian Lebel's High Noon Auction, the signature annual sale in Mesa, Arizona, of Western art and artifacts, definitively proved that items steeped in U.S. history never go out of style and will ever attract collectors who revere the objects and art that represents a period of the nation's life and times.
And so it was the evening of January 21 during a live auction segment of the two-day event presented by Old West Events. The top lot of the evening was a gun officials said was proven by forensics to have been at the Battle of the Little Bighorn in 1876, where thousands of Lakota Sioux and Cheyenne faced off with U.S. Army Lt. Col. George A. Custer and fewer than 270 soldiers.
The conflict represented one of the last armed efforts by American Indians to preserve their way of life, according to the National Park Service, and the battlefield in Montana has since been made a U.S. monument where both the Army's Seventh Cavalry and Native American warriors are memorialized.
Described by auction officials as a Sharps rifle used by an American Indian during the battle popularly known as Custer's Last Stand, it brought $258,750. A collector attending the auction by telephone was the top bidder for the historic firearm, which led the sale of 435 lots for a total of more than $1.5 million.
Cowboy regalia made a solid showing at the event, which took place at the Phoenix Marriott Mesa, in a trend marked — and welcomed — by auction owner Brian Lebel.
"I am happy that cowboy material is making a strong comeback," he says.
Western gear that fetched handsome sums above various estimates included a floral-carved, silver-festooned saddle crafted by Keyston Brothers of San Francisco for a World's Fair event in 1939. The saddle, tooled with scenes of such Western landmarks as the Golden Gate Bridge, went for $115,000 after what auction officials described as spirited bidding between a phone bidder and a collector on the floor, who ultimately gained the prize.
Another leader in the Western tack category were spurs that belonged to Charlie Sample, a renowned gun engraver and craftsmen whose buckles, rings, bolo ties, bits and spurs were produced under the auspices of the Charles Sample Company formed in 1948, according to auction officials. The spurs garnered $34,500. And an engraved Colt single-action revolver realized $18,150 or triple its low estimate, with the 1903 firearm decorated with a cattle brand and 14-carat gold grips.
The gun was among items tied to the estate of the late Thomas "Snuff" Garrett, a well-heeled record producer originally from Texas who was an avid collector of cowboy regalia, particularly tied to stars of Westerns, such as Roy Rogers. An iconic outfit worn by the singing silver screen cowboy — including a leather-fringed shirt and brown, wool pants with white piping — crafted by Nudie's Rodeo Tailors of North Hollywood, California — sold for $12,260, or more than twice its low-end estimate, auction officials said.
A watercolor by illustrator-turned-cowboy artist Edward Borein went for $51,750. Mustang Round Up is a charming example of the painter's authentic feel for one of the American West's storied practices. Borein is a specialty of Lebel's sales, one of which saw a watercolor by the artist sell for the current auction record.
---
Sotheby's Americana Week | January 11–21, 2017
History made history at Sotheby's when the family archive of U.S. founding father Alexander Hamilton fetched $2.6 million at the white glove auction held in New York on January 18.
The sale, part of a weeklong series of auctions featuring art and other items from the collections of notable Americans, and which brought a hefty total of $19.4 million, had sparked widespread buzz in the days before its opening, stemming in part from the popularity of the hit "Hamilton: An American Musical" on Broadway.
Eleven of the lots that hammered at the sale surpassed the previous auction record for any Hamilton manuscript and seven letters and manuscripts went for more than $100,000, according to Sotheby's.
The sale, a rarity for its kind, was led by the sale of a previously unrecorded but signed draft of a persuasive essay by Hamilton — under the pen name Pacificus — that objected to President George Washington's declaration that the United States would remain neutral regarding a conflict between Great Britain and France. That item fetched $262,500.
And Hamilton's appointment as aide-de-camp to America's first president sold for $212,500, another top seller in an auction that saw the hammer fall on 77 lots which surpassed the pre-sale estimate of $2.1 million. The document, which dates to 1777, represents the beginning of Hamilton's climb up a political ladder that would see him hold such positions as congressman and member of the Constitutional Convention, according to Sotheby's.
Sotheby's said the auction elicited the interest of everyone from historians to theater lovers, with the collection representing a body of Hamilton documents — some of which were heretofore unknown — that had been handed down in his family for the last two centuries.
Selby Kiffer, senior international specialist for Sotheby's Books and Manuscripts, said in a statement that sale results were "an indicator not only of the tremendous public interest in Alexander Hamilton, but also of the appetite among both new and established collectors to own historical documents."
---
Coors Western Art Exhibit & Sale | January 3, 2017
There's no business like cowboy business and the Coors Western Art Exhibit & Sale knows exactly how to celebrate that American legacy. More than 1,000 people constituted the sold-out crowd at the event's signature Red Carpet Reception the evening of January 3 at the National Western Stock Show in Denver.
What is unique about the event is its celebration of contemporary Western art — and this year, with a twist that curator Rose Fredrick said brought buzz. "Our show took on a more Pop art theme, which was a lot of fun and created some good conversations about contemporary art in the western United States," she says.
The event tends to look at innovation and singular creativity as refreshing rather than threatening, and 2017 was no exception. Dan Chen, a Eugene, Oregon, artist, won Best of Show for his mixed-media sculpture, Spring.
So much is said by a creation that employs just a few items arranged in a stylized tableau of the season of renewal. Composed of bronze, Lucite, wood and utilizing LED, Chen's 28-by-17-by-7-inch creation, which sold for $6,400, is a lyrical tribute to an aesthetic that does more with less.
"This piece was stunning and quite unexpected," Fredrick said. "Dan is one of my favorites and certainly our audiences love his work as well. He brings his Chinese sensibility and art training to his work as well as a wry sense of humor."
That humor serves as the balancing weight for the tragedy that has marked Chen's life. His wife's death a couple years back left him with three children to rear on his own, said Fredrick, adding, "But he still finds the most lovely, uplifting aspects of nature to bring into his work."
Artist Teresa Elliott, best known for her portraits of cattle, gained the People's Choice Award — as has been her wont in recent years. Elliott, the event's featured artist in 2015, knows her cattle and, through her lens, so do we. But these are bovines as they've rarely been depicted before, set against sumptuous backdrops in the style of royal portraiture of another age.
"I believe Teresa's work hits people on two levels: amazing photorealism and, well, cows," said Fredrick. "Let's face it, we love our cows out here in the West; everything from their faces that range from bemused to lethal, their demeanor, the vast ways they have played into the development of the West — both good and bad."
The 2017 featured artist, Dinah Worman, saw her painting, Community, added to the National Western Stock Show's permanent collection. The outsized oil by the Taos, New Mexico, painter and printmaker, who has been part of the Coors line-up since 2011, represents what Coors Show officials say is Worman's signature style of "stacked landscapes," in which she positions those backdrops like still lifes for compositional elements rather than the beauty of individual objects.
Ticket sales and donations for the event topped $1 million, a figure that doesn't include art totals, but which will include earmarks for the National Western Scholarship Trust.
In fact, the annual contribution by the Coors Western Art Exhibit and Sale provides financial support to more than 70 college students in such fields as agribusiness, veterinary science and rural family medicine, event coordinator Krista Hanley says.
---
Heritage Auctions American Indian Art | December 13, 2016
A Sioux beaded shirt made from hide, with outer edges that are fringed with long locks of human hair, created a stir and ignited a bout of competitive bidding when Heritage Auctions showcased American Indian art at its December 13 sale in Dallas, Texas.
The shirt, which dated back to 1890 and is painted in blue, green and yellow, was the top selling item at the auction, fetching $32,500. War shirts crafted in the late 19th century would have been worn by an important person within the tribe, and frequently featured signature Sioux colors and geometric motifs that range from crosses to triangles, according to auction officials. Each lock of hair added to such a shirt was emblematic of the wearer's important accomplishment or deed.
"In theory, at least, a lock of hair was added for each recognized deed in war: coup, capturing a horse, taking prisoners, getting wounds, saving the life of a friend, etc. But eventually the fringed shirt became simply the conventional regalia of the four grand councilors and finally a style of dress for anyone," Heritage American Indian Art Director Delia Sullivan says.
Polychrome jars, one of which dated as far back as 1100 AD, proved popular among collectors, with an 1890 vessel from the Pueblo de San Ildefonso, in what became New Mexico, bringing $13,750. Also fetching a handsome sum was a jar with geometric designs in four colors from the Laguna Pueblo in what is now New Mexico, and possibly crafted by Arroh-ah-och in 1900, according to Heritage officials.
That celebrated artisan, Arron-ah-och, was representative of an accepted gender role reversal in Native American culture in which a man adopted the ways and dress of a woman, according to Four Winds Gallery in Pittsburgh, Pennsylvania, which has handled some of the potter's handiworks.