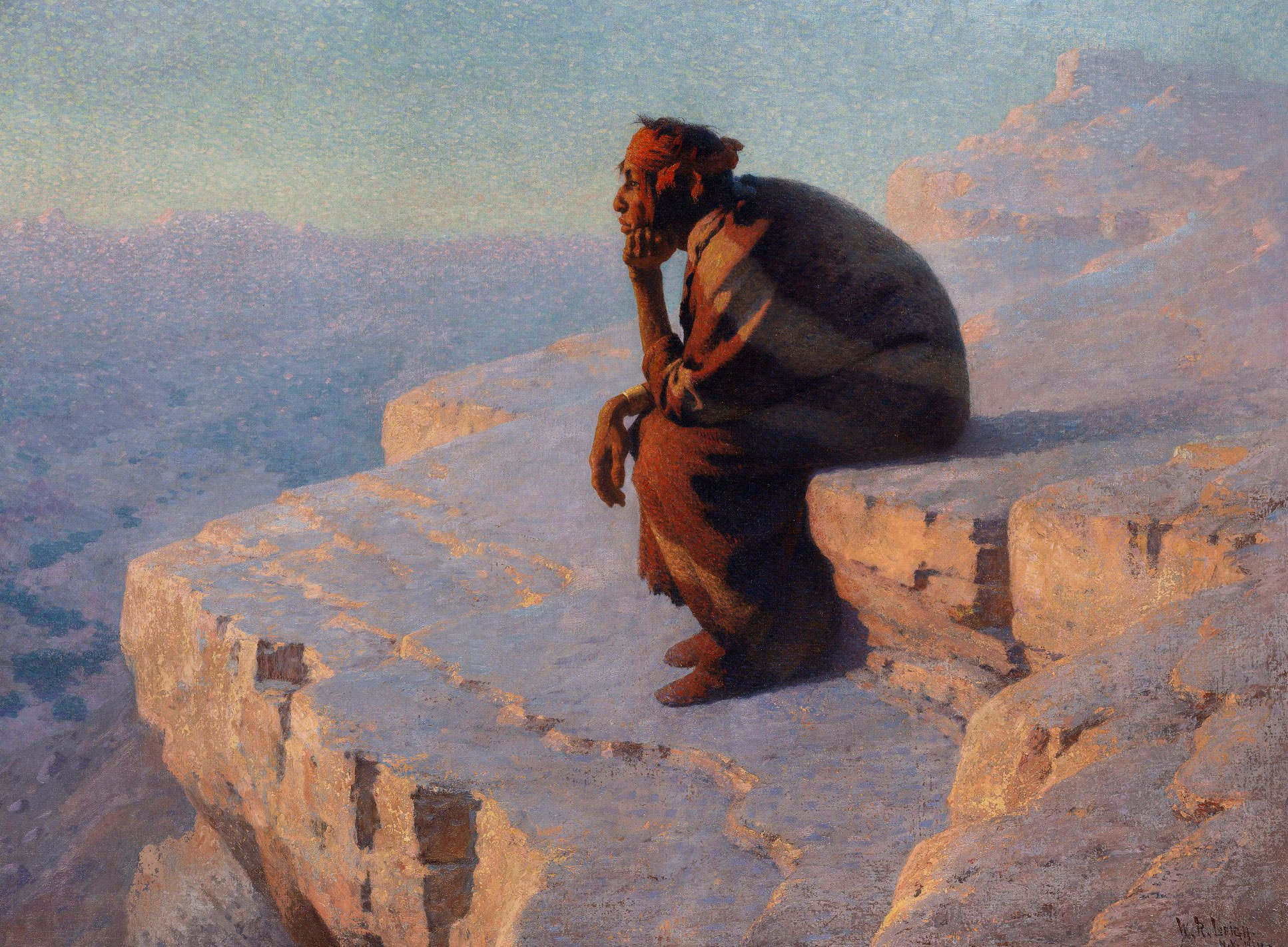 William Robinson Leigh, The Great Spirit, 1914 | Oil on Canvas | 37 x 50 inches | Estimate: $800,000 – $1,200,000 USD Sold: $962,500 with buyer's premium
29 Dec

Auction Block: Optimistic Outlook
---
The art world finished on an upswing in the fall and winter of 2010, with landmark sales from Christie's, Sotheby's and Bonhams' auction houses breaking ground with soaring sales totals in the American art market. Specialty auction companies in the Western U.S. also fared well in sales of historic and contemporary artists, closing the year on an optimistic note.
---
Sotheby's American Paintings, Drawings, Sculpture | December 2, 2010
Among the prime works by 19th century artists John Singer Sargent, Norman Rockwell, Edmund Tarbell, Winslow Homer, Theodore Robinson, Childe Hassam and Andrew Wyeth, paintings from Western masters emerged to highlight the broad history of the American art traditions. The small sale consisted of 133 lots and totaled just higher than $27 million.
The Western art genre was represented by classic examples of bronze from Frederic Remington and paintings from Hennings, Koerner and Higgins, while W.R. Leigh (1866 – 1955) was a top seller in this category. Known affectionately as the "Sagebrush Rembrandt," Leigh's oil, The Great Spirit, sold for $962,500.
---
Christie's: Important American Paintings, Drawings and Sculpture | December 1, 2010
In New York, this small sale of American gems garnered a total of $21,206,800, including the buyer's premium. Among the 148 lots offered, 76 percent were sold and Southwestern icon, Georgia O'Keeffe's oil, Canna Red and Orange, sold within the top 10 lots for more than $1.4 million, a healthy mid-range of the estimated $1,200,000 – $1,800,000 range.
"American art was broadly represented in the sale today, with strong prices achieved for the great masters of American Impressionism, Modernism, Western Art and portraiture," said Christie's representative Eric McAndrew. "We were especially pleased to achieve a strong result for Georgia O'Keeffe's Canna Red and Orange, which was consigned by the Georgia O'Keeffe Museum to benefit its acquisitions fund."
---
Altermann Auctions | November 23, 2010
Filled to capacity and spilling over to standing room only, the November 2010 auction at Altermann Auctions was also filled with anticipation. Post-election exhilaration spurred the bidding, producing sales of $2,110,920. Post-auction sales pushed the total to more than $2.2 million.
Some might have expected the revered Frederic Remington to be the star, with five pieces including the famous Bronco Buster among the offerings. With estimates totaling more than a half-million dollars, only one sold. The Cheyenne, from 1901, depicts an Indian racing on horseback with his mount "burning the air," as Remington would like to say — full gallop with his ears back, tail flowing in the wind and all four hooves off the ground. It sold for $120,000.
The real stars proved to be many of today's Western artists. "What really performed well were our gallery artists like David Mann, Loren Speck, Kim Mackey and Michael Stack," Tony Altermann said. "Out of 13 or 14 gallery artists, all but two of them sold. The reason they did so well was because they produced good examples of their work. Some of the other art might have been by well known artists, but perhaps were not good examples of their work."
Indeed, 131 of the 178 lots were works by contemporary Western artists.
Impressionist painter G. Harvey took the spotlight with eight works for sale, ranging from one of his earliest pieces to the crowd favorite, An Evening With Mozart, a 36- x 48-inch painting that brought $180,000. The diversity of Harvey's subject matter ranged from a fly-fishing piece to a still life to his more traditional Westerns, with light playing upon the canvas. His total sales tallied up to $389,400.
Tony Altermann reported that James Bama broke a record with his Old Time Hunting Guide, a 24- x 18-inch oil, which hammered at $114,000. Like Remington, Bama, a native New Yorker, has come to love the West and has been referred to as the "Vermeer of the West."
---
Santa Fe Art Auction | November 22, 2010
Was it the crispness of the fall air or was it post-election giddiness that drew a crowd to the Santa Fe Art Auction? For sure, excitement was high as the Santa Fe Convention Center filled with art lovers in mid-November. For the first hour, workers had to bring in more chairs as the room filled to capacity and still, some people were left standing.
"People have cautiously re-entered the market, which is a good sign," said Peter Reiss, curator and vice-president of the auction. "What we were excited to see was the amount of new buyers purchasing historical work. We also did well with contemporary Western art, which hasn't been our specialty, and we added Native American artifacts, which created a new layer that was unusual for us."
Top sellers were two Russian painters whom American collectors have come to love and both of whom settled in Taos, New Mexico. Leon Gaspard's Christmas in Siberia, Troikas in the Snow took top honors selling for $364,000. Its estimates were $300,000 – $400,000 for the 25- x 30-inch painting.
A painting of the same size, Old Church at Ranchos, by Nicolai Fechin, brought $358,400 at hammer. Its estimate ranged from $450,000 – $550,000.
More than 15 percent of the artists represented at the auction could be classified as being of the Taos colony of artists. The power of their artistic community was once again proven, grossing more than 50 percent, or $1,109,055 of the total sales of $2,210,050.
If that wasn't proof enough that the Taos painters are among the most popular of our times, Sun Valley, Idaho painter Francis Livingston, whose style is reminiscent of the Taos Society of Artists, brought a surprising $12,000 for his painting Last Light, estimated to sell for $5,000 – $8,000 at 32 x 32 inches. It pictures three swathed Indians on horseback amidst fall aspen trees with the sacred Taos Mountain in the background.
---
45th Cowboy Artists of America Exhibition | October 15, 2010
A jubilant crowd celebrated the 45th year of the Cowboy Artists of America Exhibit and Sale at the Phoenix Art Museum in October. Trotter Hall, newly opened in 2009, showcased the works of the 23 members, all of whom were present.
New members Tom Browning and Paul Moore received a warm welcome with each taking a silver medal; Browning for his oil painting, Fading Light, and Moore for his sculpture, Finger That Kills.
Sales for the opening weekend exceeded $1.13 million, bolstered by a number of artists who had sell-out shows, including Jim Norton, who also garnered two awards. Norton was honored with the coveted Stetson Award, voted by all the members to honor just one who they feel has excelled in their overall show. He also took the Gold Medal for Oil Painting for Lifeline. Norton jested that he owed credit for his painting skills to the new designer "Escada" brushes he ordered from Spain at the behest of Fellow CA members, Bill Owen and Fred Fellows, both of whom joined Norton with sell-outs.
Sculptor John Coleman delighted patrons with a two-dimensional work, a charcoal drawing, which took the silver medal for that category. Coleman teased the audience with the idea he might try a painting for next year's exhibit.
Bruce Greene, awarded the gold for drawing for An Air of Ability, was a double award winner, also taking the Traditional Cowboy Arts Association Award.
Sculptor T.D. Kelsey, of Wyoming, scored the gold medal for his category, while Fred Fellows and David Halbach shared the awards for water solubles, Fellows receiving the silver for Moving Camp on the Haythorn, and Halbach, the gold for Awaitin' the Cow Boss.
---
Los Angeles Modern Auction: Modern Art & Design Auction | October 17, 2010
Modern is still going strong, according to LAMA founder Peter Loughrey. Marking the small auction company's 50th event since 1992 were standing-room only attendance and buyers from Italy, Japan, France and New York, as well as California. Sales totaled $1.55 million, and there was a strong 65 percent sell-through on 509 lots that were an assortment of high-quality 20th-century Modern fine art, furniture, design and decorative objects. Many of the offerings were from original owners and estates, some of which had never changed hands until this auction, driving the prices even higher. The top sellers read like a who's who of Modern art icons: Andy Warhol, Roy Lichtenstein, David Hockney, Jeff Koons and Frank Stella. Andy Warhol's Mao sold at $36,750, as expected, and many other lots sold at fair market prices.
"Once again, there are large numbers of bidders who are active in the antique and art world," noted Loughrey. "Consumer confidence in this sector is high, which has made for a more stable marketplace."