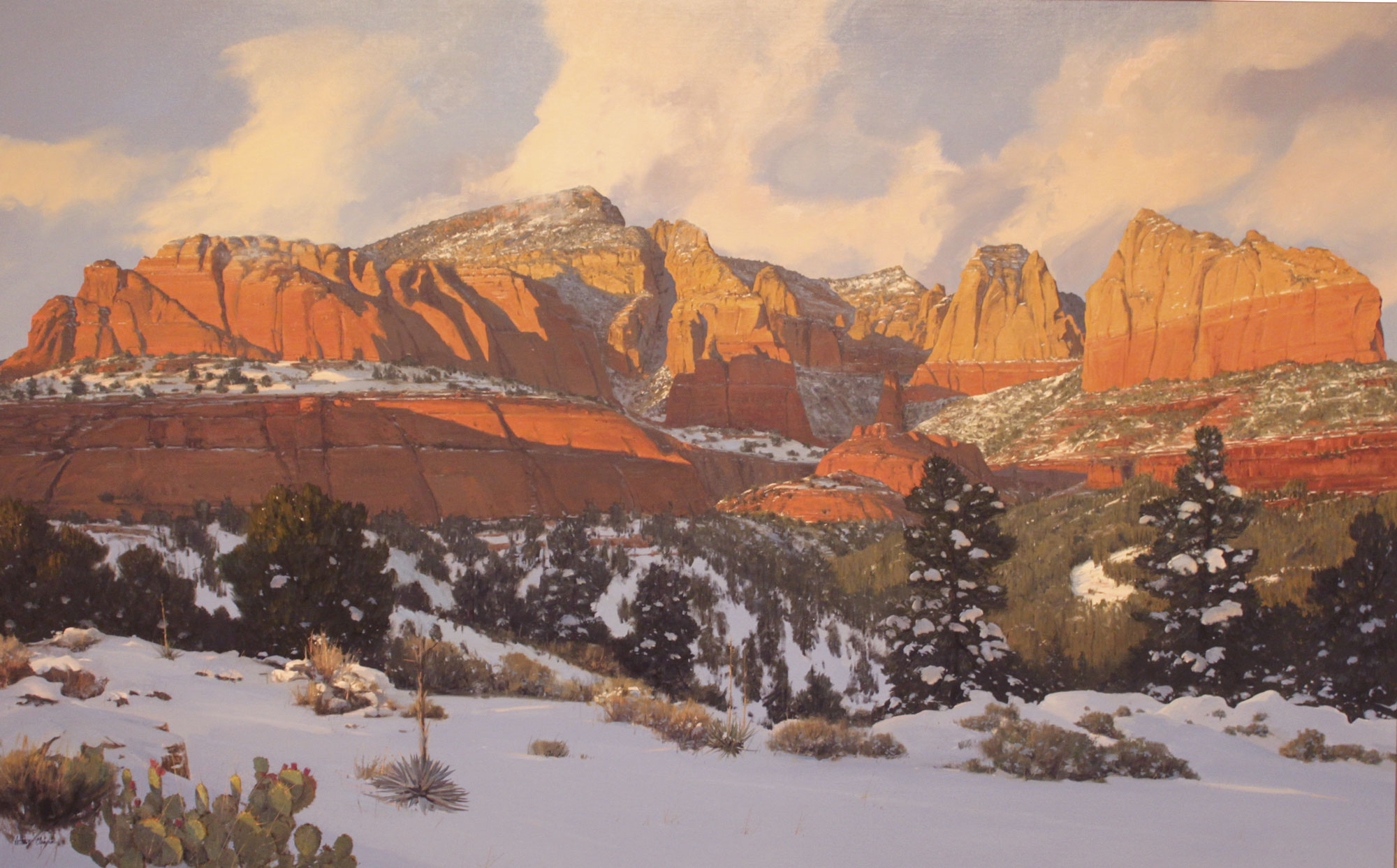 Arturo Chávez, Mount Wilson Winter, 2010 | Oil on Canvas | 56.5 x 90 inches
01 Sep

Auction Block: Success in the New Economy
---
Far, far away in what seems a mythical kingdom, Christie's and Sotheby's auction houses report "robust" record-breaking sales on overall auction totals for the domestic and international markets.
Christie's CEO Edward Dolman called early 2010 "one of the most successful half years in our history." He credited Asian buyers in the international art market and once-in-a-lifetime collections that brought great works to the auction block. Christie's posted $2.57 billion in sales at the half-year mark, while Sotheby's claimed $2.2 billion for the same period.
In the West, reality is a little more, well, real. Domestic art sales reflected a sluggish line overall, but attendance at auctions, sales and benefits remained high. Most of the top shows throughout the region posted sales that were considerably lower than the peak of the market of 2008, yet on par with last year's figures.
Some bright spots showed early in the summer season at the Scottsdale Art Auction, with a sale total of $8.8 million and more recently, the Jackson Hole Art Auction reported $6.2 million in sales at a lively event. The consensus in the art world is that a buyer's market prevails.
---
The Buffalo Bill Art Show & Sale | September 24, 2010
Closing out the fall art season with a bang, the Buffalo Bill Art Show & Sale in Cody, Wyoming, was a success with a preliminary total of $873,000, an increase of $90,000 over 2009. Proceeds from the live and silent auctions, plus the quick draw, benefit the Buffalo Bill Historical Center and the Cody Chamber of Commerce.
Cowgirl painter Donna Howell-Sickles was honored as this year's featured artist. Awards were granted to notable artists, including D. Michael Thomas, who won the Wells Fargo Gold Award for his painting Sun Up and subsequently sold the piece for $10,000 during the live auction; painter Mikel Donahue's Long Days won the Premier Platinum Award prior to the show, followed by the William E. Weiss Purchase Award. Cody sculptor Peter Fillerup won the Quick Draw People's Choice Award for his sculpture of Buffalo Bill as a Pony Express rider.
The prestigious Cody High Style furniture exhibition doled out significant rewards as well. Ron and Jean Shanor of Wildwood Furniture won the Exhibitor's Choice Award for the piece entitled Red River. Norseman Designs West's John Gallis won the People's Choice Award for his Heritage Ranch Desk. The Switchback Purchase Award went to Raven Haven craftsmen Michael, Colleen and Joseph Brown of Bend, Oregon; the Buffalo Dance piece is now part of the BBHC's permanent collection; finally, Lexington, Oregon craftsman Anne Beard won Best of Show.
---
2010 Quest for the West | September 11 – 13, 2010
The fifth-annual Quest for the West® Art Show and Sale at the Eiteljorg Museum of American Indians and Western Art attracted more than 300 guests and generated more than $1 million in sales, making it the highest-attended Quest sale in the event's history. Results represent a 20 percent increase in sales over last year.
"The fifth iteration of Quest proved to be one of the most exciting and successful yet," said John Vanausdall, Eiteljorg Museum president and CEO. "We had an incredible crowd and the energy was exhilarating. To have such a wonderful turnout and such great results in this economic climate speaks volumes about the reputation the Eiteljorg Museum and Quest for the West have developed on a national scale."
Quest for the West is significant for the Eiteljorg. It is the only major museum Western art show and sale east of the Mississippi. Guests from across the country came to Indianapolis to seek out and buy some of the best traditional Western art. A portion of proceeds will help the Eiteljorg build its collection of world-class art.
Adding to the overall collection of the museum, the coveted Harrison Eiteljorg Purchase Award went to Arturo Chávez for Mount Wilson Winter, while the Patrons' Choice Award went to Greg Kelsey for Tryin' to Collect a Buck, which also won the Cyrus Dallin Award for Best Sculpture. Curt Walters received the Henry Farny Award for Best Painting with The Arborists' Reward, and Howard Post won the Victor Higgins Award of Distinction for Best Body of Work in the show. Finally, the Artist of Distinction Award was granted to George Hallmark; the artist will be honored with a one-man show at Quest 2011.
---
Western Design Conference: Jackson Fall Arts Festival | September 9 – 12
The 18th annual Western Design Conference, held in Jackson Hole, Wyoming, kicked off with a Thursday night Gala Event that included a Huckleberry Bellini reception and runway fashion show for 400 attendees. It wrapped up on Sunday afternoon, with chocolate-dipped butter cookies and the presentation of the Peoples' Choice and Exhibitor's Choice Awards.
The Best in Show Award went to Brad Greenwood of Greenwood Designs, Beckwourth, California, for his spectacular Yellowstone Desk. This highly polished desk is made from eight varieties of wood and inlaid with copper leaf. A light switch is hidden on the front face, and two movements pop out of a secret storage compartment.
Attendance was excellent, with art enthusiasts coming from 38 states and four foreign countries to view, purchase on the spot and/or place custom orders with a gathering of artists who are the top names in their respective genres. The Western Design Conference attracts the best in Western functional art, home accents, art-to-wear jewelry and fashion, leather, metal and woodworking.
---
23rd Annual Western Visions Miniatures and More Show and Sale: National Museum of Wildlife Art | September 17
The National Museum of Wildlife Art's largest annual fundraiser registered excellent support from patrons. Reporting an estimated $1 million in gross sales at the 23rd Annual Western Visions Miniatures and More Show and Sale, Pontier Sackrey, director of development and marketing, characterized the evening as "a strong showing," with all three 2010 top sellers going for higher prices than 2009's top three artists. Attendance exceeded 500 guests for the party, and 110 artists participated in the annual event.
"With so many excellent artist submissions, it's no surprise we attracted significant bids and generated so much interest," said Curator of Art Adam Harris.
It was painter Z.S. Liang's top-selling oil on canvas, titled The Grizzly Claw Necklace, going for $42,500 that capped off the sales at this museum benefit. Additionally, a bronze sculpture, Swan, by 2010 Western Visions Featured Artist Simon Gudgeon, was this year's second-highest-selling piece at $39,000, and the oil on canvas Autumn Reds – Grizzly, by Ken Carlson, was third at $34,600.
Winners of four annual awards were announced at the event: Steven Devenyns' painting, Wake Up Call, won the Red Smith Award; Donald Crowley's That Certain Smile, depicting a Native American child, won the People's Choice Award; a miniature oil on linen, Two is a Pair, by September Vhay, won the Trustee's Purchase Award; and a wolf study in natural red-and-white chalk, by Timothy David Mayhew, won the Robert Kuhn award.
---
4th Annual Jackson Hole Art Auction | September 18
Culminating the Jackson Fall Arts Festival, the fourth annual Jackson Hole Art Auction, hosted by Trailside Galleries and Gerald Peters Gallery, was held on September 18th at the Center for the Arts in Jackson, Wyoming, attracting the most sophisticated collectors and venerated dealers in the field. Despite continuing concern with the current economic climate, the auction was a resounding success, with 85 percent of the 248 featured lots sold during an afternoon of extremely active bidding. Auctioneer Troy Black got the bidding underway, setting the pace at approximately one lot per minute. With more than 230 phones bids, 75 absentee bids and in excess of 200 registered bidders in the audience, the excitement in the auditorium was palpable. As the hammer fell on the final lot, sales for the four-plus-hour session totaled more than $6,225,000.
The audience broke into applause when Mian Situ's 53- by 72-inch oil painting, A New Beginning, San Francisco, 1910, estimated at $275,000 to $375,000, sold for $402,500. Other highlights included the auction catalogue cover piece, Nasty Actor, by William R. Leigh, a 28- by 22-inch oil painting, which fetched $414,000.
The auction featured several exceptional works by the late Bob Kuhn, including a 20- by 40-inch acrylic painting titled Aquacade, which brought in $258,750, and a 20 1/8- by 48-inch acrylic painting titled After The Short Rains, which fetched $212,750. Active bidding on an Eanger Irving Couse painting titled The Pottery Decorator reached a hammer price of $253,000.
Overall, the results of the sale send a clear message that collectors are actively purchasing and are very enthusiastic about the Western representational art market.
---
89th Annual Santa Fe Indian Market SWAIA: Gala and Auction | August 23
For 89 years each August the historic city of Santa Fe, New Mexico, has transformed itself into an open air market for some of the most talented contemporary Native artists in the country.
Enveloping the town's central plaza and surrounding streets, Santa Fe Indian Market is an annual event that draws thousands of people. Coinciding with the market, hundreds of gallery openings, art shows and related events take place during the weekend of Indian Market, and during the two weeks immediately preceding it. A reported 80,000 art collectors and artists from around the world make the pilgrimage to Santa Fe, according to Bruce Bernstein, executive director for Southwestern Association for Indian Arts (SWAIA), which sponsors the event. The two weeks of art-centered activities culminate with the annual SWAIA: Gala and Auction. Proceeds from the event benefit Native tribal members through fellowships and other programming. In 2009, the event raised more than $200,000 (This year's results were not available at press time.).
Entries range from pottery, jewelry, weaving, sculpture, bead and quillwork, painting and other traditional Indian arts. This year two new additions, photography and film, were added to the roster of categories. In an unprecedented decision, judges awarded the Best of Show prize to two artists: Blackhorse Lowe (Navajo) won for his narrative short, Shimásáni, and Stetson Honyumptewa (Hopi) shared the Best of Show title for Wooden Pueblo Figurative Carving and Sculpture. Many other artists were also acknowledged with awards, including Kevin Pourier's Buffalo horn art with the 2010 Innovation Award.
---
6th Auction in Santa Fe Manitou Galleries | August 13 – 14
More than 600 lots were offered over the course of two days, ranging in genre from fine art of deceased Western masters to collectible antiques. Manitou Galleries presented the event at the Historic Hilton Inn-Mesa to an audience of receptive collectors who were looking to buy the highest quality lots without a fight.
Everything sold at this well-attended sale, according to results from Manitou owner Charla Nelson. The top five sellers at the auction were: Rocks, Glaciers, Snow Mountain – Rocky Mountain National Park, Colorado, a 14- by 16-inch oil on board, by Birger Sandzen (1871-1954) at $28,750; a 19th-century intricately beaded Cheyenne cradleboard with classic colors and designs sold for $18,400; an early 20th-century pictorial Western Apache Olla basket drew $11,500; an 1890s Third Phase Navajo chief blanket, 70- by 59-inch, went for $9,200; a signed watercolor by Edward Borein (1872-1945), Cattle Drive, sold at $9,200.
---
The 32nd Annual Western Rendezvous of Art | August 19 – 22
Montana Historical Society and Western Rendezvous of Art officials entered this year's event concerned about the uncertainty of the economy and how it might affect sales and attendance. In the end, the event was a picture of success.
"We are pleased, and more importantly our patrons and artists were pleased with how the four days of Rendezvous turned out," Montana Historical Society Special Projects Manager Sue Near said. "We even saw an increase in the number of all-event tickets sold, which are generally purchased by major art buyers."
For the second year in a row more than 1,000 people attended the Rendezvous Art Exhibition at the Red Lion Colonial Hotel. Art sales totaled $285,950, which was less than 10 percent below last year. Sales at the popular Quick Draw event at the historic Sieben Ranch totaled $94,100, which matched 2009 figures. The Montana Historical Society's share of Rendezvous proceeds goes to its art acquisition fund and to assist with art programs.
Participants in the Rendezvous events are members of the Northwest Rendezvous Group of artists. Awards were presented to the artists at this year's event: The John Scott People's Choice Awards, voted on by all those who attended the show, went to Jim Daly for his painting Playing House, and T.D. Kelsey for his sculpture Mind Games; the Joe Halko Heritage Award went to Tom Saubert for Missouri River Fur Trade, 1874; The Montana Historical Society Legacy Award, a piece chosen to become part of the society's permanent collection, was John Potter's Valley of the Chiefs.
---
Coeur d'Alene Art Auction | July 24, 2010
At what was once the biggest Western art auction in the U.S., phrases such as "market adjustment and correction" resounded after total sales resulted in at $9,202,552 (including post-auction sales at time of printing). Compared with the peak market in 2008, when the Coeur d'Alene Art Auction had a record-breaking year, drawing approximately $39 million in bids. "We're in a new economy," noted CDAA partner Pete Stremmel prior to the sale on his Web site, www.stremmelgallery.com.
Despite the overall total, there were bright spots that point to discerning buyers who are not afraid to spend money when the value is evident. For instance, the painting, Kachina Painter, Eanger Irving Couse (1866-1936), sold at the second-highest price ever for the artist, with a final bid of $753,000. Likewise, Edgar Paxson's Chief Joseph – Nez Perce, set a record $163,800, well above the estimate of $80,000 – $120,000.
The event, held in Reno, Nevada, saw attendance similar to past years, at 650. CDAA partners were not surprised by the final total of the auction, but they noted that the pattern of sales was unpredictable. Auction partner Mike Overby conceded, "It was a pretty choppy sale overall. … It's reflective of the fact that we are in a buyer's market."
In the end, the auction sold 88 percent of the lots, including after-sale transactions. Reflecting on the art market's big picture, Overby remains optimistic: "There are still plenty of buyers out there, they are just spending their money differently."
---
SOFA WEST Santa Fe | July 8 – 11
Twenty-nine galleries from around the globe gathered to present their finest works to an appreciative audience at the Convention Center in Santa Fe, New Mexico. Viewing Santa Fe as a hot design market, founder Mark Lyman chose to expand his successful exhibitions, from 17 years in Chicago and New York, to Santa Fe. "We were looking for a smaller, more intimate venue," he said. And with a sophisticated audience that embodies those who live in Santa Fe, and those who love to visit the enchanted city, it was a perfect fit. "It's a very narrow spectrum we serve, so the more intimate, the more select we can be, the better."
Sculptural Objects and Functional Art (SOFA) presented a wide variety of specialized arts, from glassworks emanating from the great Italian master, Lino Tagliapietra, to sleek contemporary works by Native American artists to exquisite furniture made from 100-year-old Brazilian rosewood, to ceramics from a Russian potter, it's no wonder gasps were heard throughout the fair.
Not only were the exhibits inspiring, the lecture series was filled with patrons wishing to learn more about the art processes. From museum directors to curators, from glass artists to jewelry artists, fascinating and informative seminars satisfied the curious. Attendance at SOFA West 2010 was up 25 percent from the previous year and topped 12,500 visitors. The final figure for sales at SOFA West was $2.25 million, up from $1.5 the previous year.
---
Correction: Regrettably, the Scottsdale Art Auction was not included in the 2010 Summer/Fall issue. We apologize for the error.
Scottsdale Art Auction | April 10, 2010
Resounding the call of economic recovery that rallied this spring, the crowd at the sixth annual Scottsdale Art Auction was a standing-room-only group of enthusiastic buyers. Overall, the sale totaled $8.8 million, setting a record for Western art sales so far in 2010.
Event host, Brad Richardson, of The Legacy Gallery, and his partners gathered some of the highest-quality works of big-name contemporary and deceased artists, from Martin Grelle to Norman Rockwell. Top-sellers at the event included an oil painting by Charles M. Russell, Smoking Them Out (estimated at $1,800,000 to $2,800,000), that was fiercely contested by three telephone bidders and fetched $3,151,000. Other lots of special interest included Henry Farny's gouache, Checking the Trail (estimated at $300,000 to $500,000), that brought $494,500; Ernest Blumenschein's Taos Canyon Group hammered down for $322,000; Norman Rockwell's oil, If Mother Could Only See Me Now sold for $276,000, well above the high estimate, and Olaf Wieghorst's Payday (estimated $75,000 – $100,000), reached $149,500.
A highlight in the first session of the auction was a surprise bidding war for a rare collection of small-scale, replica Western wagons by Dale Ford. Competition for the collection of 24 wagons quickly surpassed the high estimate (estimated at $70,000 – $120,000) and concluded with a telephone buyer at $506,000, making Ford one of the top-sellers of the weekend.
Richardson noted that the event was a high point in the art market and hopes to see the trend continue.