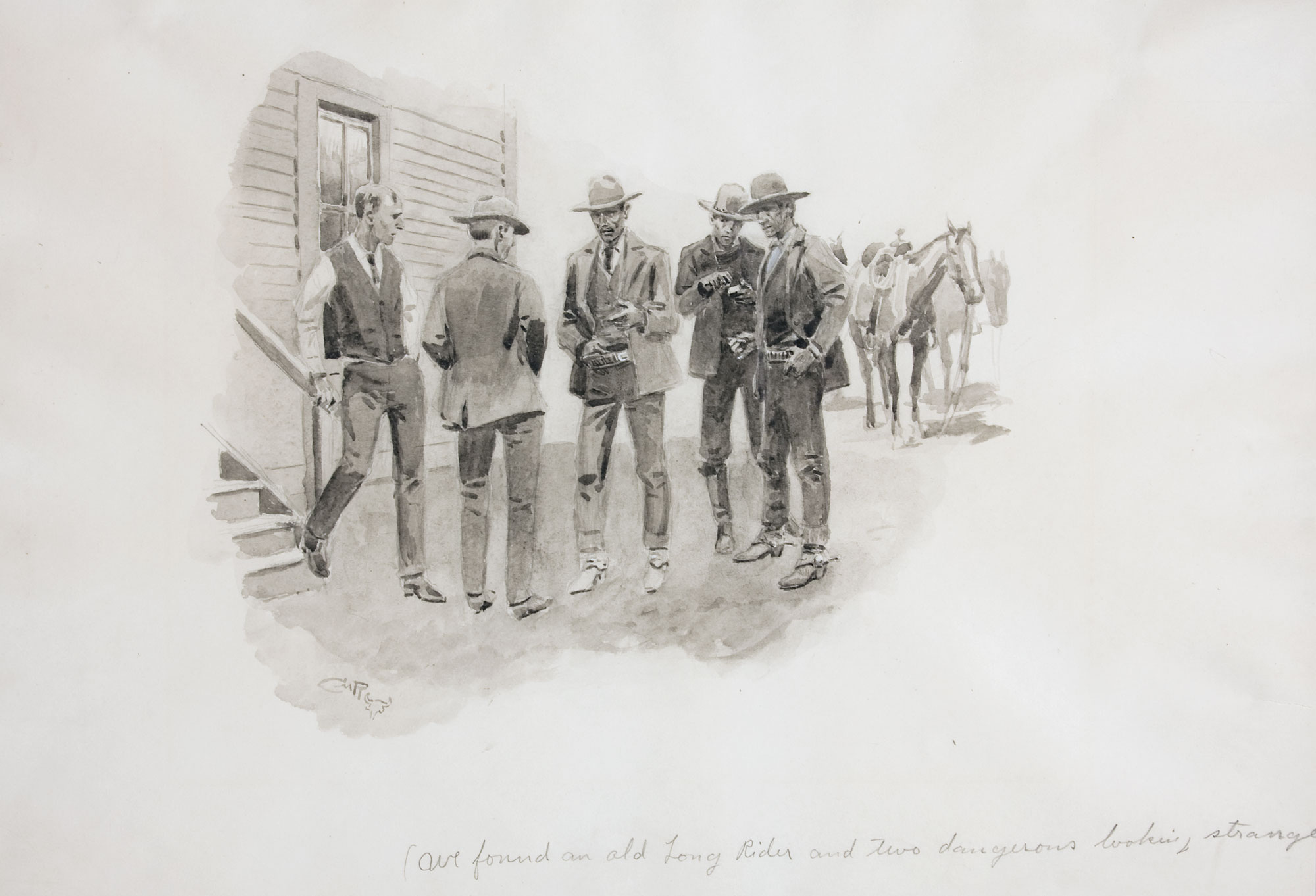 Charles M. Russell (1864-1926) | "Before the Trial" | Watercolor wash engrisaille on paper | 14 x 19.5 inches | Lot sold. $100,000
30 May

Auction Block: Supporting the Arts
---
While news of the world art market spiraled down, down, down, in the first quarter of the year, Western and American art venues dipped only slightly. In March reports of the Chinese contemporary art market dropping by 50 percent following sagging sales in the fall of 2008 put the U.S. fine art market in perspective. Around the globe analysts question whether it is simply a time of financial correction perpetuated by a worldwide recession, but at home it seems artists and collectors are tucking in to the idea that fine art will weather the storm.
At events around the West this spring, art patrons mingled among artists — a reunion of old friends — with a sense of appreciation and reverence for good times.
---
C.M. Russell Art Auction | March 18-21, 2009
In honor of Charlie Russell's birthday, the town of Great Falls, Montana, comes to life as it kicks off Art Week each year in March. Bridging multiple venues between the C.M. Russell Museum and the Best Western Heritage Inn, the auction and quick draw sales generated a healthy $1,467,000 and $81,000 respectively (at press time these were preliminary estimates). Artists and dealers who exhibited current works at the Heritage Inn remarked that sales were not as brisk as in past years, but remained healthy.
"We were probably down between 10 to 15 percent as far as attendance," said event organizer and Great Falls Ad Club president Bill Preston. "Still, the exhibit rooms seemed to have some success, the artists were happy and the overall gross was fifth highest in our history."
The two-day auction is a fundraiser to support both the AAF-Great Falls Ad Club and the C.M. Russell Museum, relying primarily on volunteers for its success. An emotional awards ceremony honored sponsors, volunteers and artists for the 41st year of the auction. Tim Shinabarger was the honored guest artist, while Charles Fritz's oil Glacier Park at the Iceberg Notch won the Juror's Choice award and sold for $17,000. Joe Kronenberg received the Ralph "Tuffy" Berg award as an emerging artist, and Xiaogang Zhu's Cove in Quiet Morning received the C.M. Russell Museum CEO award and $1,000 cash prize.
At Saturday's grand finale, Charlie Russell's Before the Trial brought $100,000, the highest price for a deceased artist at this event, while living artist Andy Thomas' A Knock at the Door was a high seller at $51,000.
---
March in Montana | March 19-21, 2009
For the 22nd year in a row, art dealers, collectors and cow dogs (really) gathered among rows of prized Western collectibles and historic fine art pieces for the two-day auction that garnered $1.3 million in sales. Cowboy hats peppered the seated crowd as the sale began with a declaration from auctioneer Peter Stremmel that everything in the show was priced to sell.
"The attendance was a little down, but overall, was comparable to 2008," said Charla Nelson of Manitou Galleries, which partnered with the Coeur D'Alene Art Auction for the March in Montana show at the TownHouse Inns.
Capitalizing on the crowd that gathers to support the C.M. Russell Museum in Great Falls, the March in Montana auction is an excellent show to find unusual collectibles and interesting accents to any art collection. Highlights included Charles M. Russell, Gary Lynn Roberts, Paul Mann, Olaf Wieghorst, Gerard Curtis Delano, Bob Scriver and many others. And sprinkled throughout the offerings are some rare items that often had never been on the market before. A high note of the sale was a rare oil by Joseph Henry Sharp, When One is Old (White Paint Mountain), which was offered to the public for the first time at this auction and fetched $129,800. Other big sellers during the auction included an Edward Curtis original platinum photo that sold for $14,160, a Navajo weaving that sold for $31,000 and a Charlie Russell bronze titled Smoking Up which brought in $24,000. Two Russell dolls also sold for $13,000 and $15,000, respectively.
Despite the high-priced lots, overall sales were down from last year. In 2008, the auction hit $2.2 million in sales; Nelson noted that this year's figures reflected the current economy.
---
Marin Show: Art of the Americas | February 21 and 22, 2009
Dubbed the Super Bowl of indigenous art, the 25th annual Marin Show: Art of the Americas explored a vast array of both antique and contemporary items for sale including Native American, Pre-Columbian, Spanish Colonial, Latin American and Western art and collectibles in San Raphael, California. Attendance was up by 2 percent over last year and exhibitors noted that buyers were strong and engaged in learning new information about arts and culture. Once again the Art of the Americas show proved that people hunger for art and realize its long term historical, personal and financial value.
---
12th Annual Masters of the American West Fine Art Exhibition and Sale | February 7, 2009
With an atmosphere of reunion in the air for the Masters of the American West held at the Autry National Center, John Geraghty, Autry Trustee and Special Advisor to the Masters, once again helped assemble a remarkable group of contemporary artists of the American West.
Over 700 art patrons attended and were awed by the masterful works of 75 artists, whose work ranged from historic scenes of the American West to striking wildlife sculpture to inspirational landscapes. Although collectors and artists came to show their support, the $3.6 million in sales for this year's event paled in comparison to the 2008 record of $4.7 million. Still, sales were brisk and spirits were up as everyone acknowledged the art market reflecting the economic trends of the day.
"The enthusiasm of the Masters patrons for contemporary Western art is evidence that this genre will continue to thrive despite the downturn in the economy. Patrons are looking to the future as they purchase these important works, and they enjoy their interaction with the living artists who created them. The Masters show plays a significant part in making this happen," said John Geraghty.
Major collectors from across the United States and several foreign countries witnessed the announcement of artist awards and a spirited sale on Saturday night. Among the highlights was the Masters of the American West Purchase Award presented to Mian Situ's Convergence of Cultures, which was purchased by the Autry National Center of the American West. Both Situ's painting and the James R. Parks Trustees' Purchase Award–winning painting, Tucker Smith's Wyoming Sky, will be added to the museum's collection. In addition, Autry trustees and patrons made possible the acquisition of sculptor Richard Greeves' new monument, Crazy Horse, a stunning 8 ½-foot bronze that was unveiled on Saturday and which also now becomes part of the Autry's permanent collection.
High points of the sale came from the high-caliber Western art works selected for the silent, sealed-bid process; six of the most popular paintings by the top Western artists raised nearly $2 million alone. Of those, master painter Howard Terpning's Journey to the Medicine Wheel sold for $1,105,000 and Mian Situ's Street Merchants of Chinatown, San Francisco, 1904 went for $318,000. Both artists were honored in the award ceremony: Terpning was given the Thomas Moran Memorial Award and Situ received the Gene Autry Memorial Award, sponsored by Jay H. Grodin. Other awards were given to Bill Anton, Tucker Smith, Oreland C. Joe Sr., George Carlson, Z. S. Liang and Dean L. Mitchell.
---
Los Angeles Art Show | January 21 – 25, 2009
This year's LA Art Show was all about the numbers: 35,000 art lovers viewing 15,000 works of art from 175 international dealers to total gallery sales of $500,000. Now in its 14th year, representing all forms of media from paintings to performing arts, the show was held in a new venue at the Los Angeles Convention Center.
The larger space was a success, attracting celebrities and other arts patrons and increasing overall attendance by 20 percent. In a time of economic uncertainty, art lovers have proven that the arts community continues to thrive. The event kicked off art month in Los Angeles and is held annually in January.
---
Coors Western Art Exhibit and Sale | January 7 – 25, 2009
Amidst the farm equipment and livestock, rodeos and cattle auctions, petting zoo and rabbit cages, beer vendors and corndog stands, it would be easy to miss the fact that there is a fine art show tucked away in a corner on the third floor of the Expo Hall at Denver's annual National Western Stock Show. Yet it's worth the trek through the dusty floors and crowded rows of vendors to find the Coors Western Art Exhibit and Sale. Celebrating its 16th year, the show featured over 200 pieces of artwork from more than 60 artists specializing in Western art in styles ranging from traditional to contemporary.
According to curator Rose Fredrick, the exhibit attracted nearly 800 patrons on opening night and more than 40,000 visitors over the course of the show. Final sales of nearly $550,000 this year reflected a significant dip compared to 2008's record of $800,000. This year's People's Choice award winner was Salt Gap by Teresa Elliott, while the acclaimed Artist's Choice for a work of art that stands out among peers went to Dean Mitchell. The Best of Show award went to William E. Sharer for Cemetery at Grafton, Utah. He won $2,500, donated by patrons Tom and Jane Petrie.
Fredrick has been the exhibit's curator for 12 years; she receives submissions from more than 300 artists from all across the country each year. "My concept of Western art is much broader than most people's," she says. "I consider not only the regional aspect of the work and the subject matter, but the artist's intent and the feeling and thought behind the piece. I'm drawn to artists with unique voices who push people's sensibilities about what is 'Western,' who create something authentic and original about the West."
Proceeds from the artwork sold at the show benefit the National Western Scholarship Trust, which provides educational grants for college students in Colorado and Wyoming studying agriculture and practicing medicine in rural areas. Admittance to the exhibit is free for those purchasing a ticket to the Stock Show.
Next year's show will be held January 9-24, 2010; visit www.nationalwestern.com/nwss/coorsartshow/coors.php for more information.