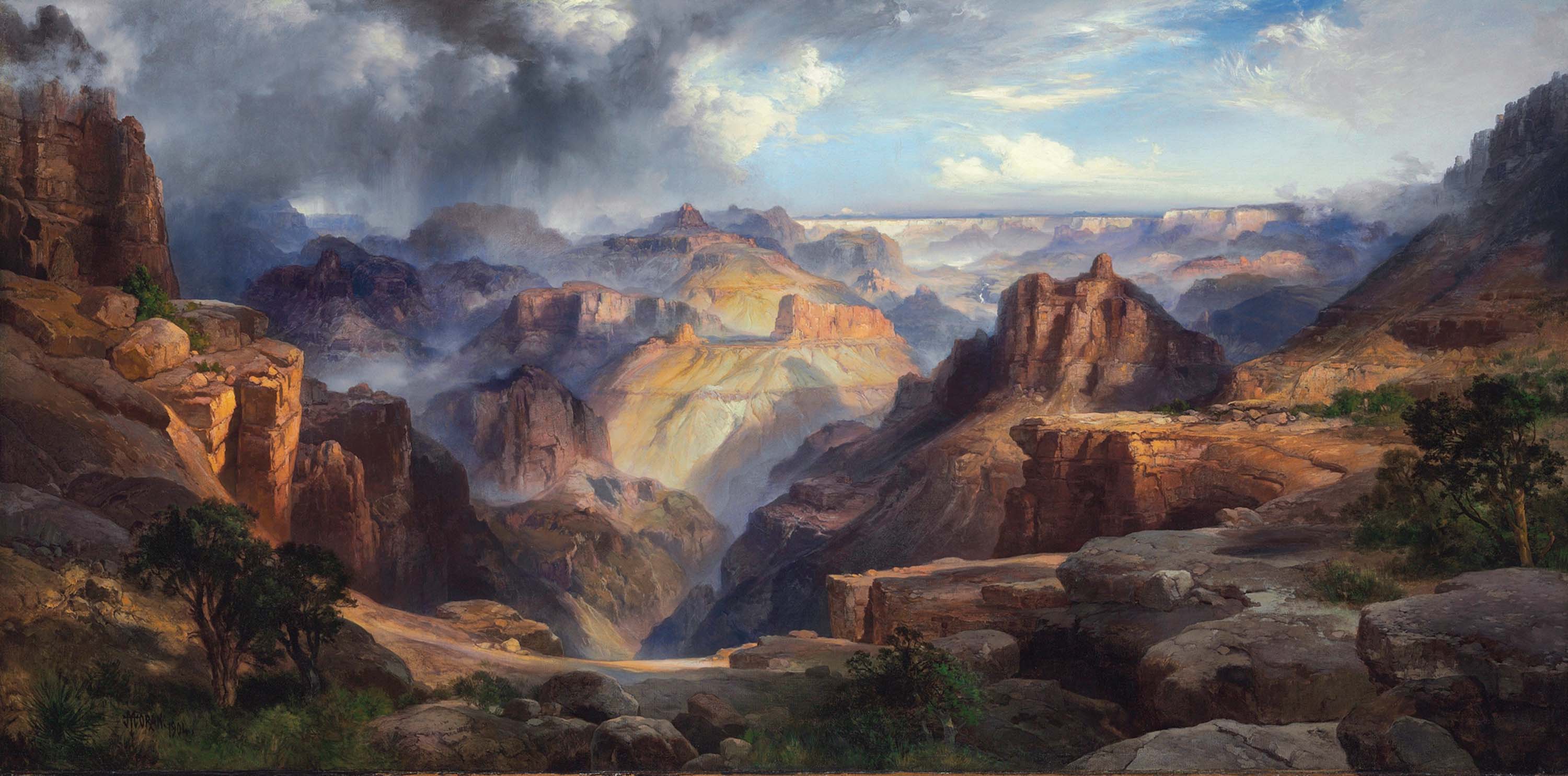 Thomas Moran [1837–1926] | "The Grand Canyon of the Yellowstone" | Oil on Canvas | 29.5 x 60 inches | Price realized: $12,485,000
04 Aug

Auction Block: Upbeat Tempo
---
Driving an upswell of sales at large auction houses, premier works from Sotheby's and Christie's continue to build the foundation for a healthier fine art market.
At Christie's American Art Sale in May, Thomas Moran's oil painting, The Grand Canyon of the Colorado, sold for more than $12 million. Not to be outdone, Sotheby's held an American art sale that broke multiple records and tallied more than $45 million in overall sales. Adding to that, events at the National Cowboy & Western Heritage Museum broke sales records for the Prix de West. And on the collectible front, Brian Lebel's Denver Old West Show & Auction reported healthy results as well. On the contemporary art side, the Los Angeles Modern Auctions sale in May was a showcase of fine art and high style.
Although never predictable, the art market seems to be edging toward new heights. With summer sales and auctions on the horizon, there's promise that 2014 will be a very successful year for American art.
---
Brian Lebel's Denver Old West Show & Auction June 28, 2014
Brian Lebel's Old West Auction marked its 25th annual sale in Denver with total realized prices topping $1 million and an impressive 93 percent sell-through rate. Overall, the sale was strong, with most items selling either firmly within or above pre-sale estimates.
The top lot of the night was a Colt single-action revolver dating from Custer's 7th Cavalry, which sold for $53,100 to a floor bidder in the room. The next best-selling lot was a stunning Nez Perce horse mask that sold for $47,200. Over 400 people attended the live auction, with hundreds of registered Internet bidders and dozens more bidding on the phone and absentee. The auction was held in conjunction with the Old West Show, which featured 200 dealers, and more than 3,000 people in attendance.
Fine art brought respectable prices, with a large WHD Koerner painting selling on the floor for $11,800. Both a Raphael Lillywhite and a Will James brought $21,240 each, selling on the floor and the phone respectively.
Another auction highlight was the highly anticipated Billy the Kid CDV, which sold to an online bidder for $18,150, more than twice its low estimate. Items from the estate of infamous Texas businessman Rex Cauble created a bidding frenzy, with his Cutter Bill Championship diamond and sterling belt buckle selling to a determined phone bidder for $14,160.
Saddles were perhaps the bargain purchases of the evening, with a Bohlin Dick Dickson model realizing $23,010, which was less than its low estimate; and a Bohlin Dick Dickson Jr. model bringing $35,400, which was right at the low estimate.
Auction owner Brian Lebel feels that the market for Western art and artifacts remains strong and continues to attract new collectors. Lebel states, "We had more new bidders register for the sale this year than we have had in many, many years." He went on to add, "Some of it is because of the Internet, of course, but no amount of exposure would matter if the material wasn't desirable and authentic." Regarding the Old West Show, Lebel said, "We had the best early buy-in and Friday attendance numbers since relocating from Cody to Denver."
For 2015, Lebel will be moving his Old West Show & Auction from Denver to Fort Worth, with dates scheduled for June 6 and 7 at the Amon Carter Exhibit Hall of the Will Rogers Memorial Center.
---
41st Annual Prix de West Invitational Art Exhibit and Sale June 13 – 14, 2014
The National Cowboy & Western Heritage Museum hosted more than 800 guests at the 41st anniversary of the Prix de West Invitational Art Exhibition and Sale during opening weekend in Oklahoma City. Sales for the weekend sat at $3.5 million with a portion going to fund the museum's programs and operations. The exhibit and sale feature 314 works in sculpture and painting by 100 contemporary Western artists whose subjects range between landscapes, wildlife and illustrative scenes.
This prestigious invitational can be a career-making event for artists, as it is a hallmark honor in the fine art world. Launching the exhibition and sale is the Notable Artist Award ceremony. The Prix de West Purchase Award-winning piece, selected by committee and purchased for the museum's permanent collection, was granted to Jeremy Lipking of Calabasas, California, for his oil painting, Silence and Sagebrush.
Overall, painter George Carlson swept this year's awards as winner of the Robert Lougheed Memorial Award, chosen by the Prix de West artists for their favorite display of three or more works in the show, as well as the Frederic Remington Painting Award for his Ravens of the Palouse.
Additionally, Honeymoon at Crow Fair, a bronze statue by John Coleman, was the winner of the Buyers' Choice Award. The category is voted on by Prix de West patrons for the work they most admire. Coleman's same sculpture was the winner of the James Earle Fraser Sculpture Award, selected for exceptional artistic merit.
Three other distinguished awards were presented, including the Express Ranches Great American Cowboy Award, given for the best cowboy subject matter, to Loren Entz of Billings, Montana, for his oil on canvas titled When the Work's All Done This Fall. The Major General and Mrs. Don D. Pittman Wildlife Award was given for exceptional artistic merit to Tim Shinabarger for his bronze, The Mountaineers. The Donald Teague Memorial Award for exceptional artistic merit for a work on paper was awarded to Carrie L. Ballantyne for Trust.
All works are on display at the Oklahoma City museum through August 3, and a few will remain available for sale.
---
Bonhams Native American Art Sale June 2, 2014
Held in San Francisco, California, Bonhams Native American Art Sale showcased a Navajo classic twill-weave manta from the collection of Alexandra and Sidney Sheldon, which sold for $112,500. It was the leading lot of the $1.9-million auction that achieved an 85 percent sell-through rate by lot.
Additional weavings from the Sheldon Collection also sold above their estimates, including a Navajo classic child's blanket that achieved $27,500 and classic Saltillo serapes that fetched $31,250 and $27,500, respectively.
Many pottery works also sold well. The most noteworthy was a San Ildefonso black-and-sienna jar by Tony Da from a private collection in Rancho Mirage, California, which achieved $43,750. A Hopi polychrome jar by Nampeyo also stood out, bringing $40,000. The Hopi jar was from the collection of John Bowers of Millbrae, California. The Bowers' collection is truly remarkable, including objects Mr. Bowers purchased at auctions dating back to the early 1980s at Butterfield.
The pottery section also offered property from an international and Arizona collection of which various San Ildefonso examples performed quite well. A polychrome plate showing a pair of Mimbres-style mountain lions by Maria Martinez sold for $31,250. A black-and-buff sgraffito plate by her grandson, Tony Da, took in $27,500, along with two sienna-and-black sgraffito turtles, also by Da, which brought $27,500 and $23,750, respectively.
Basketry, too, stood out in the auction with a top-selling Apache tray soaring to dizzying heights and achieving $81,250. The tray came from an Arizona collection. The basketry section also included an Apache olla that brought $15,000 and another Apache polychrome example that sold for $10,000.
Southwestern art highlights included a Fritz Scholder oil on canvas, Buffalo Dancer, dated 1975, that achieved $21,250, from the aforementioned private collection in Rancho Mirage, California, and a monumental Pueblo stone figure depicting a powerful female spirit fetched $15,000.
---
Icons of the West Show and Sale May 16, 2014
The third annual Icons of the West Show and Sale at the Dana Gallery in Missoula, Montana, is gaining steam. Clay Pape, event director, is bringing the show to a national level, particularly in terms of outreach to and involvement of young artists. A diverse jury of university professors, arts appreciators, arts patrons and a professional painter added to the unique nature of the event. Ages of the 127 artists juried into the show ranged from 18 to 82, and the work spanned subject matter from eagles and bison to slag piles and road kill. The diversity of the work and of the artists made for a dynamic opening night with a wall-to-wall packed gallery.
Select artists were honored with the Icons of the West Awards, including Best of Show to Kim Zarney for Winter Meadow; she received a $2,500 cash award. Jack Dempsey Boyd's Manifest Destiny won the Dana Gallery Most Original Interpretation of the Theme and a $1,000 cash award. The Southwest Art Award of Excellence went to David Mensing for And Yet; Best Figurative — Art of the West Award of Excellence went to Eye to Eye by JaNeil Anderson; Best Contemporary Western — Big Sky Journal Award of Excellence went to Thom Ross for A Short Walk into History. The Western Art & Architecture award for Best Traditional Western was granted to Bruce Pierce with Crossing Them Over; the Best Critter — Jack Richeson Award of Excellence acknowledged Rox Corbett for The Sweet Spot; the Western Art Collector Award of Excellence went to Michael Blessing for Camping at Gumbo Flats. Other notable awards were given to artists Tabby Ivy, Stephanie Frostad, Anthony Yazzie, David Wilson and Tim Joyner.
---
40th Annual Western Art Show and Sale May 24 – 26, 2014
The Phippen Museum's 40th annual Western Art Show and Sale kicked off with an exciting evening of Western fun and art at the Denim to Diamonds Gala Dinner & Live Art Auction in Prescott, Arizona. The event showcased more than 60 artists in the contemporary Western genre.
The event's award winners included the Montgomery Frames Award to Julie Nighswonger, who also garnered the Western Art Collector Award of Excellence for Waiting; the Southwest Art Magazine Award of Excellence went to Don Rantz for Near Yavapai Pt. – Looking East; and the Art of the West Magazine Award was given to Steve Atkinson for A Good Way To Get Shot Down. Joseph Robertson won Best in Show for Cliff Dwellers, the Phippen Foundation Award and Phippen Family Award-winner was Steven Lang for Walking Your Saddle, Hoss?, and the People's Choice was Paul Hopman. Other artists were honored in each medium of acrylic, watercolor, oil and pastel painting, mixed media and sculpture.
---
Christie's American Art Sale May 22, 2014
Breaking records with strong blue-chip names, Christie's New York auction in May realized more than $64 million. Liz Sterling, head of American art, comments, "The strong result of this sale confirms the continued strength of the market for American art, with all sectors of the category having performed well."
Norman Rockwell's The Rookie led the sale at $22.6 million, an all-American illustration, which is the second- highest price for the artist at auction and the highest price of the season. Western art also saw top prices, with Thomas Moran's masterwork, The Grand Canyon of the Colorado, achieving $12.5 million. Fresh-to-the-market works with esteemed provenance commanded top prices; five lots from the Estate of Edgar Bronfman realized a total of $2,357,000, led by Milton Avery's The Mandolin Player.
---
Sotheby's American Art Sale May 21, 2014
Reporting $46 million in total sales at the May auction in New York, Sotheby's was also led with works by Norman Rockwell. Ten lots from the artist sold for a combined $20 million, including the standout piece, After the Prom, which drew $9.1 million. Milton Avery's Previously-Unknown March and Sally Outdoors set a new auction record for the artist at $5.7 million. Georgia O'Keeffe's Lake George Barn fetched $2,965,000. The work had remained in the same private collection since 1988, and had not been exhibited publicly since 1989. The selection of 19th-century works on offer was highlighted by Albert Bierstadt's Yosemite Valley from 1865, which surpassed its high estimate of $1.5 million to sell for $2,517,000.
---
Sotheby's Arts of the American West Auction May 21, 2014
This niche sale in New York featured the best examples of American Indian artistic traditions spanning 2,000 years, as well as Western paintings, sculpture and works on paper. This year's sale was distinguished by the collection of Linda Marcus, which comprised masterworks from the Comanche, Crow, Sioux, Tsimshian and Tlingit tribes.
The day's auction brought $3 million in total sales for 143 lots. Leading the sale was a rare and important Comanche painted hide shield and two covers that achieved $413,000. Winold Reiss's gouache and pastel painting, Mike Little Dog, portraying a member of the Blackfeet Indian Nation, soared to $149,000, well above a high estimate of $90,000.
---
LAMA Modern Art & Design May 18, 2014
In a week of record-breaking auctions in the Modern and contemporary art world, Los Angeles Modern Auctions held its final sale of the spring season. LAMA's Modern Art & Design sale achieved strong prices for blue chip and California Modern artists, commensurate with New York and London sales. Original works and multiples by Warhol, Picasso, Ruscha and Wesselmann exceeded presale estimates, while a Hans Wegner desk and organizer set a new auction record for the model, with total auction sales realizing $2 million.
"After 22 years, LAMA continues to play a key role in the international Modern and contemporary art scene," states Peter Loughrey, director of LAMA.
Fine art highlights include Chanel by Andy Warhol from the ads portfolio, bringing $123,750. Tom Wesselmann's Study for Smoker #26 more than doubled its high estimate bringing $65,625, and an early and monumental Llyn Foulkes painting exceeded its presale estimate, realizing $53,125. A rare Ed Ruscha print, Sin, soared to $28,125, while a John Altoon work on paper, Untitled (Sunset Series), brought $25,000.
Design highlights include a collection of custom William "Billy" Haines furnishings for an important Beverly Hills commission, which exceeded its presale estimate of $146,300, totaling $241,312. The top lot from the commission was a rare table lamp with a Tang-style figure of a horse that realized $46,250. Additionally, LAMA continues to achieve exceptional prices for Scandinavian design, with the standout being a selection of seven Hans Wegner lots purchased by the original owner in 1966 from Johannes Hansen.