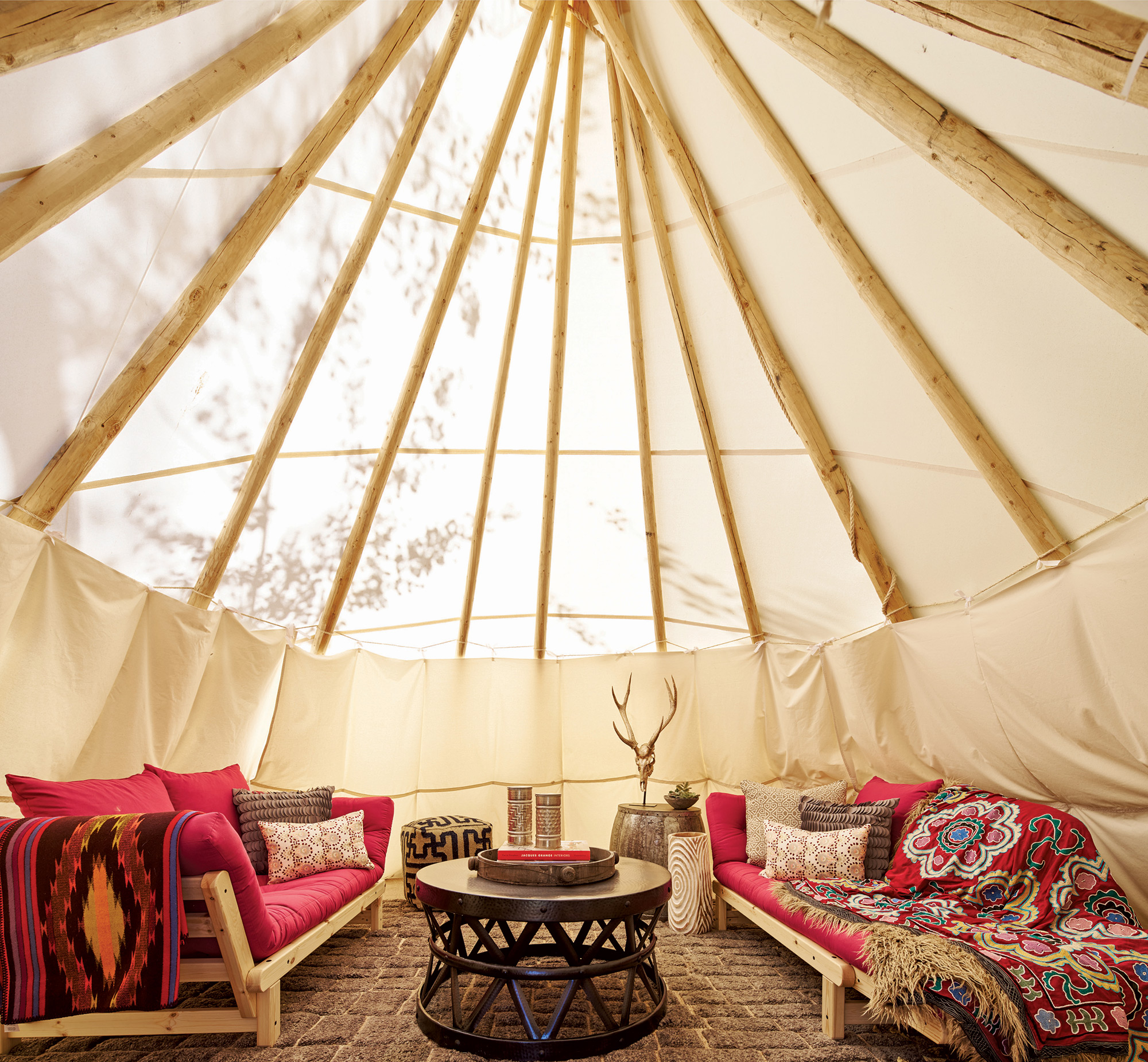 Two versatile futons in the teepee provide abundant seating and fully recline into beds. Binger found the colorful handwoven Afghan suzanis at High Point Market and had them lined with faux yak fur. The side table is hammered metal.
19 Jul

Designing the West: Balancing Form and Function
---
Designer Kate Binger loved rearranging her furniture as a young girl, but she always had to deal with one large obstacle. "My parents bought me a massive, vintage post office desk for my bedroom," she says. "Even though the desk weighed a ton, that didn't stop me from getting down on the floor and shoving it with my feet so I could change things up in my room."
After high school, Binger followed her creative inclinations to Miami University, where she earned her bachelor's degree in art education. When she moved to California, however, Binger discovered a dearth of teaching jobs. "That's when I began exploring my career in terms of what made me feel happy and inspired," says the designer. "Being comfortable at home was always important to me and my love of creating beautiful spaces led me to design."
Binger enrolled in UCLA's interior design program and then later landed a job with Anita Fey Design (now Guny Design Group) in west Los Angeles. She began assisting with residential interiors and later worked on commercial hospitality and wellness center projects.
After moving to Jackson Hole, Wyoming, in 2006, Binger decided to launch her own company, Designed Interiors, the following year. The business grew steadily, and in 2010 she secured a storefront in downtown Jackson and opened Dwelling as both a retail store and design studio.
Binger gave the space an industrial vibe, leaving ductwork exposed and painting the ceilings white, polishing the concrete floors and illuminating the space with track lighting and elegant chandeliers. She painted the walls a soft cream and accented the back wall in rich charcoal gray. The space is filled with vignettes of soft sofas and chairs, large mirrors, throw pillows and books. As the design side of the business grew, the retail side of Dwelling was pared down to create more space for the showroom.
Clients tend to be drawn to Binger's interiors because they are both stylish and practical. "I design really well for people who tend to live hard in their homes because that's how I live," Binger says. "Eighty percent of my clients have big family lives — kids, pets, family friends and parents who come to visit."
Early in the process, Binger devotes time to drawing and planning, utilizing every space in the home and making sure every piece fits. She gets to know her clients and their lifestyles and even pays attention to their body sizes. "Those nuances are important," she says. "Someone who's 5-foot-2 will experience a space differently than a person who's 6-foot-5. Scale is an extremely important aspect of design."
The designer eschews clutter in favor of fresh flowers and plants. "I'm never a proponent of putting something on every surface; I like spaces to feel clean, comfortable and texturally interesting. For accessories, I love books, pretty boxes to hide things like remote controls, and art. I love helping my clients choose art that evokes emotion and moves them."
While the resort town of Jackson Hole has some of the most expensive real estate in the country, Binger is a pro at maximizing space. Take the clients who had a blended family and a compact home but wanted to welcome two teenagers for the summer. Binger's solution was to create a high-end teepee where the teens could hang out. "I lived in a teepee in the summer of '95 when I taught horseback riding at a camp in the Pacific Northwest, and it was one of the best experiences of my life," she explains. "The teepee ended up being very versatile, providing privacy and a fun space that the kids loved."
Client Debbie Kopp worked with Binger on a large-scale renovation of her Jackson Hole home, including a major, to-the-studs kitchen renovation. The designer sourced new ceiling-height cherry cabinets; suggested practical Miele appliances, such as a double oven, steam cooker and dual dishwashers; created a bar area with a wine cooler and beverage refrigerator; and installed a built-in coffee system. "It's like our own private Starbucks in the morning, and we love it," Kopp says. "Kate transformed the heart and soul of our house, and we've come to completely trust her."
Binger travels to major design shows in New York, California, Texas and elsewhere, researching new materials and products. "My design taste is eclectic and modern with a little bit of a Bohemian influence, and I like to source things from all different areas because I don't want to be pigeonholed just in what's happening in the West," she says. "The most important aspect of my work is helping my clients create spaces where they can be joyful with other people."
---
WA&A wants to know …
---
Jackson Hole interior designer Kate Binger shares some of her favorite sources, spaces and travel destinations.
Q: Do you have a favorite design book?
A: Chairs by Judith Miller is an appealing coffee table book that's also a very useful resource. I love Cubism: The Leonard A. Lauder Collection, which I bought at the Met after viewing the exhibit. I keep Ancient Trees: Portraits of Time by Beth Moon on my nightstand because natural elements are important to me.
Q: Who are some of your style icons?
A: Laura Kirar designed a line of textiles for Highland Court that I love; all of her designs are yummy. Kelly Wearstler's fabrics feature patterns that add modern flair to any home, and they work so beautifully in transitional spaces.
Q: Describe one of your favorite spaces in your own home.
A: Our kitchen nook is a space I use a lot. It has swivel chairs covered with soft, plush fabric and I love to sit there with a cup of tea and look out the kitchen window or work. I originally designed the space to accommodate my dad, who has Parkinson's, so we could sit there together and play cribbage or talk if I was in the kitchen cooking.
Q: What's one of your most treasured possessions?
A: I have a beautiful flower painting by Idoline Duke done in watercolor and India ink with torn edges. I adore it, and I feel happy every time I look at it. I love to invest in art that I fall in love with.
Q: Tell us about one of your favorite interior wall colors.
A: I love the rich blue of Hale Navy by Benjamin Moore. It's perfect in a powder room or office, and you can even use it in a master bedroom if the space gets good natural light.
Q: When you want to unwind, where do you like to travel?
A: Vieques is a small island off the coast of Puerto Rico with the best swimming in the Caribbean. Because it's snowy here in the winter, I love to go to the beach.