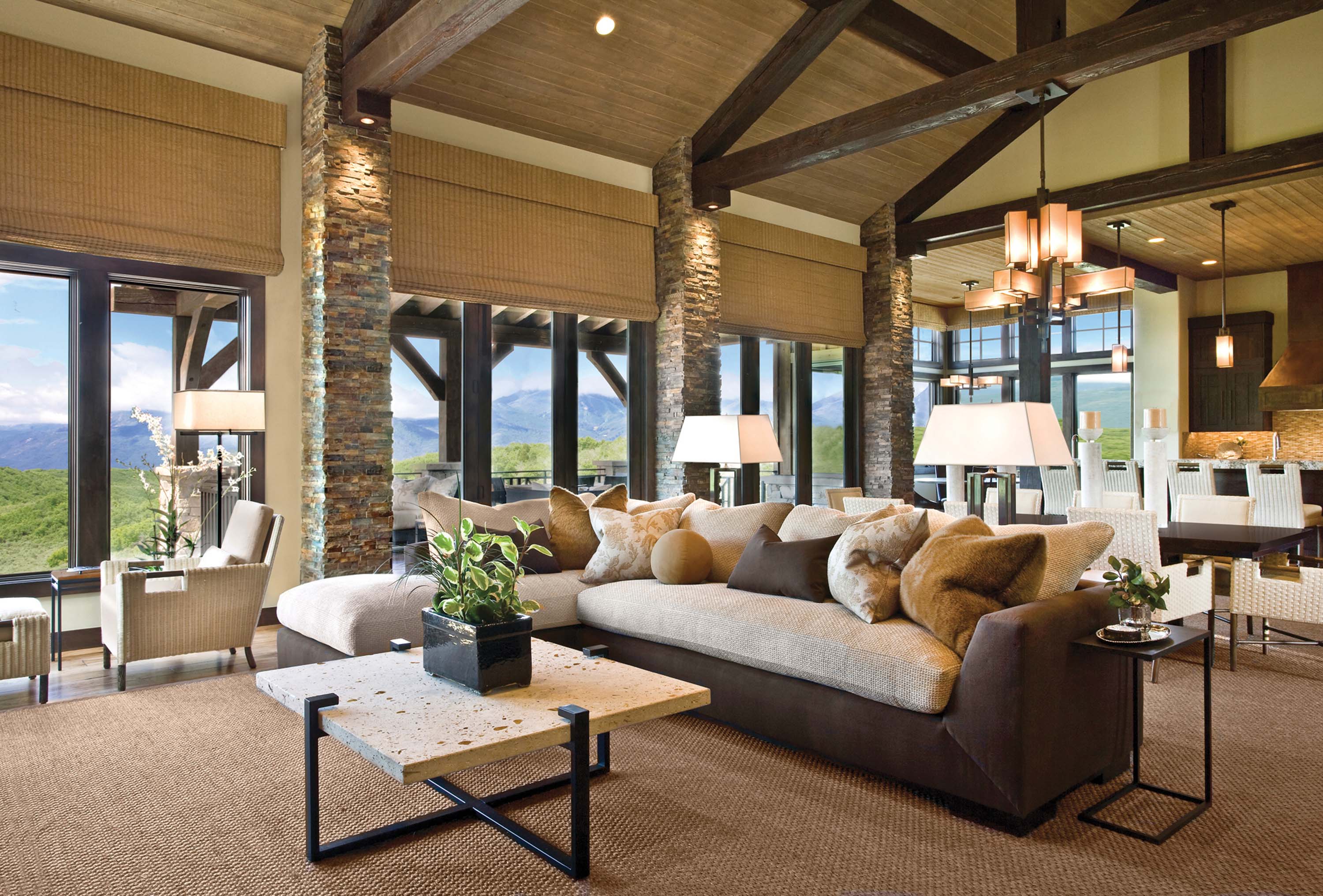 To create a natural palette for the open living area's mountain setting, the designers covered a Kreiss couch in a deep espresso wool paired with ecru textured chenille. The limestone cocktail table with a dark iron base is also from Kreiss, and a sisal rug underfoot adds textural interest.
01 Feb

Designing the West: Harmonious Trio
---
Sometimes three heads really are better than one. Capitalizing on their individual strengths and interests, the partners at Salt Lake City-based LMK Interior Design each oversee a different aspect of the firm's design projects. Rion Locke manages the construction, building materials and finishes. Richard Miller handles furniture selection and accessories, and Mark Kizerian sources textiles and furnishings.
It's a company structure that works well for the partners, who have designed residences in Deer Valley, Palm Desert, Los Angeles, San Francisco and Hawaii, and have done work for commercial projects including Park City's Stein Eriksen Lodge and The Colony, and the historic Inn on Randolph in Napa Valley. The firm was named Best Interior Designer in the 2013 Salt Lake City Parade of Homes and recently won best overall New Showcase Home with Lowry Construction for the Showcase of Homes.
Locke and Miller — partners in both business and life — were working as flight attendants when they met nearly four decades ago. After discovering they shared a common interest in home design, the pair soon began buying, renovating and selling houses in the area. In 1988, a friend introduced Locke and Miller to Gayl Baddeley and William Fleming of the renowned firm, Gayl Baddeley Associates. The pair jumped at the opportunity to apprentice with the designers and learn the trade.
Locke and Miller were soon hired to the permanent staff, along with Kizerian, and all three began establishing their own specialties and clientele. When Baddeley and Fleming retired in 2003, Locke, Miller and Kizerian bought the firm and changed the name.
Locke, who calls himself "a problem solver," is often out of the office overseeing stonemasons, electricians and drywallers at job sites. "At least once a week I have construction meetings with the site superintendents," he says. "I enjoy the hands-on aspect of managing our projects, and being involved at the site gives us better control of the outcome."
Miller, on the other hand, finds joy in working on the interior details. He chooses the light fixtures, art and accessories for the firm's projects, and works with Kizerian to source furniture. "Home design has been my passion for as long as I can remember," he says. "I was always rearranging the furniture at our house and reading interior design magazines. Back then rooms were much dressier, but that style has been replaced with a sophisticated-casual look."
Kizerian's career began in the fashion industry. "My sister owned a clothing store in Beverly Hills, and I traveled with her to runway shows in Paris and Italy and developed a passion for textiles," he says. He pursued his degree from the Interior Designers Institute of Newport Beach before moving to Utah, and now selects textiles that complement the firm's designs, including upholstery, draperies and floor coverings.
Locke says the firm prefers to begin a project at the architectural planning stage. "I once snowshoed into a lot with a client, and we sat on the hill and planned exactly where the great room would be sited to overlook a stunning mountain peak," he says. "Whenever possible, we like to be involved throughout the whole process. That way we can incorporate a continuity of material within the design that makes the whole house relate. It's advantageous to see where the sun comes up on the site, for example, and think about where the homeowners might like to have specific living areas to take advantage of views."
The firm's contemporary, cohesive spaces convey a sense of calm and order, blending classic forms and modern materials with richly textured fabrics and soothing, neutral colors. "Our designs are serene and clean, and we've been designing this way long before it became a trend," Miller says.
Equal partners in the company, each of the three men is quick to give credit to the others. "Everything we do is a collaborative effort," Kizerian says. "We're a team, we all work really well together — and best of all, we have a lot of fun."