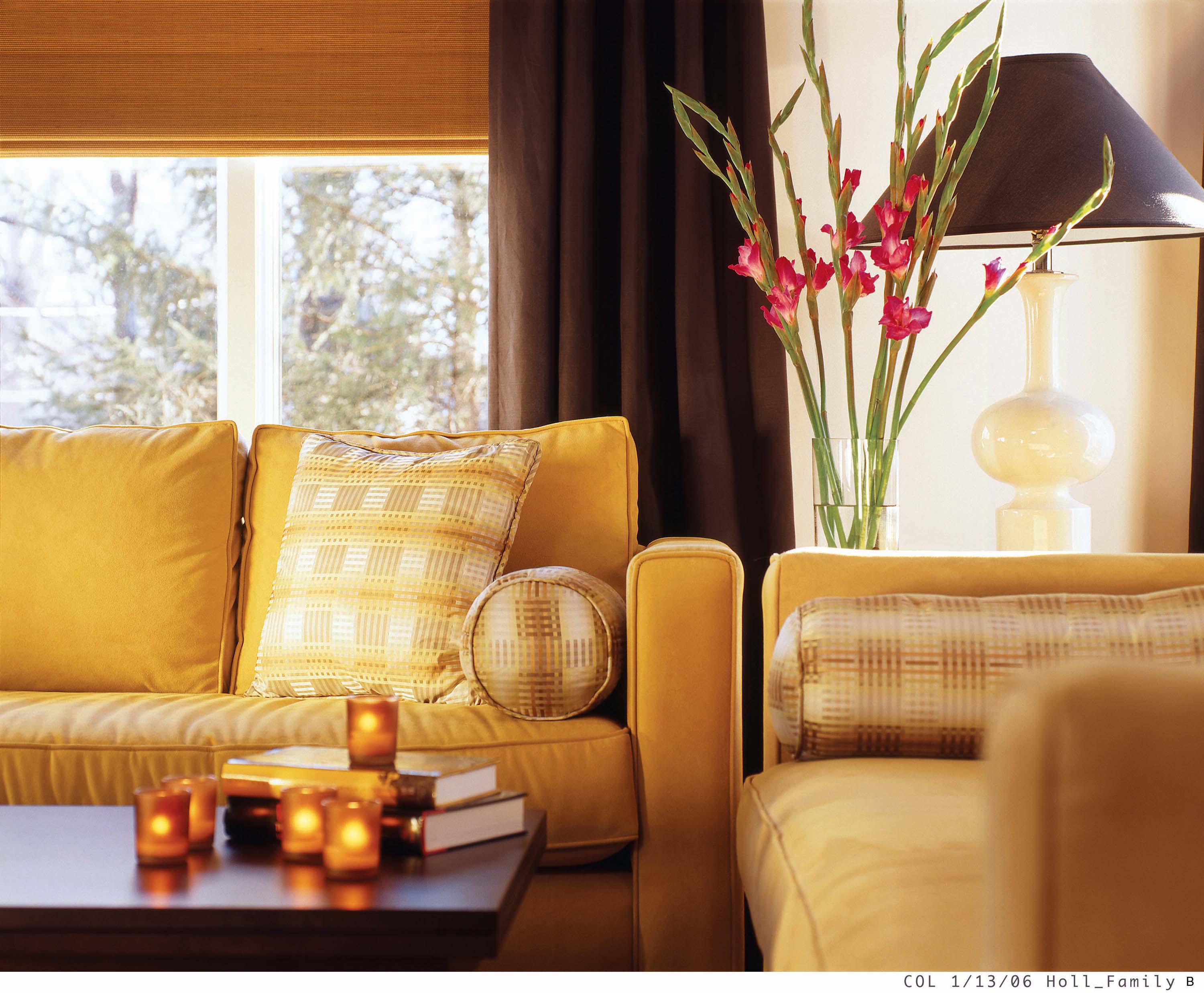 Soft textures and metallic accents blend with muted shades of gold in a comfortable living room.
19 Oct

Designing the West: Modern, Classic and Conscientious
---
When most people go to the movies they become engrossed with the action and characters, but Andrea Schumacher was always fascinated with the backgrounds and props of the stage. So when she turned 18, she moved to Los Angeles to study interior design and follow her dream of creating set designs for film and television. After snagging an internship with the soap opera "Days of Our Lives" and later working for Columbia Pictures during the production of the movie Hook, she eventually returned to Colorado to finish her interior design degree at Colorado State University.
"After I graduated, I took a sabbatical and traveled the world for two years," Schumacher says. "Gaining that global perspective has definitely influenced and inspired my work." She returned to study architecture at the University of Denver, and when she began getting requests from clients for projects she decided to launch her own business.
Today, Schumacher's Denver-based firm, O Interior Design, is a thriving enterprise. She was recognized by House Beautiful magazine as an interior designer to watch in 2010, and the following year was named the Editor's Choice for top interior designer by 5280, Denver's city magazine.
Although her work is primarily residential, it was a commercial project that first catapulted Schumacher into the Denver spotlight when she designed the interiors for Lime, a contemporary Mexican
restaurant that now has six locations. "I brought a modern aesthetic to the project, which was probably influenced by the timeI spent in California," she says. "The all-white interiors have a
hint of green and orange citrus colors that reflect the branding and logo." The striking orange, glowing Plexiglas panels in the original restaurant were actually a solution to camouflage an ugly wall.
Working around existing fixtures and furnishings is second nature to Schumacher, who says her design philosophy is based more on her intuition than a rigid set of principles. Her projects have been widely published, but it's challenging to pigeonhole her distinctive sense of style. She has a knack for blending elegant pieces in a fresh way. "I might use traditional patterned drapery and pair it with a clean-lined, contemporary chair," she says. "Or I might do just the opposite and upholster a Victorian sofa in a modern fabric to juxtapose the classic and contemporary."
When it comes to financial considerations, her approach is equally unconventional. "I never start with the budget," Schumacher says. "Instead, I begin by creating the best design possible. I always consider what my clients already have, and try to repurpose and reuse whatever I can. Once the concept is done, we work backwards into the budget. That way my clients can keep the elements they're in love with, and we can make adjustments in other areas. It's a system that works well for me."
O Interior Design has the tools to create conceptual CAD drawings, but Schumacher prefers to provide her clients with hand-drawn renderings that are like miniature works of art. "We just like to do them by hand," she says. "They're less sterile and show the design in a softer way."
Schumacher is also passionate about using eco-friendly materials and practices. "It's obviously much easier to go into a house, get rid of everything and start with a clean slate — but that's not how we work," she says. "It's more challenging to incorporate existing furnishings, but that's part of the fun. We reuse as much as possible, and I try to guide my clients toward environmentally responsible choices."
Janie Brown worked with Schumacher for the interiors of her family's new four-bedroom, six-bathroom home in Boulder. "Andrea helped us create a family home, from top to bottom," Brown says. "She's easy to work with, and I could tell she was genuinely interested in understanding our family and lifestyle. We have two small children and pets, and we wanted a home that reflected our style but was also functional. Andrea was able to help pull together a huge project, and when you walk through the house you really understand how the rooms are different and yet everything ties together."
Schumacher specified energy-efficient light fixtures for the home, which has many green features and received a stellar 44 Home Energy Rating System (HERS) score. "Andrea's talent is blending the traditional, contemporary and green elements — with just a touch of old Hollywood glamour," Brown says. The praise is fitting for Schumacher, a designer who has successfully melded her youthful dream of stage set design with interiors that work for today's modern world.