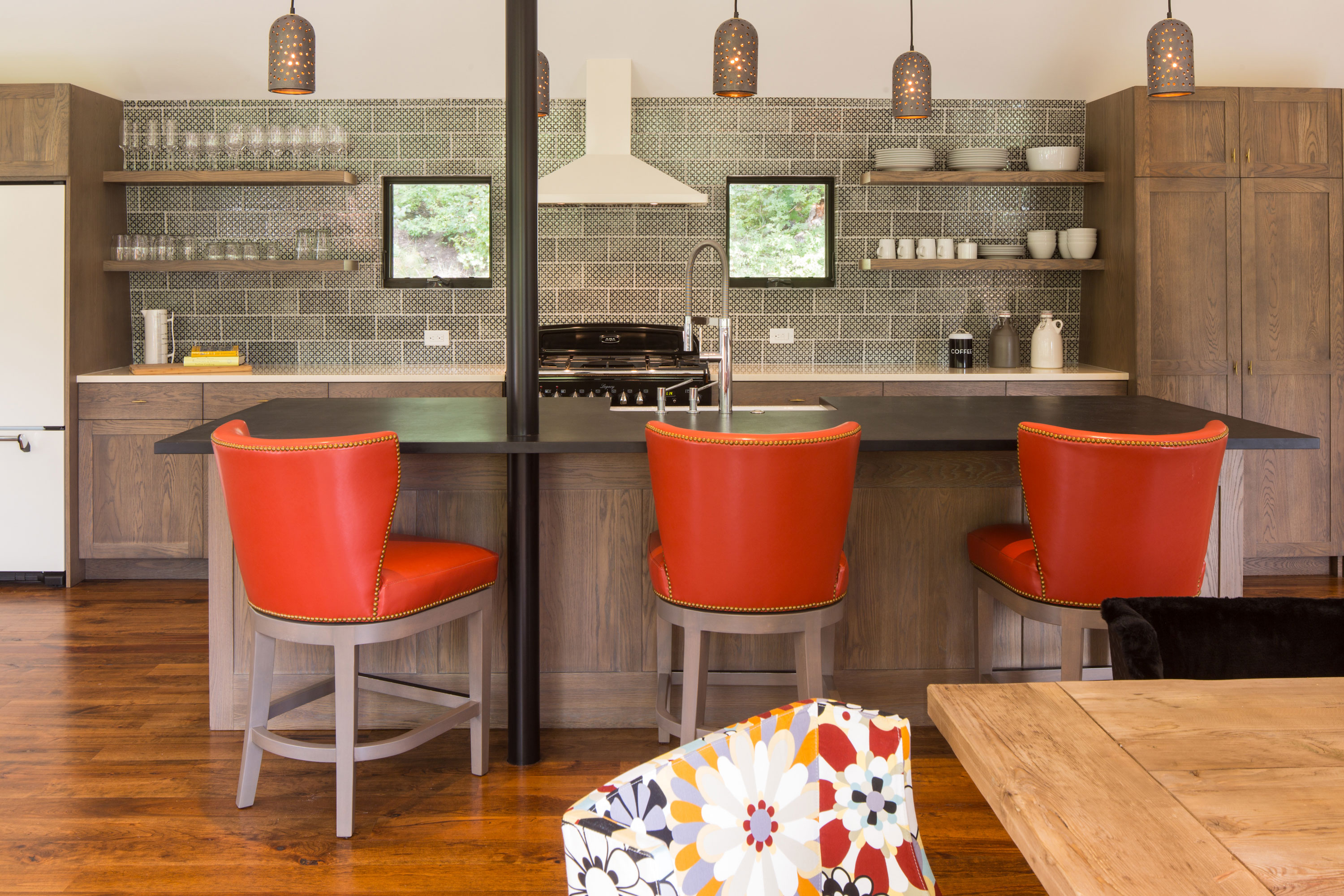 Orange Jensen custom bar stools in Brentano fabric brighten a Jackson kitchen with a Pratt & Larsen hand-painted tile backsplash and pendant lights from J Schatz. Photo: David Agnello
04 Aug

Designing the West: Simply Divine
---
Like many people, Jennifer Prugh Visosky was deeply affected by the events of September 11, 2001. "At that time I was very busy professionally, traveling often between Los Angeles and New York," she says. "After 9/11, I began to reexamine what was truly important. My mother gave me a copy of Small Graces by Kent Nerburn. It's a beautifully written book about living life to the fullest, seeing the beauty in small things, and keeping life simple." Visosky's soul-searching eventually led to her decision to move back to her hometown of Jackson, Wyoming.
She was born and raised in the resort town, where she says her family always encouraged her creativity. "When I was a kid, I would make these little hand-drawn floorplans and rearrange my furniture," she says. "I can remember waking up the next morning, and the space would feel so different; my bedroom was always my childhood happy place."
After high school, she enrolled at the University of Arizona ("I wanted to go somewhere hot") and earned a business degree. Visosky then moved to California and worked as a buyer for Neiman Marcus, and later in sales for One Kings Lane and Victoria's Secret's Authentic Fitness division. After 12 years away from Wyoming, though, she missed the mountains and longed to return to her family.
"When I moved back to Jackson, I was ready to strip things down to what really mattered," Visosky says. She decided to get her real estate license, and soon sold a condominium to a California couple who would be pivotal in setting her new career direction. "The buyers asked me for advice in updating the space, and ended up giving me a budget and letting me redesign their home," she says. "Their confidence was an unexpected blessing that helped me discover what I love to do."
Visosky pursued a residential design degree from the Art Institute and launched her own business in late 2003. Remembering the book that had inspired her, she named her company Grace Home Design. "The word 'grace' felt right, and its meaning spoke to the aesthetic I was drawn to — doing design work that is graceful, livable and breathable," she says. She sent 300 handwritten announcement cards to everyone she knew, and has been busy ever since.
"I don't follow a formula," Visosky says. "Instead, I do what feels good and right for the client; my process is completely driven by relationships. People are complex, and I pull inspiration from many levels — how they dress, how they live, their approach to fitness. My process is part listening and part intuition to find the colors, textures and finishes my clients will love."
Her work often features an eclectic mix of clean-lined furnishings blended with distinctive light fixtures and art. "I look for styles that are classic and timeless, and tend to stay away from fashion trends with a short shelf life," she says. "I love playing with tones, palettes and patterns, and I love textiles; fabrics are a great way to introduce texture in the mountain environment, where people want to feel cozy and warm — especially when it's white and snowy outside."
Visosky says her clients' homes and workspaces should feel like an extension of their personalities. "I want them to feel listened to, and I want our designs to resonate with them. My job is to narrow down all the choices so they aren't overwhelmed. Ninety percent of the time, my first instinct of what they'll like is what they end up choosing."
"Jennifer has this amazing ability to see around corners," says Dave Warren, who worked with the designer when he and his wife, Darbi, remodeled their Jackson retreat. "We had a dated house with an unfinished walk-out basement that we gutted. Our style was more traditional, but Jen encouraged us to blend some contemporary influences with the Rocky Mountain elements. She helped us choose wonderful lighting and art, and suggested things we never would have thought of, like widening the halls and raising the ceilings to open up the basement space. She nailed the design, and our home is so much more livable now."
Grace Home Design is headquartered in a west Jackson building that houses other creative businesses (including the studio of artist Peggy Prugh, Visosky's mother). The company's showroom is a bright, light-filled space with tall ceilings and a fun, whimsical atmosphere where Visosky's two daughters can play. "My daughters love to come with me to the office," she says. "It's a balance running a business and being a mom, but I seem to do my best work when I've got a lot of balls in the air. Besides, I've learned to recognize and appreciate a way of life that keeps me in tune with who I am."