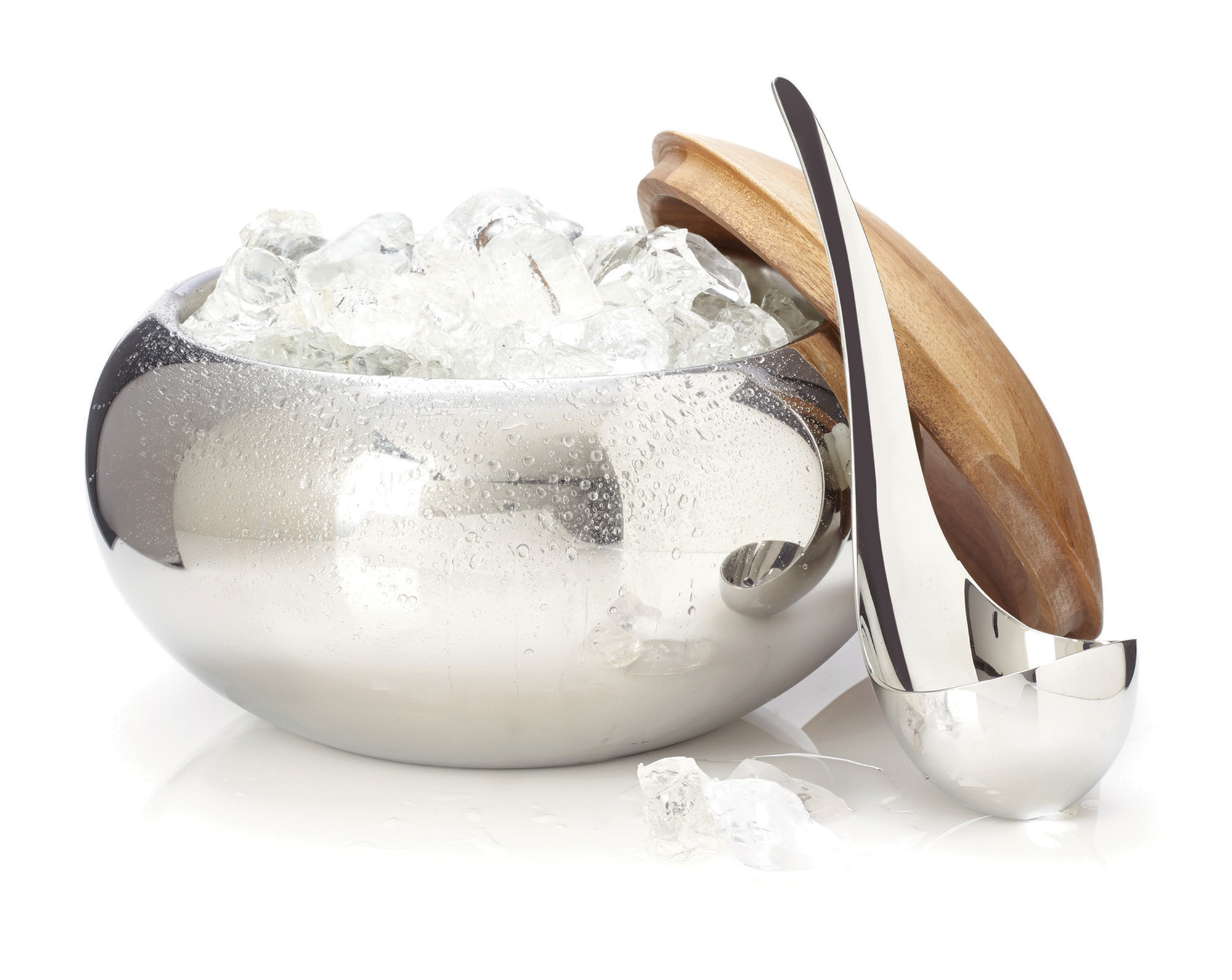 13 Jan

Details: Things We Love
---
Scoop Ice Bucket from Nambé
Make an artistic statement at your next party. Nambé,  a popular name in Santa Fe, New Mexico, where the company began, has grown in prestige; both the British Museum and the Museum of Modern Art have Nambé pieces in their collections. Made of an alloy metal that never needs polishing, as does sterling silver, it stays bright and beautiful for years. Designed by Wei Young, this ice bucket has a built-in scoop in its lid. Who wouldn't love this stylish item as an addition to their bar, if for no other reason than to start a conversation?
$150 | Stainless Steel, Acacia Wood | 5.7 x 9 inches | 800.443.0339 | nambe.com
Metamorphosis Dining Table by Boca do Lobo
Part of its Metamorphosis series, this bold dining table by Boca do Lobo is made from walnut-root veneer with textured inlay details of sculpted fossils on its top. As a statement piece, it's perfect for those who desire a distinctive table to set. Built using Old World techniques, each table incorporates refined skills such as wood carving, joinery, metal cutting and hammering, and finally, it's polished to a shining gleam.
$21,270 | Brass, Wood, Walnut-Root Veneer | 129 x 51.2 x 29.9 inches | 351.910.010.529 | bocadolobo.com
Kate Krasin: Luminous Prints by Pomegranate Press
Kate Krasin [1943–2010] mastered the art of silkscreening. A worshiper of nature, her brightly colored landscapes of the Southwest feel, to many, like that of fellow Santa Fe, New Mexico, artist Gustave Baumann [1881–1971], who was renowned for reviving woodblock printing. Krasin pushed the boundaries of silkscreen printing, at times taking a month to create one piece using only hand-cut screens. Some of her pieces required 40 screens, and she formulated each color to result in works rich with texture. Now, you can enjoy Krasin's work through a recently published book by Pomegranate Press. Through 60 images and an essay by Carmen Vendelin, curator of art at the New Mexico Museum of Art, the book offers a rare, human portrait of this printmaking pioneer.
$29.95 | Hardcover; 11 x 9 inches | 800.227.1428 | pomegranate.com
Shimmer Side Tables by Patricia Urquiola
Patricia Urquiola is one of the hottest names in Spanish design. It all began at the 2014 Salone del Mobile where she debuted her exciting Shimmer Collection. Presto! It was an instant success. She has expanded the collection to include this extraordinary table that can join similar pieces, such as a mirror or a set of wall shelves. We imagine this side table standing as a sparkling gem near a crisp modern couch in a living room. Its glass top is supported by rounded-glass legs that can be made milky white or with an iridescent finish, displaying colors that vary according to the angle of the light and the viewer's vantage point.
$2,411 | 20.5-inch diameter | 212.421.3300 | suiteny.com
Painted Drum by Steven Derks
Steven Derks has an interesting tale of how he came to be an artist. It was during a time in his life when he was delivering medical supplies and food to the drought-devastated Tarahumara people of Mexico. "I began trading medicine and food for their ceremonial drums, then I would paint on them," he says. "My experiences in Mexico led me to produce art in a focused way." We particularly love the colors, figure and shapes painted on this drum, from a vivid watermelon to a serene butterfly.
$2,200 | Enamel on Goatskin with Wood | 26-inch diameter | 520.370.1610 | stevenderks.com
Pet Camper by Straight Line Designs
Judson Beaumont of Straight Line Designs began creating furniture the year he graduated from the Emily Carr Institute of Art and Design in Vancouver, Canada. By studying both sculpture and furniture making, Beaumont was led to a place where most furniture makers wouldn't dare go. He designed his first pet camper for his daughter and her dog and, as creativity flowed, many different motifs were born. Now, the demand for pet campers is catching up to the demand for his other furnishings. We love this distinctively different pet camper almost as much as we love our pets.
$1,600 | 14 x 35 x 19.5 inches | 604.251.9669 | straightlinedesigns.com
Sculptural Log Holder by Metal Squared
We love when we happen upon something artistic that serves a functional purpose as well. For that reason, we were thrilled to discover this log holder by Metal Squared. Created by artist Rand Marco in Santa Fe, New Mexico, the holder comes in either matte black or etched aluminum with a high-gloss finish. Part of a line that includes colorful metal baskets, furniture, jewelry and sculpture, each piece is handcrafted. With this by your fireside, you might find yourself stacking logs with a little extra flair.
$325 | 42 x 14 x 15 inches | 505.603.0382 | metalsquared.com
Aries Urn by Kelly Cozart
For years, artist Kelly Cozart has won the hearts of collectors with her animal sculptures. She creates them with an understanding of folklore, giving each a dimension that goes beyond the basic. In this cast-bronze ram urn, she takes note of the ram as Aries, a reawakened spirit noted for its strength and courage. The artfulness of this urn makes it a perfect vessel for honoring someone who has passed. Cozart also accepts commissions and will create an urn that features your loved one's favorite animal.
$5,000 (Edition of 20) | Cast Bronze with Verdigris Patina | 13.75 x 8 x 8 inches | 505.989.4900 | worrellgallery.com
Custom Backgammon Set by Artisan Lane Designs
A collaboration between an 82-year-old father-in-law and his electrical engineer son-in-law led to the establishment of Artisan Lane Designs, whose backgammon sets easily serve as keepsakes. Made from exotic wood such as purpleheart, wenge and Mexican rosewood, you'll also find sets made with Indian laurel, juniper and, a favorite of designer Bert Rushford (the younger of the two), spalted tamarind. Sam Bair, the elder, and a furniture maker by trade, is an avid backgammon player. He cautions Rushford not to make the boards too "artsy" lest they become a distraction. "As an engineer, I lean towards toward accuracy and precision," Rushford says. "Sam's approach is much more rustic — call it Old World, handmade craftsmanship. This balance between our different perspectives makes for a wonderful combination." Each backgammon set is one-of-a-kind, handcrafted with the wood of your choice, so sizes may vary.
$1,250 | Various Woods | Roughly 19 x 24 inches | etsy.com/shop/ArtisanLaneDesigns
Riley Sofa by Pacific Furnishings
Pacific Furnishings, founded in Arizona in 1952, is a respected, high-end furniture manufacturer creating "green" designs. The frames of its sofas and chairs are made from sustainably harvested, kiln-dried alder, and they're built to last a lifetime. The company also features the traditional luxury of down, leather and custom fabrics along with handcrafted quality. This aubergine velvet sofa is the creation of Eric Crook, one of the many talented artists living in Phoenix who collaborated with Pacific Furnishings to showcase Arizona designers. It offers rounded corners and cutouts in just the right places. Button tufting on the back makes it sassy yet elegant. The fabric is from Robert Allen for Beacon Hill and the trim is Robert Allen Patent Cord Bronze. Choose your colors and your fabrics — custom work is Pacific Furnishings' specialty.
$5,000 – $7,000 | 86 x 36 x 40 inches | 480.905.6953 | pacificfurn.com