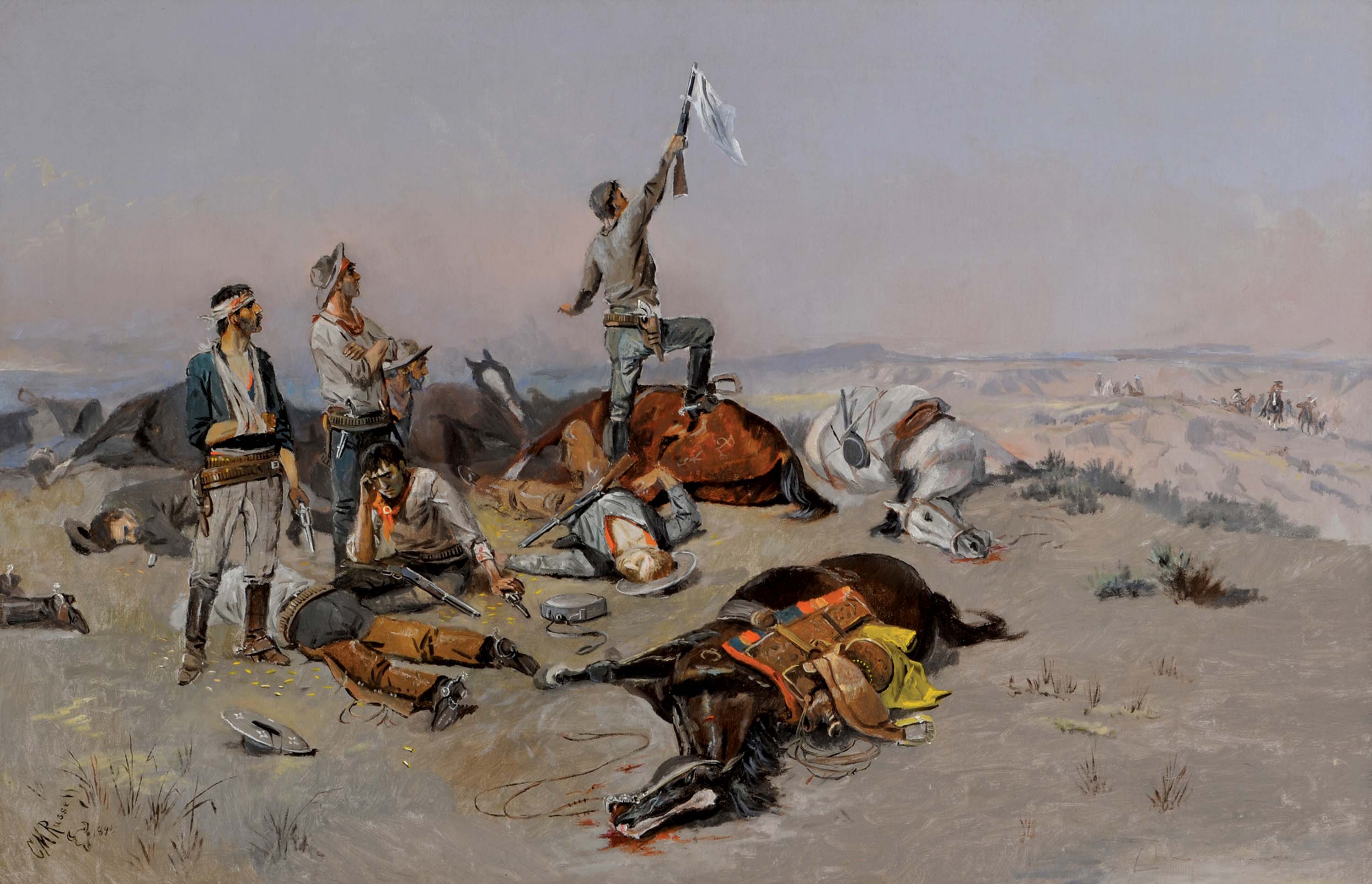 Charles M. Russell, "Offering a Truce [Bested]" | Oil | 25 x 35 inches | 1895 estimate: $1,300,000 - $1,800,000 Sold: $1,250,000
09 Jun

Auction Block: Gathering Sales
---
Spring art season out West leans toward the traditional Western genre, gathering the best works from masters such as Remington and Russell to celebrate the legacy of American icons. Specifically, that means Western Art Week in Great Falls, Montana, where a celebration of the original cowboy artist, Charles M. Russell, elicits a gathering of artists and collectors who travel to the Northern Rockies from all over the country.
This year's events offered a whirl of a week including the C.M. Russell Museum's annual benefit auction, The Russell; a trending group of established artists who've formed the Russell Skull Society; Manitou Gallery's March in Montana auction; quick finish events; design shows and the long-running Western Masters Show.
The standout of the spring season was in Arizona at the 10th annual Scottsdale Art Auction. Hammering out an impressive sales total of $12.6 million, breaking its own auction records from previous years and marking $100 million in overall sales in a decade, it's clear that Scottsdale remains an auction to watch. Partners Brad Richardson, Michael Frost and Jack Morris Jr., elevated the quality of the sale to break individual artist records and set the precedent for the coming year's auction season.
---
Phillips Modern and Contemporary Editions Auction,
April 28, 2014
---
Producing strong results for a small sale of high-quality contemporary masters, the New York sale totaled $4,397,563. That amount included works from Andy Warhol, Frank Stella, Roy Lichtenstein, Pablo Picasso and others. Renowned California artist Richard Diebenkorn set a record for his 41 Etchings Drypoints, 1963-5, which sold for $233,000.
"We were elated at the positive response, bidder turnout and final results from [April's] evening and day editions auction, where 25 record prices were set in the evening sale alone," said Kelly Troester and Cary Leibowitz, co-worldwide directors for Modern and Contemporary editions. The top prices were the culmination of blue-chip artists, buzzworthy images and an enthusiastic audience that created a full auction room with lively and dynamic bidding for a wide variety of prints and objects.
---
Scottsdale art auction, April 5, 2014
---
Celebrating a decade of the Scottsdale Art Auction, Brad Richardson, auction partner and proprietor of The Legacy Gallery, opened with a tribute to the contemporary artists who had been commissioned to create a piece to sell at auction and granted the Award of Merit, a $15,000 prize selected by ballot, to Kyle Polzin for Mystic Warrior. The 74-by 30-inch oil painting went on to sell on the auction block for a stunning $287,500, well above the $30,000 to $40,000 presale estimate. In the end, that excitement was a telltale sign for a successful event that totaled $12.6 million in sales and sold through 91 percent of 354 lots.
Frederic Remington's The Thermometer from Ten to Thirty-Three Degrees Below Zero, estimated from $500,000 to $700,000, was the top lot of the day, selling for $920,000. A small, but exquisite 1899 Charles M. Russell watercolor, Nobleman of the Plains, fetched $241,000.
The contemporary market was exceptionally strong. Four paintings by Howard Terpning hammered down for $1,552,500 and Martin Grelle set a new world auction record when his Dust in the Distance, a 48-by 64-inch oil, (estimate: $200,000 to $300,000) sold for $575,000. Five other Grelle oils brought the grand total for the Cowboy Artist of America leader to $998,200.
In addition, Cowboy Artists of America founders George Phippen, Johnny Hampton, Charlie Dye and Joe Beeler were all represented in the sale. Beeler set a new world auction record when his oil, Spellbound, sold for $69,000.
Seven oils by contemporary wildlife master Ken Carlson sold for a total of $272,550, leading a strong field of wildlife and sporting artists, including Bob Kuhn, Luke Frazier, Tucker Smith and Dan Metz. Shine Smith's Christmas Party, an unusual Native American subject for nationally acclaimed sporting art painter Robert Abbett, set a new auction record when it sold for $36,800.
Finally, G. Harvey and Clark Hulings, consistent leaders at the Scottsdale Art Auction, were also well represented. Nine G. Harvey oil paintings sold for a total of $512,900, and a rare oil by Clark Hulings, Mule Cart with Red Pitcher, estimated at $20,000 to $25,000, brought $37,375. Also of note, the American still-life master David Leffel set a new auction record when his Anasazi Vase with Mayan Plate & Chinese Lanterns (estimate: $35,000 to $55,000) sold for $69,000.
---
Cattlemen's Western art Show and Sale April 4, 2014
---
"The best show ever," was the comment that echoed throughout the evening by patrons attending the artists' reception that launched the 24th annual Cattlemen's Western Art Show and Sale in San Luis Obispo, California. An exceptional variety of art and the addition of 18 new artists brought attendance and sales up by 10 percent over last year, according to organizers. The San Luis Obispo Cattlemen's Association barbequed the hors d'oeuvres, accompanied by 10 wineries. Lively conversations and sales continued throughout the weekend, which closed with the presentation of the Peoples' Choice Award granted to scratchboard artist Paul Hopman and the Artist's Choice Award to Vicki Catapano, both of whom are first-time artists to this show.
---
Altermann Galleries Spring auction April 3, 2014
---
Winding down the spring season in Scottsdale, Altermann Galleries brought an impressive span of historic and contemporary works to the block for a total of $2 mil- lion. Offering close to 500 works from artists who ranged from the Taos Society to the Cowboy Artists of America, the two-session sale set a record for Melvin Warren, whose 36- by 60-inch, oil on linen painting, Approaching Storm, sold for $198,000.
Other impressive works by deceased masters such as Albert Bierstadt, C.M. Russell, Frank Tenney Johnson and Joseph Henry Sharp, among others, drew interested collec- tors to the sale. Bierstadt's painting, Rocky Mountains, sold for $87,600. A bronze from C.M. Russell sold for $33,600 and a watercolor by Edward Borein fetched $16,800.
On the current front, a work from Tom Gilleon sold within the estimated range at $36,000. Andy Thomas' oil on linen, Four Bears and the Cheyenne, sold just below the estimate at $48,000, while John Coleman, John Nieto and bronze artist T.D. Kelsey performed well.
---
The Russell, an Exhibition and Sale to Benefit the C.M. Russell Museum March 20 – 23, 2014
---
Packing the schedule as the show-case for Western Art Week in Great Falls, Montana, the C.M. Russell Museum shined this year, with a record number of events and sales.
Grossing $6.19 million, plus an additional $120,000 from the educational paddle raise, the museum trumped the 2013 record of $3.6 million.
"It is rare to have one or two significant, original Russell artworks in an auction, let alone a dozen, all with exceptional provenance. This year we were aggressive in making changes and adding new events to The Russell. We wanted this year to surpass all others, and thanks to patrons, artists, our sponsors and the community, we vastly exceeded our goals," explains Steve Whisler, chairman, C.M. Russell Museum board of directors.
The Russell live auction took place at a new venue, the Mansfield Convention Center. It featured in excess of 150 lots of fine art, including more than a dozen original Charles M. Russell artworks. More than 90 percent of the lots in the live auction sold for a total of $5,440,000.
Notably, Charles M. Russell's illustrated letter from 1887 titled Friend Pony [William W. "Pony Bill" Davis] sold for $135,000. Russell's watercolor of a Piegan war party, Bringing the Stolen Herd Home, brought $200,000. Russell's 1890 oil painting, Deer Hunters, went for $325,000. Russell's 1924 watercolor, Trail of the Iron Horse, sold for $350,000. Works by Will James and N.C. Wyeth brought in $800,000 collectively. The highlight of the night was Russell's 1895 oil painting, Offering a Truce [Bested], which sold for $1,250,000. This is the highest-price piece ever sold at The Russell live auction.
The Russell's success is due both to established and new events that took place throughout the weekend. The silent auction of fine art, objects and unique travel experiences raised $432,000 in gross sales. More than 600 guests attended the event. The Russell Art in Action was another successful sellout, grossing $200,000 in sales, 100 percent of which was donated to the C.M. Russell Museum.
New to the event lineup was the First Strike Friday Night Auction at the Mansfield Convention Center, sponsored by Nancy and Joe Masterson. The event was a hit with 40 works by top-trending Western artists selling for a gross total of $120,000.
---
March in Montana March 21 – 22, 2014
---
The 27th annual March in Montana show and auction played a major part in the events surrounding the celebration of the 150th birthday of Charles M. Russell, cowboy legend and artist.
Held at the Townhouse Inn in Great Falls and conducted by Manitou Galleries and The Coeur d'Alene Art Auction, the sale achieved just above $1.5 million over the two-day sale, held March 21 and 22.
With nearly 700 bidders participating, the sale began with an Edward Borein etching dropping the hammer at $9,440, more than twice the high estimate, setting the pace for an exciting sale. Other highlights included Andy Thomas' stunning depiction of a fierce party of Crow warriors headed into battle. Showcased throughout the preview, it fetched an impressive $63,250. A beautifully rendered drawing by Olaf Wieghorst commanded $4,600, a Gilbert Gaul camp-fire scene fetched more than $7,600 and a Joseph Henry Sharp landscape of Taos Canon brought just above $43,000. Beloved artist John Fery's In the Open brought $10,620. Well-known Montana artist Ace Powell fared well, too, with nearly a dozen works offered in the sale.
Also known for featuring high-quality Indian material, other highlights included a 19th century pair of Sioux girl's boots selling for $7,200 and an antique J.B. Moore crystal runner fetching just north of $16,000.
The event boasted a fine selection of bronzes, including C.M. Russell, E.E. Heikka, Bob Scriver, Vic Payne, Truman Bolinger, Harvey Rattey, Cyrus Dallin, Frederic Remington, Harry Jackson, Joe Beeler and Fred Fellows, among others. Additional items that piqued the collectors' interest were a C.M. Russell engraved printing plate that fetched $6,900 and an extremely rare Planters National Bank of Louisville check dated March 4, 1873 and signed by George Custer, which garnered $3,600.
---
Yellowstone art Museum auction 46 March 1, 2014
---
Launching the celebration of the Yellowstone Art Museum's 50th anniversary, the sale in Billings, Montana, showcased 460 artists and raised $328,000 on opening night. The highest-selling lot was Neil Jussilla's Goshawk at Jordan, which went for $6,750. The artists' donations will support future programming at the museum.
Kyle Polzin, "Mystic Warrior oil on canvas" | 74 x 30 inches estimate: $30,000 – $40,000 Sold for: $287,500
Frederic Remington, "The Thermometer from Ten to Thirty-Three Degrees Below Zero" Oil | 27 x 40 inches estimate: $500,000 – $700,000 Sold: $920,000