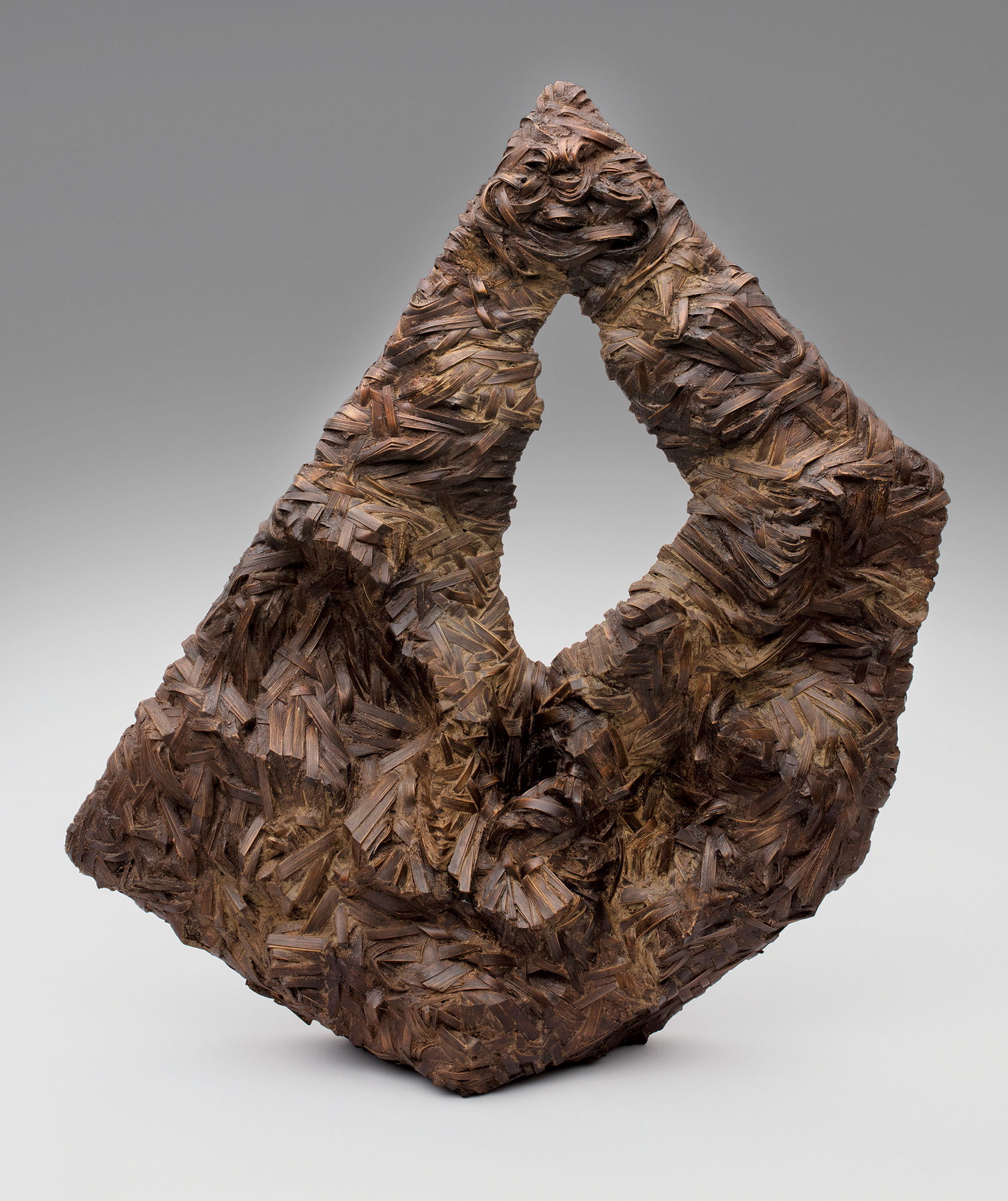 "Rising Peak" | Madake Bamboo and Mixed Media | 43 x 36 x 8.5 inches | 2016
18 Nov

Illuminations: Ones to watch
---
Nagakura Kenichi translates the wind, the leaves as they move on water and the elegant fold of a bird's wing. Using bamboo and washi paper, he threads together the shapes, allowing each piece to develop through a sense of rhythm and flow. Working in this medium for more than 30 years, Kenichi broke from ancient Japanese tradition to create his own unique process.
"In contrast to the traditional process, the way I work allows me more freedom to create multifaceted bamboo sculptures in a variety of shapes and sizes," he says, referring to the common method of starting at the base and finishing at the rim.
"Instead, I prefer the unconventional process of creating one section and allowing it to guide the creation of the rest of the artwork. The actual step-by-step process for a particular work varies from piece to piece, depending upon what I am seeking to convey through the piece."
His work doesn't depend solely upon traditional mediums or techniques, and Kenichi continues to experiment by introducing new materials and textures. However, before he starts any piece, he thinks deeply about what emotion he's communicating to his audience.
"Once I've settled on this emotion, I start to think about what will work to create this vehicle of expression," he says. "It is always a journey of trial and error to find the right material and technique to make it happen. In my previous series, I have created greater substance — what I call visual weight — by applying layers of homemade earthen clay to the bamboo armature beneath."
In his most recent work, Kenichi has changed the theme to find harmony within a dichotomy — visual weight contrasted with lightness.
"I have also found myself interested in bamboo-fiber paper-making, which tells me that the bamboo material I work with can also transform itself into a thin paper. I decided to incorporate this washi paper into the bamboo-and-earth combination to help me bolster the structural integrity of my sculptures. This new technique enables the expression of the theme through the flatness of their forms."
Instead of relying on his past work, Kenichi erases all of his previous work from his mind. He then focuses on his inner voice and waits for images to appear.
"I try to catch a fragment of something that leads me down a creative path," he says. "I have learned to be patient, allowing the unfocused seed to eventually take shape and become solidified in my mind. This formulation process is essential to my art-making."
The bamboo forms evoke a feeling of nature, but not necessarily as a direct connection to the natural world as it is seen. It is rather related to the experiences of nature that every person has within — the memory of nature, shared among the entire human race.
"Light casting a shadow, the decaying of leaves and the sound of the wind are actual natural phenomenon, but these patterns themselves do not spark my imagination," he says. "Rather, the way humans experience these patterns — something more fundamental — is what touches my senses and sparks my imagination."
Kenichi's work has been shown in numerous solo and group exhibitions in Japan, France, Belgium and the United States. His work has been exhibited at the Metropolitan Museum of Art, the Asian Society, the Japanese Society, and The Museum of Art and Design in New York, New York; Museum of Fine Arts in Boston, Massachusetts; Asian Art Museum in San Francisco, California; New Mexico Museum of Art in Santa Fe, New Mexico; Chicago Cultural Center in Illinois; Denver Botanic Gardens in Colorado; Herbert F. Johnson Museum of Art at Cornell University in Ithaca, New York; and the Ishigami-no-oka Museum of Art in Iwate, Japan. He is represented by TAI Modern in Santa Fe, New Mexico.
---
Editor's Note: Parts of this interview were translated from Japanese.