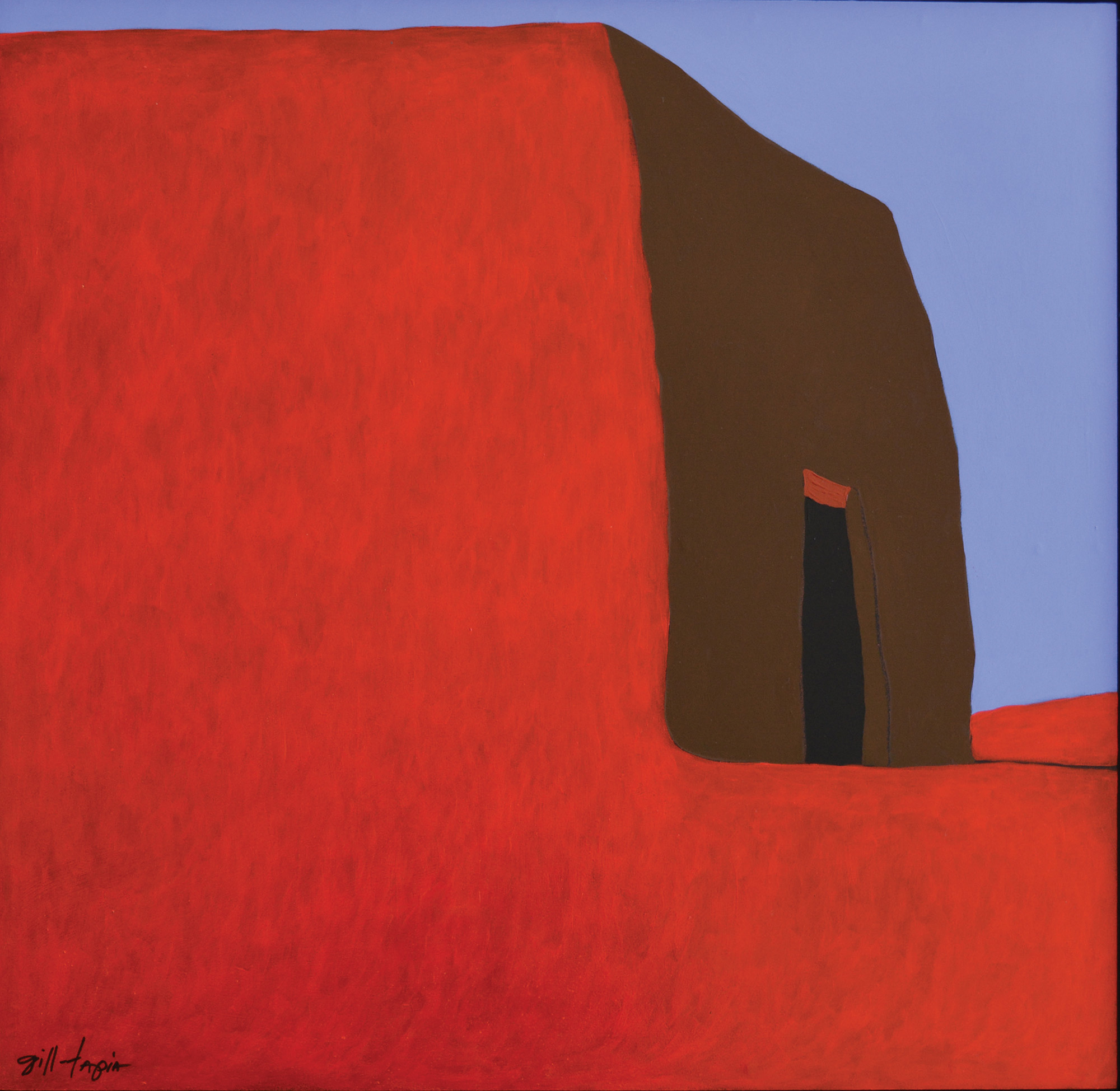 "Trucahs Violet Sky" | Acrylic on Panel | 22 x 22 inches
16 May

Illuminations: Ones to watch
---
Alvin Gill-Tapia's portraits of place evoke the comfort of community and celebrate the joy of light. Classically trained in oil painting, Gill-Tapia now works in acrylic, taking advantage of the bright colors and quick drying time. In his works, he conveys New Mexican cultural heritage through its landscape and historic buildings.
"New Mexico's architecture lends itself to the simplification of form that I love," Gill-Tapia says. "The adobe structure, with its soft, flowing lines and bright colors next to cast shadows, are all very important to my work."
His style brings forth the nature of an area while reducing the subject to a few forms and colors. New Mexico's architecture plies a less-is-more philosophy; the great expanses of color simplify the landscape, while his incorporation of gold, copper and silver leaf into the paintings reflect light.
"There's a huge contrast between light and dark; the gold gives you a stunning brightness," he says. "It allows the subtle movement of light and reminds me how light is continually changing."
Born and raised in Santa Fe, New Mexico, Gill-Tapia studied textile design for four years in Brussels, Belgium, under weaver and painter Maud Henon. Then, he spent 10 years in New York, where he took classes in painting, drawing and anatomy at the Art Student's League of New York, The New York Academy and the National Academy of Art. After 16 years in New York City, he decided it was time to return to New Mexico.
"Coming to New Mexico, my work changed tremendously," Gill-Tapia says, noting that prior to returning to the Southwest he was painting realism, layering oil paints in a translucent style. "[New Mexico] gave me the large expanses of block colors. I was doing still life… and the Native American pueblos had a personal effect on me, which I allowed to influence the architectural paintings."
The buildings Gill-Tapia paints were often the only structures in a community. Purposed for town hall meetings, voting or religious ceremonies, the old Mission churches of New Mexico date back to the 1600s and were typically built by community members who also made the mud bricks used in the structure. The buildings were not waterproof and required constant upkeep; layers of mud added by hand overtime gave the structure a depth of history as well as a textured surface.
Gill-Tapia painted the San Francisco de Assisi Mission Church, a large Spanish Colonial church with massive adobe buttresses and two front-facing bell towers, located in Taos, New Mexico. "Georgia O'Keeffe painted the buttresses; I painted the north side of the building," Gill-Tapia says. His 8-by-4-foot painting was purchased by the Rockwell Museum in New York — voted in unanimously by the entire board of directors — and then became part of a one-year exhibit at the museum.
"It all began with those Mission churches," he says. "After that, I started more research and have incorporated some other structures, including contemporary architecture in Arizona. I'm not opposed to painting people's private homes — if I feel it, I'll paint it."
Gill-Tapia is represented by Manitou Galleries in downtown Santa Fe, which will show his work during the Spanish Market, July 27 and 28. He's also represented by the gallery's Scottsdale, Arizona, location; CasaBella Fine Art in Tucson, Arizona; and Mirada Fine Art Gallery in Indian Hills, Colorado.