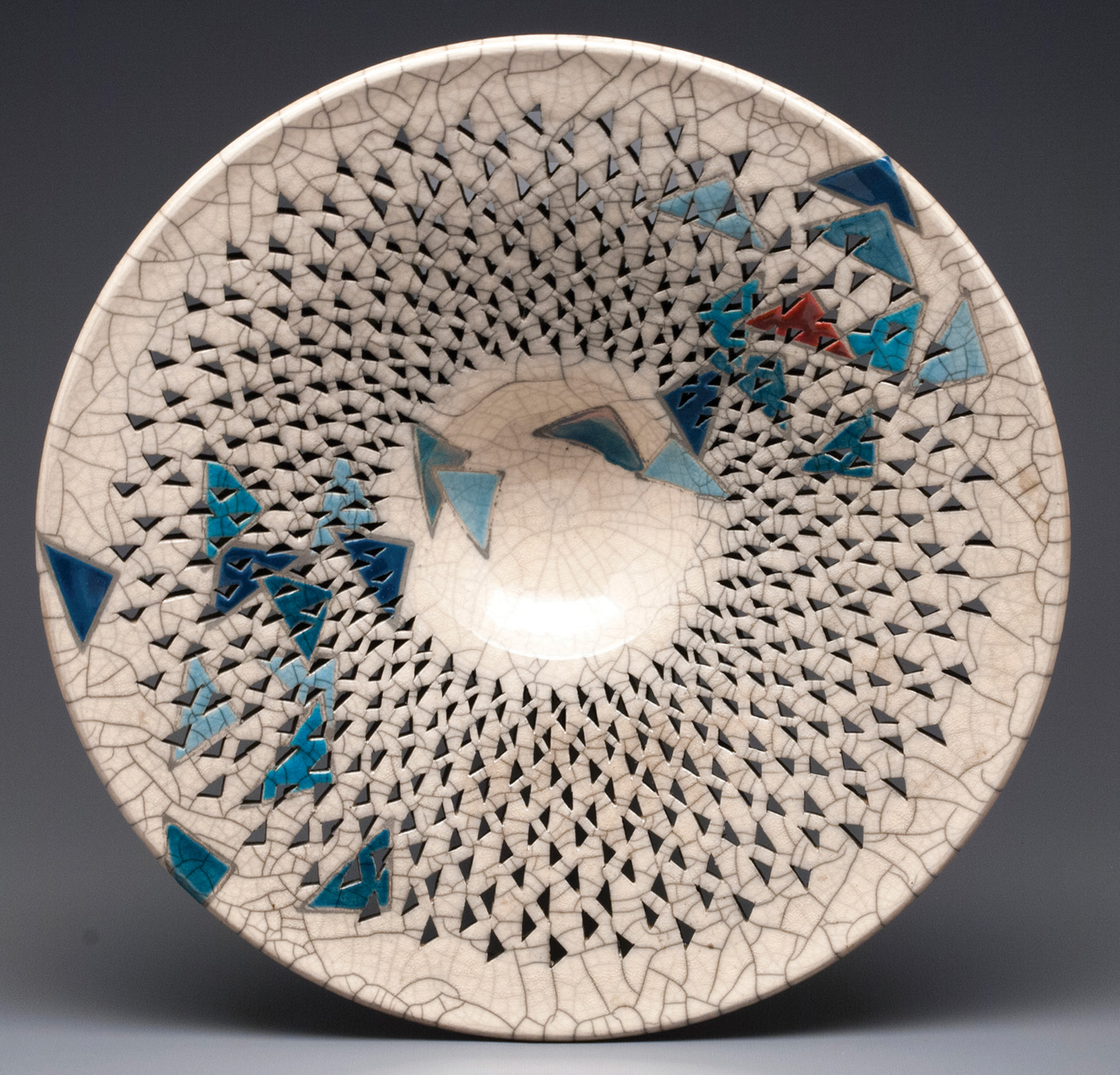 "Birds of Flight" | Ceramic | 3 x 12 inches
16 May

Illuminations: Ones to watch
---
Ceramic artist Eric Stearns uses the raku process to create his intricate designs and unique forms. In raku, the clay is fired at a low temperature. While hot, a combustible material (such as paper or sawdust) is placed on the vessel and ignites to create colors and patterns.
"The primary glaze I use is a crackling glaze, that when cooled rapidly cracks in certain areas more than others," Stearns says. "I view these as veins, paths, trails or shattered dreams."
Stearns relates these lines to the different paths we choose in life, whether they take us to where we want to go and how we don't know where we'll end up.
The ceramicist grew up on a ranch in Nebraska and his work reflects the color palette of the sky and earth. "I do play around with blues and greens. They're calming, relaxing colors, but as an artist, the ultimate goal is to have my pieces in people's homes, and blues are very common in people's homes," Stearns says, adding that despite this recognition, he's also telling his story.
Before he starts a piece, he thinks about what he wants to say and about the form that will best reflect that idea. "If you don't have a good form it can deteriorate the whole thing," Stearns says.
Each piece is gridded out while it's still on the wheel. Then, according to his design, he cuts out small squares with an X-Acto knife. These piercings open up the interior, sometimes appearing as a window into other hidden components he's placed inside. Discovering them is akin to finding a buried treasure.
"My pieces reflect me, I don't create pieces just to make work, each piece is special to me," he says. "I have an idea of what I want, but when I make a piece, like a vase, I throw five of them in case the idea doesn't work out the first time. But each time is a learning opportunity; it takes me to the next step."
To keep it challenging, Stearns doesn't repeat his work; each piece is unique, reflecting the nature of working with fire. In a kiln, anything can happen. "Everyday, people go through struggles — up and down. Like ceramics, you can have a good day or a bad day. I can spend 60 hours on a piece and have it break. I love pulling out a piece from the kiln when everything just works how I want it to."
The geometric patterns Stearns uses in his pottery are influenced by Native American designs as well as Islamic art, but nothing is directly copied from them. He pulls from everything he sees, including furniture and architecture, then uses patterns to tell his story.
Stearns will exhibit his work August 11 through 13 during Sculpture in the Park in Loveland, Colorado. He is represented by Horizon Fine Art Gallery in Jackson Hole, Wyoming.