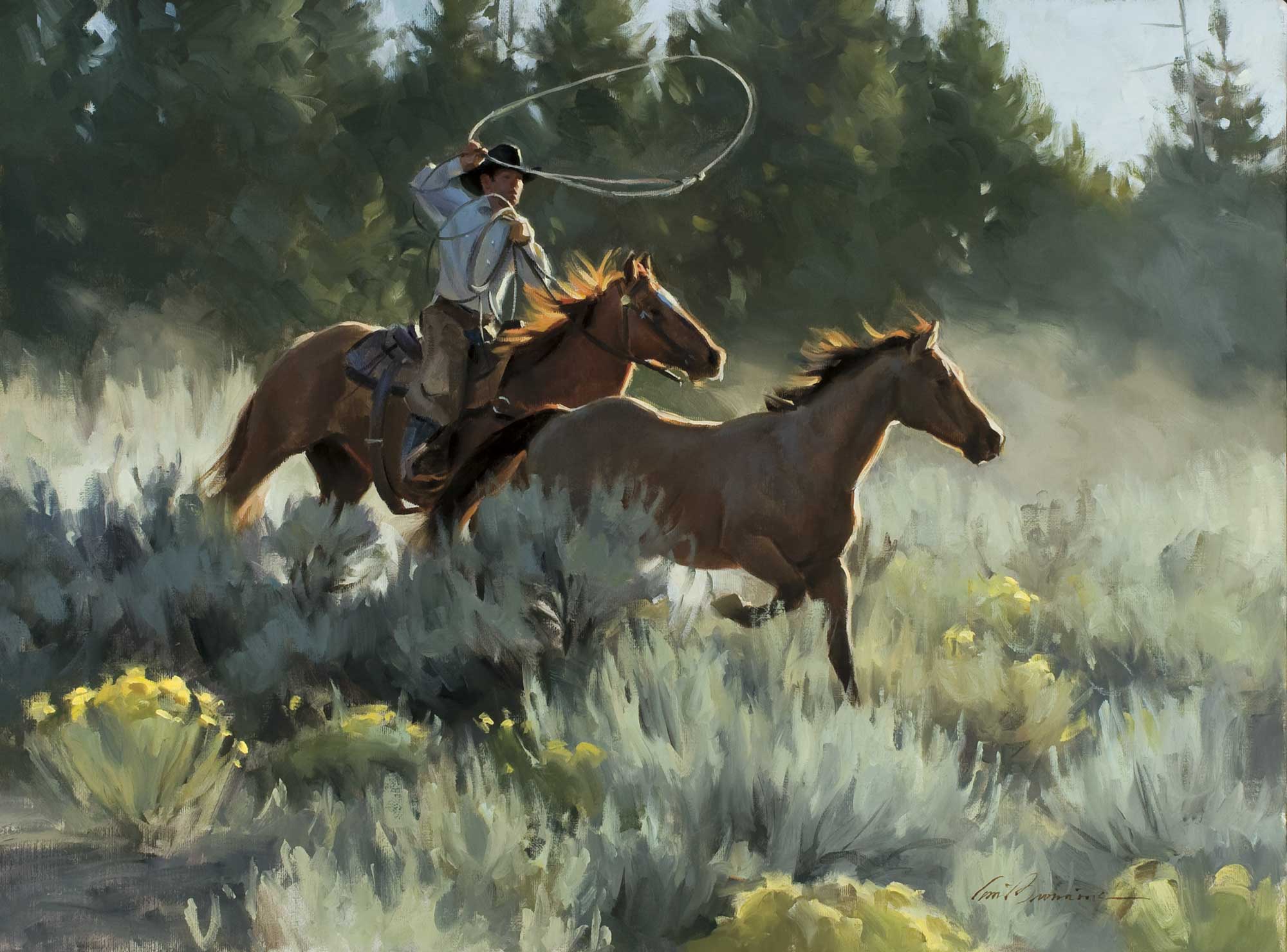 "Bush Poppin" | Oil | 18 x 24 inches
01 Sep

Illuminations: Ones to Watch
---
Tom Browning's Western oil paintings include a figurative aspect as well, while his exquisite sense of light plays across the genres. With an almost Impressionist landscape style in the background, Browning reveals an underlying connection in the feel of Western verve, the daily spark of a life lived outdoors.
Browning's paintings encompass movement and breath, dust so real it gets in your teeth, in rustic and nostalgic scenes full of vigor and immediacy, quiet contemplation and superb technique.
Since becoming a member of the Northwest Rendezvous Group in 1986, Browning has been a four-time recipient of the Jurors Award, and in 1994 received an Award of Excellence from the NWR Group. In 1992 and '93 he was invited to show at the National Academy of Western Art (NAWA) and was a frequent guest painter with the Plein Air Painters of America (PAPA). Browning is a member of the Portrait Painters Society of America, which chose him as a finalist in a 2000 competition in New York City.
In 2008 Browning was invited to participate in the Prix de West at the National Cowboy & Western Heritage Museum. In 2009, his painting, The Dawn of a New Day, won the Prix de West Award. He also will be recognized with a special tile in the Edward L. Gaylord Exhibition Wing hallway, and his painting will take its rightful place in the William S. and Ann Atherton Art of the American West Gallery, in the National Cowboy & Western Heritage Museum in Oklahoma City, Oklahoma.
Browning is represented by the Wilcox Gallery in Jackson, Wyoming, and Clearwater Gallery in Sisters, Oregon.