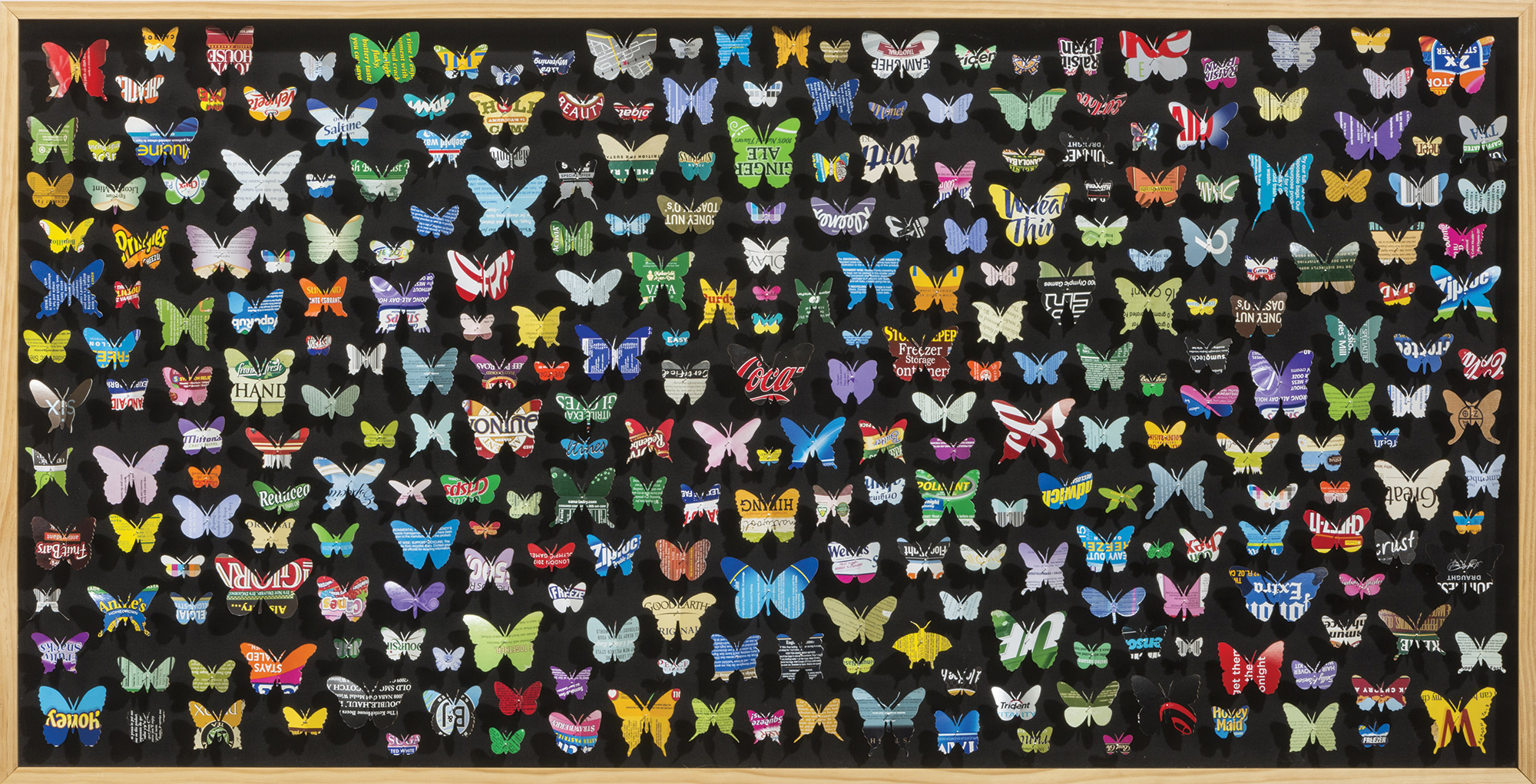 "Specimens XXXIII" | Cardboard Products, Pins and Black Linen | 30 x 60 inches
18 May

Ones to Watch: Terry Karson
---
Terry Karson's assemblages draw us through the trash by the reins of beauty. His work seduces us with its aesthetic, while widening our awareness of the world around us, forcing us to grasp what we throw away. Only through the beautiful do we see the denigration.
Working with recycled materials such as cardboard, plastic packaging, bottle tops and other commercial packaging, Karson transforms garbage into treasure. "It's kind of like alchemy," Karson says, referring to the pseudoscience that transforms matter. "I take stuff that is thrown away and turn it into art. The beauty of the pieces belies their intent, as in much art. You can make ugly art that people will never look at, even though it has a great message."
In his series Specimens, Karson cut life-size cardboard shapes of butterflies from various brands of consumer products such as Cheerios and Kotex. Then he mounted them in a "collector's box" to give the impression of nature and the way it's viewed. The line between irony and critical commentary blurs with Karson's precise dedication to the truth.
"In America, we love to package everything," he says. "It's a huge problem for the landfills. It's completely absurd. The Specimens series is about the species that we're losing through our rampant consumerism. I think of them as existing in the future, where they are the only butterflies we have left."
Karson's solo exhibit, Commons, at the Missoula Art Museum, combined both his concern with thrown out materials and his love of architecture. He transformed the entire interior of the gallery with 13,000 "tiles" made from 4-by-6-inch pieces of cardboard. Each piece was hand-cut from commercial boxes, sanded, vacuumed and sealed before covering the gallery walls and standing as 10-foot-tall columns.
"When I travel anywhere I'm just as happy to look at buildings as I am to look at art," he says. "With this exhibition, I was very influenced by my travels in Italy and Turkey. When I got home from traveling, I had accumulated quite a bit of cardboard packaging. I had all this material and this idea of these tiles. It seemed like a natural way to go with them."
The nine columns in Commons took Karson two years to complete and the show took four months to set up. Each tile was mounted on foam core and placed on panels to exactly fit the gallery space. As a result, Karson was approached by a patron and commissioned to construct an entire wall of tiles.
His work appears in many public and corporate collections. Karson's museum shows include exhibitions at the Yellowstone Art Museum in Billings, Montana; the Holter Museum of Art in Helena, Montana; the Paris Gibson Square Museum of Art in Great Falls, Montana; and the Walton Arts Center in Fayetteville, Arkansas. His work is represented by Visions West Gallery in Bozeman and Livingston, Montana, and Denver, Colorado; Gallatin River Gallery in Big Sky, Montana; Collage Gallery in Bigfork, Montana; and Flanders Contemporary Art in Minneapolis, Minnesota.