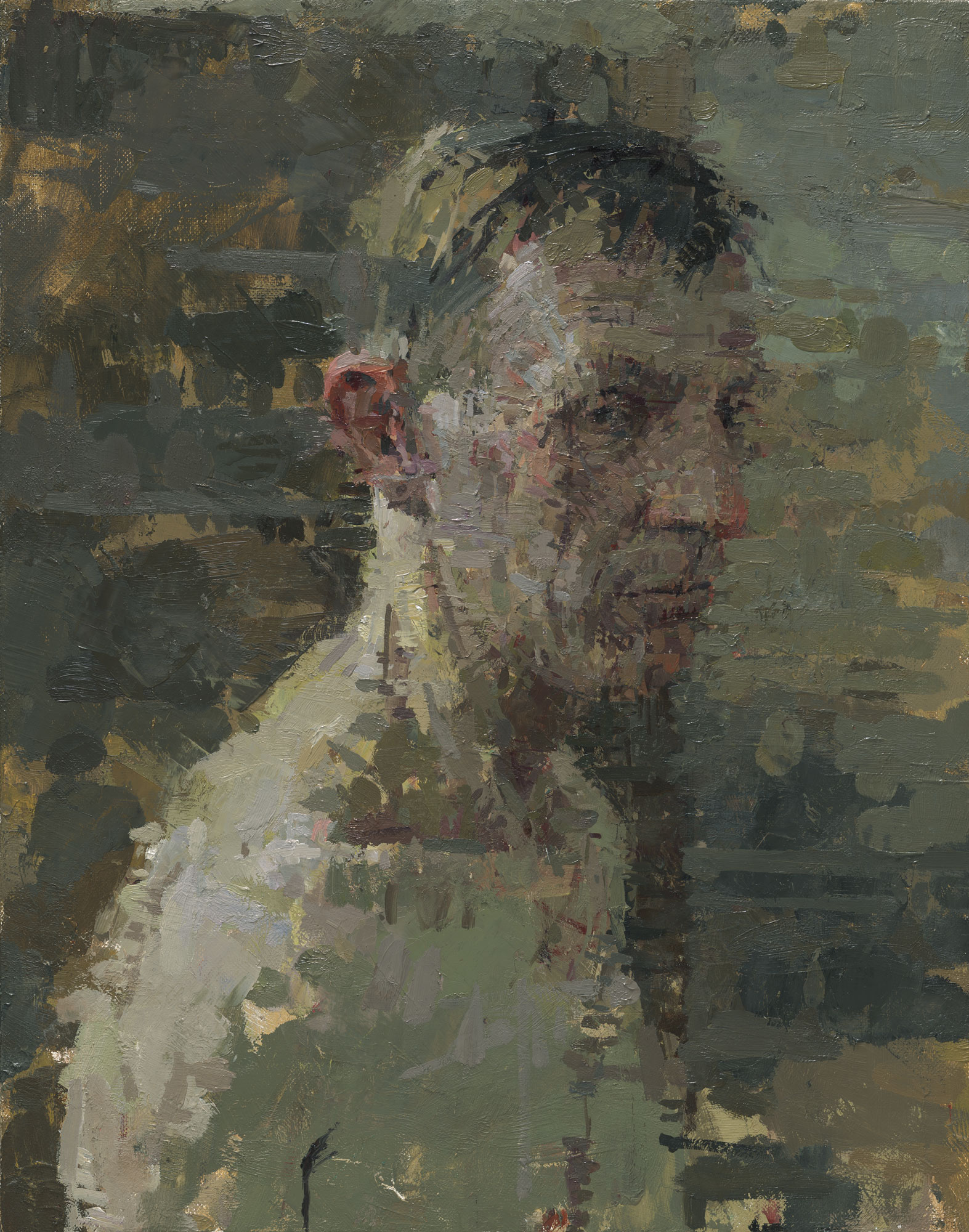 "Robert" | Oil on Canvas | 14 x 11 inches | 2008
01 Sep

Illuminations: Ones to Watch
---
Ann Gale's subtle approach to the figure is like an echo in the wilderness, struggling against the idea of being completely defined. Sober and pragmatic in her layering of paint and pattern, her portraits strip her subjects down to their barest elements, exposing vulnerabilities and insecurities. Gale's oil paintings grapple not only with the figure but with the space around the central subject. The abstract feeling of time and history is revealed in her brushstrokes with an intensity that seems to evolve from the actual situation of sitting in a room with a stranger: ghostly, ethereal and yet oddly familiar. Her work induces a sense of constant observation, searching. And her bundling of tiny marks, like a fine web, obscures the image while at the same time opening it up to a tentative honesty.
Ann Gale is represented by the Hackett-Freedman Gallery in San Francisco, California, and has had a number of solo exhibits there, with additional solo shows at the Portland Art Museum, Portland, Oregon; the Dean Jensen Gallery, Milwaukee, Wisconsin; the Lyons Weir Gallery, Chicago, Illinois; and the Kittredge Gallery, University of Puget Sound, Tacoma, Washington.
Gale's work is held in numerous collections, public and private, including the Portland Art Museum, Oregon.
In 2007 Gale was awarded the John Simon Guggenheim Fellowship for painting; in 2006 she garnered the Artist Fellowship from the Washington Arts Council/Artist Trust Honor Alumna, Rhode Island College. In the preceding years, Gale won several other prestigious grants including the WESTAF/NEA Fellowship in 1996. She is currently a professor of painting and drawing at the University of Washington in Seattle.