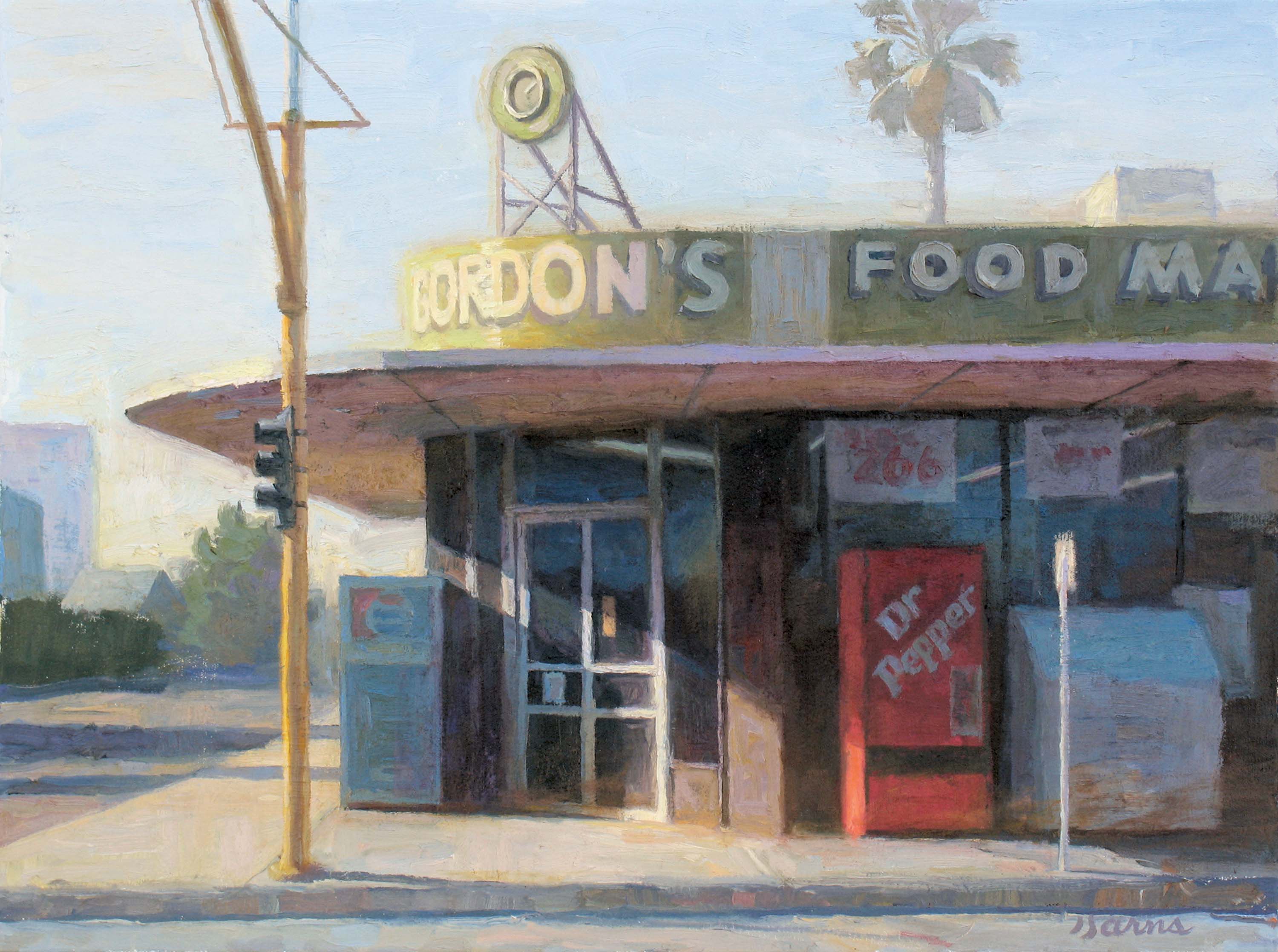 "Gordon's II" | Oil on Canvas | 18 x 24 inches
02 Mar

Ones to Watch: Artist Allen Garns
---
The best stories are told in a single scene. Like a theater director, Allen Garns unfolds his characters stroke by stroke. Then come his scenes: buildings created with paint and light, streets lined with hearts folded and refolded like origami. His sense of composition keeps viewers engaged while his deft handling of story allows us to make our own journey. Cityscapes, a different sort of landscape, are the hand of man rather than nature. So many histories, laid one atop the other, bits of which are singularly left behind. Cities make their own light, angles. They are cut and riveted, bent to the will of man. Garns sees these linear stories as well as the complicated ties of history.
"I grew up in a suburb of Los Angeles, but my dad worked downtown and I was in the city a lot," Garns says. "It brought into my inner self the fascination with the con- glomeration of all this stuff that sometimes is organized, sometimes not."
Garns was taken with the sedimentation of old and new — the geology of technology and the metamorphic nature of man.
"As I developed more of my own artistic sensibilities I came to appreciate and be intrigued by the patterns of light and shadow, the graphic design of things that are created by the angles," he says. "The abstract design and composition of things was so powerful in the city. It's a whole kind of messy ecosystem. From the living cells to the bricks and mortar, the trash and the cars and the smog and the life are all really fascinating."
There is a solitary feeling in his work, a stoic quality that comes through.
"The implied presence of human experience in a store – front, apartment building or street scene is something that captures my imagination," he says. "I avoid imagery that tells a specific, literal story. I prefer an indirect suggestion of things that allows the viewer to participate in the development of the work."
Garns spends quite a bit of time on location, sketching, painting and taking photographs that he uses for reference back in his studio.
"I do little color things that interest me. As I do that, stronger ideas tend to percolate and I develop those into larger paintings," he says. "The paintings I do on site are painted alla prima. They're direct paintings, whereas my studio paintings…start off loosely, with a little bit of a drawing."
He may want a different kind of shadow, or a shifting of composition from the original, painting in layers or scraping the surface to get a varied composite feeling.
"Some parts will be pristine while other parts are more textured," he says. "That's what I like about painting: that interaction between the very tactile presence of paint on the canvas acting with the illusion of depth, space and form. It's the alchemy of painting where you are throwing all this stuff down that merges into this magical image."
Garns has been painting off and on for 30 years.
"The city continues to excite me," he says. "I am currently trying to find more meaningful ways of expressing the strange kind of beauty that I discover in the conglomeration of concrete, steel, light and shadows, atmosphere and human experience."
Allen Garns' work is collected both privately and publicly, garnering awards from the International Salon of Art and from The Museum of Art of the LDS Church. He is represented by Scottsdale Fine Art in Scottsdale, Arizona.