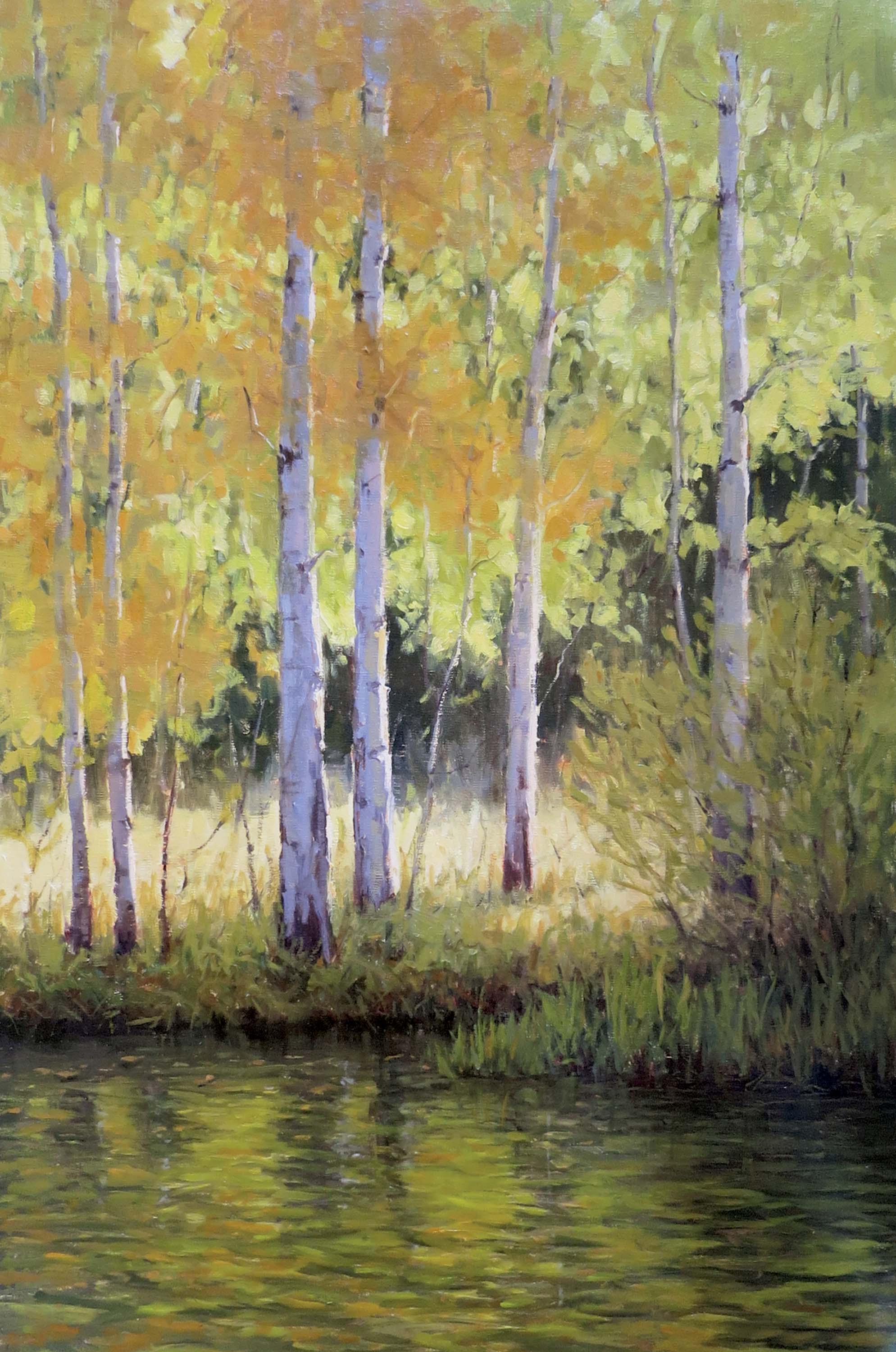 "Autumn Shimmer" | Oil on Linen | 30 x 20 inches | 2012
08 Jun

Ones to Watch: Artist Kathleen Dunphy
---
The gloried sun, the crash of salted spray, the small foamed swells against the blue-swept day, these are the things Kathleen Dunphy paints. Each piece captures a finite experience, unique to the moment when her brush touches the surface, enveloped by light.
"There are two different philosophies with painting outdoors," Dunphy says. "One philosophy is to make a bigger version of the field study and the other is to use the outdoor work in the studio to spark a painting — to find something different in those moments to make it a painting in its own right."
Not every plein air piece will make it to the gallery.
"I save some for my own reference; they help me to paint the bigger paintings but I paint outside a lot so I sell them as well," she says. "There's a shorthand and brevity to them. They get to the emotional point. They cut to the chase."
Dunphy figures she has about two hours, at most, before the light changes.
"I try to find my emotional response and then sort out how I can relay that onto the canvas," she says. "You can take 10 artists and put them in front of the same scene and get 10 different paintings because each artist will have a different response to the place. That's what I'm trying to get to, what it's like to be in that place at that time."
If she can't quite capture that feeling, but she knows it's there within the piece, she'll take it back to the studio. Dunphy grabs what she can of the day, then evaluates it later.
"I'll be outside doing a painting and think 'if only I had more time,'" she says. "If there's something within the study I find intriguing that I know I need to explore… that's how
I know what studies to take into the studio. I would love to paint everything outside, but there's just not enough time. I don't like to go back day after day because things change from day to day."
Having grown up in Maryland, the irrefutable power of Western coastline moored her soul when Dunphy moved to California.
"It socked me in the heart," she says. "It's just glorious. It's beyond anything you can even begin to comprehend."
She loves to take her easel out to see what she can get. Most times she comes away with life compressed on a small canvas. "I usually go by myself," she says. "To do my best work I need to be alone. No distractions. I can paint for four days and be ecstatically happy. It's just me and the canvas, and it's beautiful. Insane beauty, all that power and force. How many billions of people go to the ocean and watch that force. The ocean brings us to our knees in a primordial sense."
Dunphy's work is collected both privately and publicly by F&M Bank in Lodi, California; St. Joseph's Hospital in Stockton, California; and the Leigh Yawkey Woodson Art Museum in Wausau, Wisconsin. Her work is represented by Trailside Gallery in Jackson, Wyoming, and Scottsdale, Arizona, and the Illume Gallery in Salt Lake City, Utah.