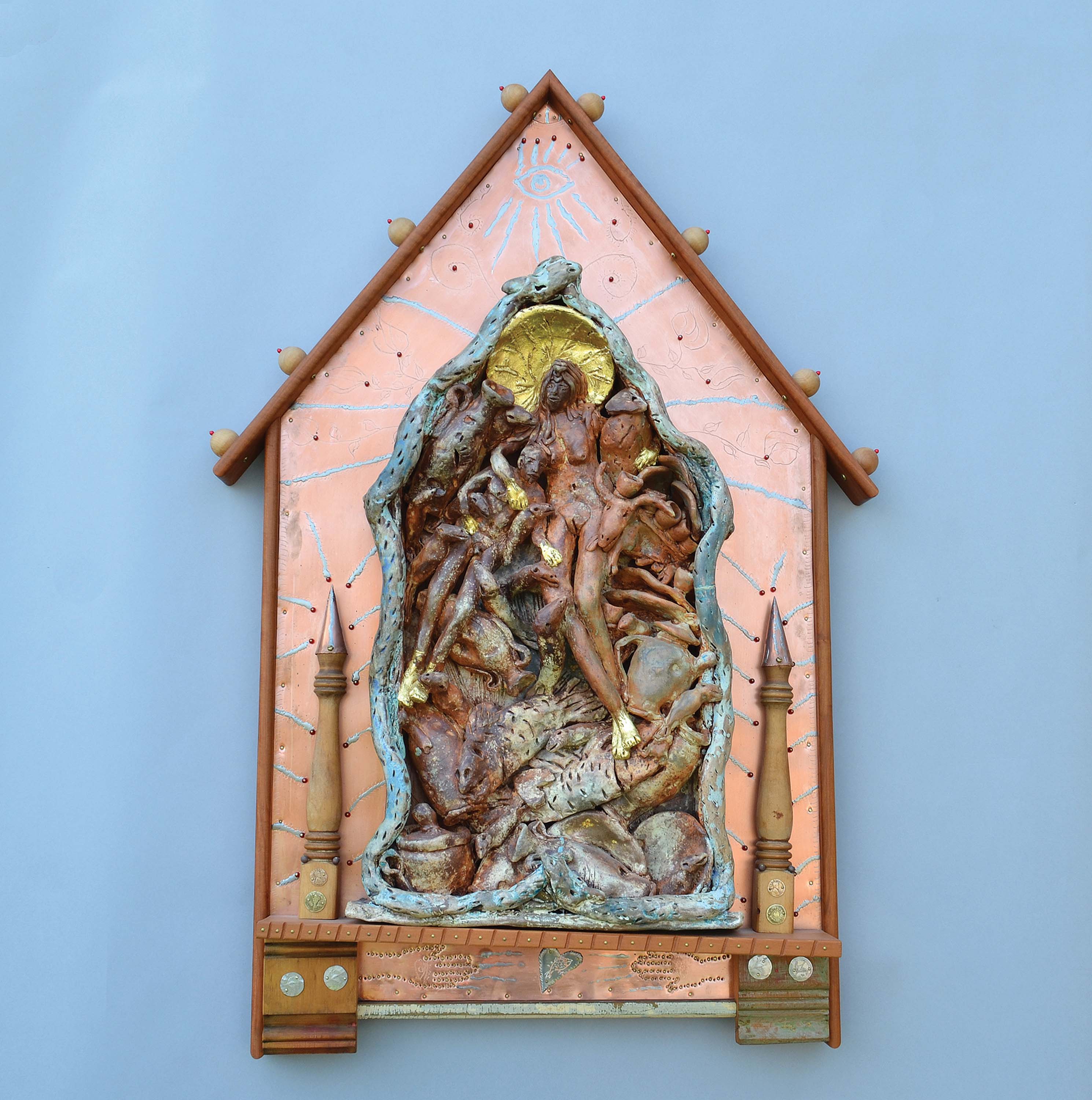 "Everything Is as It Should Be" | Soda Fired Earthenware Thrown and Hand Built | Wood, Copper, Found Objects, Hand engraving, Silver Solder and Gold Leaf | 50 x 33 x 7 inches
19 Oct

Ones to Watch: Ceramic Artist George McCauley
---
Ceramic artist George McCauley's narrative sculptures convey emotional force and vitality, a reflection of ancient folklore clothed in modern myth. McCauley's work combines modern symbols and everyday life, reaching beyond the scope of the commonplace by including ordinary objects.
"When I started making pots, everyone in my age group learned how to make pots," he says. "That's not stressed much anymore."
Although his early work was utilitarian, it has since evolved, influenced by his travels, workshops and shows in other countries.
"I started paying attention to the way old Japanese potters handled the clay," he says. "It wasn't about preciseness; it was about the act of the making. Handprints, dings, etc. I let the clay have its own presence. I'm not afraid to touch or manipulate the clay — I want my own energy to show in the work. The clay shows the act of the making."
His work now addresses the struggles of life.
"It's about the sweat, love, pain and the flaws, and not about the mechanics," he says. "This has really changed for me. I've come to say there's a studied casualness about my work and it describes how I use the material."
In each of his shrine pieces, the rich narrative springs from his own story.
"My mom is from Greece, so I was raised in that tradition," he says. "Even though Japanese pots are a huge influence, my sculptural imagery is a reflection of my own heritage. I am not making icons, I'm not making fun of my heritage. I'm using that particular imagery because I'm drawn to it. They're personal."
The way in which the figures seem to emerge from the clay with a crowded sense of urgency, as well as the symbolic overtones, bring to mind classic heralds of biblical foretelling in bronze.
"There's so much going on in every piece:
They are my own personal narrative about my own life or things we should be concerned about — love, passion, but nothing dark," he says. "They're often soda – fired and they are actually dark in color. They're not glazed, so they come across like a bronze."
Although he may refer to his technique as casual, everything McCauley does reflects his attention to intricate detail.
"After I make the slab by hand, I throw all the little pots," he says. "I usually make 50 or 75 little pots, from 1 to 3 inches. Even the teapots have little pulled handles."
Working on two pieces at a time, using all the parts he's made, it takes McCauley about a month for the initial sculpture. The clay piece is then fired and finished. Some receive gold leaf, others recycled wood or metal. He doesn't sketch, but follows the design in his head, responding to the clay as it happens.
"I work from rudimentary shapes for the figures," the artist says. "The clay isn't hard and I can stick the figures on the slab. Then I take it all apart, modeling the figures and placing the pots in the arms of the figures, or a bird on a figure's head. It's an ongoing intuitive process."
McCauley's work is collected internationally and was recently on display at the Yellowstone Art Museum in Billings, Montana. He is represented by the Turman Larison Contemporary in Helena, Montana; The Red Lodge Clay Center in Red Lodge, Montana; and The Lewistown Arts Center in Lewiston, Montana.